Tokyo is an impressive city and one of the best ways to really see it is from above. The Mandarin Oriental, Tokyo is located on the 38th floor of the Cesar Pelli-designed Nihonbashi Mitsui Building and has incredible views of Tokyo city. Mandarin Oriental, Tokyo's interior design was executed by Reiko Sudo, who imagined and presented the hotel tower as a tree, with wood and water as its main elements. A place of shelter and community, bringing the notion of nature into this elegantly and refined environment. The ground floor entrance has richly textured design motifs, fabrics, and wall coverings, that combine to inspire thoughts of tree roots. The fabrics that can be seen at the arrival area and throughout the hotel, are all original from famous textiles designers that have worked in the Nihonbashi area for many many years. The Mandarin Oriental, Tokyo fan located at the foot of the elevators depicts the historic Nihonbashi district. You can even visit the fabric shop that created it just for Mandarin Oriental.
The first port of arrival is on the ground floor of the building but the Mandarin Oriental, Tokyo's lobby is actually located on the 38th floor and only once you arrive can you start to see an almost endless cityscape as far as the eye can see; impressive is a massive understatement.
Rooms
There are 157 guest rooms and 22 suites and we stayed in the Mandarin Oriental Grand Room on the 36th floor with views of the Tokyo Skytree and sprawling urban cityscape. From the moment you enter your room, no matter what time of day it is, your eyes go straight to the window to take it all in. The room is spacious and has everything you need with a long lounge chair running along the window and it's the perfect spot to read while soaking in the cityscape. There is a table suitable for both work and dining, wardrobes, change area, and also a spacious bathroom. Thoughtful gifts were placed throughout the entire room, from the Nihonbashi guide (left for each guest, a small guide book to the area the hotel is in), seasonal cakes and pastries on arrival, and special Mandarin Oriental, Tokyo tea in the fridge, available only for in-house guests. The bed is large, the sheets super soft and pillows simply dreamy–there is even a pillow menu and we really think that it's worth trying different pillows; you might surprise yourself!
We loved the secret house-keeping closet that can be opened from both the inside and outside of the room located near your door, which meant we could still have our laundry done, newspapers delivered, shoes left to be shined or in our case, we needed extra eucalyptus bath salts that were left there while we were at dinner. All carried out without anyone entering the room, perfect for those who don't like to be interrupted. Something we also weren't expecting was that the hotel provides binoculars so you can take a better look at the endless city views from your room–brilliant! On a clear day, depending on your room view, you can see The Imperial Palace Gardens and even Mount Fuji in the distance. Or if you are facing east (as we were), you can see the Tokyo Skytree dominating the urban skyline that reaches as far as the eye can see.
The bathroom carried products by luxury Italian brand Bottega Veneta and featured a large bathtub, shower area, large mirror, and basin. We loved how the audio could be adjusted in the bathroom so while getting ready for dinner, we could listen to music. We highly suggest having a bath with their signature eucalyptus bath salts. The hot water, low lights, and aroma of eucalyptus was just heavenly and really helped us relax. Mandarin Oriental, Tokyo's bathrobes are super soft and while we were given a pair of traditional Japanese kimonos we stayed in our bathrobes while in the room which was just pure bliss for us.
Dining
As you would expect from a Mandarin Oriental hotel, the dining options are diverse and of a high standard. With a Cantonese Chinese cuisine restaurant Sense, K'shiki serving up Italian fare and also where the buffet breakfast is served, Michelin starred French restaurant Signature, eight-seater Michelin starred Tapas Molecular Bar, award-winning Sushi Shin by Miyakawa (sister restaurant of the famous three Michelin starred Hokkaido venue), and of course their very well known, The Pizza Bar on 38th.
During our trip, on more than a few occasions, our local friends recommended a meal here. This place is not just for visitors, in fact, locals make up a lot of the regulars. We weren't really sure what to expect, but on arrival you are seated around a bar table and everyone faces the chef and pizza oven, creating an atmosphere of privacy as though you are in your own little restaurant. It seats only eight guests at a time, an Italian twist on the classic Chef's Table, with one lunch serving and two dinner servings daily. Bookings are highly recommended even if you are an in-house guest, as there is limited seating. As a matter of fact, we even came back again to The Pizza Bar on 38th for dinner after we checked out of the hotel and before we left Tokyo–it was that good!
The Pizza Bar on 38th experience was great fun thanks to Yuichi, the master pizza maker, who explained and entertained us throughout the whole meal. The menu is small but has enough options for even picky diners. They have two types of pizza dough depending on whether you order a tomato-based pizza or a cheese-based one and eight pizzas to choose from. Six of these pizzas are their signature ones with two changing seasonally. We got a few starter options and absolutely loved the tomato salad made with the freshest Japanese tomatoes we've ever had, tossed lightly in salt and olive oil–the perfect way to start off a meal. Additionally, we also tried their cold cuts board. They have a great wine list with good value and we particularly enjoyed the Castel del Monte chardonnay 2016 from Puglia by the glass. The stars of the show are the pizzas–Pizzino (mascarpone, black olives, and truffle essence), Bufala (fresh buffalo mozzarella, tomato, and basil), and the classic Marinara (tomato sauce, garlic, marjoram extra virgin olive oil–with or without Parmigiano Reggiano) which were all absolutely outstanding. They have a few sweet options for dessert, but we couldn't eat another piece of anything. The level of attention to detail that goes into even a simple pizza is a testament to the quality of service and professionalism you will find at Mandarin Oriental, Tokyo.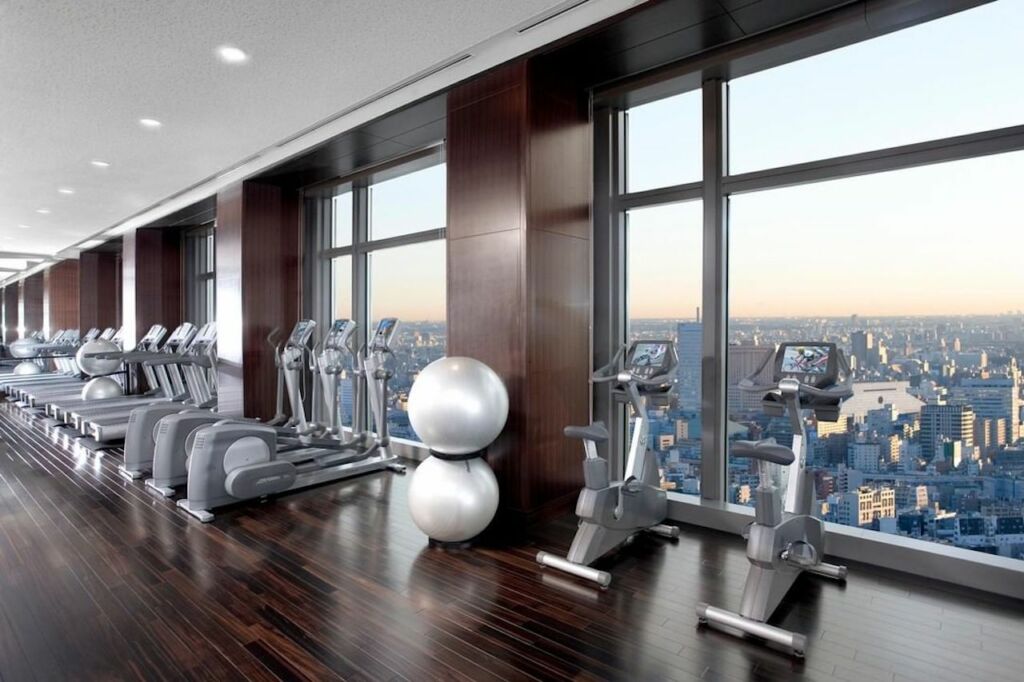 Facilities
Mandarin Oriental hotels around the world are famous for their award-winning spa and Mandarin Oriental, Tokyo is no different. Located on the 37th floor, The Spa at Mandarin Oriental, Tokyo features luxurious spa suites and a curated spa menu for you to choose from. We recommend any of their signature therapies or a facial by Subtle Energies.
Their wellness studio is impressive with state of the art equipment and plenty of space for all kinds of workouts. The Wellness Studio is well worth a visit even if you don't work out and for those who really struggle to go to the gym on holidays, we bet you can't stay away from this one. With floor to ceiling glass windows looking out over Tokyo city, this is one workout we won't skip. Complimentary water, towel, and snacks are available as well.
At the Mandarin Oriental, Tokyo, the staff was consistently helpful, extremely polite, and discreet in their service. We had no issues communicating in English with all members of staff.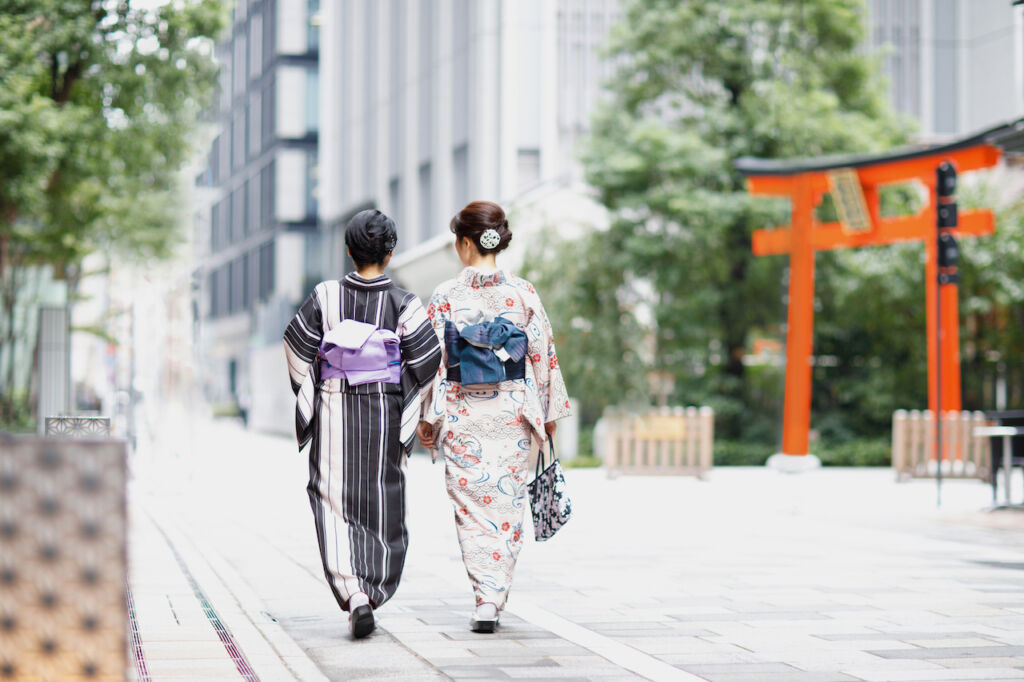 Nihonbashi District
The Nihonbashi district of Tokyo is not to be missed, and thanks to our stay at Mandarin Oriental, Tokyo, we saw the best the area has to offer. All guests of the Mandarin Oriental, Tokyo will have a walking map and guide to the area in their rooms. Pocket-sized and full of interesting facts, must-visit locations, and bullet point history on this incredible area, you could see all the main points of interest within two to three hours if you don't shop too much. This historic neighborhood is the birthplace of Tokyo as it was here in 1603, that Tokugawa Ieyasu, the shogun at the time, started building the city of Edo, which eventually became the city we know as Tokyo today. A few minute's walk away is the "Japan Bridge" which is historically considered as the kilometer zero marker for Japan's national highway network. It's easy to miss, but standing in that exact spot, where it all began, was fascinating–what it must have all been like back then. The district of Nihonbashi is home to the first bank of Japan, an ancient shrine dating back to the 9th century, Fukutoku Shrine, tons of restaurants and cafes, Japan's oldest department store Nihonbashi Mitsukoshi Main Store and so much more. If you are a fan of nori (Japanese seaweed), then a visit to Yamamoto Noriten is a must, as they have been selling crispy dried nori seaweed for more than 160 years. Delish! Nihonbashi is a district offering a glimpse of Japan's past and future and Mandarin Oriental, Tokyo is located right in the heart of it, the perfect mix of modernity and tradition.
---
Follow their Facebook page and Instagram @mo_tokyo for more updates
Mandarin Oriental, Tokyo 2-1-1, Nihonbashimuromachi, Chuo City, Tokyo 103-8328, Japan, www.mandarinoriental.com/tokyo
Tags