You'd be forgiven for thinking you had time traveled when you set foot into the iconic Strand Hotel in Yangon, Myanmar. It is deliciously beautiful and every corner of the hotel makes you feel like you are on some luxurious colonial era movie set. The recent refurbishment has been very tastefully carried out and the colonial features have been modernized whilst retaining the original essence of this very classy and unique historic hotel.
If only these walls could talk is something I thought to myself throughout my stay at this beautiful hotel. It has in some ways become a tourist attraction in its own right, given it has withstood the tumultuous history of Yangon and the many famous faces who have stayed or passed through. Built in 1901, just across from the Yangon River, by Aviet and Tigran Sarkie, two of the Sarkies Brothers who also owned the famous Singapore Raffles Hotel and the Eastern & Oriental Hotel in Penang Malaysia. It now stands in the same spot it did all those years ago and looks as grand as it ever did.
As you enter the marble-floored lobby, you can't help but stop to take it all in. The open lobby with white sofas, silver lamps, and beautifully patterned Burmese lacquerware decorate the space. This is not just a plain lobby but a stylish space to enjoy. The staff are very polite and accommodating and after we checked in, they helped us arrange a private walking tour and car for the day. The location is great because you can actually walk to Sule Pagoda, the colonial City Hall, the Court House as well as walk past the infamous secretariat, the site of the assignation of General Ang Sung. For those with an interest in architecture and history, this hotel and the city has something to explore at every corner. They even have a good selection of rare history books and cookbooks in the rooms and in the gift shop. With the recent addition of the swimming pool, gym, and spa facilities, this hotel has everything you could need for your stay in the city.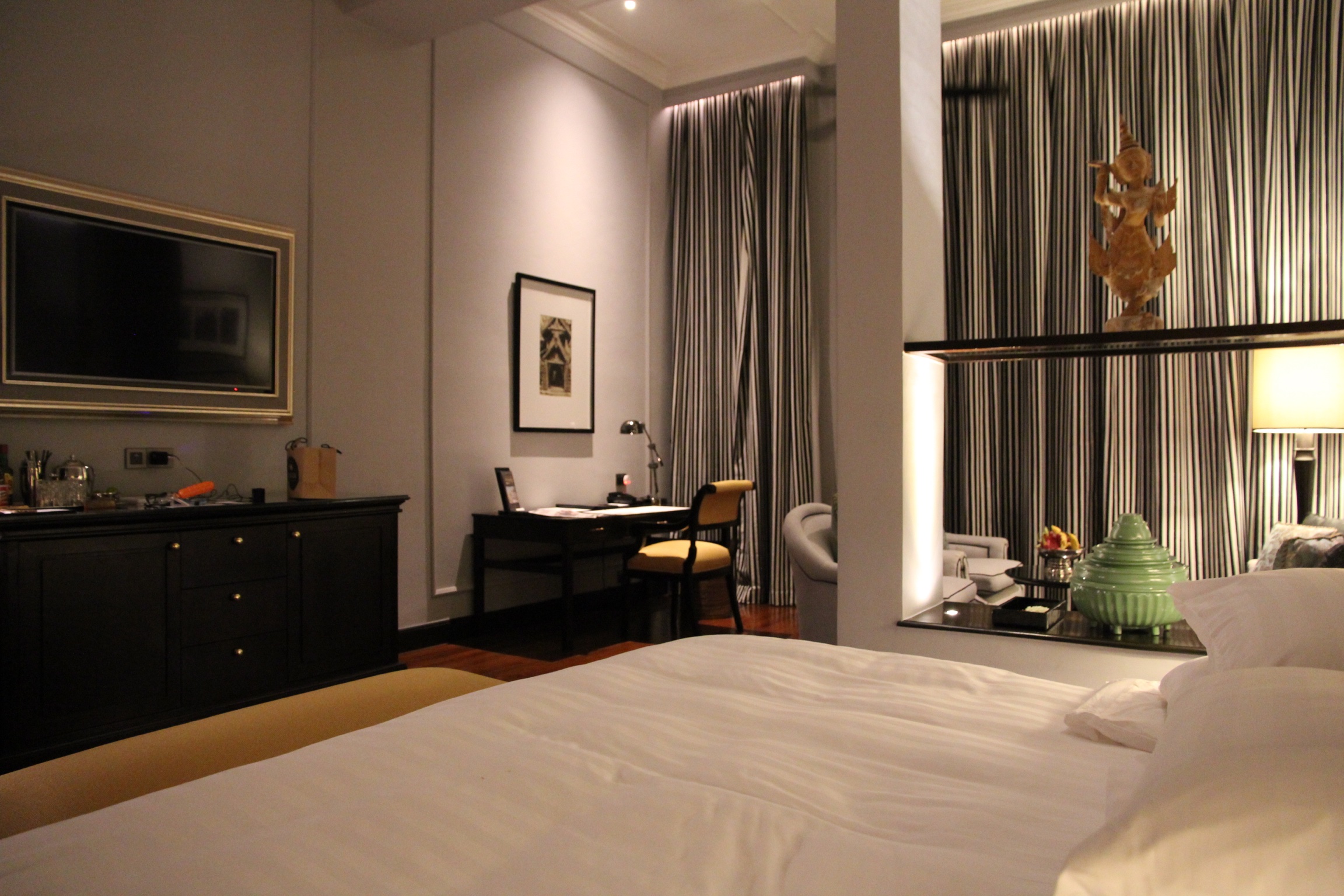 The Rooms
The Strand has 31 rooms spread out over two floors and after a very speedy check-in, we were warmly taken to our rooms. Each floor has a friendly butler service that is there to assist with anything you might need. The rooms are spacious and very beautifully designed. The suite we stayed in was very comfortable and had one of the largest beds we've ever slept in. The TV is huge and has a range of local and international channels and their wifi was quick and painless to connect to and use. The bathroom was large with double sinks and deep soak bathtub. The Hermes toiletries were a pleasant surprise and an elegant touch. Although considering they are one of the Leading Hotels of the World, I don't know why I was surprised. The room had a separate seating area which came in handy on a rainy afternoon to read books and enjoy a cup of hot tea. They had a selection of great reading materials in the room and on request and large desk in the room who those who need to do a bit work while traveling.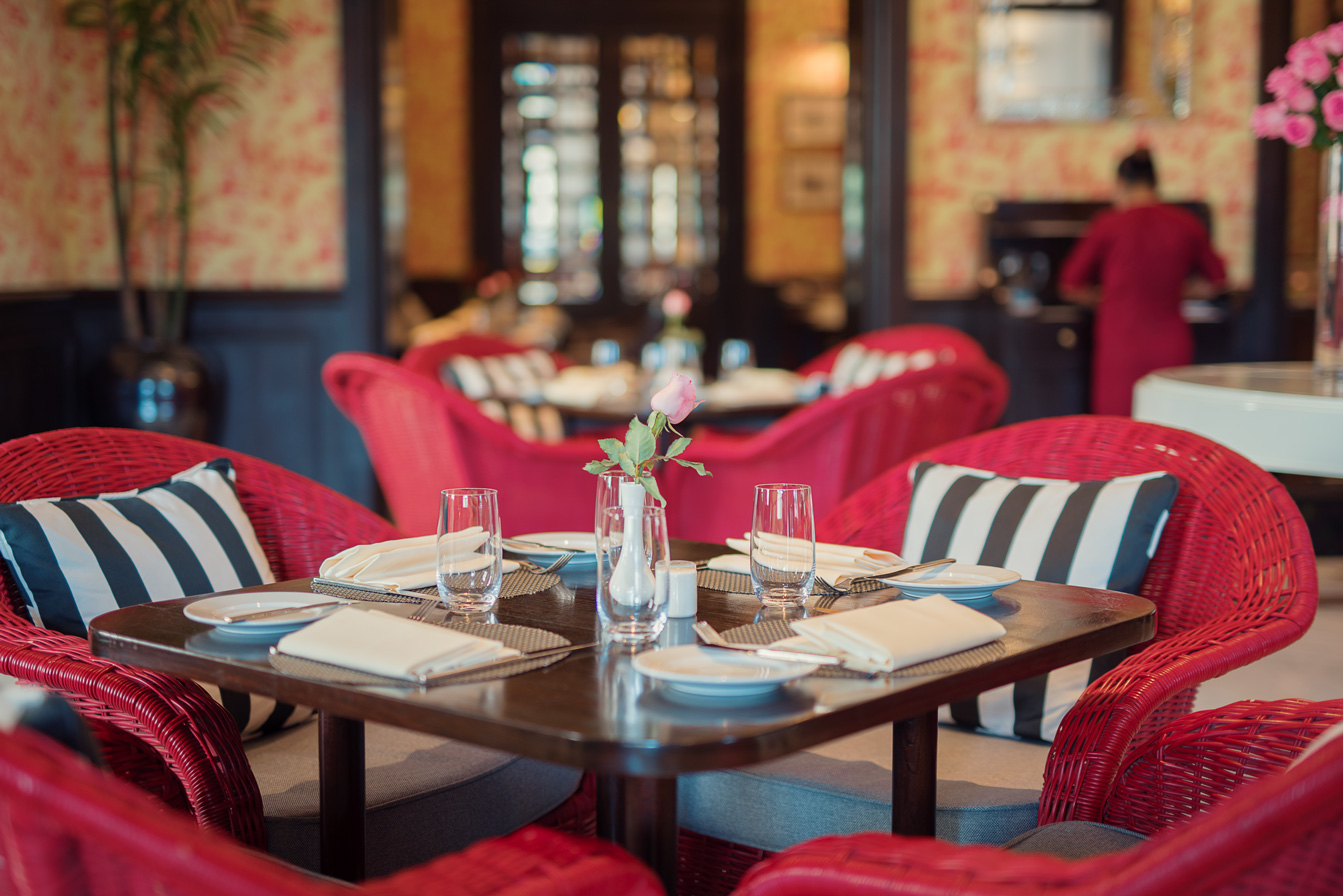 Dining
There are two dining options at the hotel. The Strand Café which serves breakfast, lunch and dinner and then the fine dining restaurant which is only open on Wednesday to Saturday. The daily breakfast was excellent with a comprehensive menu to choose from, covering both western and continental breakfast options and a few local Myanmar dishes thrown in there too. For those needing nondairy milk options, fear not, the Strand Café had a great supply of local soy milk and I enjoyed my daily Soy cappuccino without any fuss. The cafe is decorated in black and white and reds and also retains a Victorian feel to it. You really could sit here for hours and enjoy a leisurely meal. While I didn't get to try the Afternoon Tea, the cafe was full on both days I walked by at around 3pm.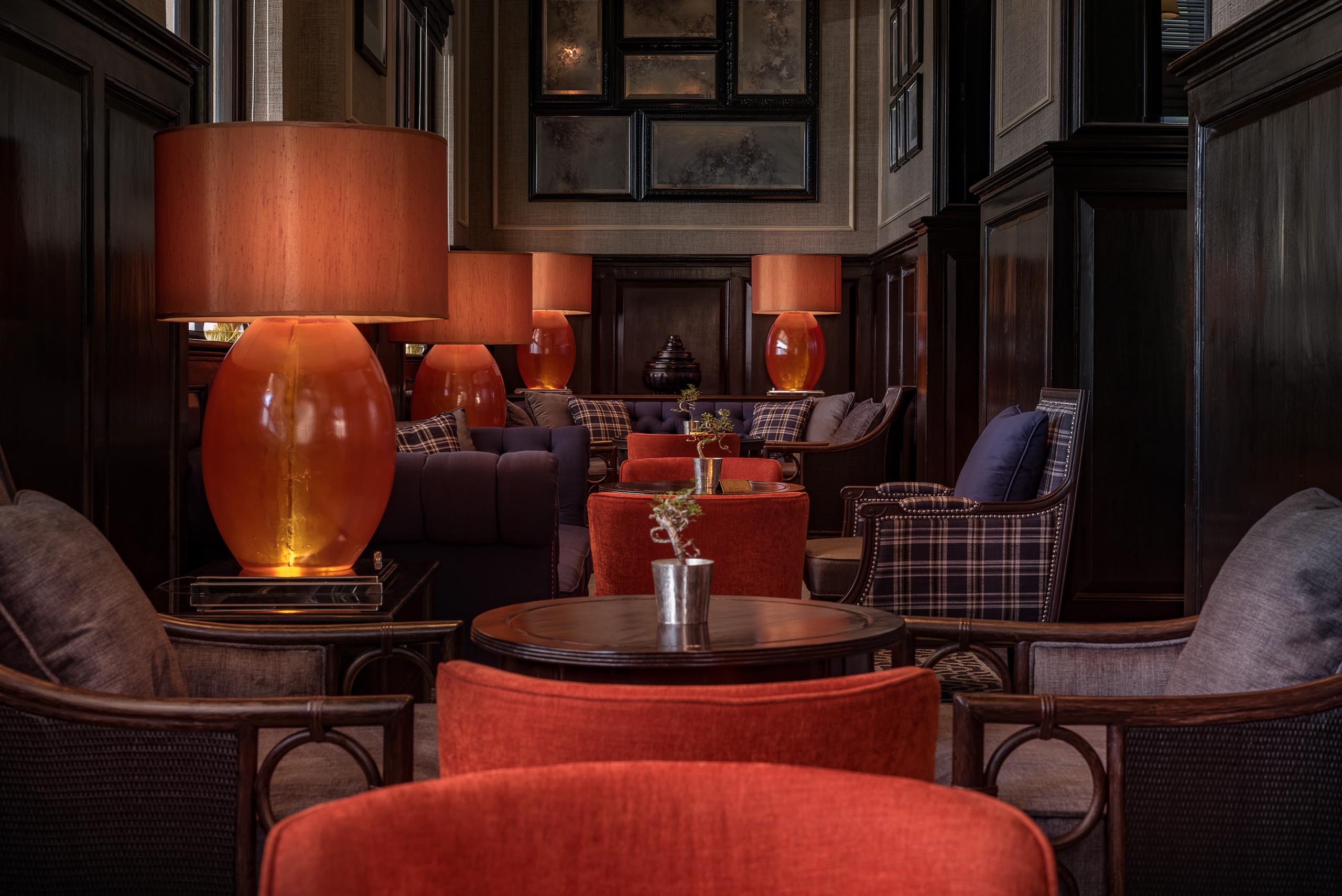 Sarkies Bar
A glass of wine or cocktails at Sarkies Bar's in the lobby is a great way to start or end any evening in Yangon. Full of hotel guests and locals from around the area, the vibe and atmosphere bring a touch of modernity to this historic bar. They also do some interesting pop-ups and cocktail classes, so check ahead of schedule if there is anything you can sign up for during your stay. Their drink menu has a good mix of drinks and their cocktail selections have been thoughtfully and creatively designed. I truly loved their signature cocktails, you can ask the staff for a suggestion on what to order as there were so many to choose from. The interior décor and its teak-panelled walls and cozy corners have overheard the conversations of famous guest from George Orwell to Rudyard Kipling and you can't help but feel you are reliving part of history by enjoying a drink or two here.
Even if you aren't a history buff there is no denying the old world charm of this colonial gem. It has witnessed so much of the city's history and was, without doubt, one of the highlights of my trip to Myanmar!
---
The Strand Yangon 92 Strand Rd, Yangon, Myanmar (Burma) +95 1 243 377, www.hotelthestrand.com
*Featured image photo credit: Grand Luxury Hotels
Tags
Related Posts