The food here is infused with influences from almost every province in China. Muslim restaurants offer freshly made noodles stretched in front of your eyes, and Dongbei (northeastern cuisine) chains are scattered all over town, but here are a few of our favorite dishes that are true to Zhuhai.
Chang Fen
(featured image)
This Cantonese breakfast favorite varies from city to city. Hong Kong tends to produce exquisite versions served in restaurants filled with scallops or shrimp while here in Zhuhai it is a fast food breakfast staple. Outside of any traditional, cheap restaurant before 11:00am you will see clouds of steam emerging from what seems to be a metal chest of drawers, and a large bucket filled with a milky substance below. Using an apparatus that looks like a window wiper, chang fen is made by spreading the milky solution onto the shelf, with an egg and your choice of meat or green leaf, before steaming in the draw.  Served in a pool of soy sauce with the consistency of a very large rice noodle, it is a delicate dish that is yet to disappoint. Pick the place you try it first wisely, however, as it is said by local ex-pats that no other chang fen vendor will never be as good as where you had your first, which proves for a turbulent daily commute when members of the same household demand their chang fen from opposite sides of town!
Try the best traditional Chang Fan in Lanpu. Address:  兰埔路万科金域缇香(香洲前山医院对面)
Chicken Feet
Only a few foreigners are brave enough to try this crunchy, salty Guangdong favourite, but it is a local delicacy that is longstanding in popularity. Often boiled before frying and braising with oyster oil, the taste is really on the golden brown skin – hence why the protocol for eating is to put the whole thing in your mouth and spitting out the bony cartridge. Grace is not required nor expected, but it is nonetheless popular with ladies due to the supposedly 'high collagen' content and anti-aging qualities. Would you swap your favorite skin cream regime for a tasty serving of chicken feet?
Try chicken feet by the ocean, address: 珠海金悅軒海鮮酒家(拱北店)情侶南路265号日华商业广场B区1-3层(广发银行旁)
Mango Sago
What could be more delightful than a bowl of mango swimming in coconut milk with tiny chewy sago balls floating around? The range of textures and sweet but refreshing taste make this dish an addictive sugar hit with less of the guilt. The iconic green and gold logo of popular chain 'Koo Chung Chong' responsible for the scrumptious desert can be found all over town, so you're never too far from this fruity fix. Try mixing it up with smelly durian if you're daring enough, but for a classic flavor that can't go wrong, the mango sago is a Zhuhai hit.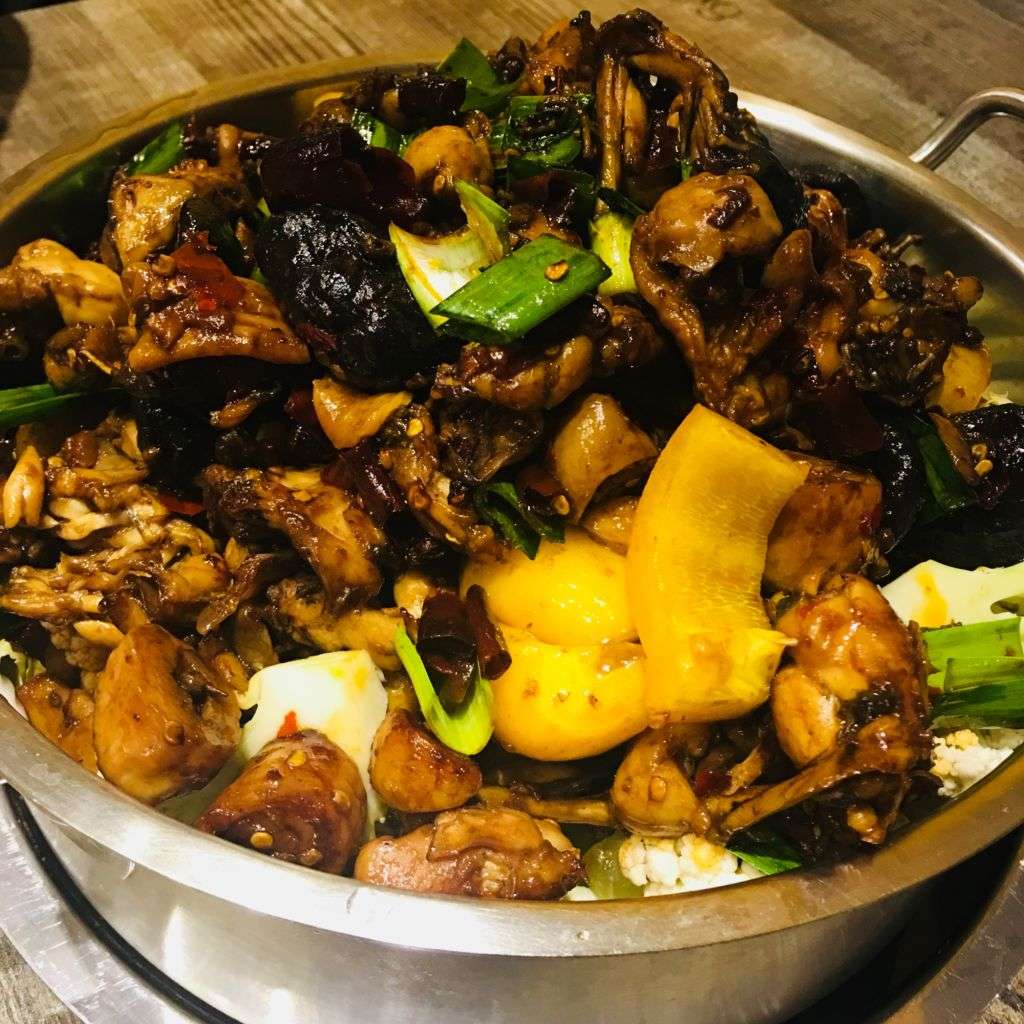 Chinese Frog
Frog is a common feature of many Cantonese menus and can be found cooked and served in various ways. Fried as a snack, served on a bed of lotus leaves or even in congee, the options are extensive, but a particular favorite is a tasty frog hot pot. Like all the other hot pots, it has everything inside; tomatoes, ginger, garlic, soy, nuts, broth, chilies, broccoli infused in water producing a steamy aroma that awakens the taste buds before even eating.
Try our favorite stew at Tomato Kitchen. Address: 3328 Mingzhu Southroad 明珠南路3328号
Seafood
As with the rest of the delta, a wealth of fresh seafood is readily available, and Zhuhai is no exception. Wanzai Seafood Street is the first stop for local fisherman fresh off the boat from a shift on the ocean, with reams of fish and shellfish glistening on crushed ice. It's easy to understand Zhuhai's nickname "the pearl of the sea". Any of the nearby restaurants will cook any purchase from the market fresh to order, exactly to taste.
Address: Wanzai Seafood Street 湾仔海鲜街
Tags
Related Posts