During the four years since its opening, Wynn Palace has won an impressive number of awards and praises from the influential committees and critics. World-class restaurants, excellent service, five-star spa facilities, and flawless service attract guests from around the globe and Macau locals looking for a fulfilling staycation. We've always appreciated Wynn's distinctive style. To experience its hospitality and take a little break, we chose Wynn Palace for our recent one night staycation. Keep reading to see how it went!

Rooms
For our staycation, we chose one of the 540 fountain suites, a spacious room with a turquoise interior. Overall, everything at the fountain suite is well-thought and designed to accommodate travelers of any type. Business people will appreciate the workspace by the window. The large walk-in closet won't leave those who pack their best outfits for a vacation indifferent. Couples will surely be grateful for a spacious bathroom with a double sink. Those of us who come to just rest and relax will enjoy the comfortable king-size bed, a bathtub, and a spa room. That's right, every fountain suite includes a private spa room. How many hotels can boast that? Make sure to make an appointment in advance to have a full spa-experience without having to leave the suite. 
We love that the living area and bedroom are separated, so if you need to work or just enjoy a movie on the 65'' TV while your partner is taking a nap, that comes in handy. Talking about naps, to make sure guests have the sweetest dreams at Wynn Palace, the king-size bed features fine Egyptian cotton. Should you need particular pillows to rest your head on, there is a broad pillow menu. Another convenient detail is the smart system that allows controlling temperature, drapes, lights, and even TV via touchscreens located at several points around the suite–on both bedside tables and by the living room couch. Forgot to turn off the lights in the closet? With just the tap a few buttons, no need to get out of the comfy harbor of bed.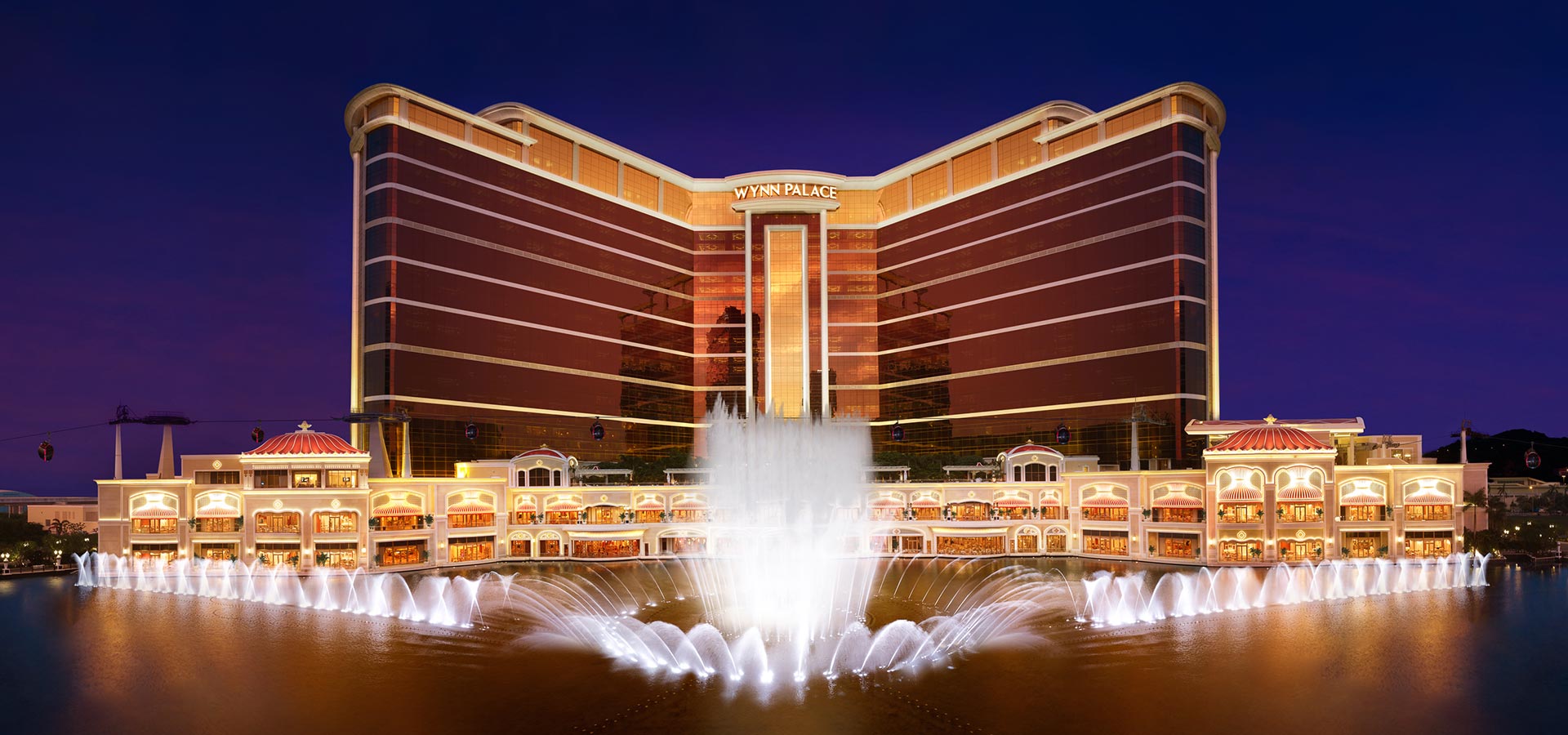 Watch the Performance Lake show from the suite
Hands down, our favorite attribute is what gave the fountain suite the name–floor-to-ceiling windows with a bird's eye view of Performance Lake's fountains. The fountains are on the whole day but every 20 or 30 minutes (depending on the time), guests can admire the mesmerizing show of dancing water, lights, and music. To have the full experience, you can turn on the Performance Lake TV channel and turn the volume up. From Broadway songs to opera pieces, and Chinese classics, there are plenty of songs to sing along to. Even the most skeptical adults will let their inner child out for these few minutes of water splendor.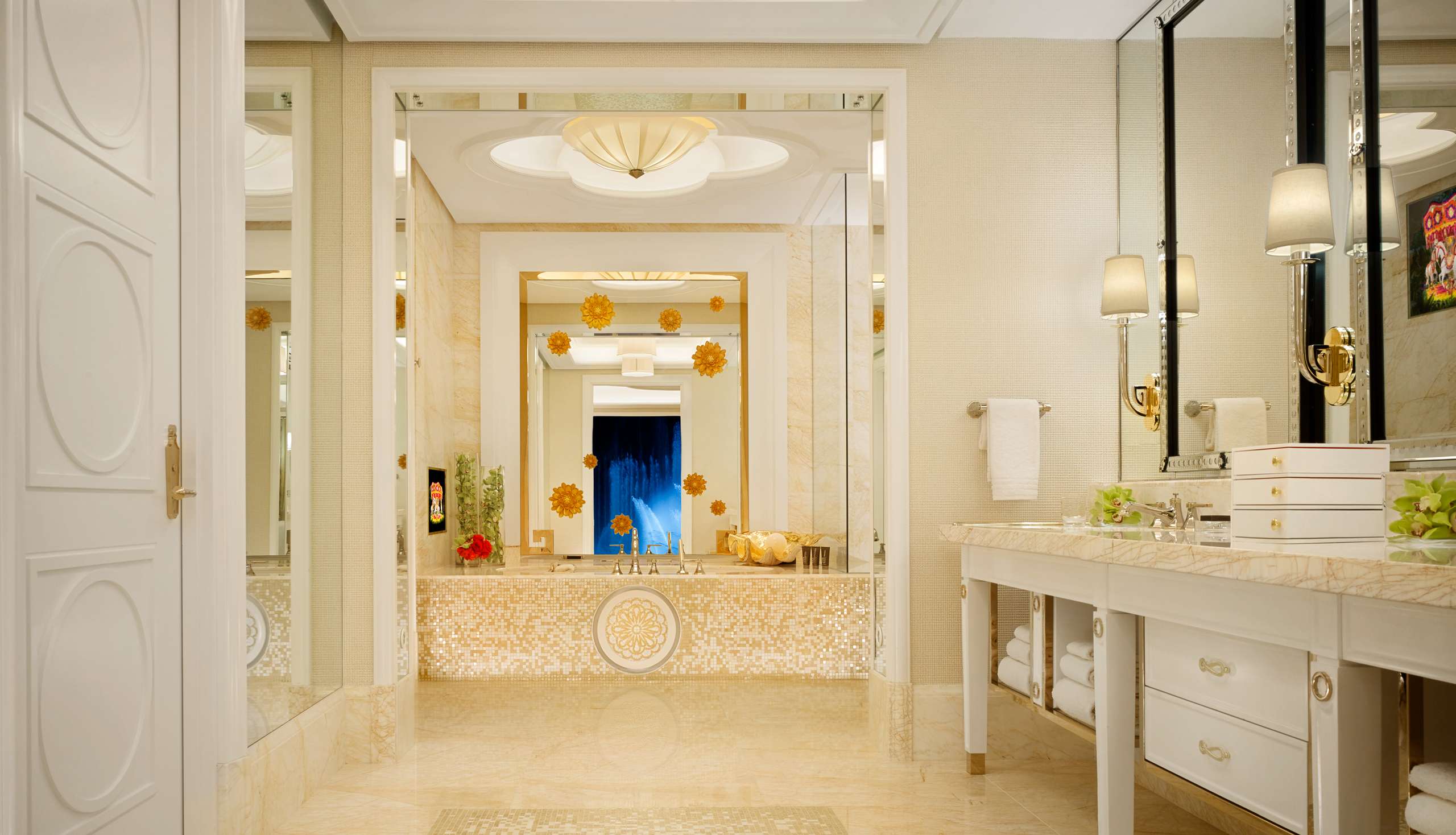 Stay in
If your staycation goal is never to leave the room, there is everything you need to meet it. Take advantage of the minibar or the complimentary bespoke tea selection, or order a room service dinner with wine. When the morning comes, your pre-ordered breakfast will arrive at a desirable time–no need to dress up and go to a restaurant. Order it by 3:00am the same day by calling or simply leaving the order on the doorknob outside. 
Among four options, we chose The Palace, a combination of an egg dish, pastries, cereal, fruit, yogurt, and a smoothie. Unlike many hotels, Wynn Palace allows you to customize the selected breakfast–pick whichever style of eggs, pastries, and milk to go with the cereal.
Where to eat 
Wynn Palace is home to several critically acclaimed and awarded fine dining restaurants. Sichuan Moon offers exquisite Sichuan cuisine while SW Steakhouse is known for its fresh seafood and juicy steaks, and Mizumi guarantees the authentic Japanese culinary experience. 
But it's not all Michelin stars and luxury at Wynn. If you are looking for casual yet cozy places to dine, be it Chinese or Western cuisine, you won't stay hungry. Choose from comfort food and quick service at Red 8, a steaming bowl of Japanese noodles at Hanami Ramen, or delicious Italian pasta and pizza at Pronto. If you wish to combine gastronomy and visual pleasure, head to Fontana. It has recently transformed into a hot pot place, but the stunning interior and a panoramic view on the Performance Lake are still there. After a satisfying dinner, the perfect way to wrap the night up is by having a couple of cocktails at Wing Lei Bar or SW Steakhouse. 
The bonus that made our evening at the Wynn was the SkyCab ride overlooking the fountains. We were lucky enough to enjoy the three-minute water show from the 28-meter height! You can also use the SkyCab to arrive at the hotel or on the way out. Notably, SkyCab is free for all, not just Wynn Palace's guests. 

Where to relax 
On hot days, there is hardly anything better than lazing the day away by the pool. As our staycation fell on a windy and cool winter day, we didn't dare to take a plunge. However, if low temperatures don't scare you, the pool is open every day of the year, and the water there is always kept warm. 
For more indulgent options, make a reservation at the biggest spa in town and choose from a myriad of face and body treatments. Separate male and female areas feature an abundance of facilities that will set your mind to the relaxation mode before the treatment. If guests prefer to enjoy their spa day with company, there are several VIP suites for two, with a private bathtub, water therapy, and relaxation zones.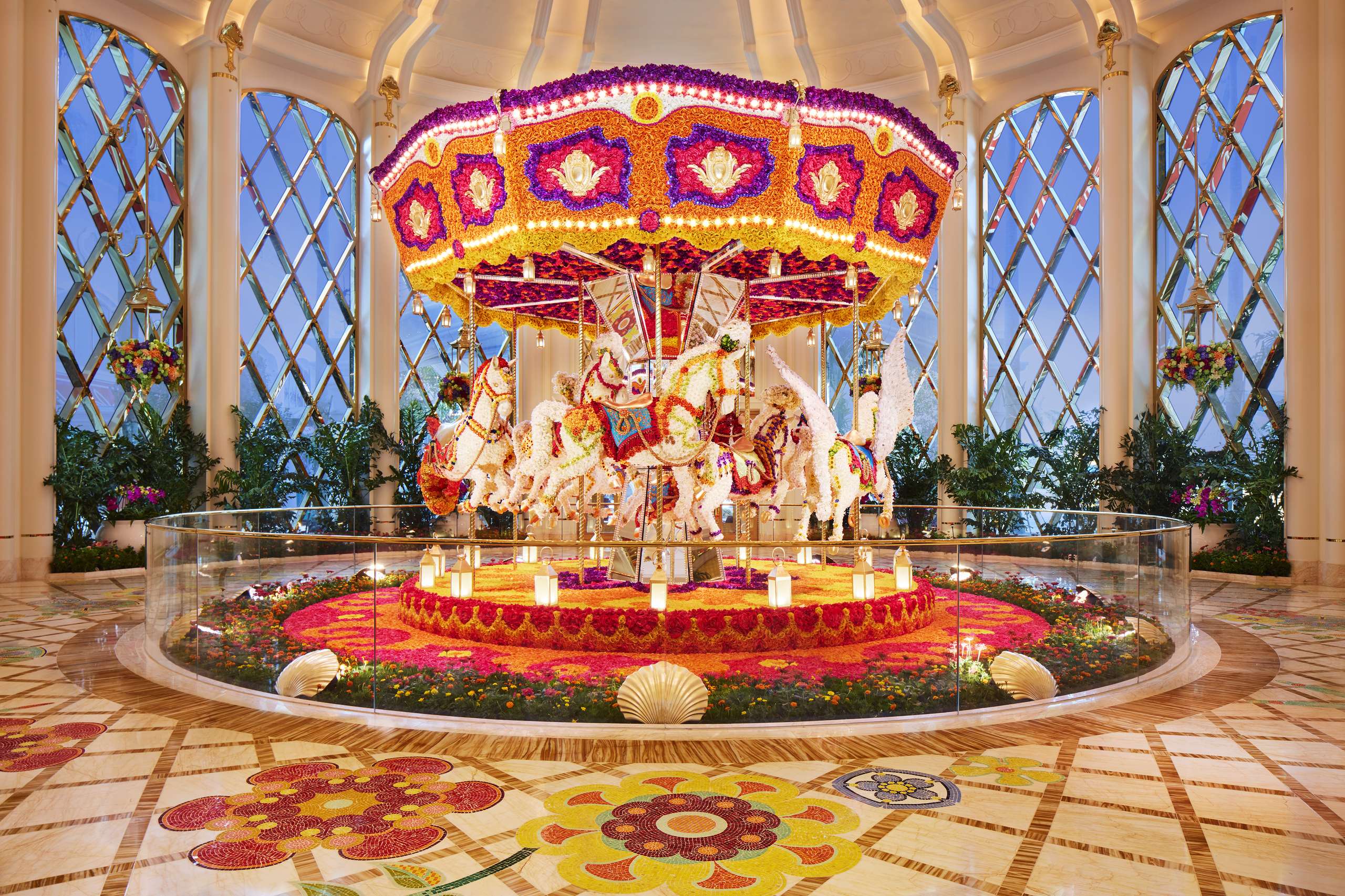 What else to do 
Besides being a five-star hotel with a long list of features inherent to the luxurious hotels, Wynn Palace is a unique integrated resort with a wholesome design, an impressive collection of art, and magnificent floral arrangements and installations that highlight the floral-themed interiors. 
To stretch our legs without leaving the resort, we took went on an art stroll to see all the art objects that Wynn Palace has collected. For those who are not that great at directions, digital maps located all over Wynn Palace come to the rescue. All the art pieces and floral installations are indicated on the map.
The ones that usually attract the most tourists are the monumental mechanical art objects made of live and permanent flowers. Our favorite one is the carousel made of more than 83,000 flowers! We secretly wish it was possible to ride one of those colorful floral horses to feel like kids again. Besides those large pieces, smaller arrangements of live orchids and roses decorate the resort's corridors and corners, turning Wynn Palace into a paradise garden. 
---
How much: Rates start from HKD $1,149
Wynn Palace Cotai Avenida Da Nave Desportiva, Cotai, +853 8889 8889, www.wynnpalace.com
Tags
Related Posts