We all need to unwind and have a holiday from time to time–if traveling is too much trouble, a staycation is always a great option. With unbeatable sea views, top quality service and impeccable design, Mandarin Oriental, Macau is one of the best places for a quick getaway in the city.
Located right in the heart of Macau, this luxury hotel is the perfect spot for a bit of rest and relaxation. It's located walking distance from UNESCO World Heritage sites and is adjacent to luxury shopping and casinos – this is the perfect location for just about any type of traveler, from families to couples to individuals. As one of the only hotels without a casino in Macau, it is truly an oasis of calm at every point.
Smooth Arrival
On arrival we were warmly welcomed and seamlessly checked into the Deluxe City View Room. We were highly impressed with the room and while this is the most basic offering in the hotel, it still offered plenty of space and breathtaking views over the lake and Macau Tower (you can also get rooms in this category with views of the bay). The room was nicely designed and well appointed with useful luxurious amenities. We didn't even want to leave the room as it was so nice and comfy. The view from the window looking out over the city skyline was second to none–definitely Instagrammable. We unpacked our luggage, put on the plush bathrobes and ordered some room service.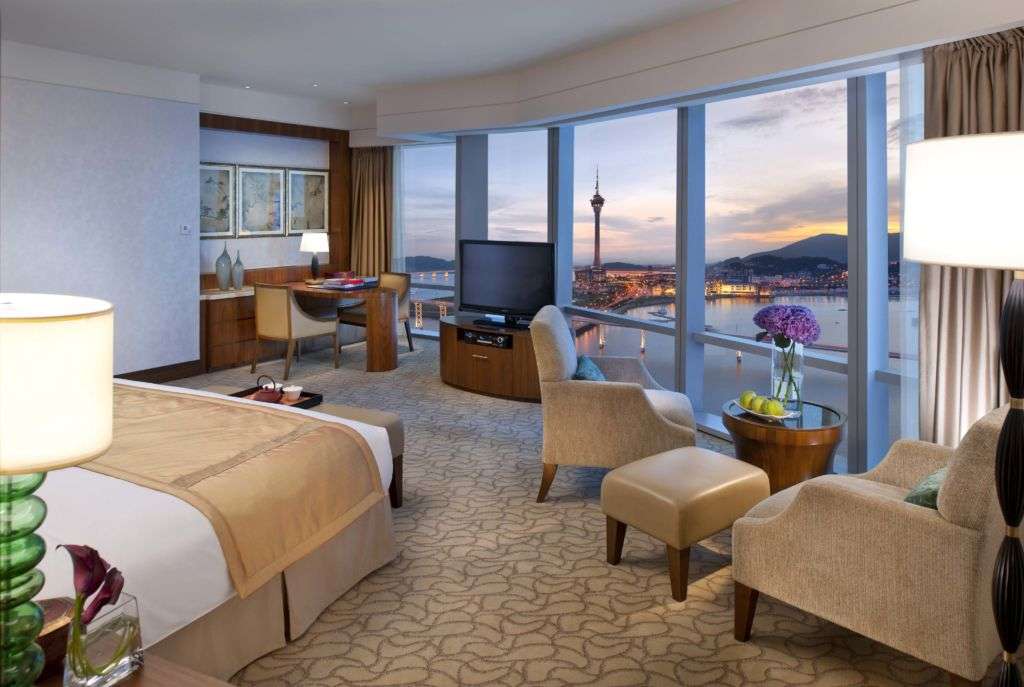 The Rooms: Sunrise, Sunset & Dawn between the sheets
Blending contemporary décor with chic oriental touches, this is one of the only properties that enjoys unspoiled views of Macau. On the clearest of days you can see all the way to Coloane Island and, as a local, waking up in the morning to these views was something really special.
The marble bathrooms come well-equipped with a large bath, glass-enclosed shower, and luxurious amenities from French brand, Atelier Cologne. There are double vanity sinks plus a spacious walk-in wardrobe, drawer safe and a large full body mirror.
The stunning rooms offer a lavish, yet comfortable environment in which to relax after a day's sightseeing–or a space in which to relax after a dip in the pool, spa or meal at their signature restaurant, Vida Rica (we did the latter). The room came fitted with a very comfortable king bed and soft sheets. There is plush carpet underfoot, mood-enhancing lighting, and a range of furnishings, including a working desk and a choice of comfortable seating. Although you won't tire of the view, the television is large and features a huge selection of channels.

All hail Mandarin Oriental, Macau's Dining Offers
Besides their delicious in-room dining, their well known bar Vida Rica Bar is one of the most popular places for a drink after work or for their classic afternoon tea set overlooking the bay. They regularly have their Bar Stories mixology events which have achieved a cult following among Macau locals and are well worth checking out if you are staying over then. Across the hall is the Vida Rica Restaurant, which offers classic Cantonese and European dishes with a modern twist. The restaurant has an intimate ambiance and very spacious seating, so you don't feel too cramped when next to other guests. Dishes can be paired well with wine and there are gorgeous water and city views, making it a great place to dine. The restaurant is named after a wonderful Portuguese expression, 'Amazing Life' and this is indeed what we experienced at the hotel.
Breakfast does not disappoint either – they have all diners catered for, even the more dietary challenged. With large trays of pastries, sliced fruit, cold cuts, yogurt, juices, and more, there was a delicious curated selection of the best offerings. They even have non-dairy milk, and as someone lactose intolerant this meant I could start the day right, with the perfect cup of coffee just how I like it.
Besides these, there's also the relaxed and popular Lobby Lounge. Offering all kinds of cuisines–from Singaporean to Cantonese, Korean-inspired to Macanese–it's a place to hit when looking for a quick fix or even a lavish lunch with friends coming over. Order a bit of everything: from stir-fried noodles to original hotdogs, fresh fruit juices or an array of different coffee drinks, there's a lot to choose from here. Located at the hotel's ground floor, it get a lot of sunlight from the wide windows and it's decorated with contemporary bits. Right beside this restaurant is The Mandarin Cake Shop, where pastry, bread and cake fans can rejoice with all the daily made delicacies served there. Take some upstairs for a relaxing time overlooking the breathtaking views from your discreet and classy room.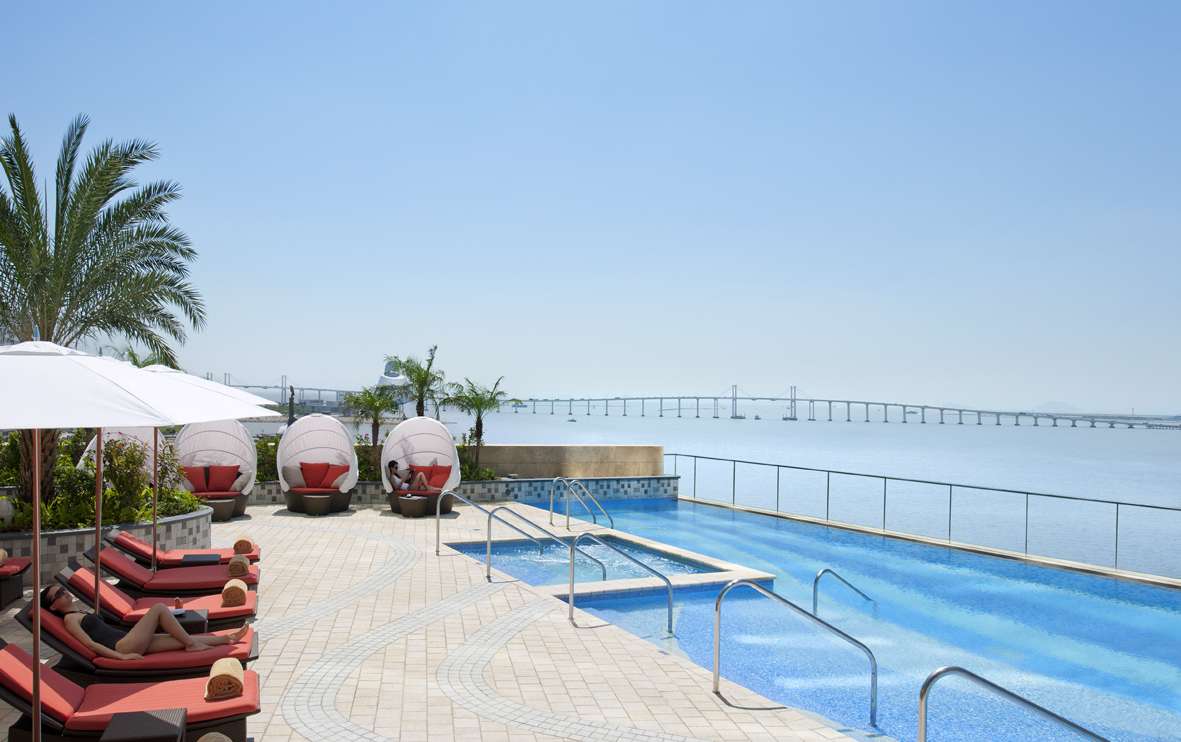 The Facilities: Infinity Pool & Fitness for All
Their Forbes five-star spa spans 8,900 square meters and has four individual treatment rooms, three couple suites and a lavish oriental spa suite. They have a fully equipped fitness and wellness center with an unbeatable view–there really is nowhere else better to have a morning run on the treadmill. Their pool area isn't huge but it never felt crowded while we were there, and the staff were very helpful. I especially loved that they had a full range of sunscreen available for those who might have forgotten them on their weekend over.
Their spa is well known and well reputed for a reason. Expect first class service from the minute you enter. After an initial consultation you are taken away for your treatment. We highly recommend adding on the spa bath session, as it's the best way to wind down and relax your body before the massage begins. They also have a digital detox room complete with creative ways to calm the mind and get you off your phone–something we all need to do more of. This is in addition to the relaxation tea room – a dimly lit room complete with spacious lounges, fresh snacks and beverages–the perfect place to dwell in after your massage if you aren't quite ready to head back to the room.
As always with Mandarin Oriental Hotels around the world, the service here was impeccable throughout our stay – staff were always there but non-intrusive, offering a very personalized service experience. During turn-down, our slippers were laid out, thoughtfully facing in the direction one would step out of bed from. The smallest of details like this were considered on more than one occasion to make our stay at Mandarin Oriental, Macau that much more relaxing and enjoyable. We truly felt at home and leaving the next day was awfully difficult.
---
Mandarin Oriental, Macau 945 Avenida Dr. Sun Yat Sen, NAPE, Macau
For more information and bookings, send an email to [email protected], call +853 8805 8888 or check their website
Tags
Related Posts