If New Zealand has been on your bucket list for some time, then there's no time like the present to start planning. We strongly suggest Auckland as your point of arrival. Explore the monuments, museums, and art galleries in this spectacular city speckled with the most beautiful beaches, and a bustling dining scene. This city is dotted with unique characters and a multi-cultural scene making it a fascinating travel destination. Auckland is a real stunner from every angle so make this city the stop for your next vacation. Here's our guide to help you plan your trip here for a few days so just take the plunge and you won't ever regret it!
North Wharf
Auckland is called the 'City of Sails' and this is illustrated perfectly at the North Wharf. You'll find beautiful boats of all shapes and sizes on the Waitemata Harbour. Find a spot at the Wynyard Quarter or check out the sculptures, scenic boardwalks and a marine-themed play space for children. There is a huge selection of fantastic eateries and bars serving up an eclectic mix of international cuisines, craft beers, and tapas all day. North Wharf is a must visit if you're headed to Wynyard Quarter. It is the perfect waterfront destination for a long lunch, dinner, or even a leisurely stroll or catch-up over coffee.
Auckland Domain
Auckland Domain is undoubtedly one of the most beautiful parks in the region. It is considered Auckland's oldest park featuring magical open spaces, formal gardens, stately trees, miniature waterfalls and leafy tracks to walk along. It is a perfect place for strolling, jogging, picnics, and sports. It constantly hosts free music events which makes a jaunt in the park more special. You can explore it for free, rain or shine.
One Tree Hill
Award-winning singer-songwriter and musician Bono of U2 once wrote a song about One Tree Hill and that is enough for you to check this location out. One Tree Hill is certainly one of the largest former Māori settlement complexes in New Zealand and has even been claimed to be the largest pre-historic earth fort in the world. The volcano sits in One Tree Hill Domain, beside the majestic scene of grassy parkland and gardens of Cornwall Park. You'll even see some sheep on your visit making your trip a true New Zealand experience.
Auckland Art Gallery
Auckland Art Gallery Toi o Tāmaki, founded in 1888 and continues to be New Zealand's largest visual arts experience. The building itself was awarded World Building of the Year at the World Architecture Festival. To better understand Auckland's history, heritage, and culture, this place should be on top of your travel diary. Don't worry if you have kids in tow, it has great resources and exhibitions for learning that's great for visitors of all ages. The Auckland Art Gallery shop also has a great range of exclusive art gifts including reproductions and publications.
Devonport
One of the most beautiful heritage streetscapes in Auckland can be found in Devonport. This visitor-friendly village offers a truly unique experience. It offers a glimpse of local businesses and service with a range of local products that include fashion, design and gift shops. The captivating area is 10 minutes from the city by ferry with easy access to many of Auckland's stunning beaches. Stroll around and stop by studio art galleries, independent bookstores, and boutique shops. Enjoy a movie at the historic Vic Theatre, Auckland's oldest surviving purpose-built movie theatre, now an independent theatre offering the latest movies, local music and performing arts. Experience the thriving café culture of New Zealand while basking in the views, street art, and the ambience of village life.
Matakana
Mark your itinerary with a trip to Matakana. The charming location is just an hour north of the city center. It's famous for fine wine, fabulous food, markets, restaurants, and vineyards. The drive itself is a wonderful experience. Stop by the Brick Bay Sculpture Trail and Sculptureum for some art appreciation. While at Matakana, make sure to also head to the Goat Island Marine Reserve which is New Zealand's first marine reserve. It is considered one of the country's most accessible snorkeling spots with thriving marine life that will fascinate you. Go for a swim or watch aquatic creatures from a glass-bottom boat or hire a see-through kayak.
Waiheke
There's a reason Waiheke Island was named one of the world's top 10 regions to visit in Lonely Planet's Best in Travel guide. The gorgeous island is home to a number of wineries and vineyards. Enjoy the beauty of life and explore vineyards, olive groves, and beautiful beaches. It's just a 40-minute ferry ride away from the CBD. Join a guided tour for tastings of award-winning wines and savor a sumptuous vineyard lunch. Oneroa Village is well worth exploring with delicious eats to try too.
Muriwai Beach Gannet Colony
Marvel at the huge gannet colony at Muriwai Beach. You'll discover around 1200 pairs of gannets nested on the rocky clifftops. Head to the two viewing platforms for a  spectacular view out across the Tasman Sea. Muriwai is a coastal community on the west coast of the Auckland Region in the North Island of New Zealand. The black-sand surf beach is one of several popular beaches in the area where nature lovers head to frolic in the sea during summer.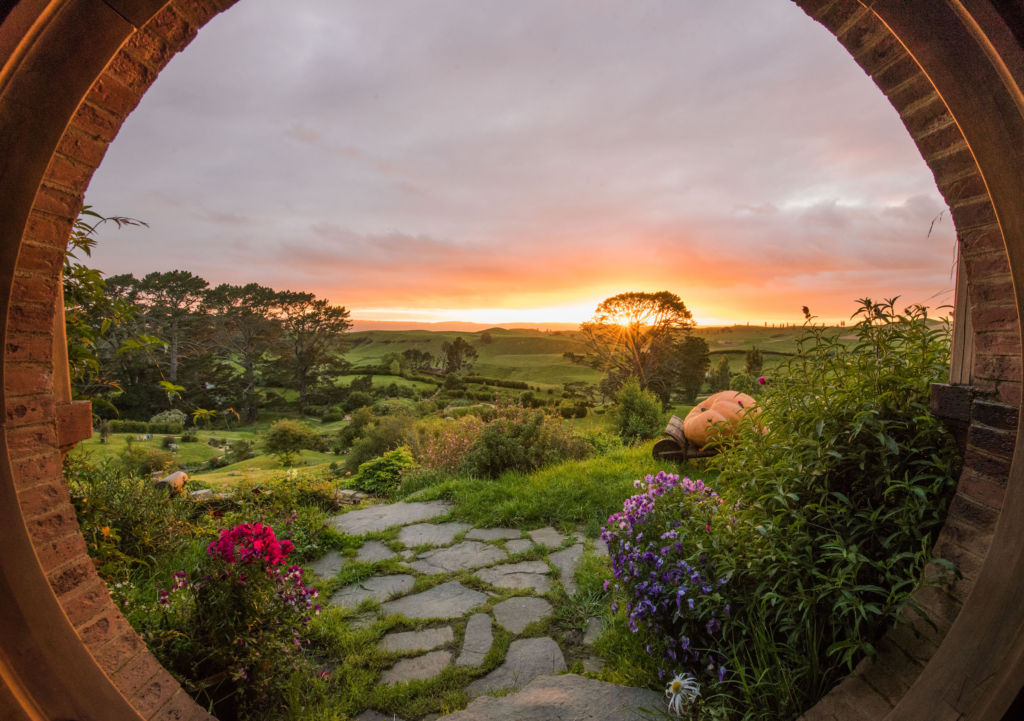 Top tip: Mata Mata where Hobbiton is situated, is a two to three-hour drive from Auckland. Discover Middle earth where scenes from The Lord of the Rings and The Hobbit trilogies were filmed. Go on a spellbinding tour of the permanent movie set with its Hobbit holes, Party Tree, and the Green Dragon Inn where you can make merry with a pint of Southfarthing ale. Of course, everything here is Instagram-friendly as it should be!
---
For more information on Auckland and visiting New Zealand, head to www.tourismnewzealand.com
Images courtesy of Tourism New Zealand
Tags
Related Posts