Ever wondered what a futuristic park would look or feel like in the year 3030? Well, the future park has already arrived in MGM's Art Space and it's running until February 28, 2018. Imagine a place where you can fully immerse yourself in an integrated world of colour and light where technology meets imagination. Bring your own creations to life and appreciate the beauty of the digital world. In collaboration with teamLab, the creative minds aim to explore a new relationship between nature and humans through art. Let's step inside this virtual recreation ground and explore a journey through four art spaces that'll allow you to design and engage with anything you can visualize.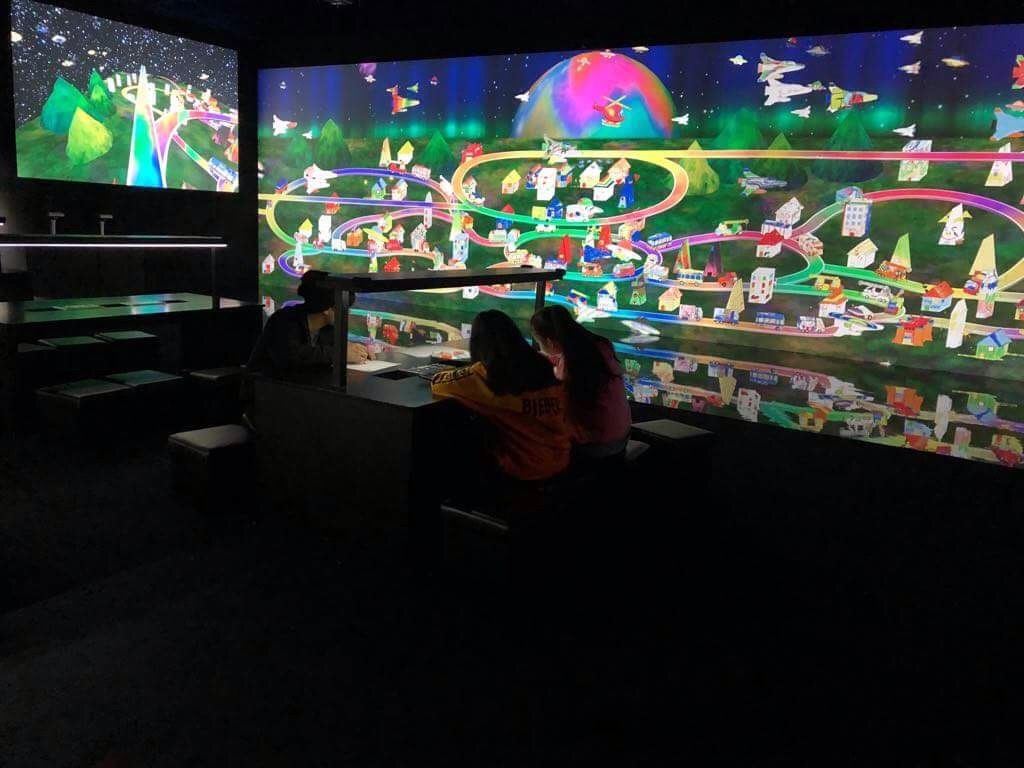 Sketch Town
Witness a town grow and develop based on children's 2D drawings from vehicles, buildings, spacecrafts and then have them scanned to enter the virtual 3D world on the wall-size screen. You can then interact with the townscape by touching individual components while they respond to your touch and activate their purpose. After your drawing have been released into the digital world, you can print out your work into a papercraft plan, assemble your picture into a 3D papercraft model at Sketch Town Papercraft and bring them home as a souvenir. 
Light Ball Orchestra
(See featured photo above)
Have you ever thought of what it would be like to conduct an orchestra? Well you can! Try to tap or roll the small balls to change their colors and sounds while hitting one of the large balls overhead, which affect all the colors and sounds of all the balls in the entire space! Then roll the light balls around you to change their color and create melodic sounds as if you're conducting an orchestra. This is so much fun it's a little challenging to describe but we challenge you to compose a symphony of light and sound at the same time all together!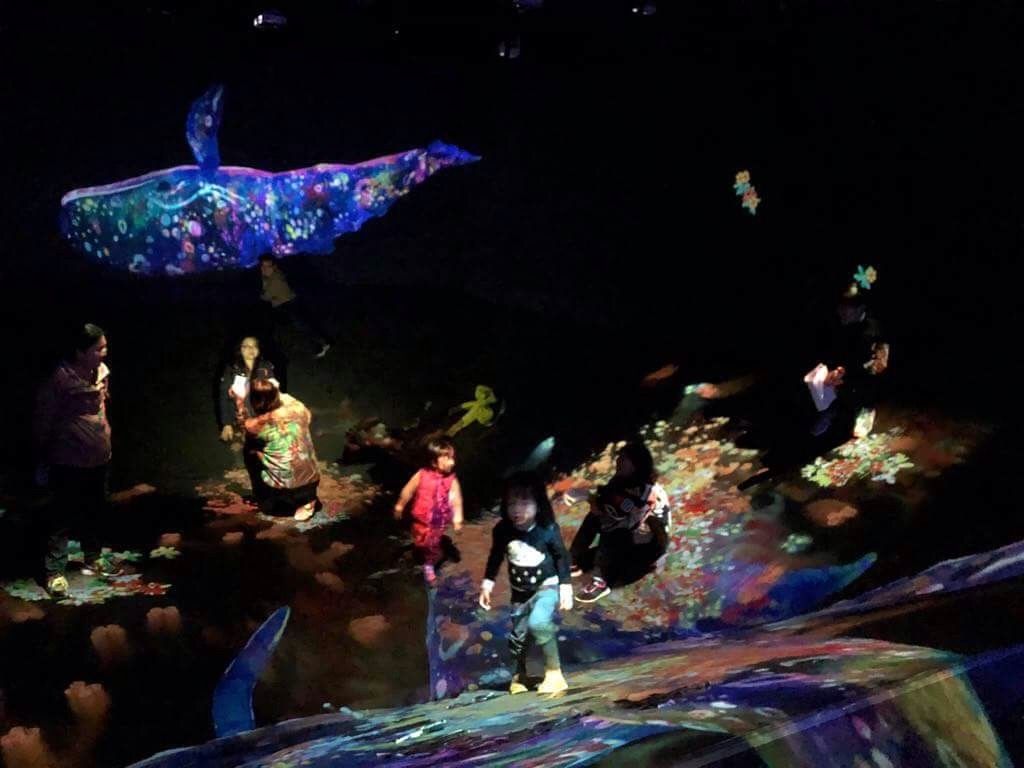 Graffiti Nature – Mountains and Valleys
Similiar with the Sketch Town's concept, but instead you create creatures and wildlife from flowers, butterflies, lizards to crocodiles and transform them to life. Try not to step on the butterflies or they'll burst into a splatter of paint! If you stand in one place, try to observe what will grow around you. The more you create, the more they'll stay and interact with you and your surroundings into a beautiful ecosystem. Wouldn't it be nice if we could do this in real life too? We loved how the whales fly around giving it an even more magical feel to the experience. We also like sliding down the hills and snapping them as fun Boomerang videos for our Instagram stories!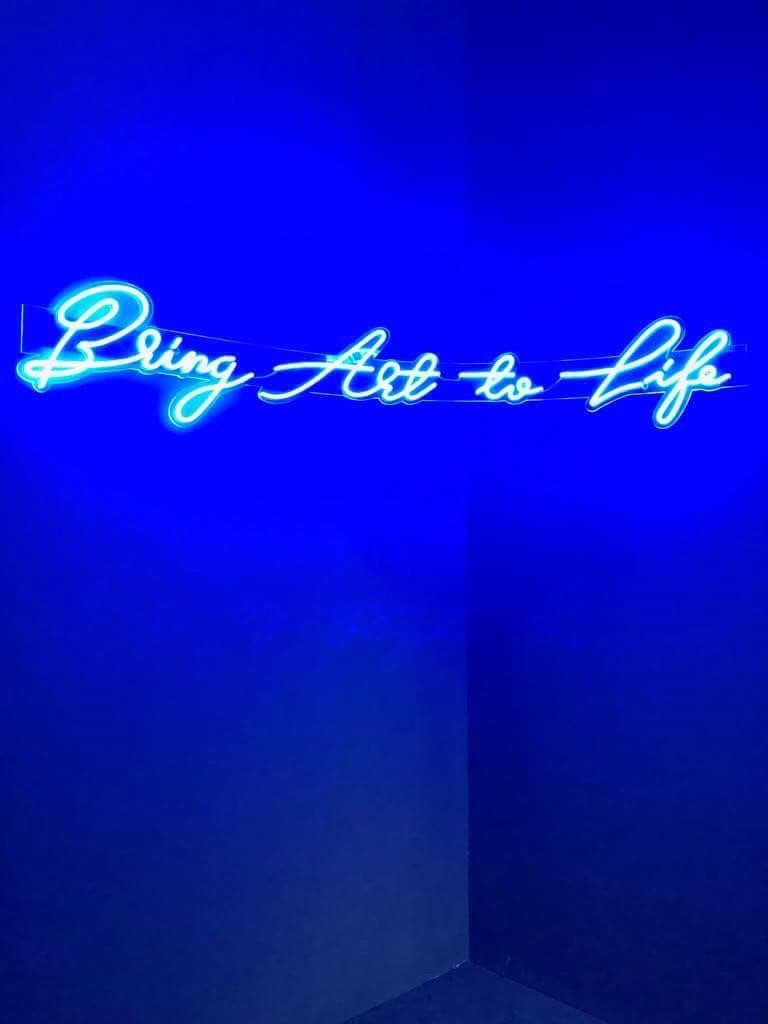 In each art space, not only are you bringing your own art to life but you're also positively engaging with other people and their creations in every exhibition. From the Sketch Town, you draw buildings and transportation to build a whole community in the digital metropolis, in the Light Ball Orchestra, you roll around neon spheres to create a live symphony while in Graffiti Nature, you engage in a wonderland of mountains and valleys populated by other people's animal and plant drawings along with your own. Unleash the inner artist in you here and don't forget to tag #mgmfuturepark and #macaulifestyle to be featured!
---
When: 1:30pm–10:00pm, Monday–Friday, December 1, 2017–February 28, 2018
Where: MGM Art Space, MGM Macau, Avenida Dr. Sun Yat Sen, Nape, Macau
How much: MOP $150 (standard tickets), MOP $120 (Macau residents)
For more information, please visit tickets.mgm.mo or call +853 8802 3833
Tags