It seems just a few weeks ago when we greeted 2018 with a big bang, but as far as we're concerned the festive season is far from over. With Chinese New Year just around the corner, we must admit that what we love most about celebrations like this is the feast and high spirits that surround the occasion. Bring some luck into your life at our top dining picks that will surely bode well as you greet the Year of the Dog!
Festiva at Galaxy Macau
(Featured image above)
Festiva has always been a constant favorite for family gatherings. Making sure there's something for diners of all ages and walks in life, enjoy an extravagant buffet spread that's rich in flavors and yet affordable. With a sumptuous menu inspired by both Asian traditions and Western delights, their Chinese New Year lunch and dinner buffet will warm your hearts. From February 14 to March 4, the lunch buffet is priced at MOP $298 per person and dinner buffet at MOP $498 per person.
Festiva Galaxy Macau, Estrada da Baia de Nossa de Senhora da Esperanca Cotai, +853 8883 2221, www.galaxymacau.com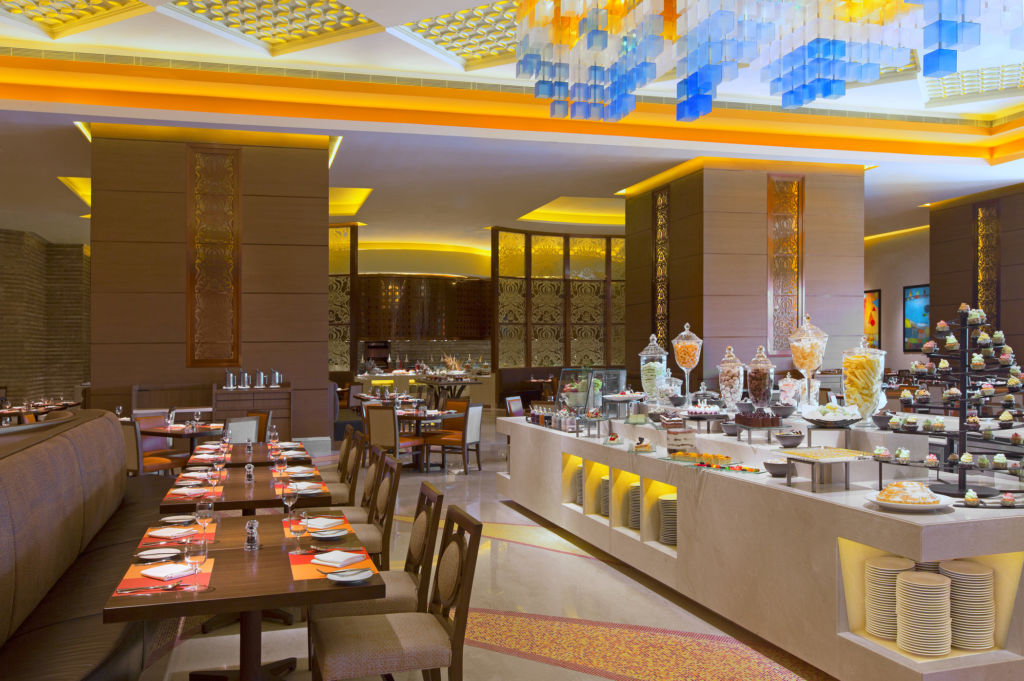 Feast at Sheraton Grand Hotel Macao
Walk to a refreshing ambiance with colors that radiate positive vibes, Feast at Sheraton Grand Hotel Macao has dedicated special dishes to their Chinese New Year buffet that will impress the most discerning taste buds. From fresh seafood and sushi to pizzas and a live waffle station, they will also be offering a 24-month naturally cured live Pata Negra, tandoor marinated baked whole salmon, stuffed pork loin with kai lan and char siu and Xinjiang roasted leg of lamb. The New Year Buffet is priced at MOP $298 per person for lunch and MOP $458 per person for dinner. It is available from February 15 to 20.
Sheraton Grand Macao Hotel Estrada do Istmo, Cotai, +853 2880 2000, www.sheratongrandmacao.com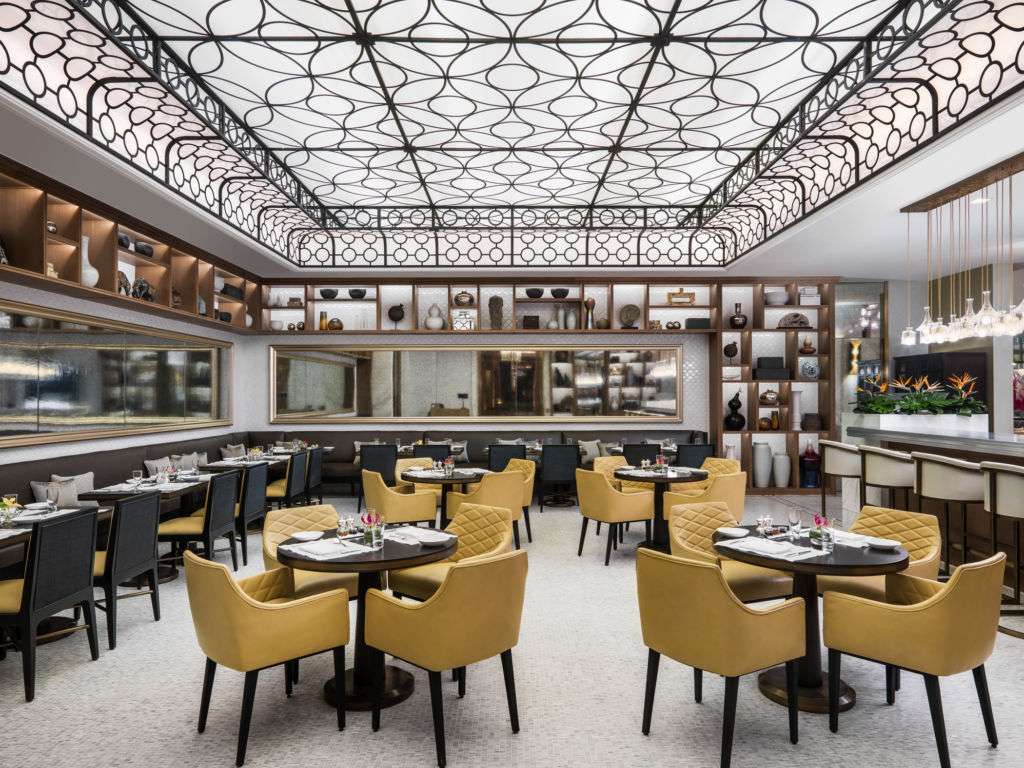 The Manor at St. Regis Macao
From the style to the serving, there is an understated elegance that accompanies a dining experience at St. Regis Macao's The Manor. A top-notch menu by the creative kitchen team includes Hamachi sashimi, truffle XO dumplings, grilled Scottish scallops, and Kobe Wagyu beef sirloin. Marked with an auspicious theme ushering fortune, prosperity, luck, and longevity, the exquisite 6-course dinner set concludes with "Peace", a fluffy three-milk cake with pistachio and raspberry. The special menu is available on February 12 to 13 and 15 to 18 and priced at MOP $588 per person plus service charge.
The Manor The St. Regis Macao, Estrada do Istmo, Cotai, +853 2882 8898, www.stresgismacao.com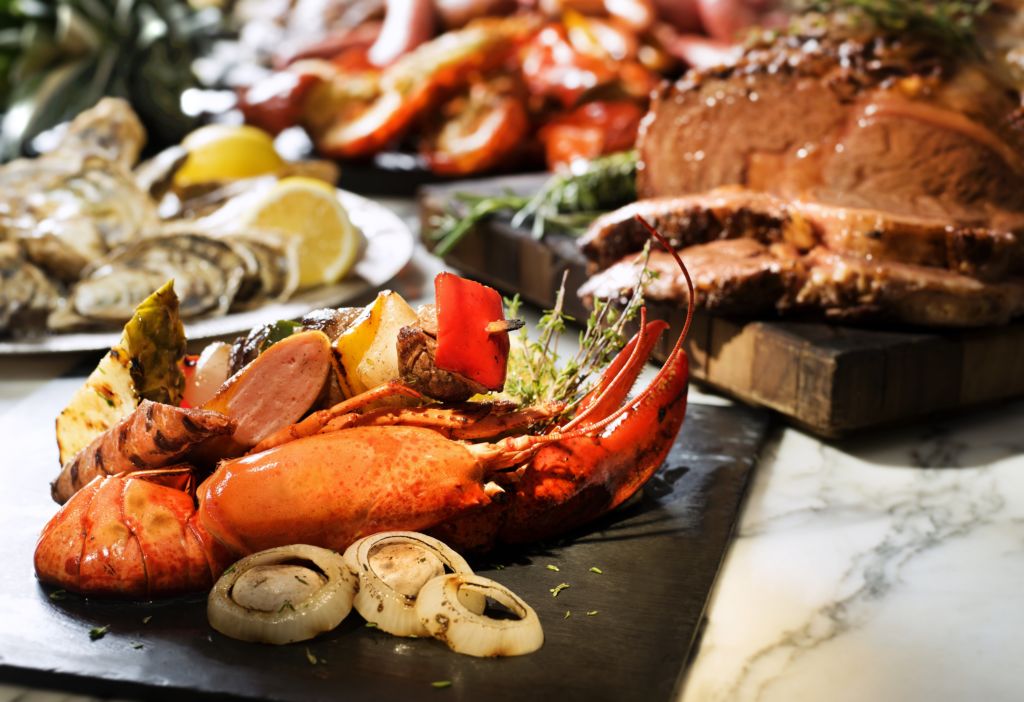 The Ritz-Carlton Cafe at The Ritz-Carlton, Macau
This French brasserie has a special place in our heart for its stylish interior, mouth-watering menu and chic afternoon tea experience. So why not ring in the Chinese New Year in the most elegant French style with a Chinese New Year Brunch at The Ritz-Carlton Cafe for only MOP $598 per person? From February 15 to 18, guests can also indulge in a five-course dinner set menu; which features festive Seafood Nage, Scallop, Prawn and Abalone, Lemongrass and Potatoes. It is priced at MOP $688 per person plus 10% service charge.
The Ritz-Carlton Café The Ritz-Carlton, Galaxy Macau, Estrada da Baía de Nossa Senhora da Esperança, Cotai, +853 8886 6712, www.galaxymacau.com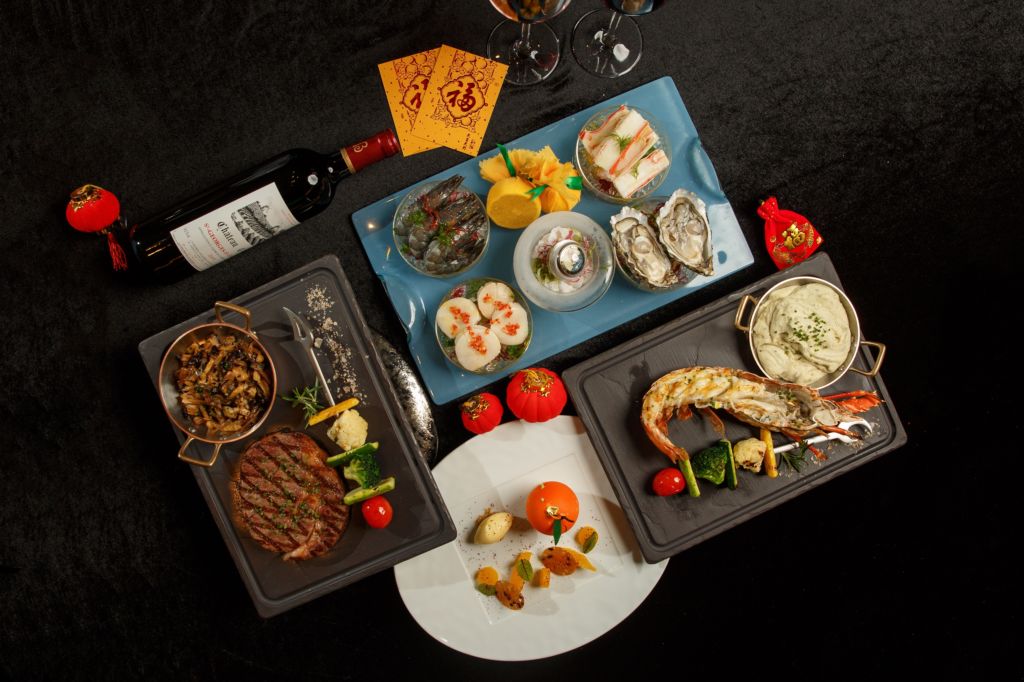 Banyan Tree Macau
The Chinese New Year celebration is all about family reunions. With a sleek and stylish space for all members of the clan to feel comfortable in, Belon offers mouth-watering seafood and delicious grill delicacies that will sate the tastebuds of every member with different preferences when it comes to eating. Dine at Belon for MOP $2,018 per set and ideal for 2 persons. It is available from February 15 to 22 from 6:00pm to 10:30pm.
Now, if you are looking for some spice to add to your Lunar New Year celebrations, head to Saffron where an exceptional and authentic taste of Thai cooking awaits. Savor an unforgettable feast while basking in an understated elegance and exquisite decors. The Chinese New Year menu is priced at MOP $588 per set and ideal for two persons. It is available from February 1 to 28, 2018 from 12:00pm to 300pm daily and 6:00to 10:30pm  from Monday to Thursday. The price is subject to 10% service charge.
Banyan Tree Galaxy Macau, Estrada da Baia de Nossa da Esperanca, Cotai, +853 8883 6688, www.banyantree.com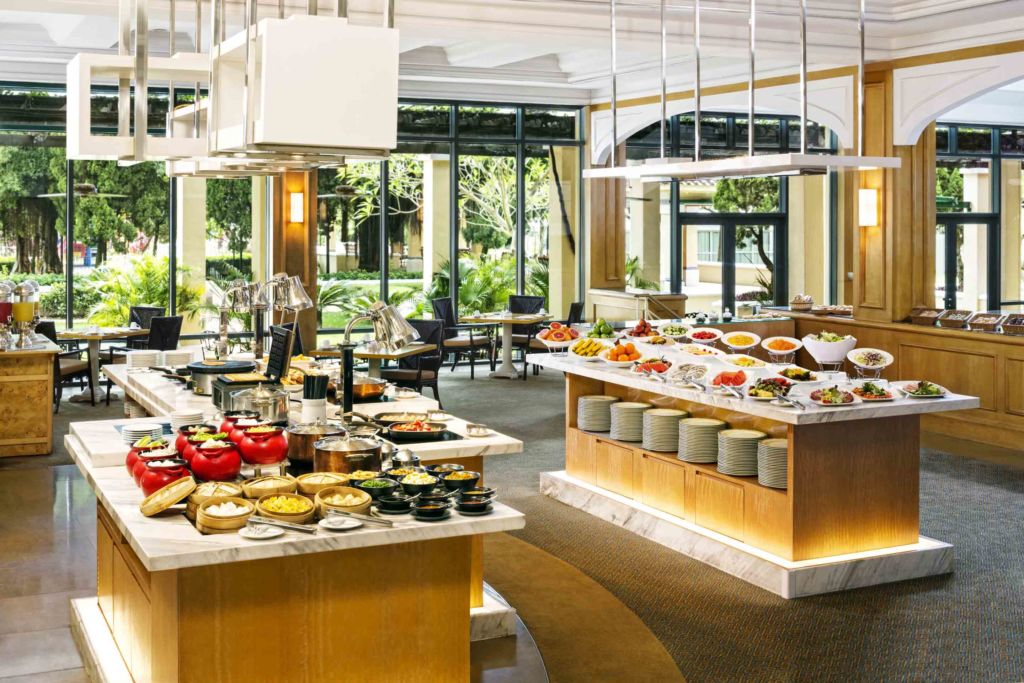 Grand Coloane Resort
If you're looking for a holiday vibe to celebrate Chinese New Year then a quick trip to the Grand Coloane Resort is what we recommend. Café Panorama has designed a creative family brunch buffet and dinner buffet from February 17 to 18 only. The festive brunch features a wide spread of international delicacies, live barbecue station, desserts and guess what, everyone's favorite ice cream. The children can run wild in the green environment, enjoy the free bouncy castle and cool activities as well. It is priced at only MOP $388 per adult and MOP $128 per child. Don't miss the dinner buffet offering a wide range of the freshest seafood, appetizers, hot mains and desserts. It is priced at MOP $428 per adult and MOP $219 per child.
Grand Coloane Resort 1918 Estrada de Hac Sa, Coloane, +853 8899 1127, [email protected] www.grandcoloane.com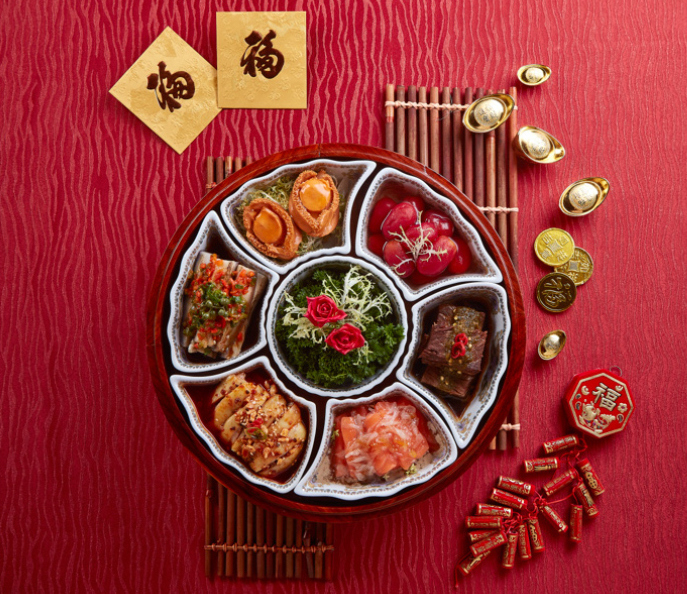 Feng Wei Ju at StarWorld Hotel
Nothing beats an authentic Cantonese cuisine to celebrate the Chinese New Year! It's obvious that Feng Wei Ju at StarWorld is the first that comes to mind when we talk about this culinary treasure. With elegant private dining rooms to make every gathering an intimate affair if you choose to do so, you can savor the divine Feng's Legend for MOP $368 per dish or Fortune Tureen for MOP $488 per dish. From February 6 to March 2, indulge in a special setting with delicious dishes which is precisely what makes Feng Wei Ju a dining gem.
Feng Wei Ju 5/F, StarWorld Hotel, Avenida da Amizade, Macau; +853 8290 8668, www.starworldmacau.com/en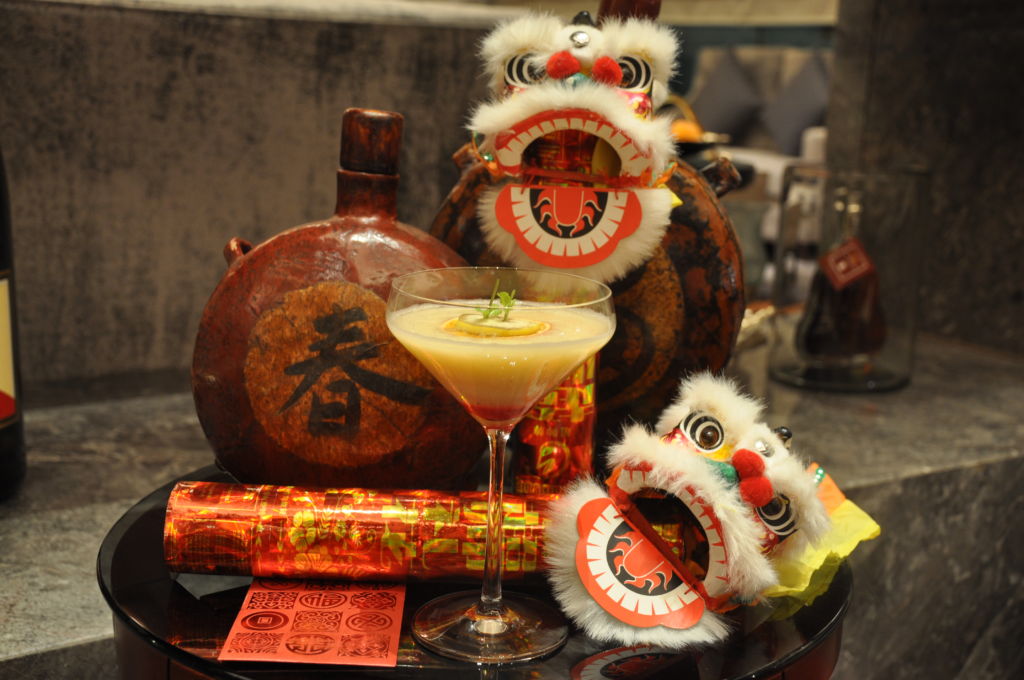 Grand Lapa Hotel
Say cheers to the Lunar New Year with a Red Dragon at Grand Lapa's Vasco Bar & Lounge for only MOP $68. You can also try the Tropical Empress, a non-alcoholic cocktail for MOP $58. Now, after setting the night on mood, head to Café Bela Vista where a Sino-Portuguese New Year Seafood Buffet awaits for MOP $388 per adult and MOP $194 per child. There's a lucky draw so prepare for wonderful surprises. There is something for small and big families at Grand Lapa on Chinese New Year.
Grand Lapa Avenida de Amizade, Macau, +853 2856 7888, www.grandlapa.com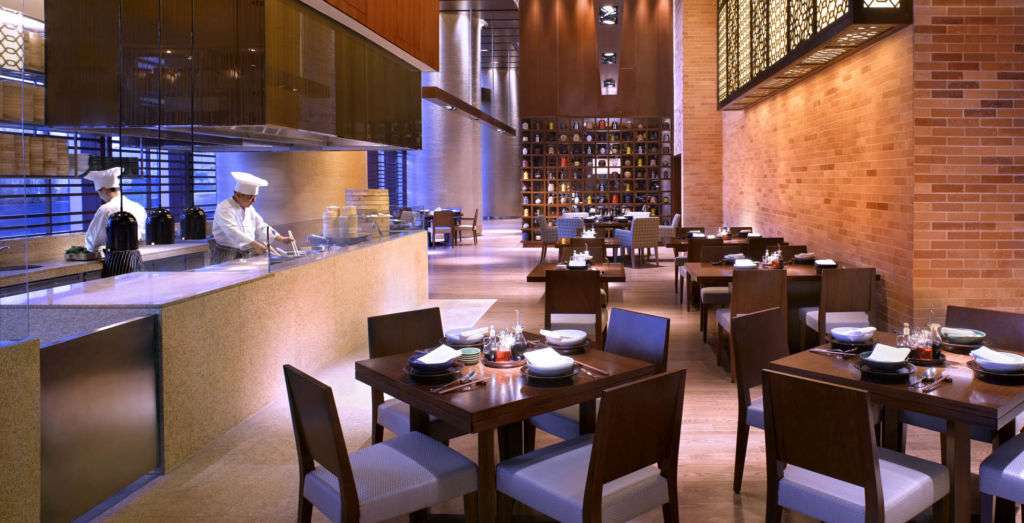 Beijing Kitchen at Grand Hyatt Macau
Grand Hyatt Macau's Beijing Kitchen brings a big bang to the Year of the Dog with a Big Bowl Feast from February 9 to 25. It is available for lunch and dinner. Now, if you're thinking of hosting a staff party or gathering extended families for a celebration, the Spring Dinner Package is your best option. A friendly team will help you organize a fuss-free and fun soiree.
Beijing Kitchen Grand Hyatt, Estrada do Istmo, Cotai, +853 8868 1930, macau.grand.hyatt.com/en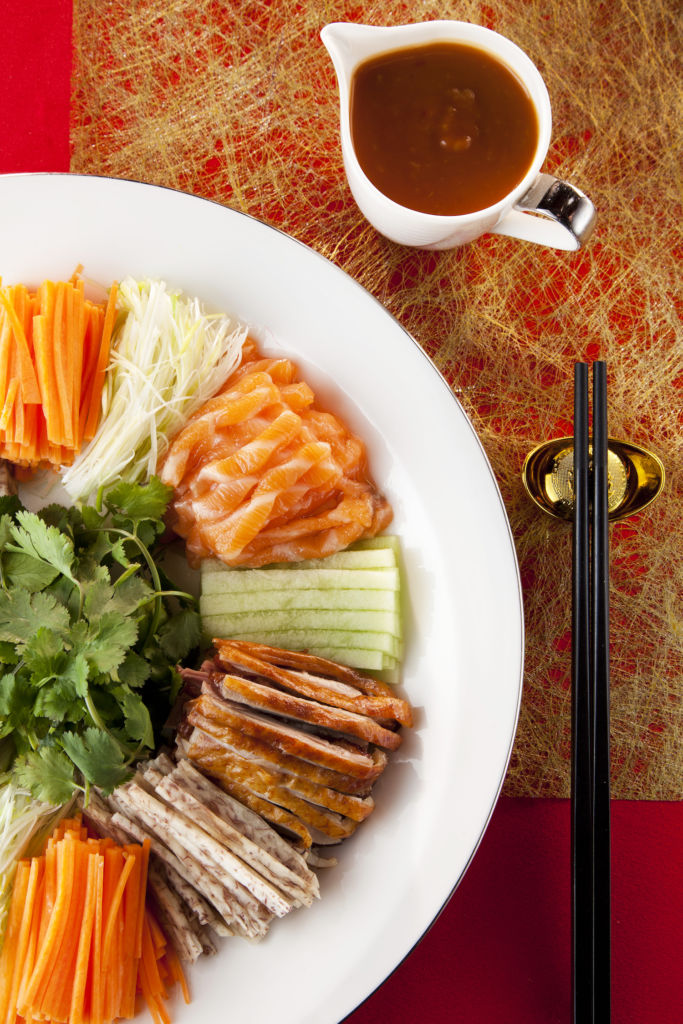 Mandarin Oriental Macau
Taking the season to a luxurious level, Mandarin Oriental's Vida Rica Restaurant has designed an 8-course Chinese degustation and 8-course festive family style set dinner menu which highlights Mandarin Oriental lo hei with salmon, fresh and picked vegetables, pomelo, crunchy golden puff, plum sauce, peanut and sesame, Double-boiled fish maw soup with Matsutake mushroom and chicken, smoked and braised beef rib with rock sugar and lime zest and much more. It is priced at MOP $888 per person for the 8-course degustation menu and MOP $4,888 for four persons, and MOP $8,888 for eight persons. It is available daily from 6:00pm to 10:30pm. The Mandarin Oriental lo hei is also available as a take away for those who prefer to enjoy it in the comfort of their home.
Mandarin Oriental 945 Avenida Dr. Sun Yat Sen, Nape, Macau, +853 8805 8888945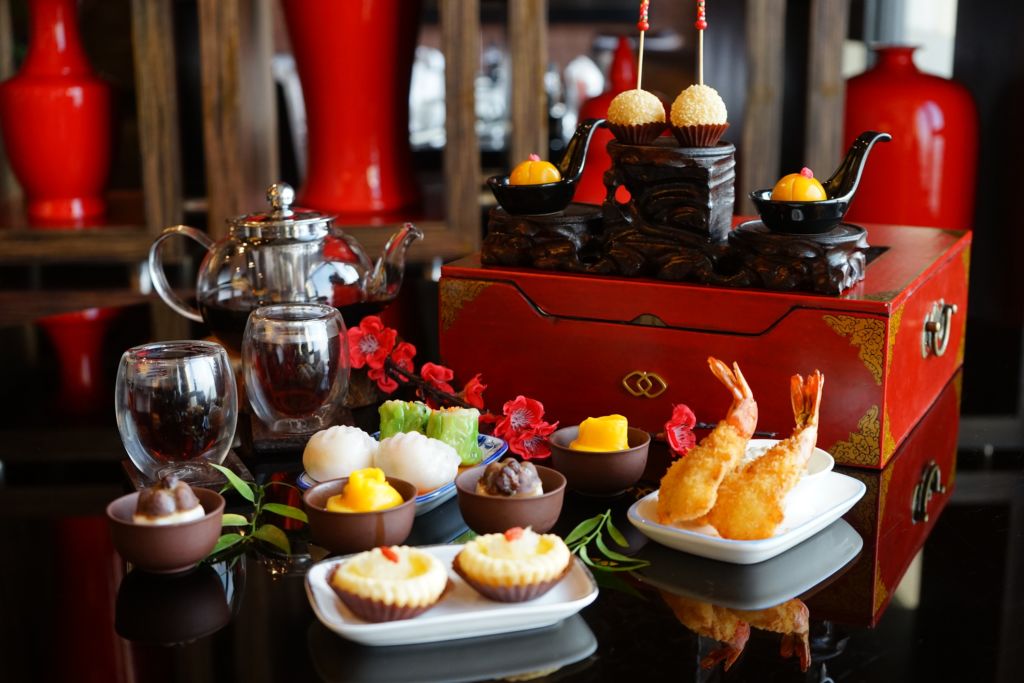 Sofitel Macau at Ponte 16
In the midst of the busy season, take time to relax in laid-back surroundings of the RendezVous Lobby Bar at Sofitel Macau at Ponte 16. The very essence of Chinese New Year is about family and the most valuable gift we can give them is our time. The Deluxe Chinese Afternoon Tea Set is fantastic for sharing with a variety of traditional Dim Sum, such as Pork Dim Sum & Prawn Hakao, Bird's Nest Egg Tart, Coconut & Red Bean Pudding. All the delicacies are presented in the elegant brown-red wooden box in a refined Chinese style. For only MOP $258 for two persons, enjoy some quality time with your loved ones.
RendezVous Lobby Bar Sofitel Macau at Ponte 16, Rua do Visconde Paco de Arcos, Macau, +853 8861 0016, www.sofitelmacau.com
Share
Tags
Related Posts