Every September, the Macau International Fireworks Display Contest takes place above the sea area across from Macau Tower, and this year it is set to return with displays that will be bigger and better than ever. Expect to be dazzled by ten outstanding teams who will be trying to outdo each other with their incredible pyrotechnic skills. The 27th edition of the competition will feature five nights of dazzling displays from each of the teams (see the schedule below). Make sure you book in advance and secure your spot to watch the fireworks from. These are definitely the best fireworks in the world and you're going to want a good location to take them in, in all their magnificent glory. Here's the list of our favorite locations in the city to view them from.
Mandarin Oriental, Macau
(See featured image above)
Yes, there is truly such a thing as a fireworks buffet dinner and it's happening only at Mandarin Oriental, Macau. Taking place at Vida Rica Bar, this special dining event will pair magnificent views of the amazing pyrotechnics with great food and great service. There could be nothing better than some great food and a glass of wine or two while the sky lights up outside. The lavish buffet dinner is priced at MOP $588 per person but a special window seat is priced at MOP $688 per person plus 10% service charge. Indulge in the freshest seafood, oysters, sushi, sashimi, live carvings and more from the special menu. We'll certainly be lingering a little longer at the decadent dessert section to satisfy our sweet teeth. It's a dessert aficionados dream and a must-try for all guests and diners.
Vida Rica Bar Mandarin Oriental, Macau, Avenida Dr Sun Yat Sen, NAPE, Macau, +853 8805 8888, www.mandarinoriental.com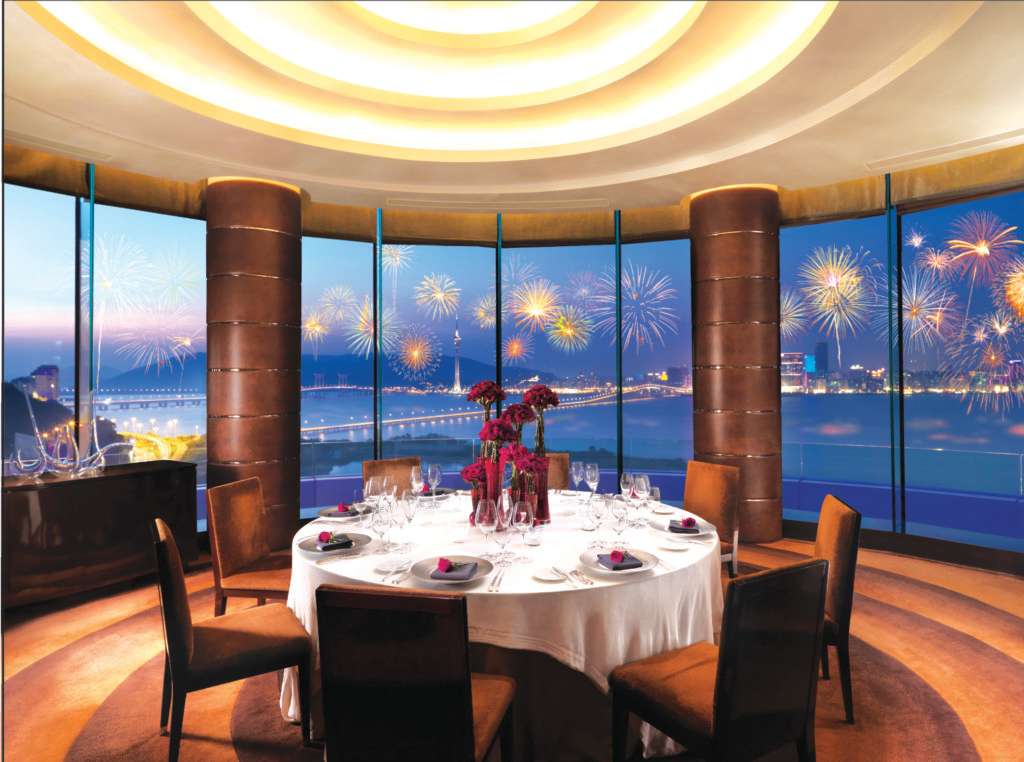 Altira Macau
Bask in world-class food and service while watching the night transform with beautiful bursts of light and sound. Altira Macau has one of the best views for the most sparkling event in Macau. You can choose from any of their Forbes Five-Star and Michelin-recommended restaurants, Aurora and Tenmasa. Both restaurants will be serving special menus to add flair to the exciting evening, with each outlet offering panoramic views of the city skyline. We particularly love Aurora for its open terrace and cool ambiance. They have an exclusive five-course Seafood and Rubia gallega beef dinner for MOP $988 per person available only on September 1, 8, 15, 24 and October 1.
Altira Macau Avenida de Kwong Tung, Taipa, Macau,+853 2886 8888, www.altiramacau.com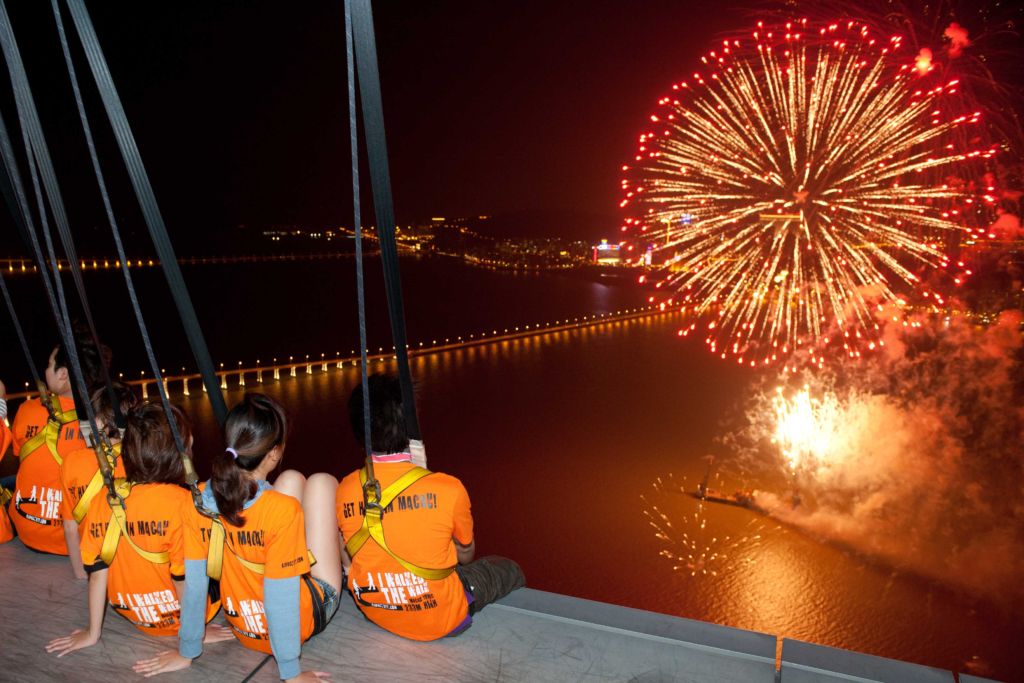 AJ Hackett Macau Tower
Now here's something a bit different – if you want to get up closer and personal with the fireworks why not go join their 'Firework Skywalk.' This is as thrilling as it sounds. It will be akin to sitting in the front row of fashion week – only you'll be watching fireworks from the iconic landmark that is the Macau Tower. The thrilling activity is organized by AJ Hackett and the special offer is only available during the firework display dates of September 1, 8, 15, 24 and October 1. You'll undoubtedly have the best views of the Macau skyline as the sky shines bright and beautiful. Moreover, you'll be close enough to judge the best of the best yourself – earplugs optional! The experience is priced at MOP $551 for Macau locals and MOP $788 for non-locals. This incredible experience should be on your bucket and booking list.
AJ Hackett Macau Tower Macau Tower, Largo da Torre de Macau, +853 2893 3339, https://www.ajhackett.com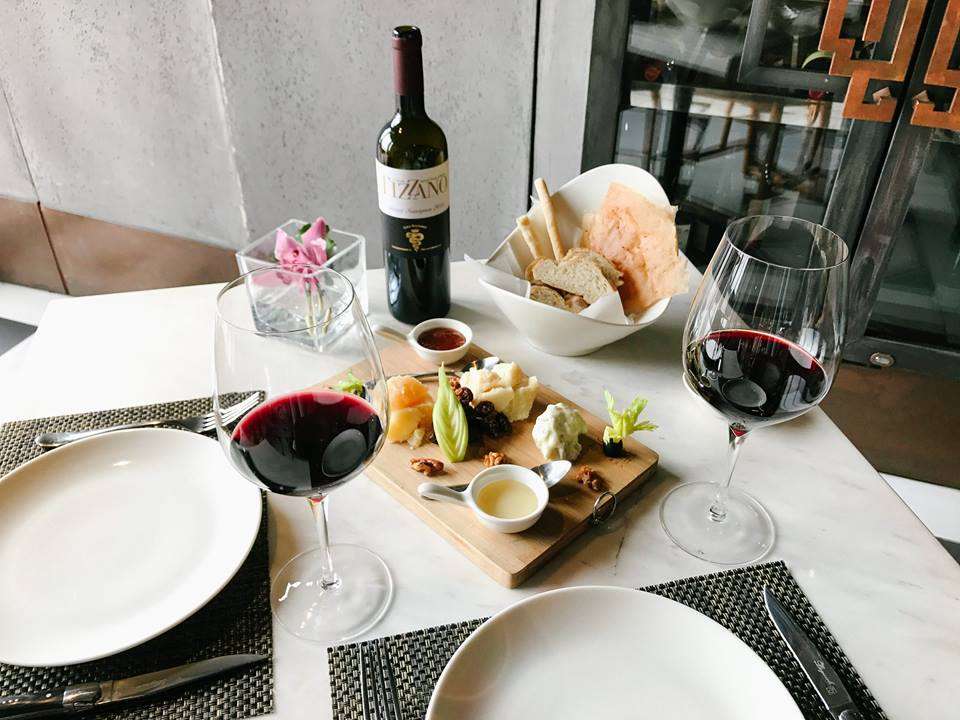 Caffé B Macau
Caffe B is an elegant Italian abode tucked away in the Lake View Mansion and faces Macau Tower, making it a great place to be on fireworks day. Indulge in sublime Italian fare including freshly cooked pizzas and Josper grilled steaks before the big event at 9:00pm and 9:45pm. All dishes are cooked simply and perfectly with the freshest ingredients and flavors. After a sumptuous meal, walk a few steps to see the fireworks in all their magical glory. The Nam Van Lake is just a few steps away from where the crowd will be gathered for the night. It's a lovely stroll after a delicious dinner of happy hour drinks with family and friends.
Caffé B Lake View Mansion Block 1, 744G-H Avenida Panorâmica do Lago Nam Van, Macau, +853 2838 6886, www.facebook.com/caffebmacau

Macau-Taipa Bridge
If you're hurrying to get last minute views of the fireworks display, skip the transport and head up to the Macau-Taipa bridge on foot where there is a special pedestrian lane that spans the length of the bridge. If you take a short walk up you can position yourselves on whichever side of the bridge you choose and wait for the main event. The walking area on Taipa Side is actually in front of Ocean Gardens where most of the people tends to gather for the spectacular evening, so be wary of crowds.
Also known as the Governor Nobre de Carvalho Bridge, this dual-lane two-way bridge opened in 1974 and connects Macau peninsula to the island of Taipa at the northern slope of Taipa Pequena crossing the Baía da Praia Grande. It's a picture-perfect spot for a view of the shimmering skyline of Macau, and a great place to enjoy the fireworks.
Macau-Taipa Bridge Pte. Gov. Nobre de Carvalho, Macau
---
29TH MACAO INTERNATIONAL FIREWORKS DISPLAY CONTEST 2018
September 1 – Philippines, 9pm and Korea 9:40pm
September 8 – Japan, 9pm and Belgium, 9:40pm
September 15 – France, 9pm and Portugal 9:40pm
September 24 – Germany, 9pm and Austria, 9:40pm
October 1 – Italy, 9pm and China at 9:40pm
Where: Sea area, Macau Tower, Largo da Torre de Macau
How much: Free admission
For more information please visit www.macaotourism.gov.mo for more updates
Tags