Creativity is a crucial core of a thriving and innovative society. In this age and time, it's important to realize how this trait has played a distinct role in human evolution. Our ability to imagine and create has changed the course of history and today we must embrace that passion if we are to succeed not just over the pandemic but over our fears of the unseen that holds us back. In the name of fashion, lifestyle, and beauty, the Global Creative Call Out series was born. A true celebration of the very best of future talent, Lane Crawford continues its search for writers, photographers, tech innovators, and stylists, to sign up and join the Makers Movement. Lane Crawford's Creative Call Out has not come at a better time. In fact, it's a perfect opportunity for our homegrown talent to be seen as an essential part of the global industry. Having successfully merged the world of technology and the world of the arts in a glorious history of 170 years, Lane Crawford's success marks a lasting legacy in the region. It's time to support emerging talent and this is the message echoed by Lane Crawford respected not just by customers but by brand partners that grew in huge numbers through the years.
In a nutshell, the brand's mission aims to give a platform for new creatives to inspire the market and bring together artists, photographers, videographers, stylists, writers, and multimedia content creators to carve out the new direction of fashion for the new era of luxury in Asia. The winners will embark on an adventure with the Lane Crawford family and shape the future of talent and vision.
Lane Crawford's Global Creative Call Out is paving the way for the next generation through the spirit of community, proficiency, knowledge sharing, and creativity. Having cemented their position as an iconic brand, their pursuit of artistry, craftsmanship, and design has redefined the way lifestyle is perceived. By connecting individuals across generations, disciplines, and cultures–Lane Crawford is committed to building an enduring legacy.
WHAT YOU NEED TO KNOW
Who can join? Everyone who is a designer or brand from fashion, beauty, jewelry, lifestyle, and technology who have an innovative concept. Creative talents such as writers, photographers, and stylists are also invited to apply for the Creative Call Out. Even if you're a previous applicant–you can join again with your new collection and latest developments.
What are the prizes? The prizes include HKD $100,000 in business development grants, access to an exclusive mentorship program with world-renowned designers, stocked in all Lane Crawford stores, and participation in three brand creative projects showcasing work across all digital platforms.
Who are the judges? This year's judges panel includes Andrew Keith, President of Lane Crawford & JOYCE; Alexander Wang, Designer of Alexander Wang; Anna Fang, Founding Partner and CEO of Zhen Fund; Ella Wong, Head of Social Impact of Creative Artists Agency; Tasha Liu, Founder of Labelhood; Miranda Qu, Founder of RED (Xiaohongshu); Shaway Yeh, Founder of Yehyehyeh; Derek Yu, Director and Co-founder of Modern Art Museum Shanghai; and Wei Zhang, Assistant Resident Representative of United Nations Development Programme (UNDP).
What does the judging process involve? The Creative Call Out will involve in-depth discussions with talents for a deeper understanding of their brand identity and commercial awareness. Product samples and current collections will also be examined during the panel interview depending on the applicant.
When will winners be announced? 12 finalists will be shortlisted and featured in pop-up in-store in late August. Then, customers will be invited to vote for the first time in September 2020.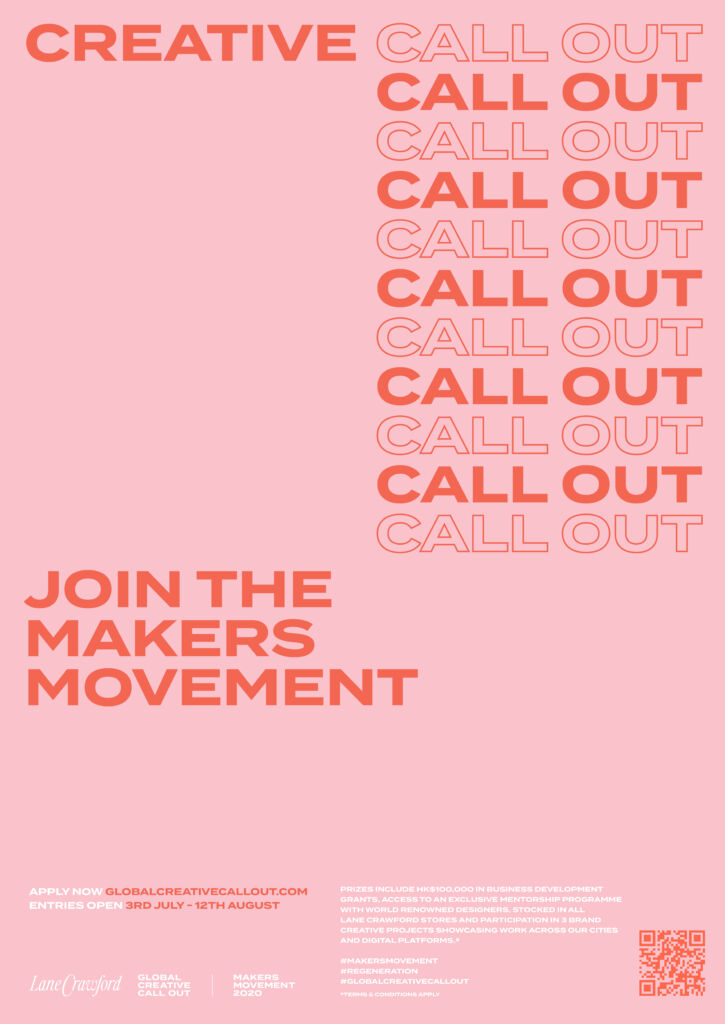 HOW TO APPLY
Create a one-minute elevator pitch video about yourself, your brand, and what makes it stand out.
Provide a little bit of information about yourself, your company, and how to contact you.
Send in your portfolio, shots, mockups, prototypes, and up to five supporting images.
Register at www.lanecrawford.com.
---
For more details on Lane Crawford's Creative Call Out, check their Instagram page @lanecrawford or www.facebook.com/lanecrawfordhk
Lane Crawford ifc mall, Podium 3, 8 Finance Street, Central, Hong Kong, +852 2118 2288, www.lanecrawford.com
Tags