We can't help but love the bustling art scene at Taipa Village Art Space. This month, artist Allen Wong shares his thoughts and reflections on art and society. Don't miss this extraordinary day of sharing and exploration. And outside of the village, you'll find exhibitions across the city running throughout the month. Start with our list below and prepare your itinerary.
(Featured image above)
Head to the Taipa Village Art Space and join a thought-provoking session on art. The event entitled "Who am I: Video Installation by Allen Wong—Sharing Session" is presented by established Macau artist Allen Wong. He will elaborate on further insights into his inspiring collection of video installations which are developed based on his recurrent theme of traditional Chinese bird cages. In his creation, the bird is presented as a figurative object to reflect the relationship between freedom and human society.
When: Saturday, 3:00pm–5:00pm, November 11, 2017
Where: Taipa Village Art Space, 10 Rua dos Clerigos, Taipa
How much: Free admission
For more details, visit www.taipavillagemacau.com or +853 2857 6118
Taipa Village Cultural Association proudly presents local established artist Allen Wong's solo exhibition "Who am I", showcasing two sets of artistic expressions—video installations and mixed media installations—which are based on Wong's recurrent theme of traditional Chinese bird cages. The four video installations, entitled "Southeast Southwest", "Fan", "East West Path", and "What Do You Want", explore the concept of the thaumatrope. The exhibition aims to reflect the relationship between freedom and human society.
The curator's statement reads, "This exhibition presents Wong's most intimate and fragile self, by looking into his inner beliefs in order to make sense of the daily contradictions, overcome life's struggles, surpass moral obstacles and progress with his artistic ambitions. It is, in fact, an exposition of his search for freedom of thought and how to maintain the strength of identity."
When: 12:00pm–8:00pm, October 11–November 29, 2017
Where: Taipa Village Art Space, 10 Rua dos Clerigos, Taipa
How much: Free admission
For more details, visit www.taipavillagemacau.com or contact +853 2857 6118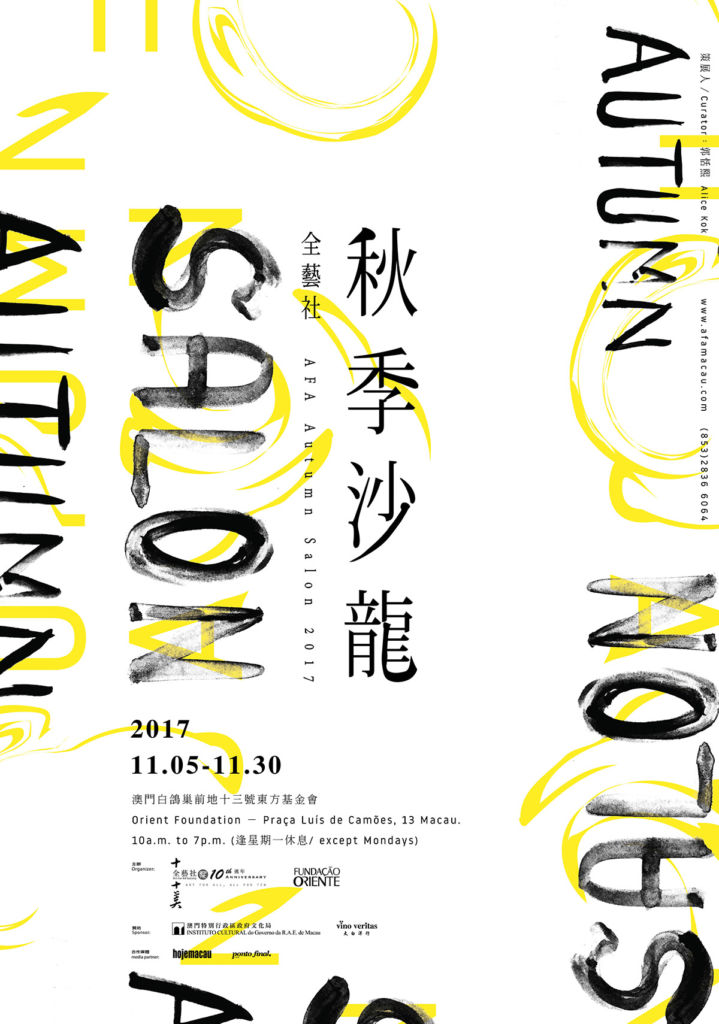 Organized by Art For All Society (AFA) and Orient Foundation, the opening ceremony of "AFA Autumn Salon 2017" will be held on November 4 in Casa Garden, Macao Delegation of Fundação Oriente.
After the artwork selection by the jury, this time there will be 58 artworks from 30 local artists presented in the exhibition. The participating artists are: Sou Chon Kit, Ieong Sok I, Francisco Antonio Oliveira de Almeida Ricarte, Lou Ka I, Wu Hin Long, Lai Sio kit, Tang Kuok Hou, Lei Ka Ieng, Leong Wai Chon, Ieong Man Hin, Lan Chiang, Lo Chong Hong, Wan Ieng Meng, Lam Wun Keng, Leong Cheng I, Zhang Yijun, Cheok Hio Peng, Ieong Man Pan, Kay Zhang, Jose Drummond, João Palla, Ng Fong Chao, Chen Xuelin, Season Lao, Ho Si Man, Cai Guo Jie, Yang Sio Maan, Benjamin Hodges, Wong Mei Teng and Yves Etienne Sonolet. The 58 selected artworks include oil paintings, watercolors, drawings, sculptures, photography, porcelain, and printmaking, installations, and videos. All participants are now working and living in Macau.
When: 10:00am–7:00pm, November 5–30, 2017
Where: Casa Garden, Orient Foundation, 13 Praca de Luis de Camoes, Macau
How much: Free admission
For more details, +853 2836 6064 or www.afamacau.com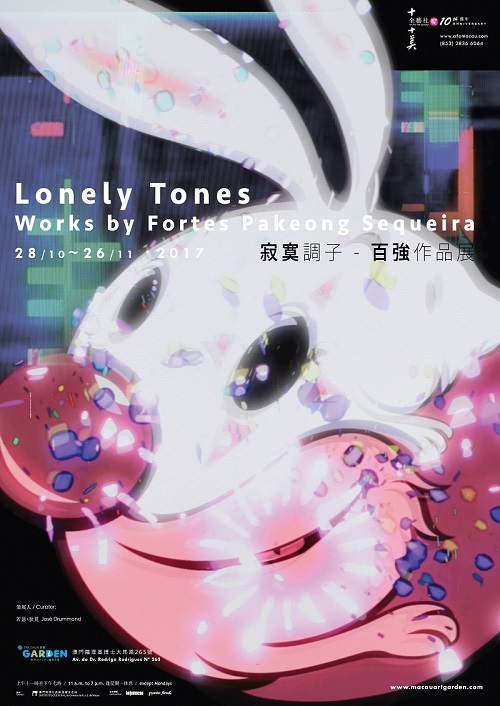 Macau artist Fortes Pakeong Sequeira will have his solo exhibition "Lonely Tones—Works by Fortes Pakeong Sequeira" in AFA Macau. This time Pakeong will show his latest artworks including installation and animation and aims at opening up new perspectives in which the viewer is able to engage.
When: October 28–November 26, 2017
Where: GF, Tak Chun Macau, Art for All, Art Garden, 265 Avenida Dr. Rodrigo Rodrigues, Macau
How much: Free admission
For more details, visit www.afamacau.com or +853 2836 6064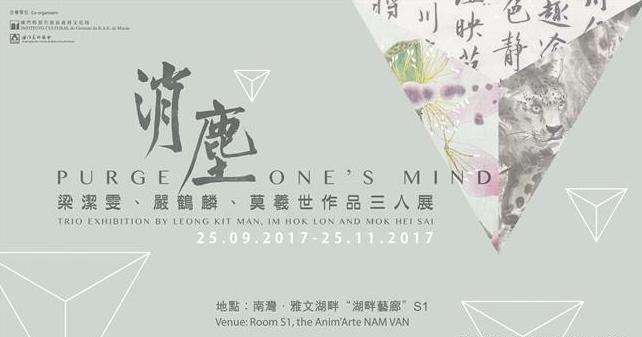 Co-organized by the Cultural Affairs Bureau (IC) and the Macau Artist Society, "Purge One's Mind: Trio Exhibition by Leong Kit Man, Im Hok Lon, and Mok Hei Sai" will be inaugurated on September 25 at the Lakeside Gallery, Room S1, in the Anim'Arte Nam Van. It is the first painting and calligraphy works exhibition organized at Anim'Arte Nam Van featuring a total of 25 artworks by three young artists.
Leong Kit Man is currently studying for a Ph.D. degree in fine arts at the Chinese National Academy of Arts. She is now engaged in the research of fine art theories, artistic creation, and Chinese painting education and specializes in the creation of Chinese painting in the gongbi style. She was a lecturer in the Design Programme of the City University of Macau. Her works have been selected for the collections of the government and private institutions. She is active in exhibition activities in Macau, mainland China, and abroad.
Mok Hei Sai (pen name: Xing Yue) obtained a master degree in literature and art studies at the East China Normal University. He has been engaged in teaching calligraphy for many years and is committed to the promotion of traditional culture. Over the past few years, he has cooperated with artists from the fields of the tea ceremony and leather carving, in an attempt to promote the charm of Chinese characters.
Im Hok Lon is a graduate of the Guangzhou Academy of Fine Arts specializing in landscape painting. He is committed to the promotion of Chinese painting and carving. His works mostly feature landscapes and animals and were exhibited in mainland China, Macau, Hong Kong and Taiwan. His works were also selected for the "Macao Annual Visual Arts Exhibition" and the "National Exhibition of Fine Arts".
When: 11:00am–10:00pm, September 25–November 25, 2017
Where: Anim'Arte Nam Van, 744B Avenida Panoramica do Lago Nam Van, Macau
How much: Free admission
For more details, visit www.icm.gov.mo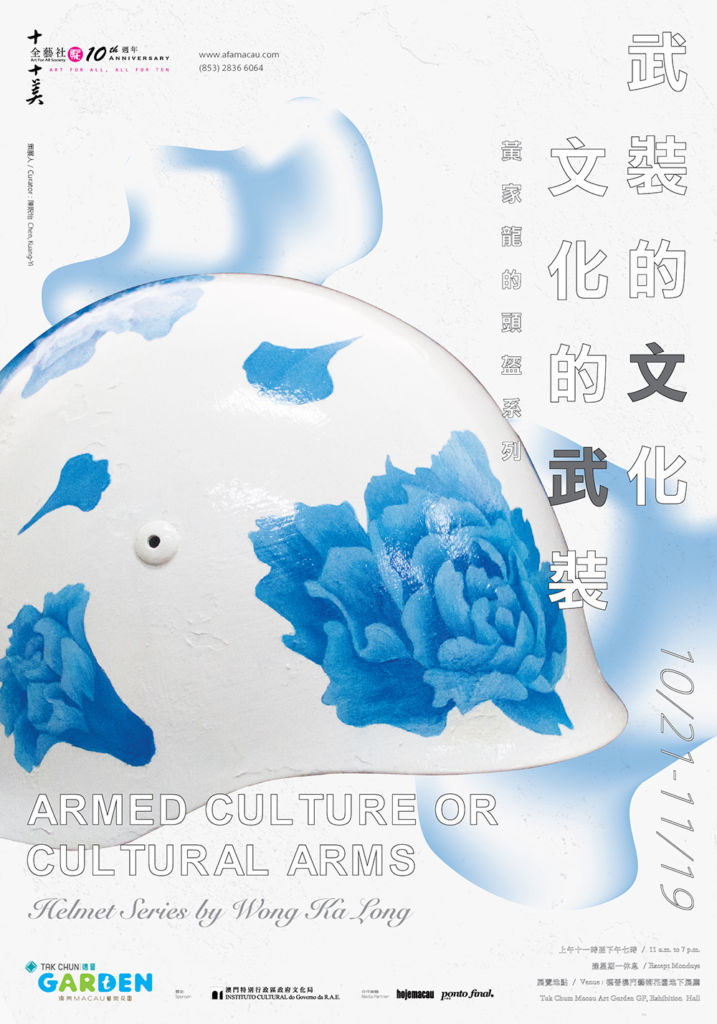 Macau artist Wong Ka Long's exhibition "Armed Culture or Cultural Arms—Helmet Series by Wong Ka Long" is opening at AFA on October 20.
Wong Ka Long graduated from the Guangzhou Academy of Fine Arts with a solid foundation in sketching and classical sculpting. With his high artistic attainments, he as a modest and loyal spokesperson of the notables in the cultural and artistic sphere has created numerous sculptures of them that stand across the tiny city of Macau.
From the statue of Luís de Camões at the Taipa Houses to the bronze statue of Professor Jao Tsung-I, each one of them demonstrates his mastery and knowledge of the materials and techniques that characterize sculpture of the Italian Renaissance, Chinese Socialist Realism, and Western modern art. Nevertheless, Wong has never slowed down his pace.
With his art techniques, Wong has successfully conveyed his deep philosophical reflection on warfare. This exhibition weaves together ingeniously the three courses of warfare, embodied by authentic combat helmets and sound effects, culture, by imitated and manipulated helmets and military culture, and by pieces of ordnance acquired through collection or charity sale. Wong's artworks are the arms of culture as well as a culture that is itself armed. Apart from stretching the mind of the viewers by urging them to contemplate the intricate relationship between warfare and culture, his art also encourages them to create a culture of their own through experiencing their own "lives of thought".
When: October 21–November 19, 2017
Where: Ground Floor, Tak Chun Macau, Art for All, Art Garden, 265 Avenida Dr. Rodrigi Rodrigues, Macau
How much: Free admission
For more details, visit www.afamacau.com or +853 2836 6064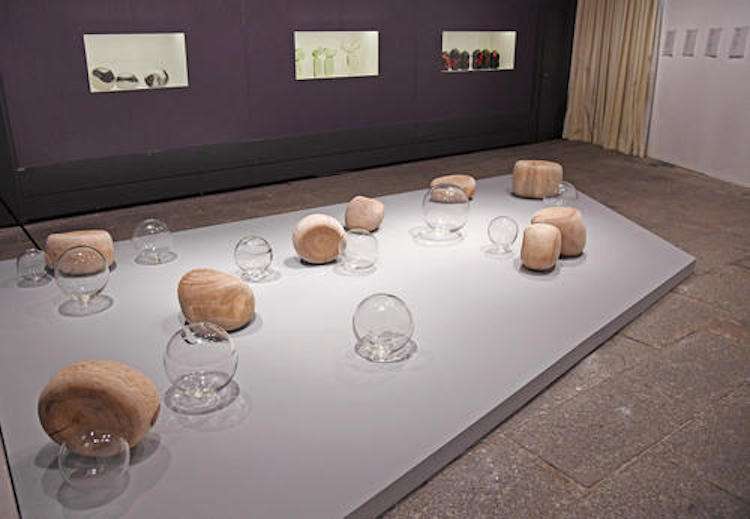 Glass artist Sunny Wang has engaged in the art of glass teaching and creative activities for many years. She is currently working as an assistant professor at Hong Kong Baptist University. Her artworks were awarded an Honourable Mention at the "International Exhibition of Glass Kanazawa" in Japan and the First Prize in Single Material at the "Golden Glass Awards" in Taiwan, among others, and have been showcased in exhibitions in countries such as Australia, Germany, France, Italy, Maldives, Singapore, South Korea and Mainland China.
This exhibition features twenty pieces (sets) of Wang's glass installations. Her works are rich in oriental cultural elements. Among them, the work "Poetic Stones" is inspired by the Buddhist ode of The Ten Ox-herding Pictures and ancient Chinese phonology. Twenty-eight black stone-shaped glass of different shapes and sizes are displayed in four rows with seven in each row, corresponding to the rhythm of seven words quatrains. She uses lines in her works, making large circles as the level tone, while small circles as the oblique tone. Each circle refers to a moment, a stone refers to a rhyme. There is no way back and no interval in the course of glassblowing, just like calligraphy writing. The creation process has to be completed without interval and reversal, corresponding with the artist's perception of "living at the moment".
When: September 11–November 19, 2017
Where: Temporary Exhibitions Gallery of the Civic and Municipal Affairs Bureau, Leal Senado Building, 163 Av. Almeida Ribeiro, Macau
How much: Free admission
For more details, visit www.icm.gov.mo or +853 8988 4000
Tags