Renowned for innovating hospitality design for luxury and boutique brands for nearly 50 years, Wilson Associates has been consistent in creating iconic spaces all over the world. It continues to offer a range of design services and specialty studios not just in the hospitality industry but to individuals who yearn for creativity in their home. Design Director at Wilson Associates, Douglas Moon, discusses the importance of good design and the key to functional yet stylish spaces. Delving deep into a discussion of how interior design has evolved through time, Moon also shares tips on how to give our home a facelift.
Tell us about yourself and your journey to becoming a designer.
I'm an architect working on interiors and architecture. I worked in London doing private houses, new builds, and restoration, then I eventually moved to the Middle East and worked on bigger projects. That's where the interiors boom started for me. I became one of the lead designers in interiors. It's a different set-up because I was considered an interior designer even when I was an architect because there was a focus on specialization. After that stint, I went back to London and then did projects in New York as well then I joined Wilson Associates and started the residential team.
I honestly didn't know what an architect was then. I never really knew anyone in construction. I had an interest in design but I didn't have a comprehensive understanding of it when I was young. It was during a trip with my dad to London when I was a kid that I had sort of an eye-opener because of all the grand structures. Doing the university degree was a long journey but I've learned to be flexible and adapt.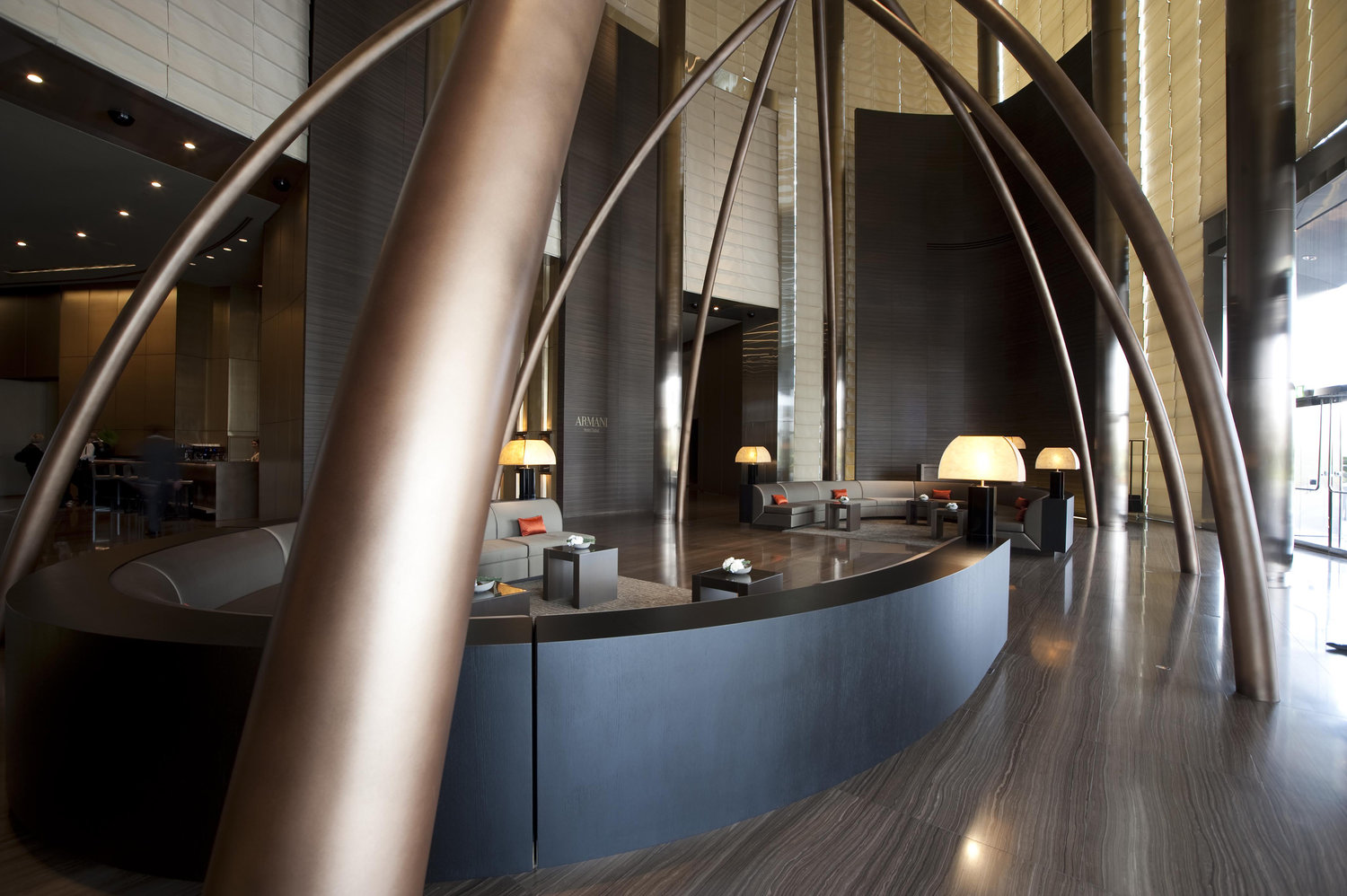 Armani Hotel Dubai
Could you tell us more about Wilson Associates?
Wilson Associates has always been in the top three hospitality designs in the world. It's comprised of world-class designers with global perspectives, working in 10 design studios, in eight countries, across three continents. It started in Dallas and expanded across America. Now we have bases in New York, Los Angeles, Asia, Dubai, Paris, and London. It's a huge company but mostly focused on hospitality design. One of our iconic projects is the Armani Hotel Dubai in the Burj Khalifa. We've done quite a few for Gordon Ramsay in London and Singapore as well.
I was however approached to do residential work. My background on private housing coupled with commercial and residential work made it very ideal to join them. Sometimes we'll work on a project that's part hotel part self-service apartments. My philosophy is to work closely with clients because sometimes they have a passion for design but can't articulate it and so, we help them translate it.
Do you find that interior design is now becoming a trend and becoming more accessible to people?
There has always been a steady stream of work in this field. I've seen it growing more and more. I have observed a scene of more confidence and of more people approaching us. We're getting clients who are well-traveled and it's becoming more mainstream. There is more appreciation and engagement to interior design.
How do you start when you get involved in a project?
Working on a private residential project takes a different approach. You have to look at the location, understand the heritage and engage with clients. All of these factors take time because you also need to get to know the client and get an idea of what they want and don't want. It's easier to ask them what they hate because we can ensure that we address that aspect.
Sometimes you may also have a conflict of ideas when interviewing partners and your goal is to find the right balance between them and that takes deep involvement. When it comes to a commercial brief though, it can be rigid so it is key to be creative and not follow it blindly.
How would you describe your design style?
I don't have a design style because our projects are client-focused so it's taking their ideas and blending it with our experience. Everything is unique. I've discovered a certain trait though and it could be an influence but possibly style. I gear towards 40s, 50s and art deco-ish. I love timeless pieces when it comes to furniture as well.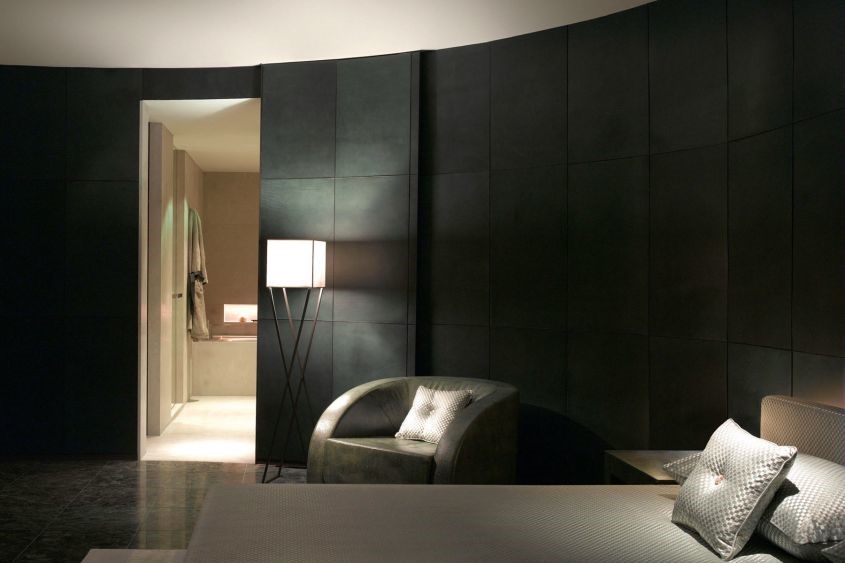 Can you give us a few pointers on how to design a certain space?
Start with what you've got. When we begin to design a newly built house, it's a full frank conversation. Select furniture in one go so everything ties together. Step back and start from scratch.
For those of us who move around a lot–especially overseas–do you have advice on how not to end up with an eclectic house in 10 years time?
I am in the same boat (laughs)! I think there comes a time when you have to be brutal with yourself in terms of what you're buying. Restrain yourself and set a limit. You have to keep this thought at the back of your mind. There's no hard and fast rule and if something doesn't fit with the rest of your furniture that's absolutely fine.
Can you give us three easy tips to refresh the interior of our home?
Invest in storage and display cabinets. When you have small spaces, you can divide areas with open shelving and yet being able to neatly show off your knickknacks or art you have purchased on your travels. The trick is to be organized and practical.
Throw stuff out. Practice the "one in and one out" policy otherwise you'll keep accumulating more and more things.
The lighting in an apartment can change everything. If you can't do much renovation then small lighting changes will make a huge impact.
What is your definition of a successful private home interior design?
If it makes you feel like this is how it was supposed to be all along. When you can't identify it from its previous state then that's amazing.
What's your dream project and why?
I've done a few of my dream projects already actually. Having done a massive townhouse in London as well as penthouses in New York, one design doesn't beat the other. Some properties are truly sentimental and different places have different meanings. One that I would love to do is a complete architectural design in Miami, California or South Africa. I want to work on something coastal with modern aesthetics and lots of glass possibly near an ocean because that's one I've never done before.
How long does it take to work on something like that project you had in mind? 
Generally, in my experience, it can take a couple of years. Starting from a blank piece of paper to a key in the door.
What about an existing home and just redoing it?
This kind of project would take around one year probably.
Do you have any ongoing projects in Hong Kong and Macau?
I'm not at liberty to say the specific project just yet but we do have one in Macau. My team is collaborating with another team for a special project and we'll keep in touch when we're ready to do so.
Do you have any advice for young people who want to start in design and architecture?
This is something I keep telling everyone in my team. If you want to go for something, you have to push beyond your role. Don't limit your work and learn from your job and start at the bottom. An architecture course can be long and sometimes you just have to work your way up and keep looking above you. To be an exceptional designer, you must push yourself out there to be recognized.
---
For more details, visit www.instagram.com/wilsonassoc or email [email protected].
Wilson Associates www.facebook.com/wilsonassociates
Tags
Related Posts