Konstantin Bessmertny is a name well known in Macau. This Russian artist arrived in town over two decades ago and it didn't take too long before he made himself at home in this small, unexpected city. His latest exhibition at the Macao Museum of Art (MAM) is called Ad Lib. Used mostly in classic music or drama, the expression is  Latin for "free will" or "at leisure", it indicates the spirit in which the artist will represent or interpreted a specific piece.
The title fits like a glove on the exhibition that showcases several different collections by the artist who grew up in the Soviet Union. Although there is a preference for oil paintings Konstantin also included a number of installations, sculptures, holograms, tiny, ultra-detailed doll-houses and one hologram.
"Macau for me is a question of survival for me" — he explains in his slight Russian accent — "but people don't understand. They think I mean I was an economic immigrant, but it's not that. You see, it is the survival of an ideal. The rest of the world needs everything but art, especially not the art you see here. I have a classical background, and you see around the world that artists no longer need school. They sit at home and paint".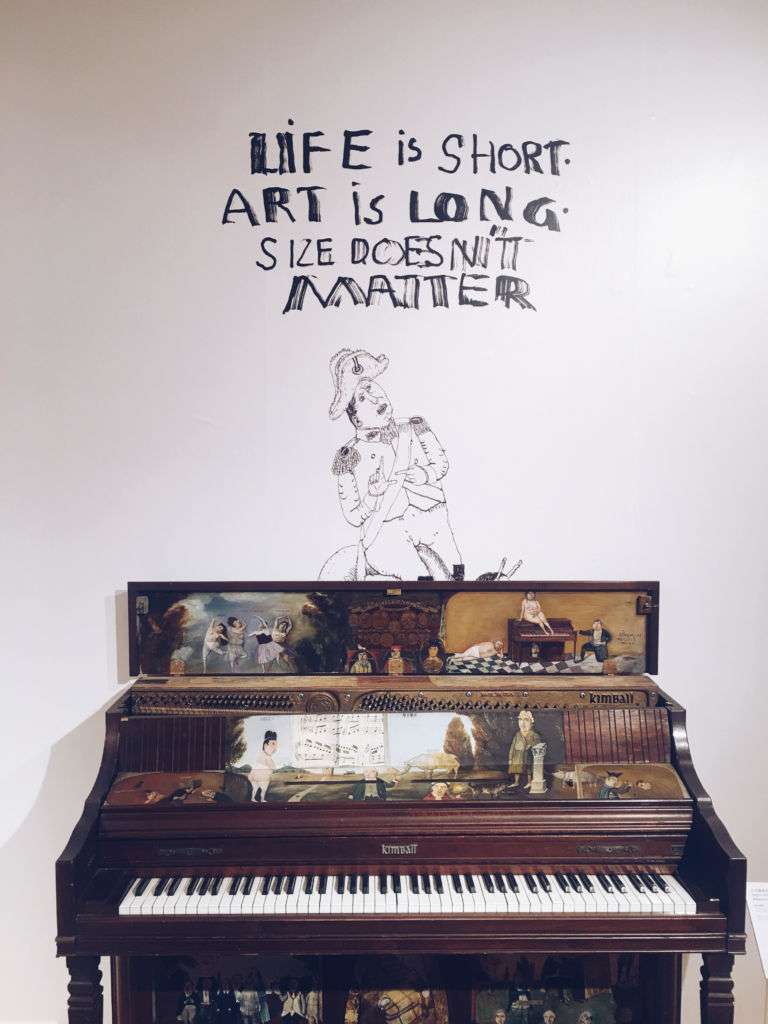 Now 52, the artist believes that his formal education was crucial to his training, "it is fine to put the rules you learned with your teachers aside, but only once you learned them". A sentiment anyone will easily see reflected in his artwork, one that is solid and real.
Konstantin does not limit himself to art, but rather he reinterprets history, literature, film and any factor life is made of. Politics and a deep irony play a role in his work and so does his outlook on society.
In his "Remake Series", Konstantin takes images that remind us of renowned movies — although none of the paintings corresponds to an actual still — and writes subtitles that do not apply, giving the images an odd sense of reality. "Two young guys chase a girl in Italy you see how vintage the feeling is? but the conversation is completely contemporary". When asked if this was a take on pop-culture, he replies that it is indeed. "People become just surface. Now you can demonstrate your own insignificance. People who were previously hiding at home, because they had nothing to say, suddenly have a voice. Like the Kardashians, they are heroes now".
Even a quick glance around the space will tell you that Konstantin Bessmertny is not an ordinary artist. His work is made of layers upon layers of information "the more you know the more you will enjoy it" he tells me when I spot a reference to Visconti. Next to a giant Rasputin in Pink there is an equally large Queen Victoria with make-up and a "Girls rule" graffiti on her. "This is how a great powerful women would be portraited now-a-days, as a pretty girl" — he laughs.
Despite his talent, experience and success, Konstantin is a humanist. Humble and approachable, the man behind the name is an avid reader — we don't need to ask, we can tell by the numerous references to Umberto Eco, St. Thomas and many more– a cinephile and music lover. He is, as only true artists can be, a  true connoisseur of humankind. So if you do anything at all in Macau until May 27, do visit Ad Lib — it is an education on to itself.
Ad Lib – Recent Works by Konstantin Bessmertny  2nd Floor, Gallery of Special Exhibitions at Macao Museum of Art
Tags