As a city crammed with mega-resorts and gaming hubs, raw creativity is often pushed aside and under the concrete carpets of Macau. As the adage goes, seek and you shall find, beyond the reclaimed lands in overlooked parts of old Macau, the world of the street artist exists. These lesser populated grounds provide the opportunity for furtive, creative, albeit short-lived street art pieces and installations by various street artists–local and abroad. This type of art doesn't usually last a long time due to certain restrictions, but certain areas of the city definitely merit a visit if you're into street art as there are some stunning pieces to be found in Macau. 
Calçada do Amparo & Pátio de Chon Sau
(See featured image above)
A sought out part of the city and although it has undergone a lot of changes throughout these past few years, this area has lots of things to see and do, including a Chinese-style pagoda and cute art installations like the one in the photo above. It's also filled with cool places to dine, like Sab8, Food Truck Company Macau, and great homemade bread to take away, at Old House Bakery, located in Pátio do Amparo.
Calçado do Amparo and Pátio de Chon Sau Macau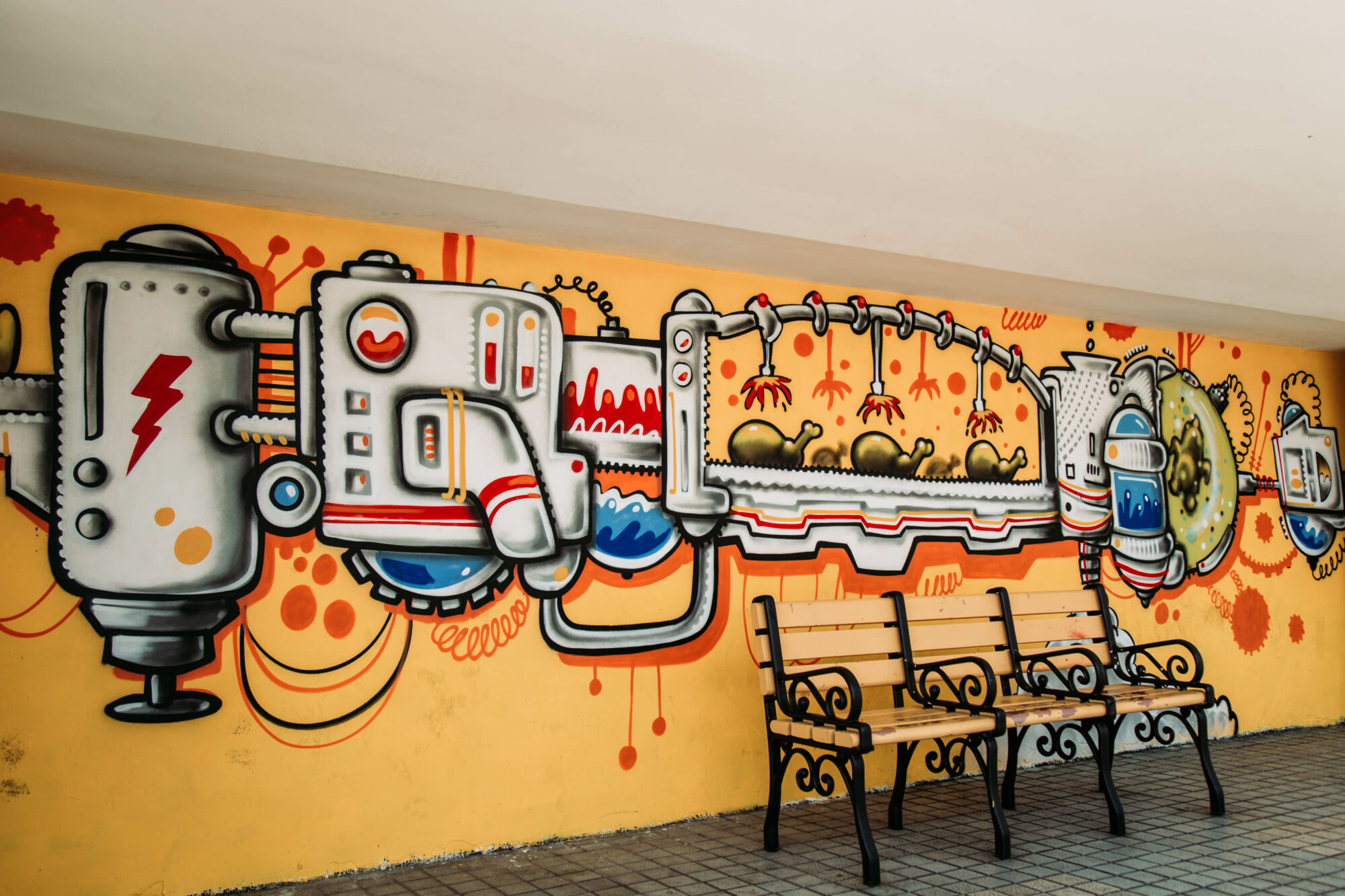 Nam Van Lake Area
The artificially-made Nam Van Lake surrounded by the likes of Grand Lisboa Hotel, Wynn Macau, and MGM Macau is a designated leisure area where most of Macau's traditional festivals and celebrations are held. In line with arts and cultural development efforts by the government, the square houses of Anim'Arte is a creative space for artists of all kinds. Here, one might find locally-designed products at the indoor craft markets, surprising art exhibitions, and handicraft workshops all year round. A canvas of walls welcomes graffiti artists to showcase their work for a period of time as well.
Anim'Arte Nam Van 744B Avenida Panorâmica do Lago Nam Van, Macau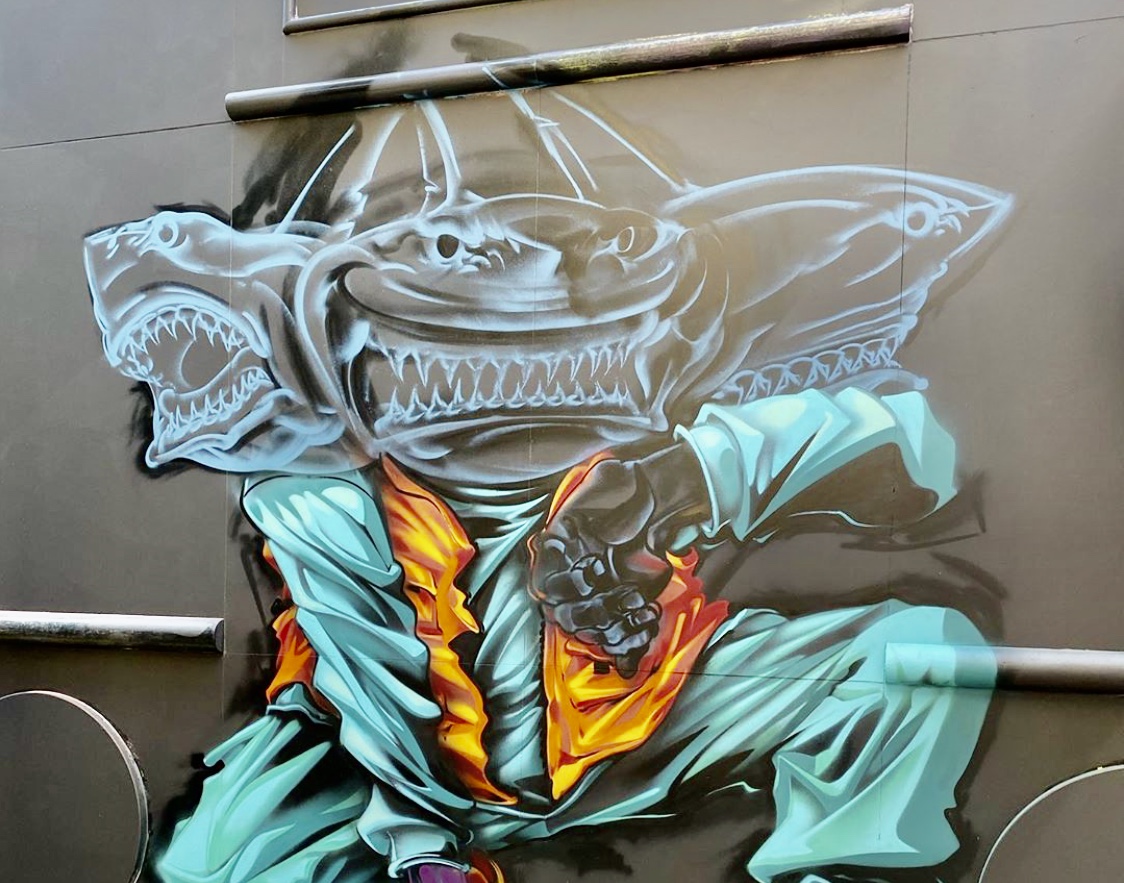 Praça de Ponte e Horta
Having hosted the only street art festival in Macau, Praça de Ponte e Horta is teeming with cool, modern street art pieces. From international talents to local ones, the area surrounding Hotel S–newly refurbished and looking awesome–is full of these. If you're into walking and just appreciating what's in front of you, take the time to keep going towards A-Ma Temple. You'll find lots of other drawings, paintings and spray art along the day, since some artists decided to paint the metal doors covering the shops when they're closed, giving them a brighter look.
Praça de Ponte e Horta Macau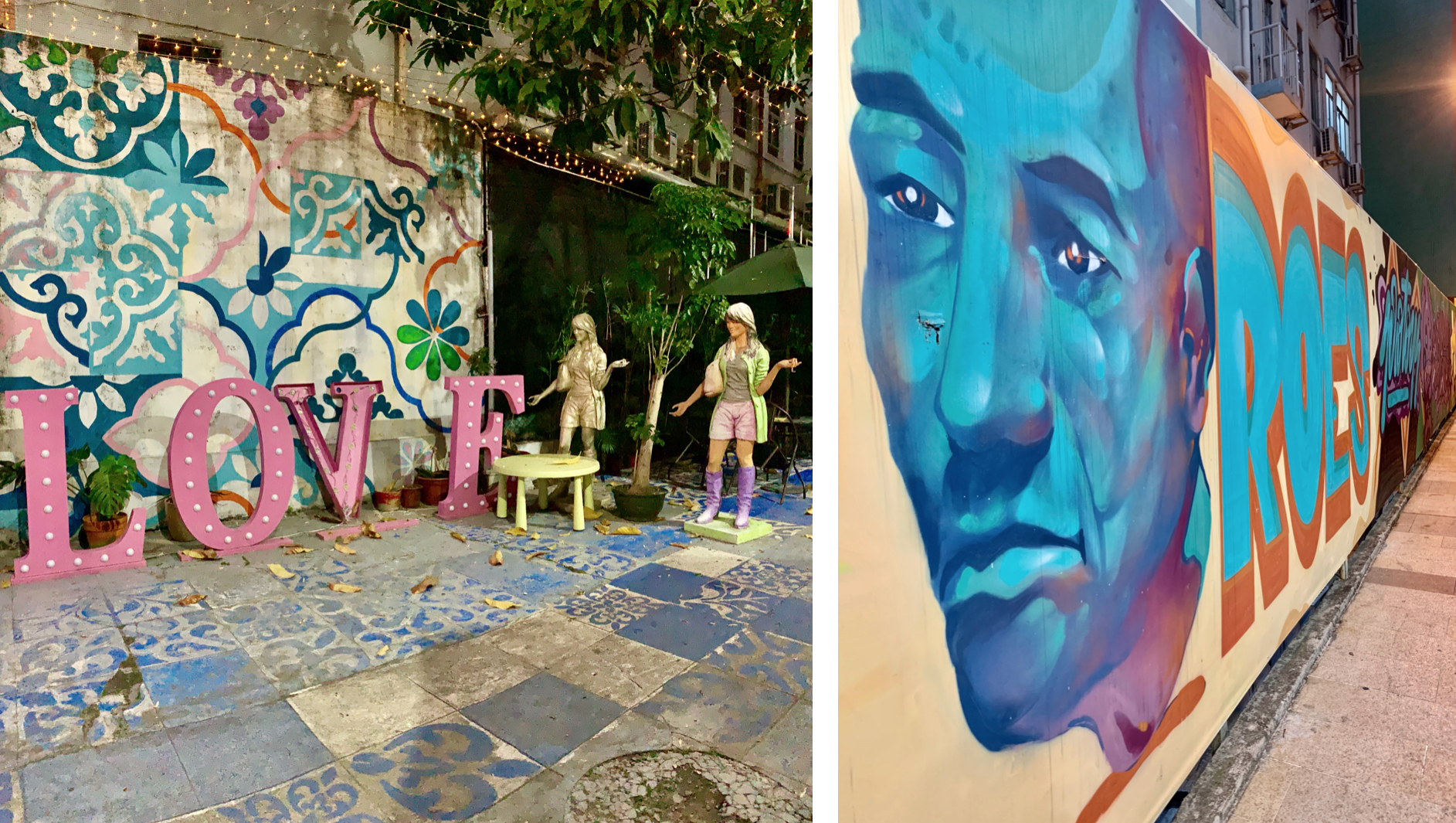 Macau Art Garden
As the name suggests, this association and art gallery is located inside a garden. With different venues inside–a bar, an outdoor seating area, a shop, art galleries, and a rooftop–the place is filled with great street art pieces! From sculptures to lighting signs and painted murals on its walls, it's a great place to head to when looking for some street art in Macau. Macau Art Garden also has regular exhibitions happening, so be sure to go there while they're on and besides outdoor art, you'll also witness it indoors.
Macau Art Garden 265 Avenida do Dr. Rodrigo Rodrigues, Macau, www.facebook.com/takchunmacauartgarden, macauartgarden.com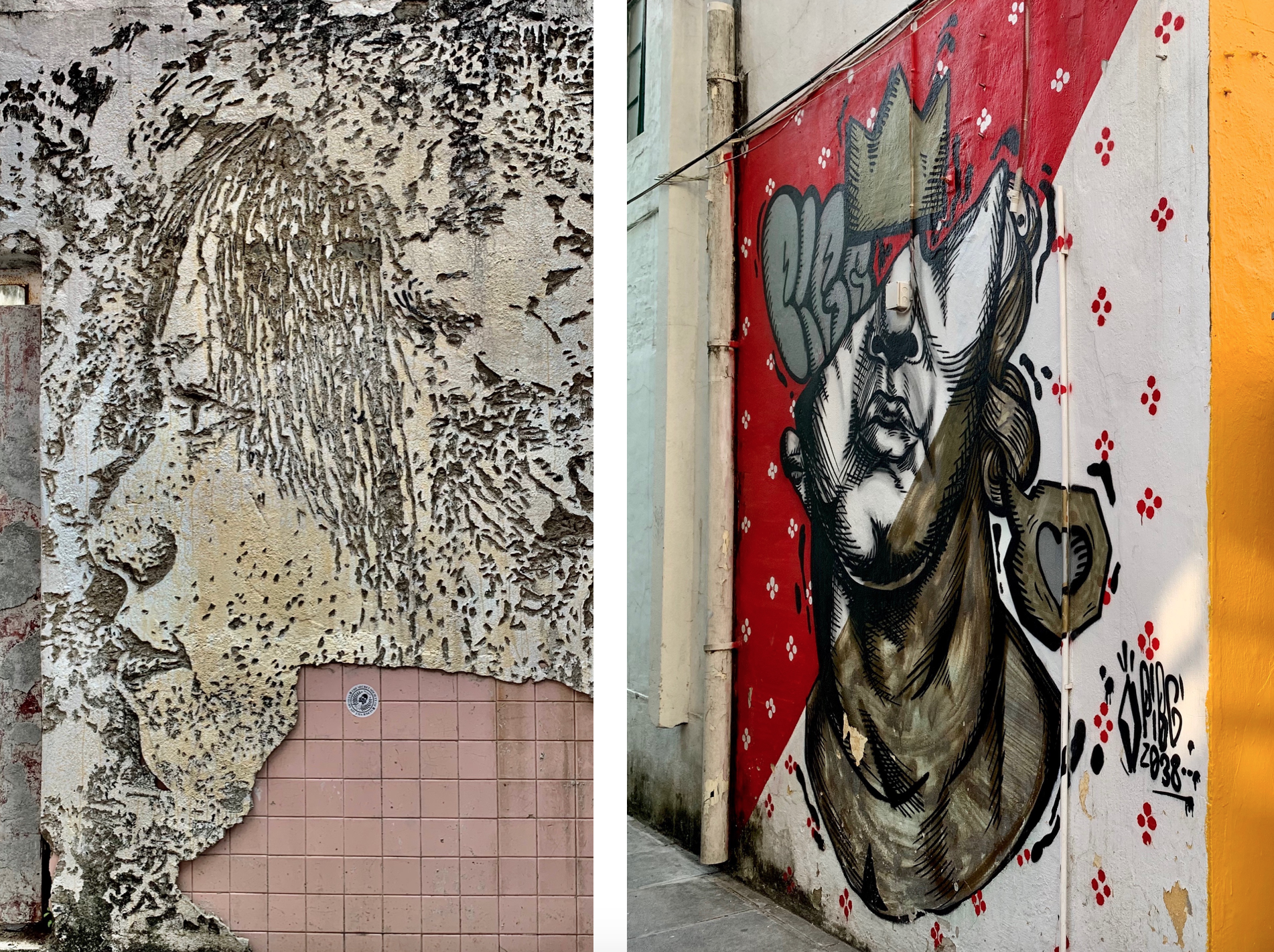 Taipa Village
This little quaint village is no longer quiet and Taipa Village has grown to be a bustling hotspot. It's come a long way from being a small fishing village and is now a very popular tourist attraction where one might find the best Portuguese restaurants and pork chop buns. There are also several buildings facades from the colonial era that have received tasteful redecorations thanks to graphic street artists.
Our personal favorite is the face carved out on a rustic white wall along Rua dos Clérigos. Taking inspiration from Macau's unique history and culture while exploring the concept of city identity, artist Alexandre Farto (aka Vhils) created this installation as an extension of his solo show for the Hong Kong Contemporary Art (HOCA) foundation. Too cool!
Rua dos Clérigos Taipa Village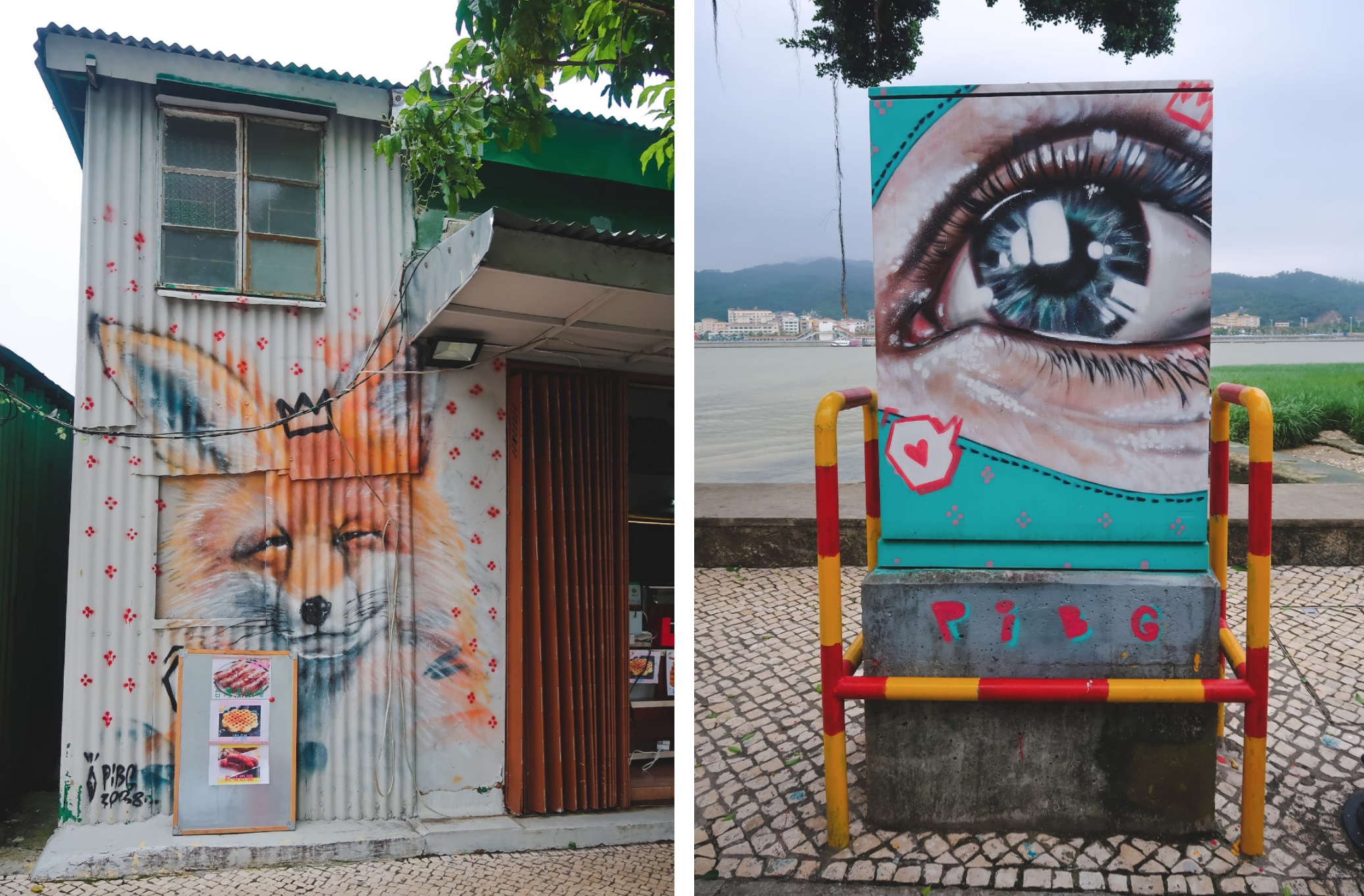 Coloane Village
Coloane Village is arguably the only district in Macau that has maintained much of its old character, with European-style buildings lined along one side of the cobblestone-paved roads and stilt houses on the water next to each other. It's the ideal place to experience authentic Macau village life. The once-thriving fishing port had its own pace but members of the street art crew have given the village new life with their art. They've taken over walls with various mural styles, spray-painted or etched across galvanized tin houses and walls. These include a giant toddler's face and stenciled silhouettes of a running dog.
Coloane Village Coloane
Broadway Street
An extension of the Galaxy Macau complex, Broadway Macau is an innovative entertainment space promoting Macau's culture by way of gastronomy, performances, and street art. Since its opening, it has worked with various artists and associations including graffiti group Gantz5 and Macau City Visual Arts Society, providing a platform for them to showcase talents and works. Currently, there are 14 custom painted 3D murals done by artist Tracy Lee Stum and her team on display.
These are specially interesting because of its direct connection to Macau: Stum's creations include the sculpture in front of the Ruins of St. Paul's, dim sum (as shown on the photo above) and other themes related to our city. Note that only eight of these are clearly viewable, without equipment barriers in front of them.
Broadway Street Broadway Macau, Avenida Marginal Flor de Lótus, Cotai
This article was written by Carla Florendo in June 2018 and updated by Leonor Sá Machado in May 2020.
Tags
Related Posts