The Macau Light Rapid Transit is finally operating! Why not embark on a new adventure, take the kids or go with some friends and start using this 100% eco-friendly transportation to commute from Taipa center to Cotai, the airport or the ferry terminal? It's one of the easiest ways to commute in Taipa, especially for people caring for babies in strollers and little kids, but also handicapped and people with difficulty walking long distances. The Macau LRT is one of the most family-friendly forms of transportation in town!
As of December 2019, the LRT goes from Ocean Gardens area to the Taipa Ferry Terminal, covering 11 stations in total including Cotai, the Lotus border, MUST university, the airport, among others. A concessionary ticket (normal) costs MOP $6, $8 or $10, for one to three stations, four to six, and seven to 10, respectively. Normal tickets with discount–children under 12, seniors with 65 years or older and the disabled–are priced at half of the above (MOP $3, $4 or $5), which is the same as one pays with the LRT card. The discounted pass costs MOP $1.50, $2 and $2.50.
The final project should be able to take you all the way from Ocean Gardens to the other side of Taipa, across Cotai and some other areas of interest–especially for tourists, who always seek a faster and easier way to commute from their favourite landmarks and shopping centers. With the LRT, one is able to check out Taipa Village's foodies streets just before hopping on the light rail and head to Wynn Palace. Why not take a ride on Macau's newest transport and check what all the fuss is about?
Designed to be a low carbon emissions transport, the light rail is probably the most eco-friendly way to get by in Macau. Everything has also been made to be handicapped-friendly, which means the presence of elevators, ramps, tactile pavement and signalling. All are welcome to use the LRT, which has stations conveniently located at key points, including two main Cotai areas, but also the hospital, the airport (right at the main building) and the ferry terminal. It's great to have more options than just busy buses! We took this trip and let you in on everything there is to know when it comes to pricing, opening hours and where all the Taipa stations are located.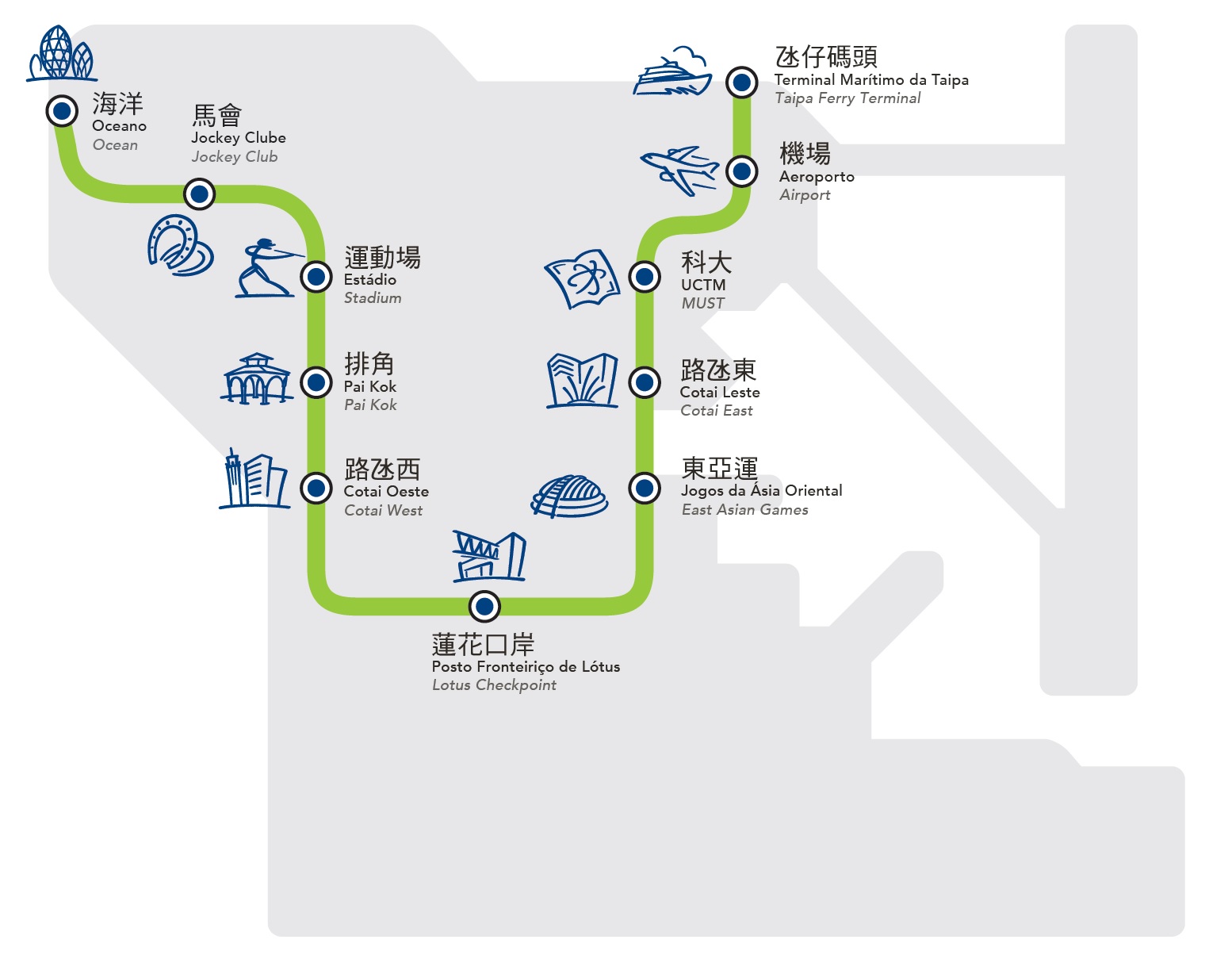 Better late than never
Technically called Macau Light Rapid Transit, it's usually referred to as Macau Light Rail or simply LRT. The government started building the line in October 2009, announcing its opening by 2013. Unfortunately, several issues hindered this progress. The construction lasted seven more years. and the LRT system was finally inaugurated in December 2019. However, it was just serving Taipa, with the construction works in Macau still going on. In 2019, authorities predict this aboveground transport will be ready–covering Taipa to Barra section–in 2024.
The project has two phases: one linking Gongbei border gate to the Taipa Ferry Terminal (21 kilometers long), with two sections. The first phase will run from Barra via Sai Van, the Macau Ferry Terminal and the northeast side of the peninsula, ending at the border gate. The second phase connects Barra to the already existent rail line of Taipa.
A second phase includes stations connecting Gongbei to the Green Island area, Fai Chi Kei, Red Market (Avenida Horta e Costa), Patane Market, Ponte 16 and Barra area. From there, people should be able to reach Taipa. LRT is also meant to reach the yet to be finished Island Hospital and Seac Pai Van area. What you might have not known is that there are also connections to neighboring areas such as Hengqin and the Hong Kong-Zhuhai-Macau Bridge! None of these linkings or stations has been built yet, but we are sure it's going to bring a whole new level of commuting ease and relaxation to the population and tourists alike.
Route: Ocean Gardens → Jockey Club → Taipa Stadium → Pai Kok Temple → East Cotai → Lotus Border → Macao East Asian Games Dome → West Cotai → MUST University → Macau Airport → Taipa Ferry Terminal
Opening hours: Monday–Thursday, 6:30am–11:35pm; Friday–Sunday and public holidays, 6:30am–00:19am
Contacts: +853 8296 4888 (hotline), www.mtr.com.mo/en
Nearby attractions: www.mtr.com.mo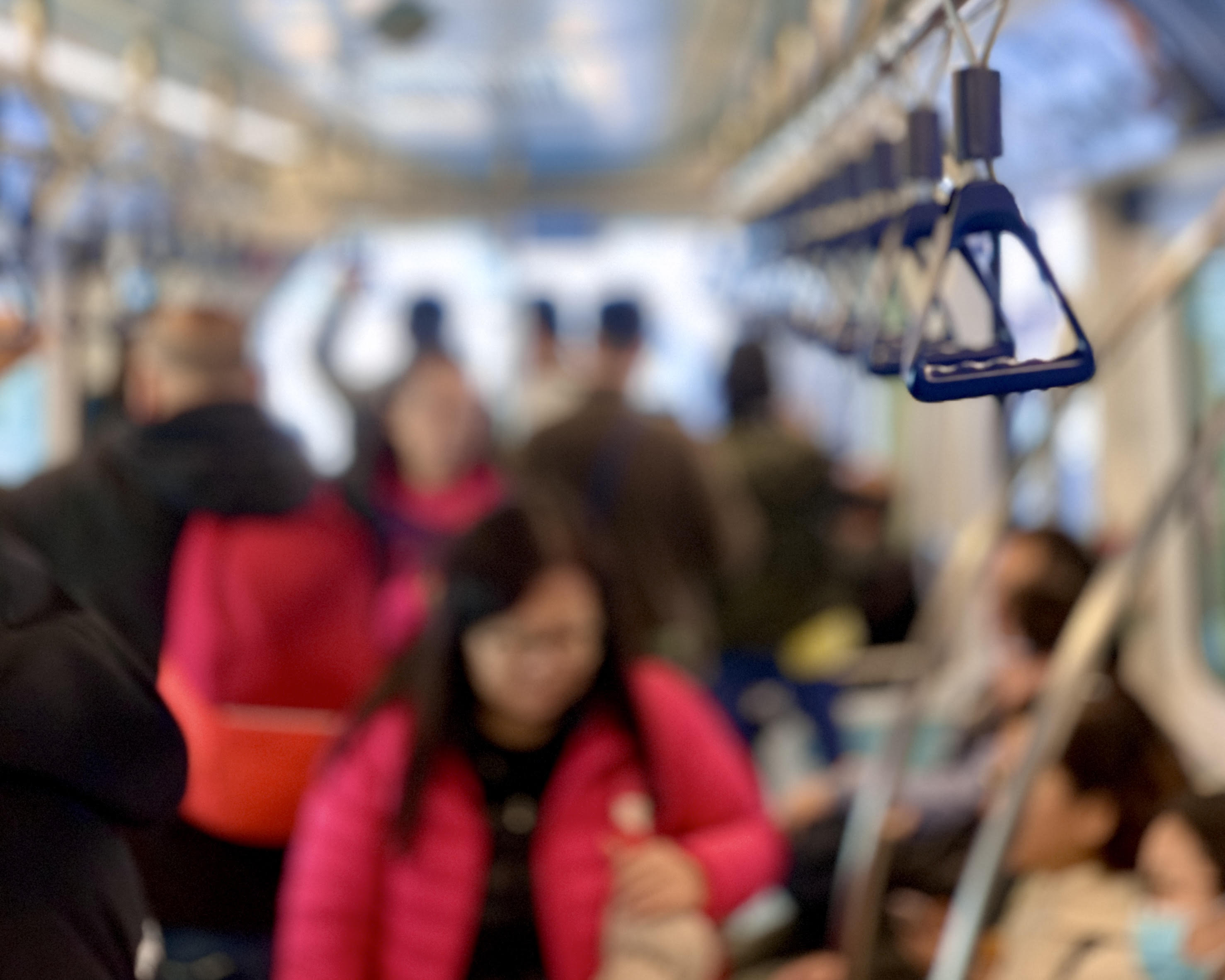 Tags
Related Posts