While some museums and exhibitions invest in advertising and trying to increase their audience as much as possible, others prefer to stay hidden and only show their artifacts to those who specifically search for them. Among the list of quirky Macau museums is Sound of the Century, The Museum of Vintage Sound Machines. Showcasing the most extensive private Asian collection of antique sound machines and other peculiarities, this museum is a must-visit if you like music and history. Read on to learn why!
History
Every piece of the collection belongs to one man, Mr. Henry Chen. Around 30 years ago, he emigrated to Canada, where he developed a passion for antiques. Slowly, he started building up his collection finding new treasures on antique fares and actions. All the objects were stored in his basement. When the scale of passion exceeded the size of the storage room, Mr. Chen started moving his gramophones to Macau, creating what he calls his toy room. Since then, he comes back to North America now and then to acquire new collectibles.

How to get there
To visit Sound of the Century, guests must call or email in advance and schedule a tour. On the day of your visit, head to Rua das Estalagens, the street of many electronic shops. Then, find Tai Peng Electronics & Appliances. Get inside and tell the shop attendants why you are there. Accordingly, they will make a call for someone to come and meet you for an exciting museum tour. 
The museum itself is on the shop's second floor. Just pass through washing machines and other domestic appliances, go up a set of stairs, and you will enter one of Macau's hidden gems. At first, the collection doesn't seem that large. However, the Sound of the Century collections includes more than 300 items. Most of them are on the upper floor, and that's where your guide will escort you first. 
Also read: Overlooked Landmarks in Macau: What to See After Senado Square & the Ruins of St. Paul's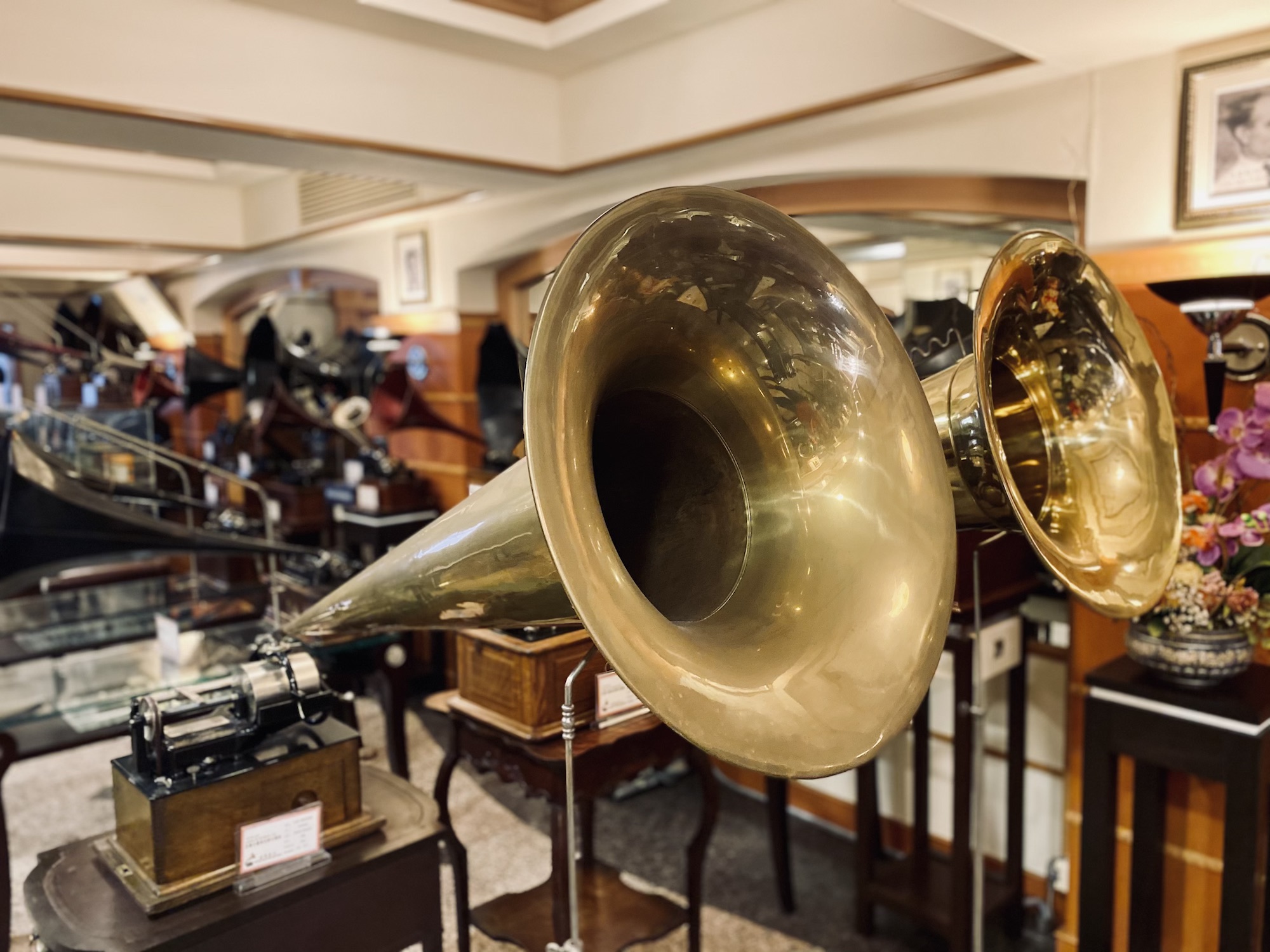 Music antiques 
Once there, it's hard not to sigh in awe. The army of gramophones, phonographs, and music boxes all lined up in the large space to tell the story of the dawn of the music industry. Only then will you realize why you can't just walk into the museum–without a proper tour guide that will show you the most peculiar pieces, the visit wouldn't be that impressive and memorable. Moreover, your guide will play some tunes, some of which are more than a century old. Notably, almost all of the music machines here are fully functional, with the maintenance taken care of in-house.
The oldest objects at Sound of the Century are the music boxes, mechanical instruments with a rotating cylinder or disk. Among them are smaller wooden boxes with metal disks like Regina and more sizable collectibles such as the antique mandolin cylinder music box by BA Bremond, both created circa 1894. A hand-cranked paper roll organette will amuse you with a slow tune that transports you right into a European 19th-century street market.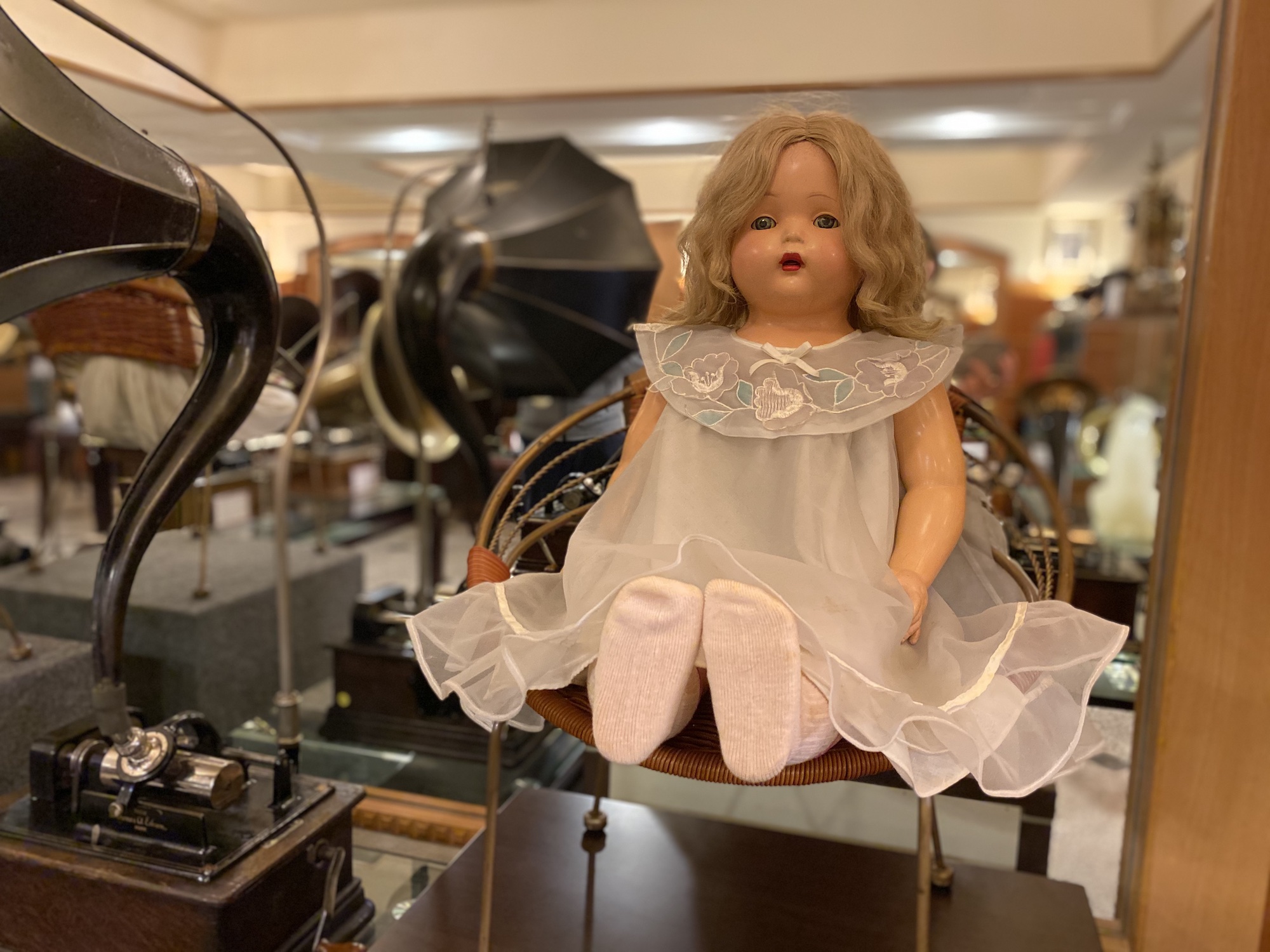 Gramophones and dolls
What dominates Sound of Century, Macau are the numerous gramophones. Only your guide or an antique nerd will be able to explain how exactly they are different and why every one of them is unique. Moreover, he'll be happy to play some of them proving their excellent condition. 
While you listen to the sound of the old times, you may notice a couple of dolls sitting by the wall. These are not simple toys. Instead, they also have music cylinders inside and can play lullabies. Interestingly enough, their hair is made of natural human hair–indeed nightmare material. However, our guide reassured us, the museum is not haunted by any dolls or other paranormal habitants.  
A glass stand among the classic gramophones showcases a rare exhibit of Chinese American phonographs, vinyl, and cylinders. Cantonese opera and traditional 1930s songs were recorded in China and brought back to the US, with only 100 cylinders per series. So imagine how rare they are! Hence, the museum keepers tend to consider them the most valuable in the collection. 

Electronics and laundry machines
When all the gramophones are inspected, it's time to see the other objects on the lower floor. Here you will find a smaller but rather diverse exhibition of artifacts related to music and whatnot. Mr. Chen used to be a radio technician, and his love for vintage radios is reflected in the collectibles he had brought back from Canada. Besides, this room hosts massive jukeboxes from the rock'n'roll era, heavy century-old cashiers made of copper, wooden laundry machines, and more.
Also read: Macau's Quirkiest Museums
---
Opening hours: Open by appointment, closed on Saturday and Sunday
How much: MOP $50
Museum of Vintage Sound Machines 13-15 Rua das Estalagens, 2.o andar, Macau (Tai Peng Electronics & Appliances), +853 2892 1389, www.tai-peng.com
Photo credit: Ksenia Kuzmina
Tags
Related Posts