We will never get tired of saying that Macau has so much to offer. From ancient temples to glorious squares, there are countless historical landmarks to visit. While some are popular and always packed with tourists, others don't quite receive the same attention. If you are looking for lesser-known sightseeing spots in the city, check out our list of overlooked landmarks in Macau that you should check out.
Lou Kau Mansion
(See featured image above)
Most of us who wish to explore Macau further than Senado Square and the Ruins of St. Paul's have visited this splendid mansion. Yet, another fine example of Macau's vernacular 19th-century architecture and a UNESCO heritage site is often unjustly overlooked. The traditional mansion of three main halls separated by two courtyards was the home of the abovementioned Lou Kau. Its humble grey facade hides opulent decor interiors of mainly Chinese style, but with Western elements. Undoubtedly, it is fascinating to see churches, museums, and historic streets, but learning how people (of the upper classes) of the past used to live and what their homes looked like gives another valuable perspective on the city's history. 
Opening hours: Tuesday–Sunday, 10:00am–6:00pm
Lou Kau Mansion 7 Travessa da Sé, Macau, +853 8399 6699, www.macaotourism.gov.mo

Kun Iam Temple
A lesser-known temple compared to the A-Ma Temple at Barra Square, Kun Iam Temple or Kun Iam Tong is hardly inferior to A-Ma Temple when it comes to historical and architectural value. Built in the late Ming Dynasty (circa 1627), it is Macau's oldest and one of the three largest Buddhist temples. Located in Our Lady of Fatima Parish, it is relatively far from the UNESCO historic center, so it's rare that tourists would reach its premises. Those who don't, miss out on a magnificent complex of halls, shrines, curved rooftops decorated with porcelain figures, and a tranquil courtyard with statues of baby Buddhas. 
Besides being a place of worship, Kun Iam Temple has both a romantic and a political side. Legend says that this was once a stage for a beautiful yet tragic love story, Macau's own "Romeo and Juliette." However, another tale has more than just the locals' tales to confirm it. In 1845, China and the US chose Kun Iam Temple to sign the Treaty of Wanghia, a diplomatic agreement that gave the USA the right to trade in China's ports.
Opening hours: Daily, 7:00am–5:30pm
Kun Iam Temple 2 Avenida do Coronel Mesquita, Macau, www.macaotourism.gov.mo
Also read: Kun Iam Temple: A Tale of Love and War

Lou Lim Ieoc Garden
Gardens and parks are an essential part of city dwellers' recreation, but they are also often considered tourist attractions (take Central Park in NYC or Hyde Park in London). One of the most charming parks in Macau, Lou Lim Ieoc is situated between St. Lazarus' busy streets.
Designed according to Taoism's principles as a Suzhou-style garden, Lou Lim Ieoc was built in 1906 by Lou Kau, a merchant, a Mandarin, and a prominent figure in Macau. Loyal to the Suzhou style, this garden is an excellent example of Chinese landscape design with some European traditions elements. Surrounded by flawlessly groomed greenery and bamboo groves, pagodas and moon gates reside side by side with Corinthian columns and Victorian-style architecture of the Graden Pavillion. Curved bridges run across the lotus pond to confuse evil spirits–as they can only walk in a straight line, there is no way they'd ruin your peaceful afternoon with their presence.
Opening hours: Daily, 6:00–9:00pm
Lou Lim Ieoc Garden No. 10, Estrada de Adolfo Loureiro, Macau, www.macaotourism.gov.mo
Also read: Lou Lim Ieoc: The Garden With a Troubled History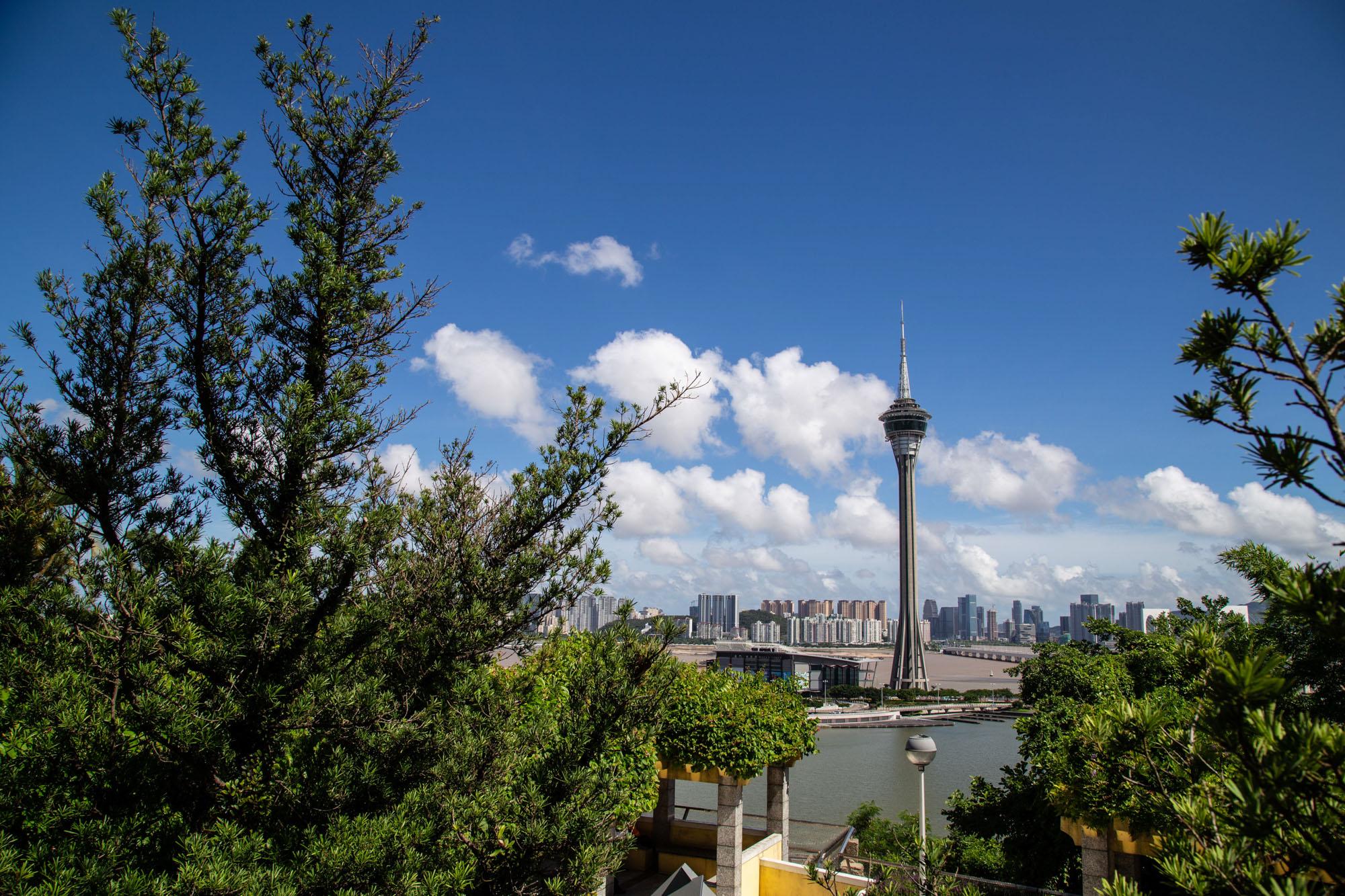 Penha Hill
Would you like to see Macau from the above? Rising 62.7 meters above sea level, Penha Hill is one of the best viewpoints in the city. While the main attraction there is the Chapel of Our Lady of Penha, the whole route going up the hill is scenic. Hence, if you can, instead of taking a taxi, walk all the way up, admiring the peaceful neighborhood with stunning mansions. Once you reached the top, not only will you be rewarded with a church founded by Augustinian missionaries, a popular photo spot for newlyweds, but an incredible view of Macau Tower, the lakes, and as far as you can see on a clear day.
The church was initially established in 1622 and completely rebuilt in 1935. The statue of Our Lady of Lourdes standing in front of the chapel is facing the sea to protect sailors and fishermen.
Opening hours: Daily, 9:30am–5:00pm
Chapel of Our Lady of Penha located on the top of Penha Hill
Also read: Penha Hill: A Trace of the Augustinian Presence in Macau

Sir Robert Ho Tung Library
Even though Sir Robert ho Tung Library is a part of Macau's UNESCO historical center and its saffron colonial facade is hard to miss, not everybody goes beyond that facade to explore it. However, they should, as the library boasts both a stunning mix of traditional and modern architecture and a fascinating history. 
Initially, it was built in 1894 as the residence of Dona Carolina Cunha, the wife of Governor Pedro Alexandrino da Cunha. After she passed away in 1898, it went from one owner to another when finally, in 1918, the residence was purchased by a Hong Kong businessman Sir Robert Ho Tung, to become his Macau retreat during World War II. As Sir Robert expressed in his generous will, the building was gifted to the public and transformed into a library after his death. Moreover, he bequeathed HKD $25,000 that was used to buy books. 
Today Sir Robert Ho Tung Library is the largest in Macau with 100,000 volumes, including some rare ones. One of its most pleasant assets is the courtyard in the back where you can rest and read a book surrounded by trees with a bubbling fountain as well.
Opening hours: Monday–Saturday, 10:00am–7:00pm; Sunday, 11:00am–7:00pm (closed on public holidays)
Sir Robert Ho Tung Library 3 Largo de Santo Agostinho, Macau, +853 2837 7117, www.library.gov.mo/hotung
Also read: Sir Robert Ho Tung Library: Macau's Hidden Gem

Old Protestant Cemetery and Chapel 
Some tourists may find cemeteries quite macabre landmarks to visit and others find the old graves of Père-Lachaise in Paris and Recoleta in Buenos Aires fascinating. If you are curious and not easily spooked, add the Old Protestant Cemetery to your itinerary. Attached to a lovely white chapel named after Robert Morrison, a Protestant missionary and scholar, this cemetery is the first Protestant one in Macau. It appeared in 1821 when Dr. Morrison's wife died. There was no land to bury her as neither Catholics nor Buddhists allowed it on their grounds.
A part of the Historic Center of Macao recognized as a UNESCO World Heritage site, this burial ground is the resting place for many great minds such as Robert Morrison himself, George Chinnery, Lord Henry Churchill, and others. Besides, as it is often overlooked as a landmark in Macau or avoided by those who are very superstitious, this beautiful, peaceful garden remains the perfect place to slow down and rest.
Protestant Cemetery 17–29 Praça de Luis de Camões, Macau, macaotourism.gov.mo
Also read: Macau Old Protestant Cemetery: Where Great Minds Rest

Santa Sancha Palace 
The majestic pink mansion on Penha Hill is hard not to notice if you are in the area, but not everybody knows what it is. If you ask locals, they'll inform you that this neoclassical palace surrounded by lush gardens is the SAR's Chief Executive's residence. Notably, several colonial-era buildings are painted in the same coral-pink color. There is no certainty who built it originally, but in 1855 it was privately owned by Alexandrino António de Melo, one of the wealthiest figures in Macau at the time. After his death, through a complex chain of inheritance and purchases, the mansion ended up in the government's hands in 1923 and has been a governor's residence ever since with a short two-year break to serve as a hospital.
Due to its status, Santa Sancha is off-limits for visitors, but you can still walk around it and snap some shots of the photogenic mansion that represents Portuguese legacy in Macau.
Opening hours: Not open for public
Santa Sancha Palace Estrada de Santa Sancha, Macau
Also read: Santa Sancha Palace: Abode of Barons, Governors & Chief Executives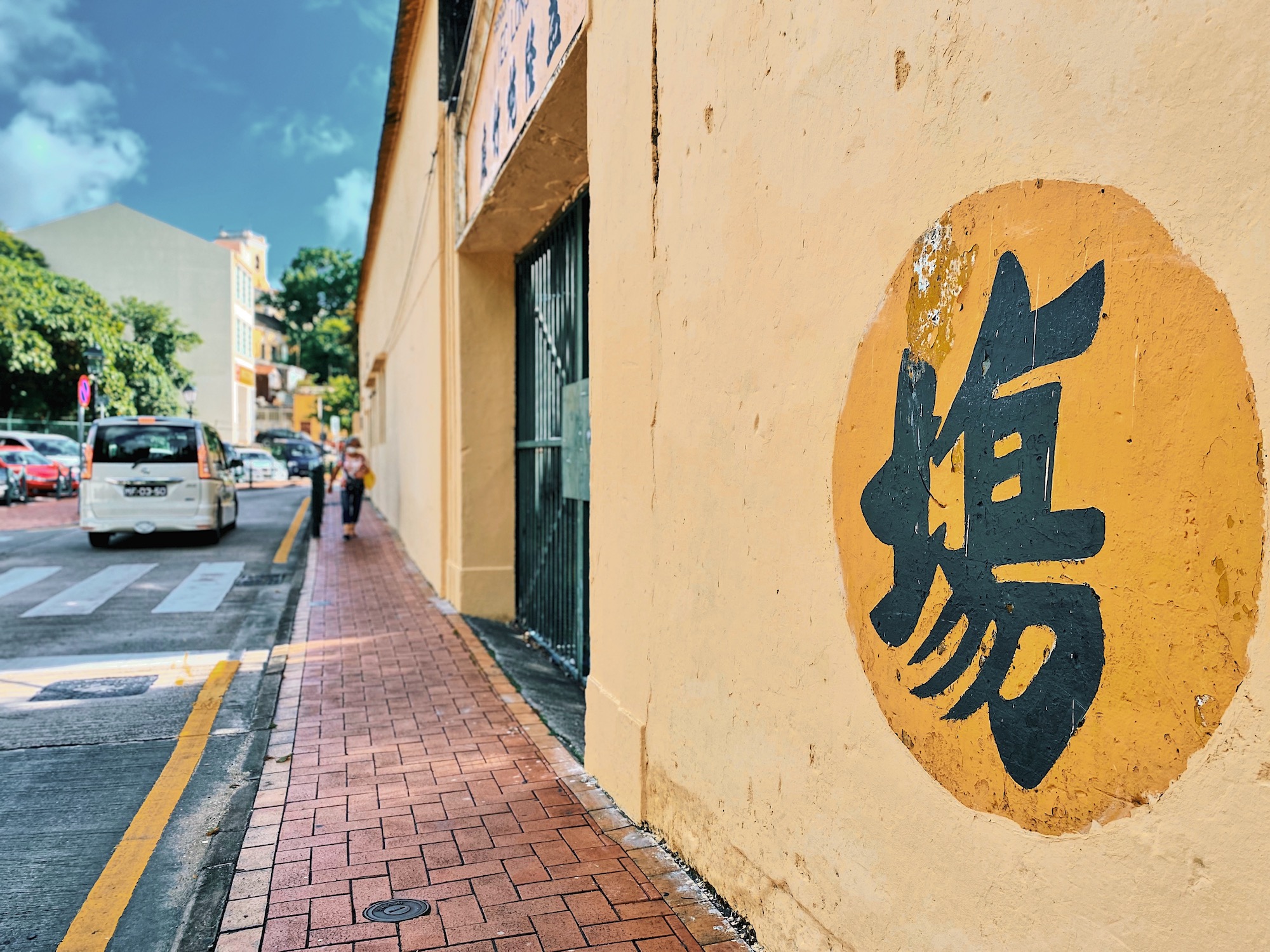 The Iec Long Fireworks Factory
If you have ever been in Taipa Village, chances are, you've walked past the old fireworks factory. You can spot its yellow wall with large Chinese characters strolling towards the village along Rua de Fernao Mendes Pinto. Now closed and abandoned, it remains a memorial of what once was the most significant industry in Macau and an essential part of its history. Fireworks and firecrackers production in the city boomed after World War II when it became banned in Mainland China. As it was too dangerous to keep the factories in the densely populated Macau peninsula, the government moved them to Taipa and Coloane islands. During its most prosperous era, Iec Long employed around 600 people. Unfortunately, in the 1980s, the majority of fireworks factories were closed as the industry declined and among them was Iec Long.
Although the factory is not open for visitors, you can walk around its walls and peek behind the fence to imagine how it looked like in its industrial prime. Meanwhile, the government is planning to renovate and reopen the factory for visitors in the near future. Stay tuned!
Opening hours: Not open for public
The Iec Long Fireworks Factory Rua de Fernão Mendes Pinto, Taipa, www.taipavillagemacau.com
Also read: Firecracker Industry: Macau's First Modern Empire
Tags
Related Posts