Baby gear, baby clothing, nursery, maternal care–the internet is teeming with over the top lists of what you'll need to get before baby makes his or her big entrance. Especially if you're a first-time mom, it's easy (and only natural) to feel a little overwhelmed. To keep things budget-friendly, we suggest you talk to other moms, do your research on the products, check on what you can borrow from friends and try to come up with your own pool of essentials. Nevertheless, there's no escaping the fact that you'll need to do some shopping and there are many baby shops in town that are worth checking out. We've put together a list of places where to shop for babies in Macau for your convenience. 

Kid's Cavern
When it comes to shopping for babies and kids, the massive Kid's Cavern at Sands Cotai Central is the ultimate wonderland. This 35,000 square foot children's store has virtually anything you might need and makes it's easy to be on top of what's on in the baby shopping universe. Basically, customers have access to the latest of everything. Shortly after parents in the US are raving about a certain product, it's made available. 
There's a comprehensive array of baby gear on display that you may check out like highchairs, strollers, car seats, bathtubs, cots and bassinets, carriers, maternity bags, sterilizers, dummies, teats and bottles, breast pumps and much more. Plentiful of baby skincare products are also available. All these items are by beloved brands like the life-changing Babyzen Yoyo+, Stokke, Bugaboo, Ergobaby, Chicco, Avent, Medela, Nuk, Skip-Hop, Mustela, Aveeno and more, which means you get to source the very best for your baby from a series of high-quality specialty brands.
You'll find all of the tiny and cute baby clothing that you've been dying to get your hands on too. The shop features a great selection of trusted brands such as Hallmark and French Petit Bateau in a variety of onesies, bodysuits, muslins, swaddles, gloves, socks and much more. 
Besides having parking available at Shoppes Cotai Central, Kid's Cavern offers home delivery for customers who spend a minimum of MOP $1,000.
Kid's Cavern 3001-3007, Level 3, Shoppes at Cotai Central, Estrada do Istmo, Cotai, +853 2885 3300, www.venetianmacao.com

New Yaohan 
The whole sixth floor at New Yaohan has been recently revamped and it's looking better than ever! Spacious, bright and with clear, well-divided areas, the Toys & Kids section provides a great shopping experience and is an awesome one-stop shopping outlet, which also makes it super convenient. Much like Kid's Cavern, at New Yaohan it's easy to get updated on what's trending amongst the mom squad. Actually, Kid's Cavern is a store by New Yaohan, hence the products and brands available are mostly the same, with the difference that the shopping area is a little less spacious. The department store's connecting carpark makes the shopping experience extra convenient.  
Be sure to get the New Yaohan VIP card to accumulate points with every purchase (one MOP equals one point) to have access to special discounts and promotions. This card can be used at Kid's Cavern too. 
New Yaohan 90, Avenida Doutor Mário Soares, Macau, +853 8791 8888, www.newyaohan.com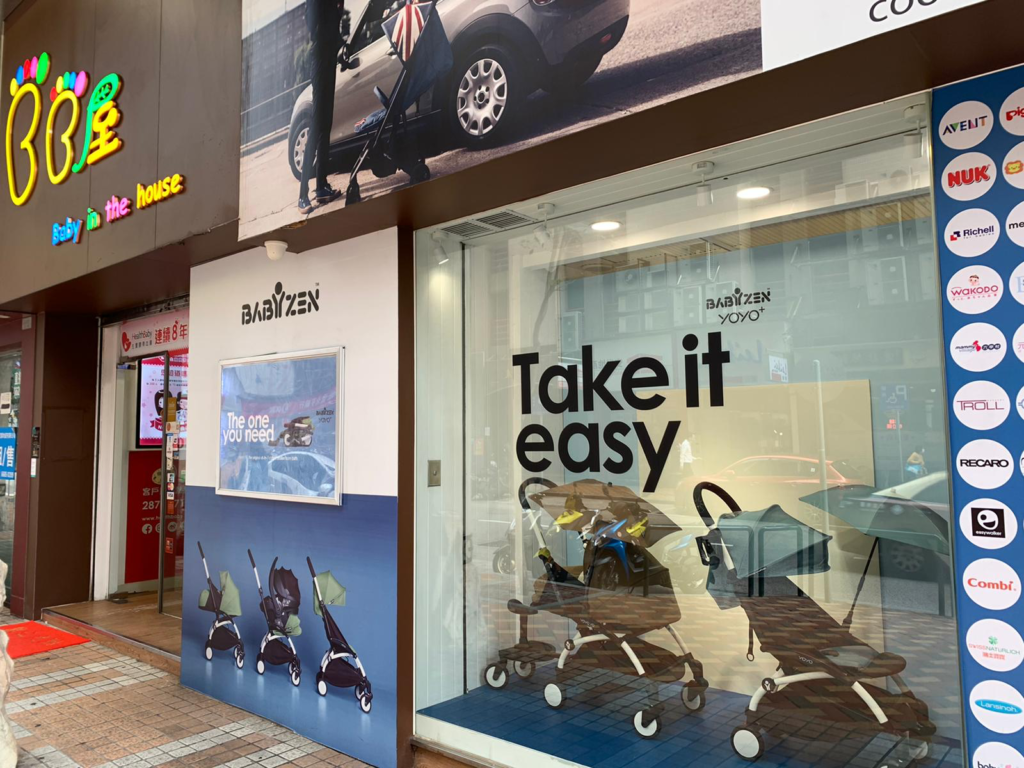 Baby in the House
Spacious, filled with light and well organized, Baby in the House, located in Taipa has earned its place on the baby shopping route in town. This baby shop features a wide array of baby products from sterilizers to breast pumps, bottles and teats to bathtubs, car seats and strollers, carriers and baby clothing, just to name a few. Baby in the House has been designed to comprise of all baby and new moms' needs under one roof, throughout different stages. All the brands at the disposal of parents are of top quality: Combi, Stokke, Babylon Yoyo+, Fisher-Price, Avent,  Medela, Babymoov and much more. The shop features a small corner of new-mom care products like breastfeeding bras, waistbands, and nipple cream. Moreover, this is one of the few baby shops where you can get formula milk. They carry three brands: S-26, Iluma and Aptamil. Baby in the House provides free delivery for larger items like strollers and cribs.
Baby in the House R/C, Edf. Palácio do Sucesso, 106, Rua de Nam Keng, Taipa, +853 2883 2182, www.babyinthehouse.com.mo

Mamacare
Mamacare has been around for over two decades and their Taipa store is one of the most commonly recommended baby shops in Macau amongst moms. There's English speaking staff too, ready to assist any non-Chinese speaking mom-to-be on her many doubts. 
The products at disposal come in the usual formation: strollers, car seats, carriers, bathtubs, high chairs, changing mats, a plethora of feeding gear such as pumps, breastmilk storage bags, bottles and teats, sterilizers, baby dishwashing detergent and much more. Mamacare also carries a number of baby proofing material to make the house safer, because sooner rather than later that baby will be ready to walk and explore their surroundings! 
In addition, the baby shop also features a good choice of baby skincare products of trusted brands like Mustela, Burt's Bees and Babyganics, as well as wipes and diapers too. Keep all the purchase receipts until you reach MOP $4,ooo in spending and you may get the Mamacare VIP Card which grants you a 10% fixed discount on all items and access to the VIP days where all items have a 20% discount. Upon spending MOP $1,000, customers get their goods delivered free of charge.
There's a Mamacare branch in Macau too, located at Horta e Costa.
Mamacare 37-47 Rua de Lagos, Taipa, +853 2883 9037, www.facebook.com/mamacaremacau
Mamacare R/C 53, Grand Oceania, Avenida de Horta e Costa, Macau

BIP – Baby in Progress 
Baby in Progress has two shops in Macau side, a two-story located nearby Victory Garden and the BIP Super Store, covering an area of over 6,000 square feet in Avenida Venceslau de Morais, nearby Red Market. There are baby cribs, strollers, car seats and a fair choice of maternity clothing, as well as pre and postnatal essentials like breast pumps, nursing pads and breastfeeding bras. Baby in Progress also offers a wide choice of baby skincare products, as well as gentle bottle and washing detergents, suitable for newborns. 
Baby in Progress R/C 7-9B, Edificio Fung Yu, Avenida de Sidónio Pais, Macau, www.babyinprogress.com
Baby in Progress 13/F B, Edificio Industrial Fu Tai, 251, Avenida Venceslau de Morais, Macau, www.babyinprogress.com

Zara Home 
Zara Home at Shoppes Cotai Central must have some of the loveliest baby nursery's items ever. When you start decorating the nursery for your baby's arrival, be sure to visit the shop. Adorable designs and cute details are everywhere and the real challenge will be not to break the bank! The shop carries a selection of baby items like bath towels, changing mats, maternity and toiletry bags, changing mats and more. Zara Home's collection of bed linen–sheets, spreads, blankets–rugs, and decorative cushions is broad and to die for. Besides this, the shop carries furniture like bassinets and cots, and sweet decorative items so that nothing is missing on your baby's Pinterest level nursery. Zara Home features an adorable collection of baby clothing too, including a few pieces made of incredibly soft cashmere that we love.     
Zara Home Shop 2126, Level 2, Shoppes at Cotai Central, Estrada do Istmo, Cotai, www.venetianmacao.com
Tags
Related Posts