Inaugurated on December 9, 2016, Patane Library is set inside a revamped building located in the Patane area. The revitalization project transformed seven arcade-style buildings dating back to the 1930s into a public library serving the local community. The result is a stunning mix of old and new. With a history of more than 80 years, the venue attracts both book and architecture lovers. It's difficult to miss these bright colored buildings a short distance away from piers and the water. Formerly known as the continuation of the inner harbor–which now refers to Barra and the area including Sofitel Macau At Ponte 16–this location is filled with interesting things to do. The library itself has a modern interior and features different areas catering to all ages and the whole family. Read on and get to know all about this not-so-hidden gem in an old part of the city.
Past meets present
It isn't hard to notice the library, as it is painted in colorful pastels of pink, green, and yellow. These are some of the traditional colors you might find in many old buildings in Macau. The arcade-style is an architectural tradition unique to the southeastern region of China.
Located on one of Macau's busiest areas–Patane–the library attracts all kinds of crowds: children and teenagers head there to hang together, while one can also spot older generations grabbing a newspaper and sitting upstairs for some "me" time. Patane is great in the sense that brings the community together. While it was increasingly more popular in past centuries as a gateway to China–due to its harbors–and a place where lots of locals lived, it became one of Macau's most local neighborhoods, perfect to spot the daily lives of the locale crowd. The library is nestled between the water and a residential bustling area, so be sure to check out the surroundings when you visit. It's also nice to walk across the harbors all the way to Barra, where you'll find more local spots with food carts and old buildings, including arcaded ones just like Patane Library. Unfortunately, most of these are abandoned now, but one can still appreciate the architecture.
There are not many arcade buildings left in Macau, and this is what makes the Patane Library special. During earlier times, the ground floor was made up of shops, while the second and third floors above had residential purposes. There is some conjecture that this building style was brought in by the British from India, as they were not used to the hot climate in the tropical region, and installed a hallway in front of the house to create shelter from rain and strong sun. Several cities including Hong Kong, Guangzhou, and Xiamen still retain buildings in this style.
This remarkably beautiful and singular set of buildings are even included in our selection of the most Instagrammable buildings in town, so be sure to check it out as well, especially if you're a street art and local knowledge fan. Why not go on a tour through this area to find out some gems?
Also read: Most Instagrammable Buildings in Macau
A new structure was built in three of the shops in order to support the weight of the collection of books and audiovisual materials. Modern drainage and fire prevention systems along with a lift were also added to help move books and people. The new glass front invites people passing by to see what's happening in the library and come in. The two benches placed at the entrance also serves as a place where people can sit or have a coffee.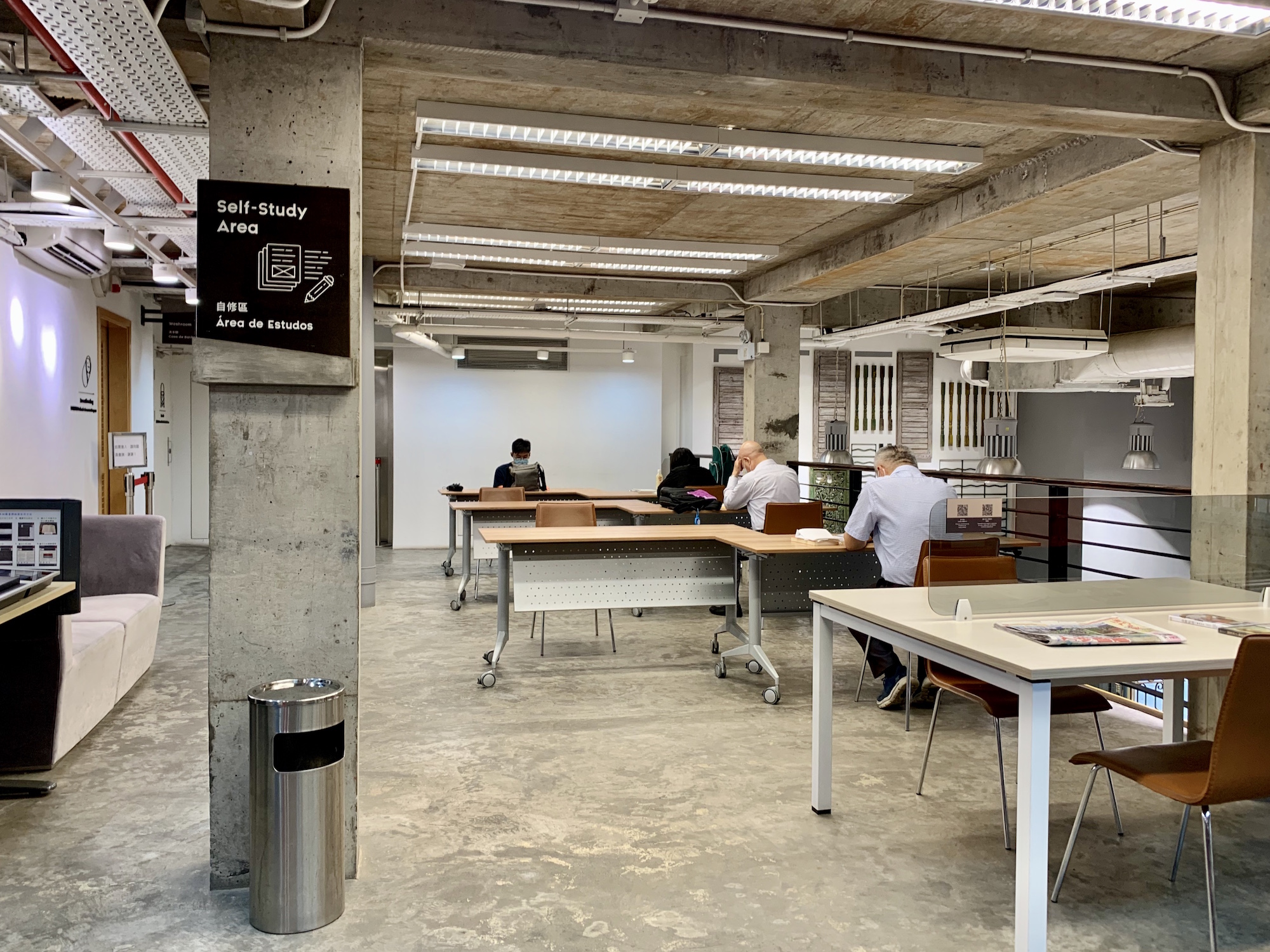 Beautiful Interiors
The library has become a new leisure spot in town for book and film lovers, welcoming readers of all ages. Upon entering the bright and spacious entrance one notices a contrast between the two sides of the window. On the left, there is the kids' zone where children can entertain themselves with pop-up storybooks. On the other side, you may see an older generation of readers perusing newspapers under a wall decorated by the door frames taken down during the building's renovation.
In the magazine area, there is a magnifying machine that helps the elderly to read small words effortlessly. Outside the library, there are book drop machines, a great option for those of us who don't always make it on time when returning books, and also an interior patio at the entrance. Filled with colorful plants and some benches, one can simply relax even when it's raining outside. When heading there in the afternoon, one might witness several children accompanied by their grandparents heading there to play and have a relaxing time.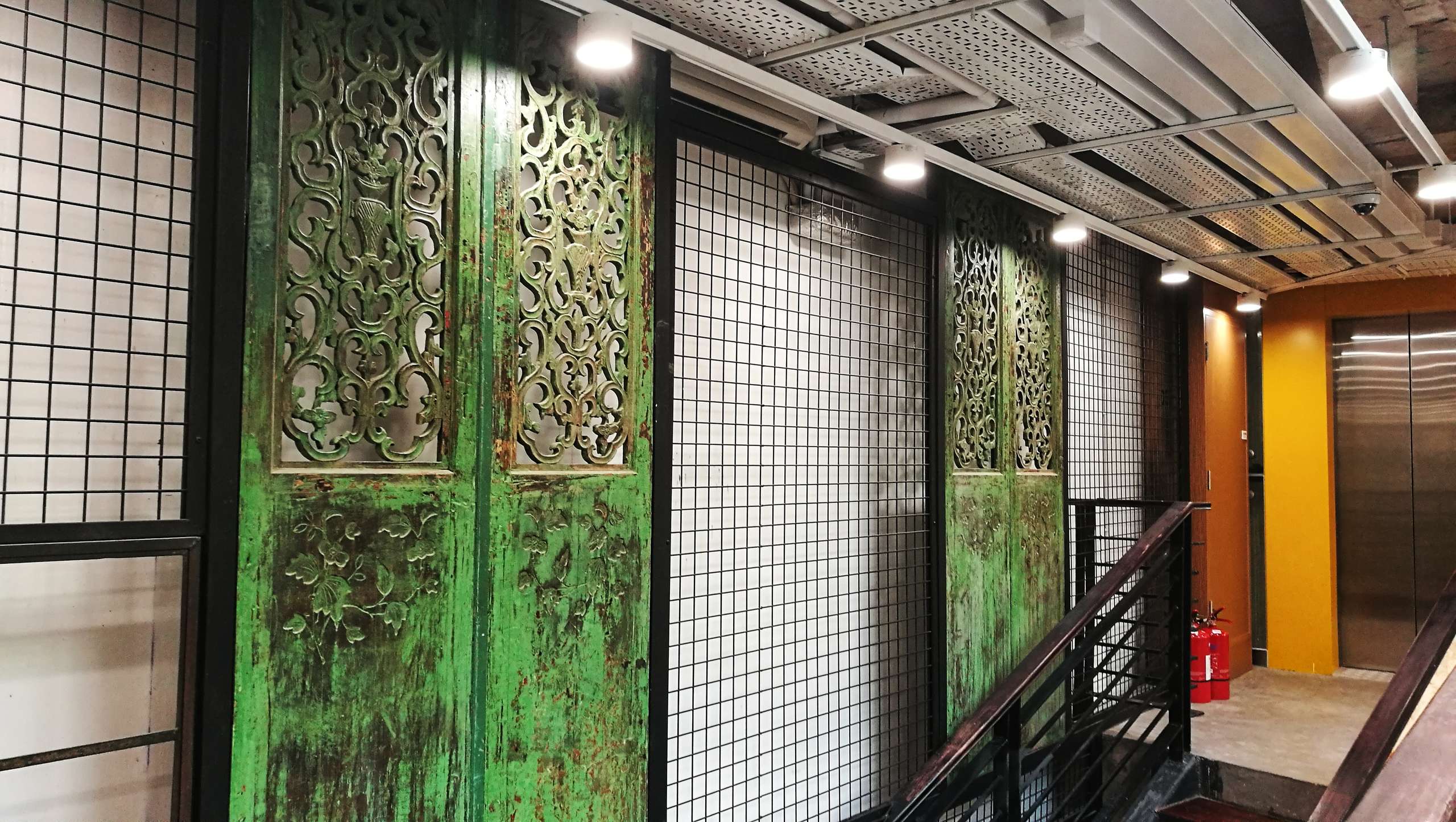 From the traditional writing desk to the modern bar stand on the top floor, one can always find a comfortable place to relax with a book. For those who need to charge their phone or computer, there are plenty of outlets available too. Next time you are in the neighborhood, do stop by for a visit! Interestingly enough, there are other cool venues worth visiting, including the nicely revamped Patane Night Watch House, located a few streets away–close to Tou Tei Temple–in an inner part of the city still in Patane.
Also read: Patane Night Watch House: Protecting the Community With Gongs & Lanterns
Admission to this public library is free. However, as with every library in Macau, you'll have to be a Macau resident or have a suitable card to borrow books, which is also free, by the way. There are dozens of interesting books, especially in Chinese but also Portuguese. If you don't have one of these cards, you can still grab a newspaper or magazine and read it there.
---
Opening hours: 8:00am–00:00am (Tuesday to Sunday), 2:00pm–00:00am (Monday)
Patane Library 69-81 Rua da Ribeira do Patane, Macau, +853 2825 9220, www.library.gov.mo
This article was originally written by Avalyn Acland in 2017 and updated by Leonor Sá Machado in January 2021.
Tags
Related Posts