To the majority of the world, Macau is but a hub of mega-resorts fuelled by gaming, entertainment, and nightlife. However, to those that really know the city and are in the know like the locals, the city has a lot of history, and there are plenty of charming, vibrant bursts of colors, layers, tastes, and textures to discover. The old town streets, for one, are decorated with pastel-hued walls and stone-paved roads, reminiscent of the Portuguese architecture that once dominated the city. For at least a moment you will feel you're in a quaint town somewhere in Europe, not the booming Las Vegas of the Orient. So, put on your adventure hat, charge up your camera and come with us to some of the most Instagrammable buildings in Macau–remnants of the past that will take you back in time.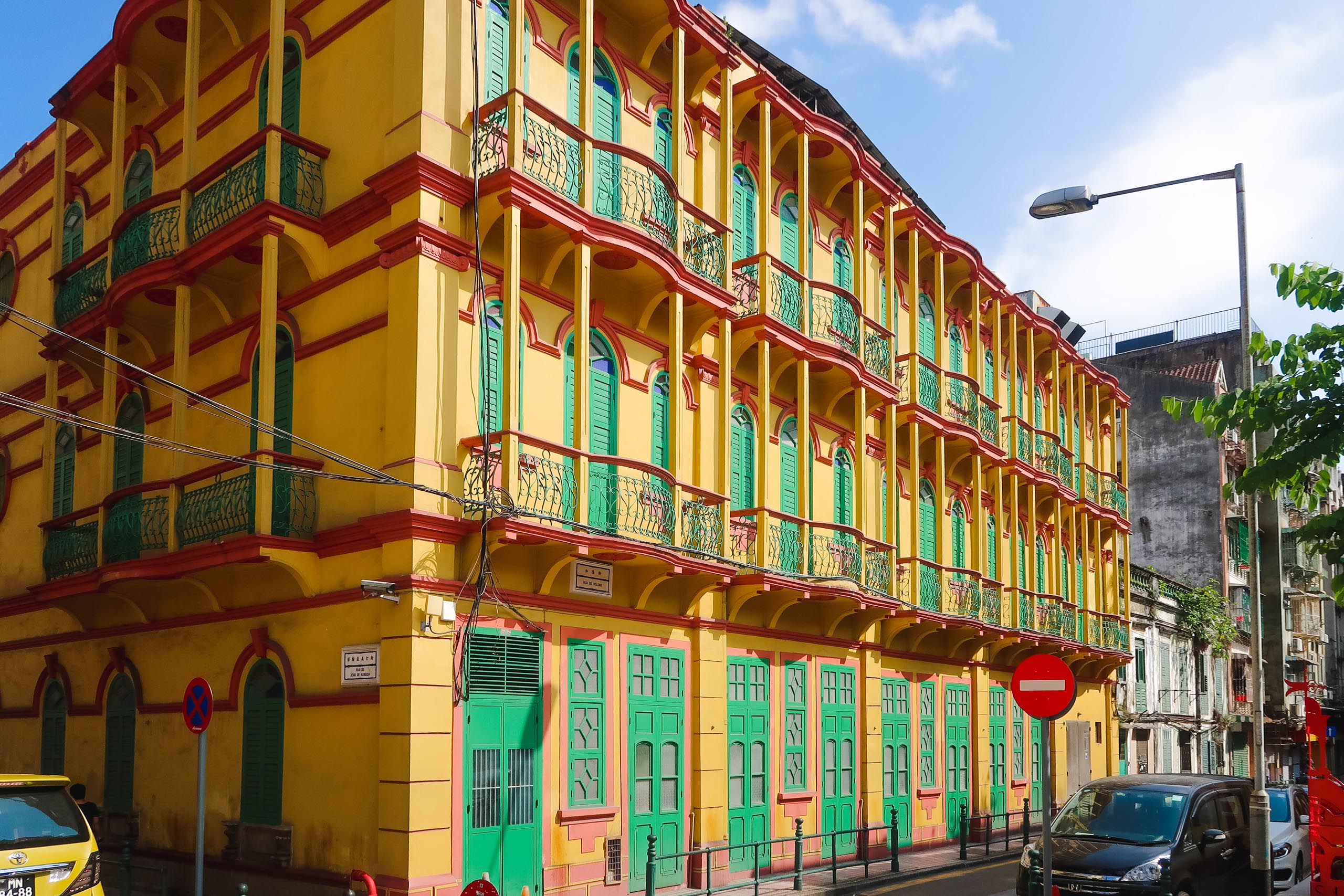 Edificio Comercial Holland Jardim
The most dominant colors of Macau's colonial buildings are yellow and green, but this one at the intersection of Rua do Volong and Rua de Joao de Almeida is more eye-catching than the rest. Known as Edificio Commercial Holland Jardim, its facade boasts a saturated mix of yellow, green, and red, with gorgeous pillars, arched windows, and colonial shutters. If you catch it against blue skies on the perfect summer day, this is a great location for photoshoots.
Edificio Comercial Holland Jardim Rua de Joao de Almeida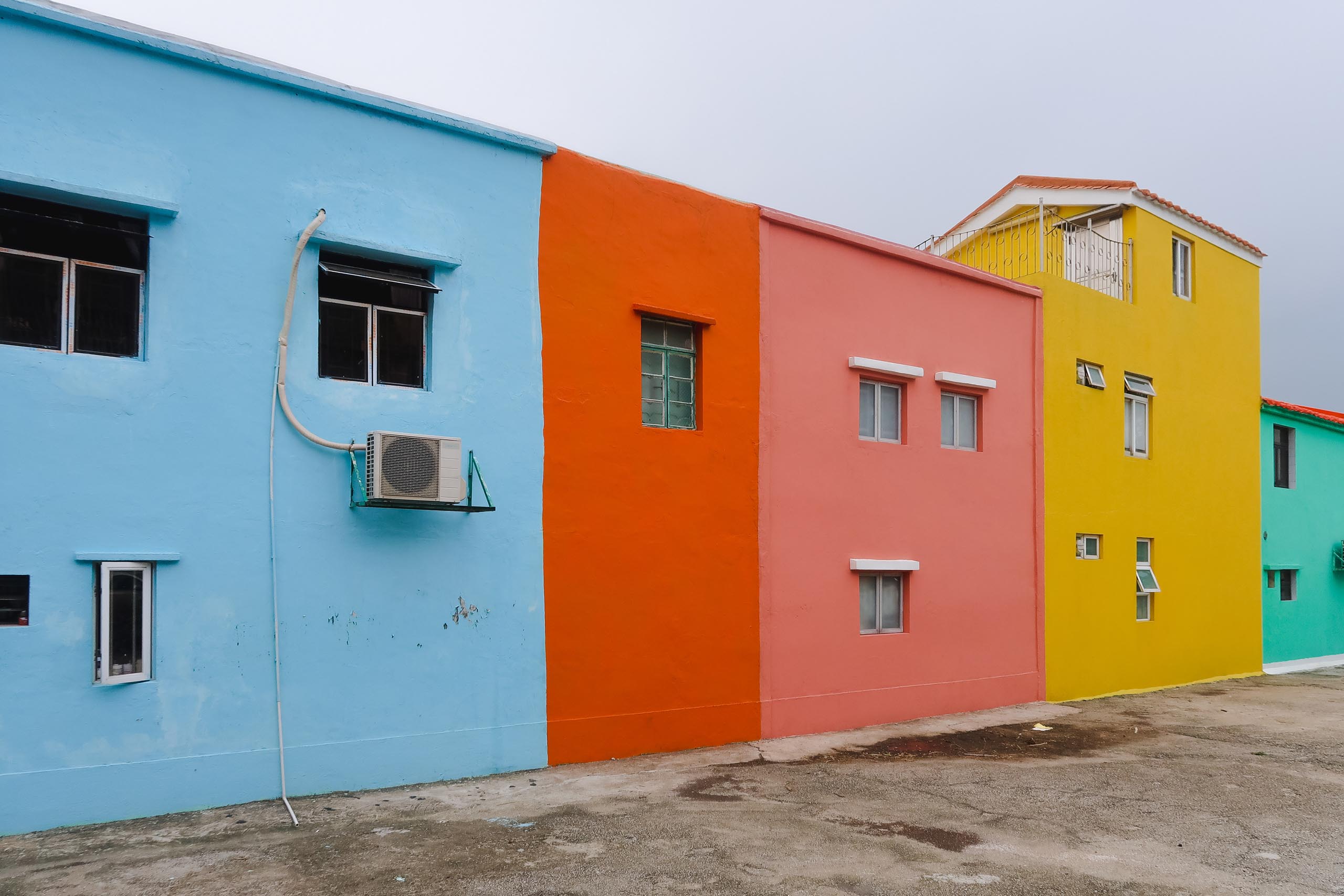 Coloane Village's Residential Walls
While visitors come to Coloane village for a taste of Lord Stow's egg tarts and a bite of Nga Tim's traditional Macanese cuisine, all leave with great photos–as this village and its vibrant toned residential houses make for the perfect photo-op. The back walls of some of the residential houses edging the village received a vivid makeover recently, all touched up and brightened. Now they are even better photo backdrops than they were. Take your pick, or shoot them all if you want. Make sure to wear an equally jazzy outfit while you're at it.
Coloane Village's Residential Walls Av. de Cinco de Outubro, Macau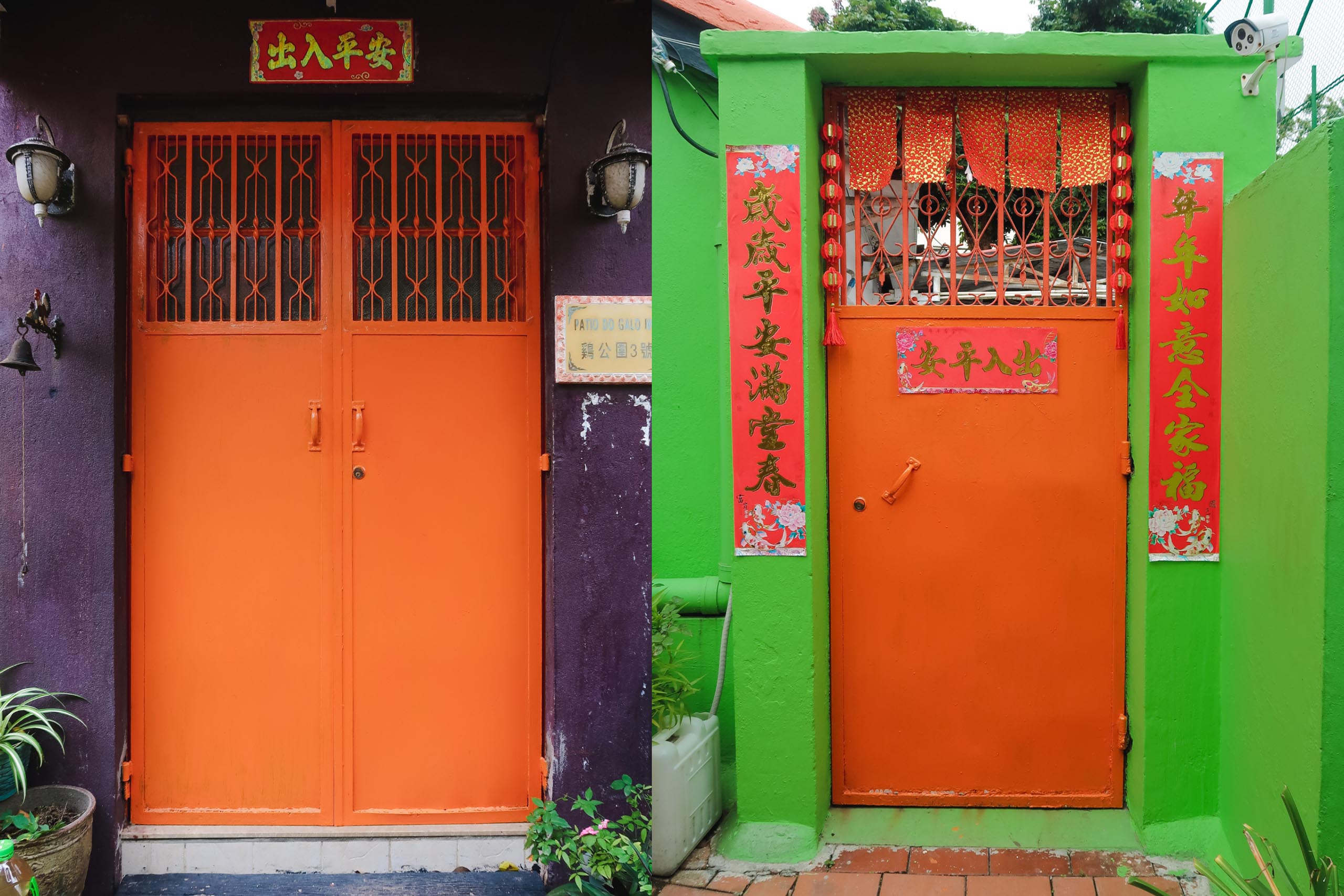 Coloane Village's Residential Gates and Doors
While we're on the topic of Coloane's vibrant residential houses, let's take a closer look at some of their other details–like their gates and doors. Tucked away among many of the village's hidden alleyways, it's hard to miss such details without getting lost and wandering around on foot (not all those who wander are lost, right?). From Largo Eduardo Marques, make your way around St. Francis Xavier Chapel towards Rua do Meio and you'll find yourself in a maze of little alleys between temples, buildings, and portals adorned with plants and Chinese ornaments.
Coloane Village's Residential Gates and Doors Rua do Meio, Coloane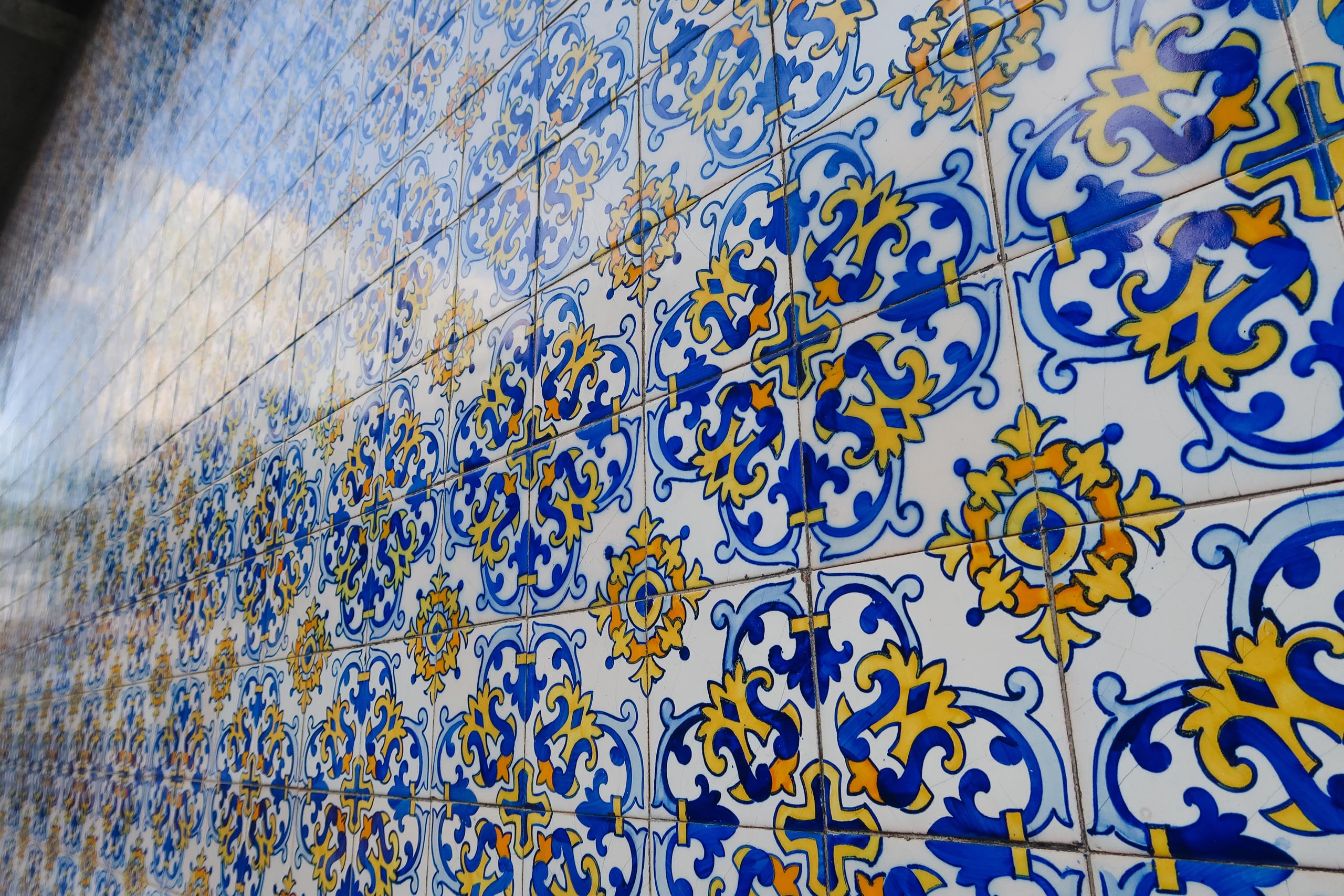 The Portuguese

School Walls
In the heart of the Macau metropolis stands a prestigious educational institution known as Escola Portuguese de Macau. Without taking a second glance, it's rather easy to overlook the school's ceramic tiled walls that are traces of its past. Trained eyes, however, will recognize the authentic "Azulejos", a Spanish and Portuguese ornamental art form that's commonly found on the exteriors of palaces, churches, and of course, schools. These types of tile-work are becoming less visible in the city nowadays which makes this Portuguese school's walls significant.
The Portuguese School Walls Avenida do Infante Dom Henrique, Macau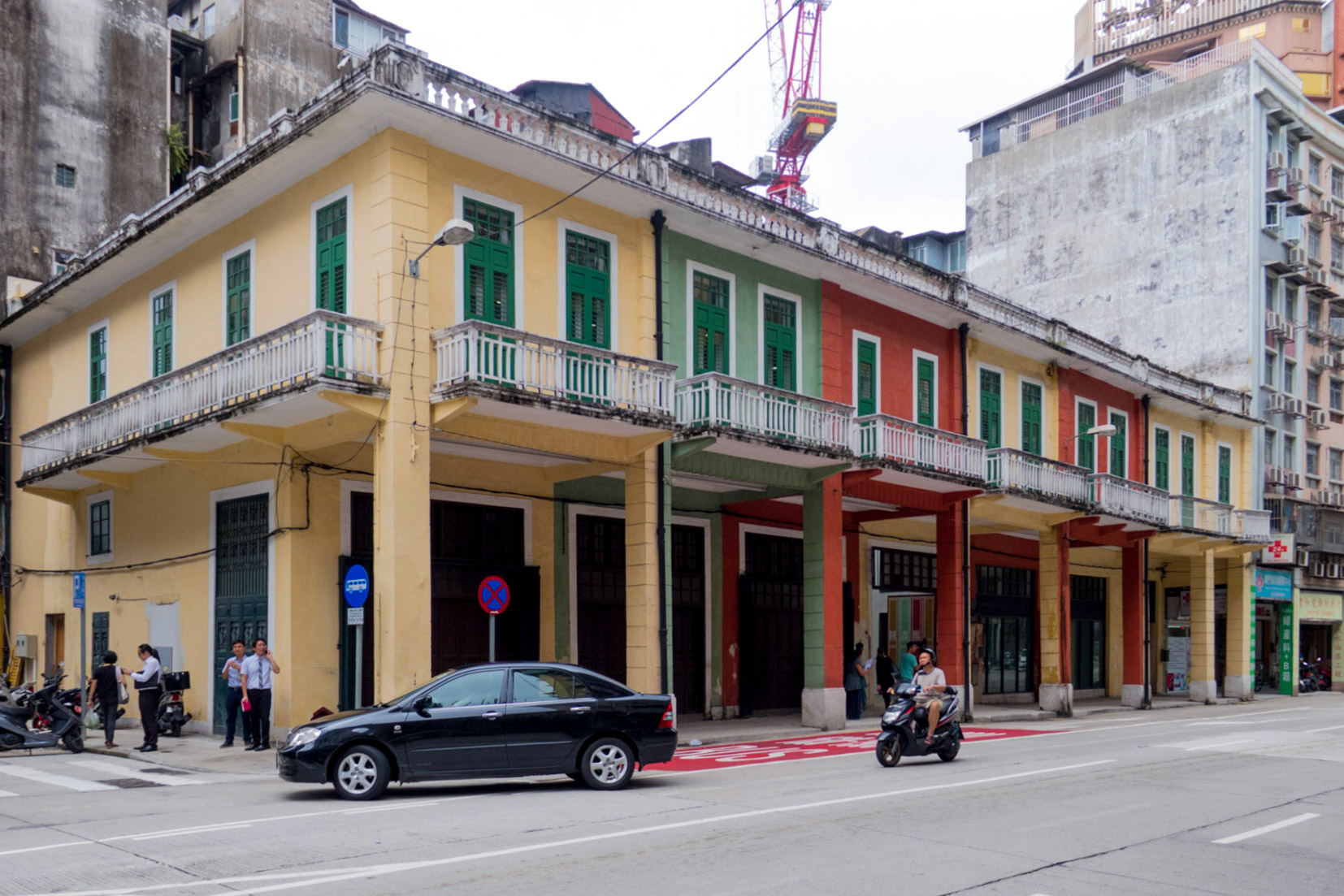 Patane Library
It's hard to miss this set of pastel-colored buildings standing along the route that leads along the inner harbor of Macau. Known as the Patane Library, they feature an architectural style combining European and Southeast Asian architectural traditions known as arcade structures. With a history dating back to the 1930s and being one of the very few left of its kind in the city, these buildings are a historical landmark in their own right. If you're looking for a cozy space to lounge in and read a book, appreciate film or music, or simply a beautiful spot to serve as your photo background, Patane Library is worth a visit.
Patane Library R. da Ribeira do Patane, 69, Macau
---
For a list of other great photogenic hotspots, check out this great guide to street art in Macau, covering a few great walls and secret locations around Macau
Also, if you want your images featured or shared, remember to hashtag #MacauLifestyle on Instagram: @macaulifestyle and follow us!
We would love to see and share your shots, or see if we missed any great walls!
Tags
Related Posts