To the majority of the world, Macau is but a hub of mega-resorts fuelled by gaming, entertainment, and nightlife. However, to those who really know the city and are in the know like the locals, the city has a lot of history, and there are plenty of charming, vibrant bursts of color, layers, tastes, and textures to discover. The old town streets, for one, are decorated with pastel-hued walls and stone-paved roads, reminiscent of the Portuguese architecture that once dominated the city. For at least a moment you will feel like you're in a quaint town somewhere in Europe, not the booming Las Vegas of the Orient. So, put on your adventure hat, charge up your camera and come with us to explore some of the most Instagrammable buildings in Macau–remnants of the past that will take you back in time.
Café Vong Kei
(See featured image above)
Painted in pastel green with the coolest artsy designs on top, Café Vong Kei, in Taipa Village, is one of the most Instagrammable buildings so far! If you're looking for one of the oldest and most popular milk teas in town, this is the place to get it. Also, who can resist Chinese characters and a super local vibe for an Instagram feed upgrade? This place can almost be considered vintage, which is pretty much the trendiest thing nowadays.
Café Vong Kei 1 Rua do Cunha, Taipa Village
Also read: Eat & Drink on Rua do Cunha in Taipa Village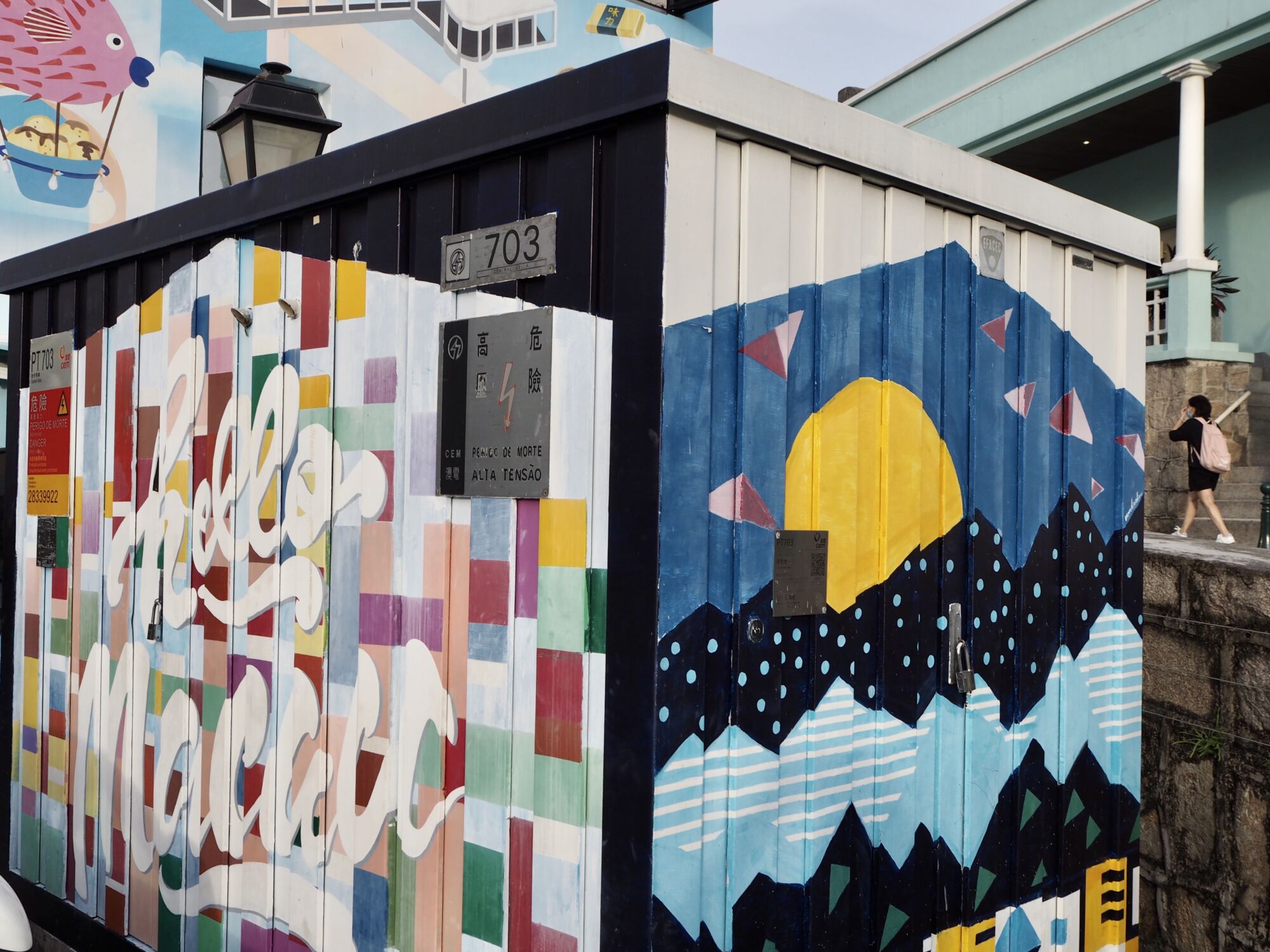 "Hello Macau" sign
If you've been searching the hottest Macau photos this year, you've probably come across this one already. As the background in photos of cute girls, kids, or romantic couples, the queen of street art pieces is surely this one. Set on an old container, it brightens up this quaint little alley behind Rua do Cunha, in Taipa Village. With a colorful café on the side and the Taipa Houses-Museum right behind, there's not a perfect angle for a shot in here: all of them can be great!
"Hello Macau" Sign Calçada do Quartel, Taipa Village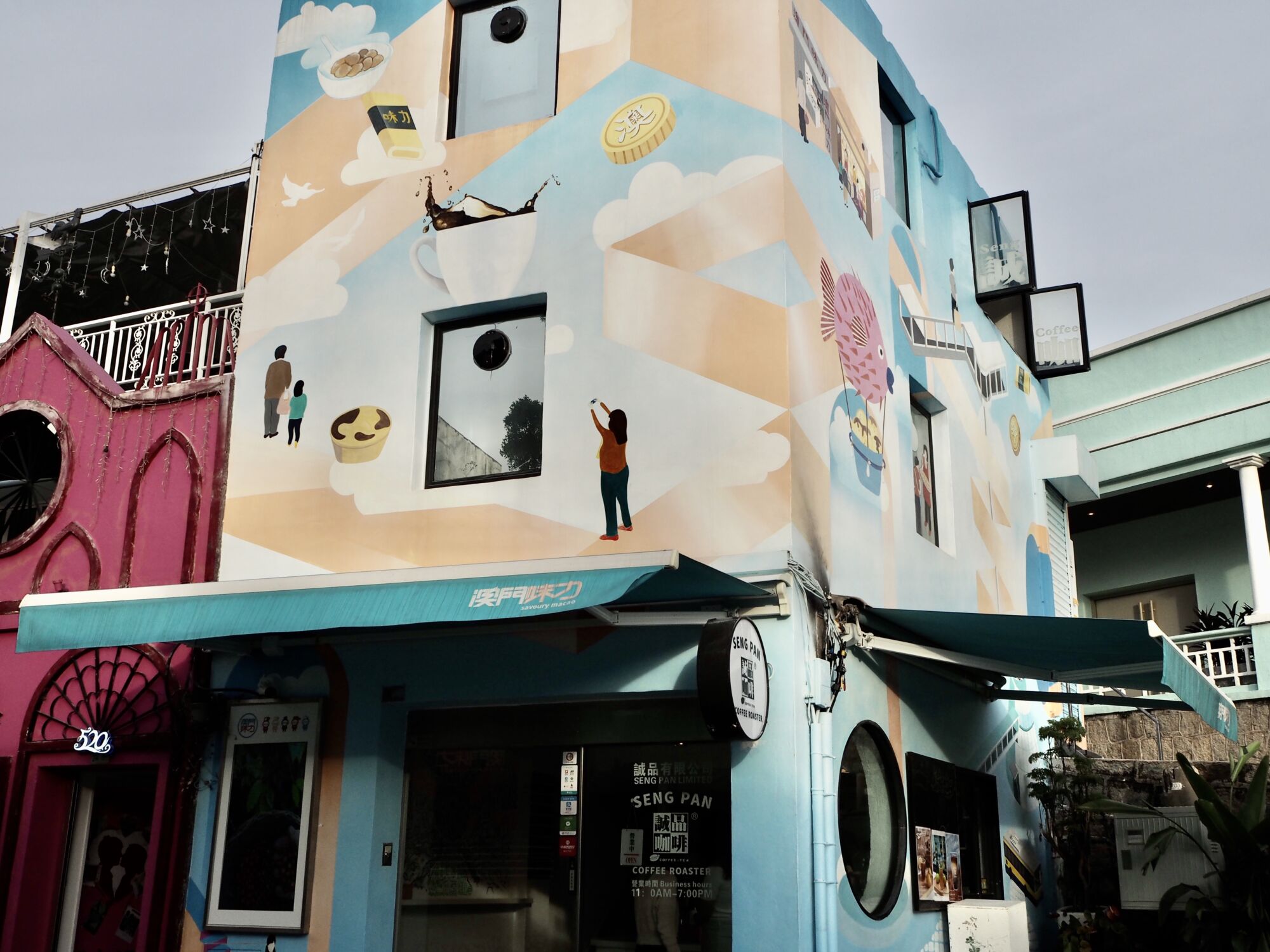 Seng Pan Coffee Roaster, Q Cafe
A café downstairs and a restaurant on the upper level, this incredible building is also set in the same alley as the previous one. Covered with animals and cartoons, people, and balloons, taking a shot of this spot is like entering a dream. We love this artful structure so much, especially because it's set in one of the most historically relevant areas of Macau. Why not take a walk to the Taipa Houses-Museum and head here for a coffee? Don't forget to update your social media feed too!
Opening hours: Daily, 10:30am–7:30pm
Seng Pan Coffee Roaster, Q Cafe 28 Calçada do Quartel, Taipa Village
Also read: Best Places for Coffee in Taipa Village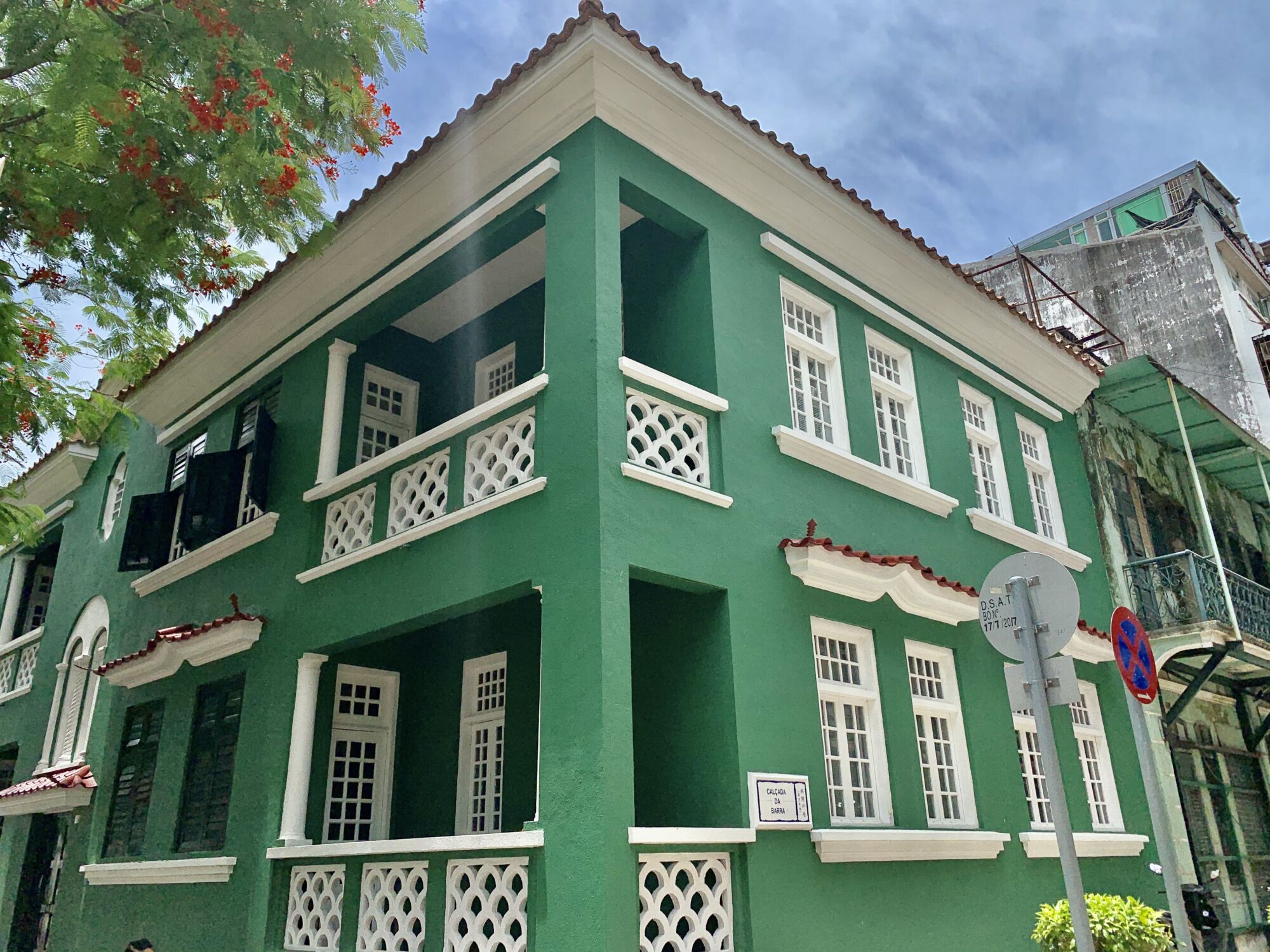 Maritime Museum Administrative Building
Located in the same square where the Maritime Museum and A-Má Temple are, this bright green building is a great reminder of colonial architecture. Previously housing Macau's first Maritime Museum, its contents were moved to the building where the museum now stands. This building now serves administrative purposes and its architecture and color make really good photos, that we can assure!
Opening hours: Monday–Friday, 9:00am–5:30pm
Maritime Museum Administrative Building Largo do Pagode da Barra, Macau, +853 2859 5481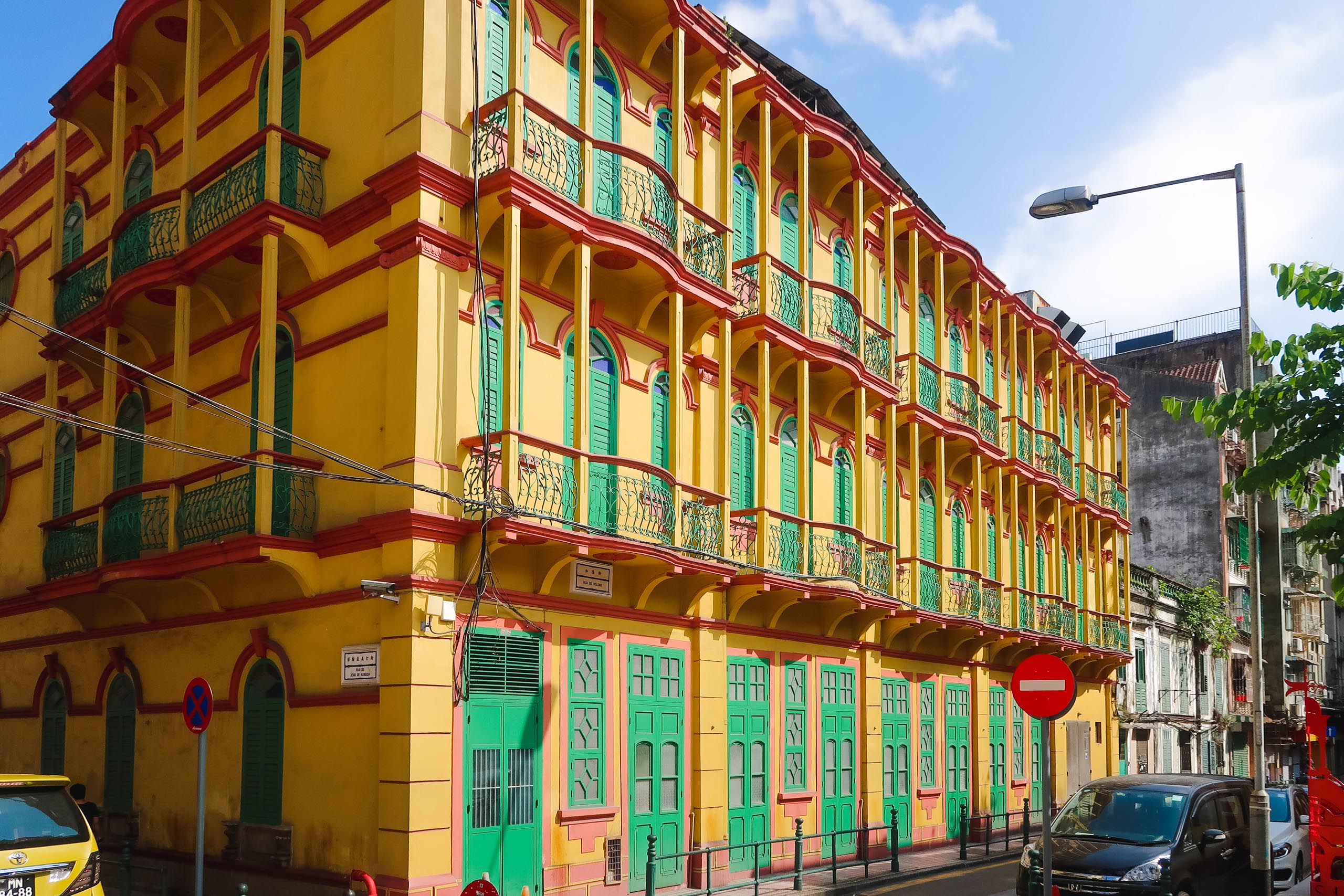 Edifício Comercial Holland Garden
The most dominant colors of Macau's colonial buildings are yellow and green, but this one at the intersection of Rua do Volong and Rua de João de Almeida is more eye-catching than the rest. Known as Edifício Commercial Holland Jardim, its facade boasts a saturated mix of yellow, green, and red, with gorgeous pillars, arched windows, and colonial shutters. If you catch it against blue skies on the perfect summer day, this is a great location for photoshoots.
Edifício Comercial Holland Garden Rua de João de Almeida, Macau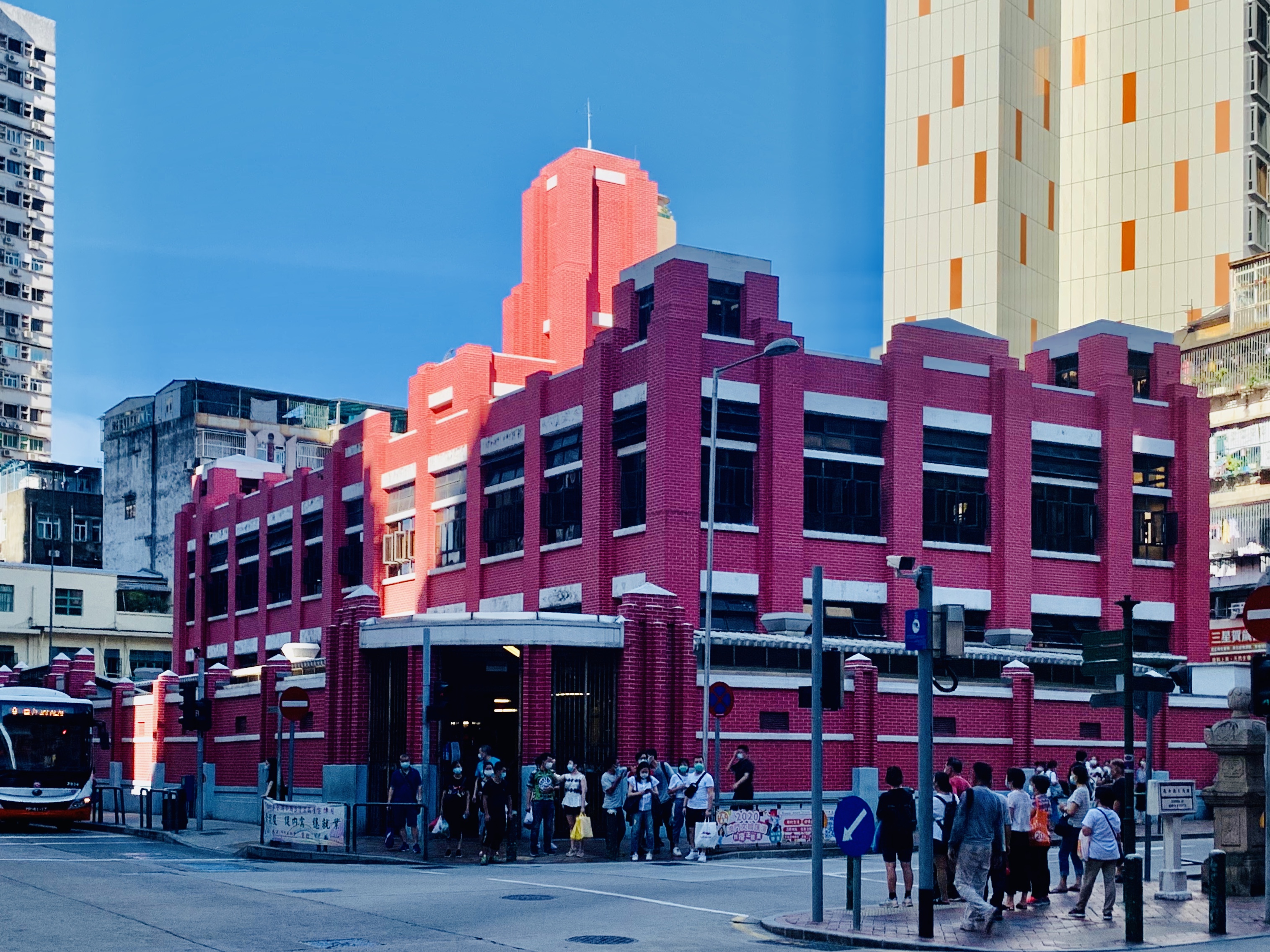 Red Market
Made with bright pinkish red bricks, this building is one of the most recognizable and popular in Macau. Housing a market with live fish and seafood, fresh vegetables, fruit, and eggs, but also meat, it's the to-go place for most locals on their grocery run. It features lots of eateries and other shops nearby, and we really love its bright and striking color, ideal for photoshoots with the market as the background.
Red Market Avenida do Almirante Lacerda, Macau
Also read: Street Snacks in Red Market and Horta e Costa area
Also read: Great Places to Grab a Bite in Horta e Costa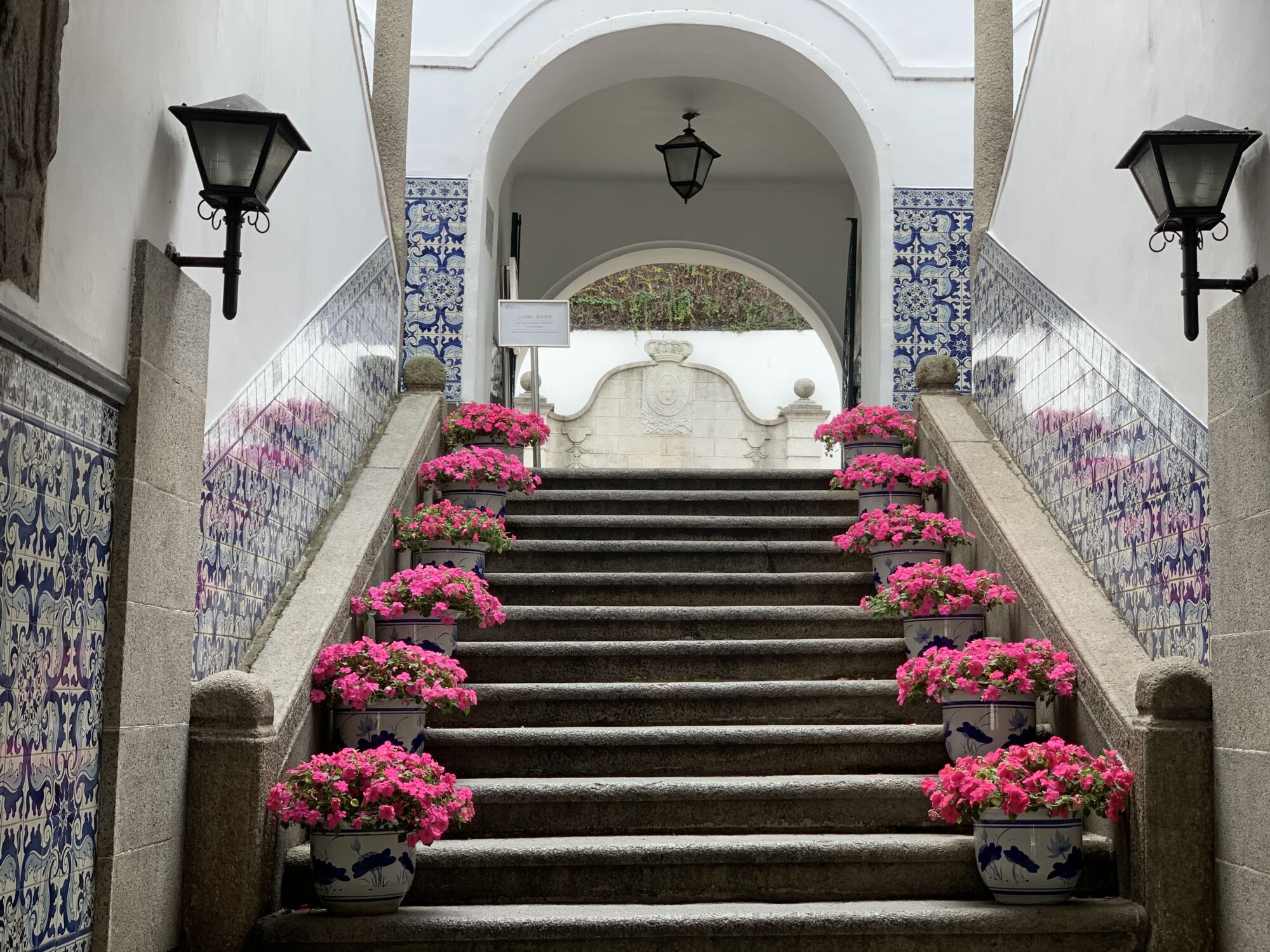 Leal Senado Building
This is one of the most emblematic buildings in the city. Set in the heart of Macau, it houses a library with ancient books–sometimes closed to the public–and governmental offices. Decorated with a very Portuguese style and decor, it featured numerous tiles like the ones you'd find in Portugal, hand painted and beautiful. Built in 1784, it used to be the headquarters of the government at the time, the first municipal chamber. Head here to unravel the beauty of this colonial site set in in Leal Senado Square and create amazing photos with cool angles and creative settings.
Opening hours: Gallery – Tuesday to Sunday from 9:00am to 9:00pm; Garden – Daily from 9:00am to 9:00pm
Leal Senado Building 163 Avenida Almeida Ribeiro, Macau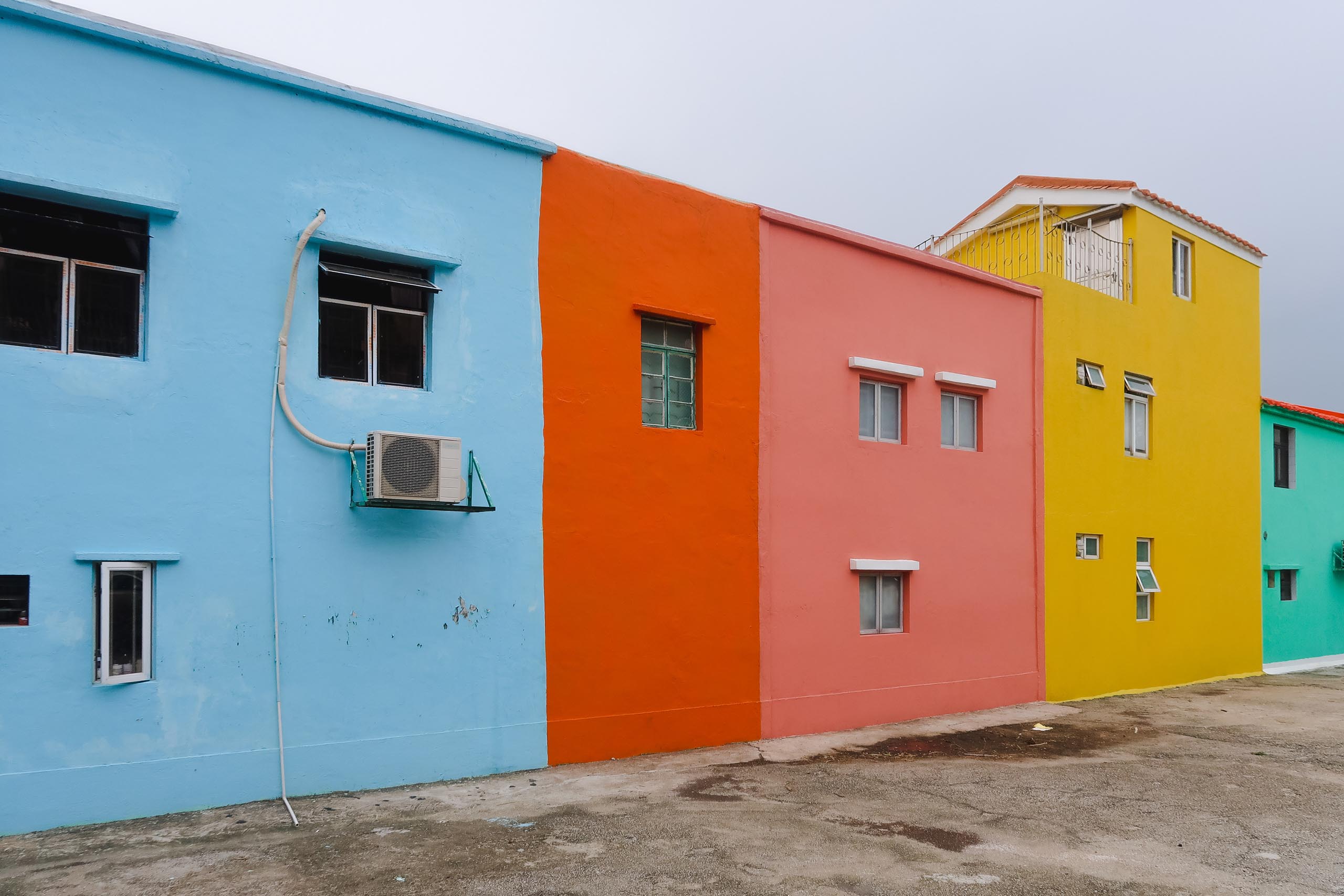 Coloane Village Residential Walls
While visitors come to Coloane Village for a taste of Lord Stow's egg tarts and a bite of Nga Tim's traditional Cantonese and some Macanese dishes, all of them leave with great photos–as this village and its vibrant toned residential houses make for the perfect photo-op. The back walls of some of the residential houses edging the village received a vivid makeover recently, all touched up and brightened. Now they are even better photo backdrops than they use to be. Take your pick, or shoot them all if you want. Make sure to wear an equally jazzy outfit while you're at it!
Coloane Village's Residential Walls Av. de Cinco de Outubro, Coloane Village
Also read: Macau Lifestyle's Dining Guide to Coloane Village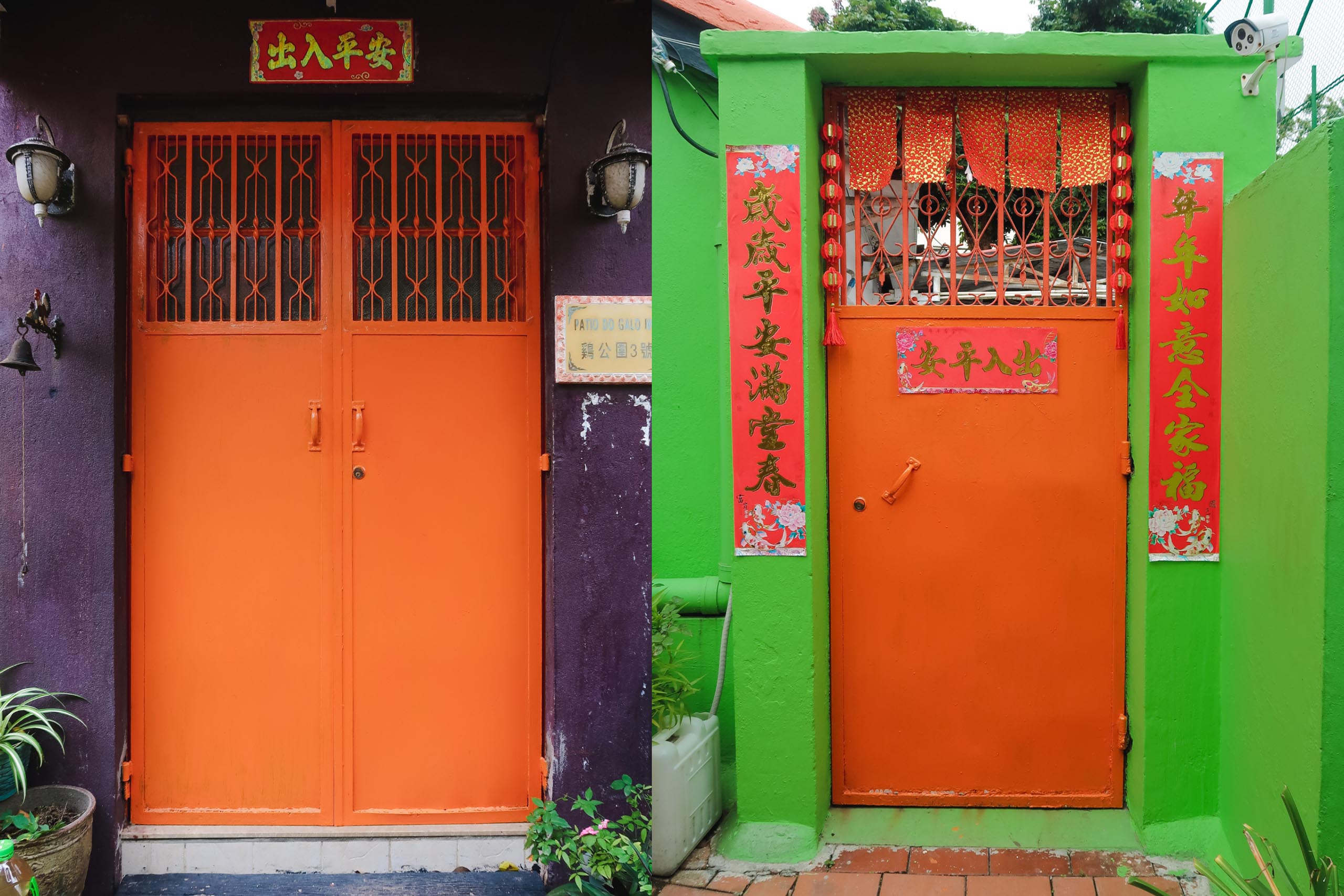 Coloane Village's Residential Gates and Doors
While we're on the topic of Coloane's vibrant residential houses, let's take a closer look at some of their other details–like their gates and doors. Tucked away among many of the village's hidden alleyways, it's hard to miss such details without getting lost and wandering around on foot (not all those who wander are lost, right?). From Largo Eduardo Marques, make your way around St. Francis Xavier Chapel towards Rua do Meio and you'll find yourself in a maze of little alleys between temples, buildings, and portals adorned with plants and Chinese ornaments.
Coloane Village's Residential Gates and Doors Rua do Meio, Coloane Village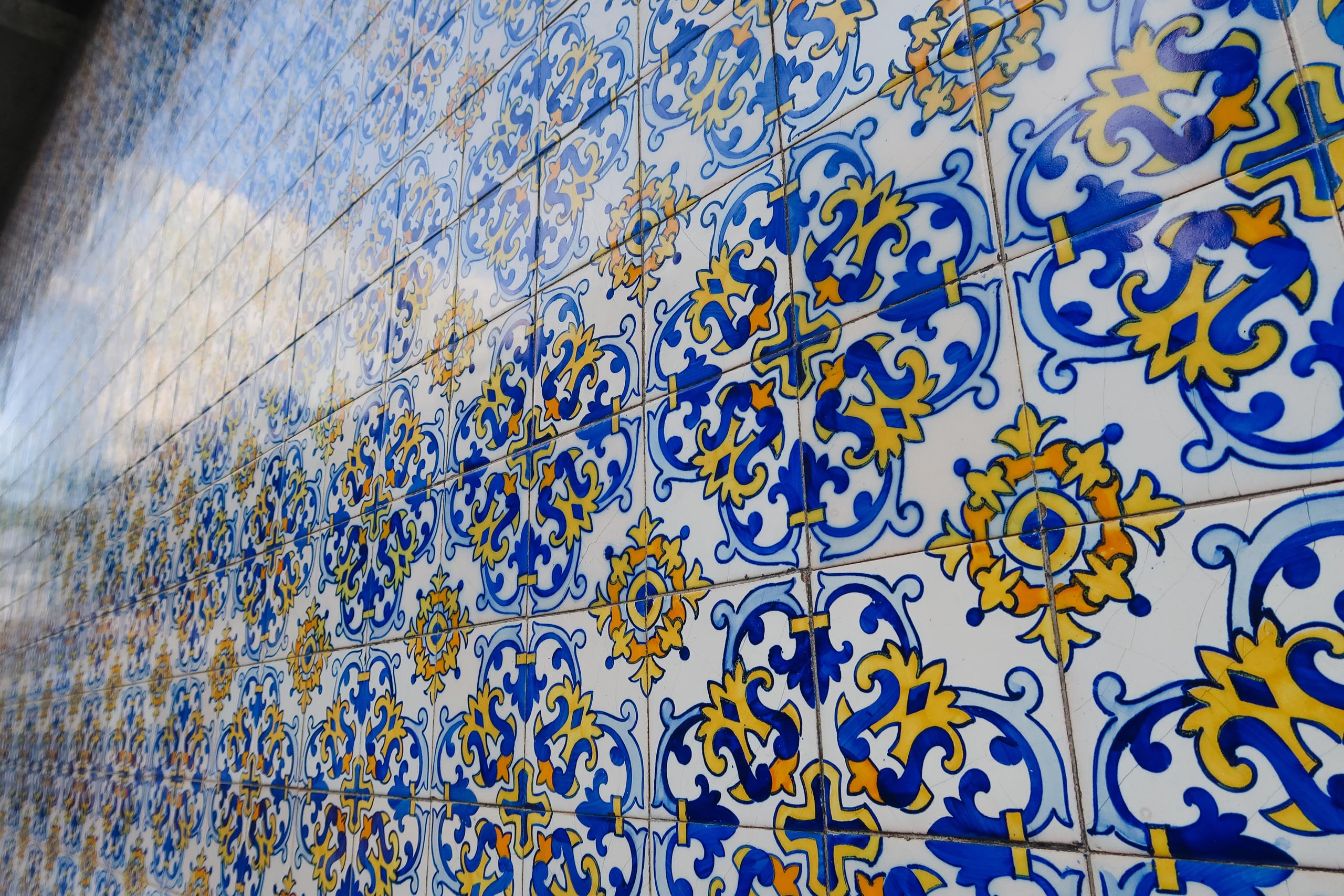 The Portuguese

School Walls
In the heart of the Macau metropolis stands a prestigious educational institution known as Escola Portuguesa de Macau. Without taking a second glance, it's rather easy to overlook the school's ceramic tiled walls that are traces of its past. Trained eyes, however, will recognize the authentic "Azulejos", a Spanish and Portuguese ornamental art form that's commonly found on the exteriors of palaces, churches, and of course, schools. These types of tile-work are becoming less visible in the city nowadays which makes this Portuguese school's walls significant.
Portuguese School Avenida do Infante Dom Henrique, Macau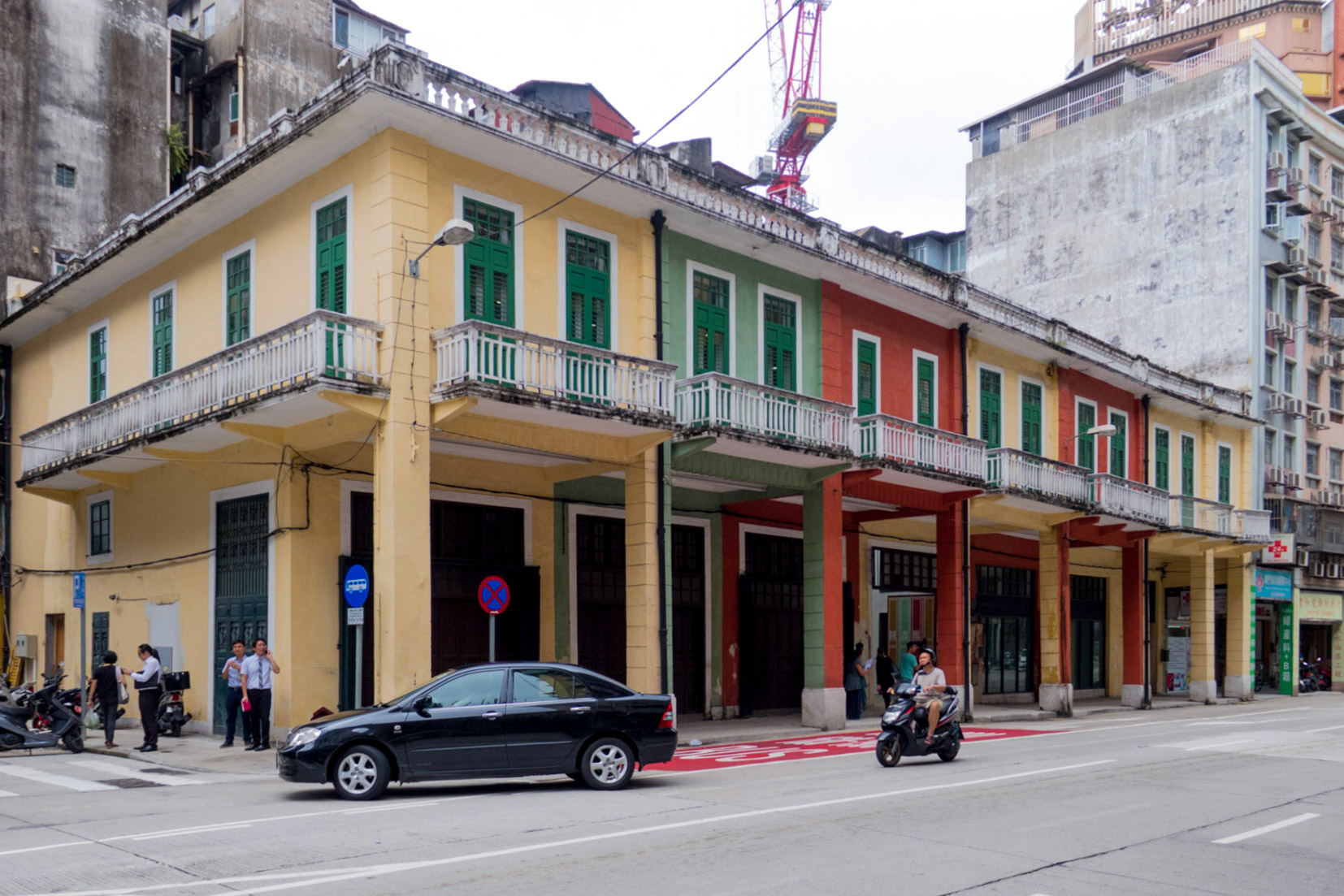 Patane Library
It's hard to miss this set of pastel-colored buildings standing along the route that leads along the inner harbor of Macau. Known as the Patane Library, they feature an architectural style combining European and Southeast Asian architectural traditions known as arcade structures. With a history dating back to the 1930s and being one of the very few left of its kind in the city, these buildings are a historical landmark in their own right. If you're looking for a cozy space to lounge in and read a book, appreciate film or music, or simply a beautiful spot to serve as your photo background, Patane Library is worth a visit.
Patane Library 69 Rua da Ribeira do Patane, Macau
Also read: Colorful Macau: Best Street Art Hotspots
Also read: Most Instagrammable Restaurants & Bars in Macau
Also read: 5 Instagram Spots in Macau You Have to Visit
This article was originally written by Clara Florendo in 2018 and updated by Leonor Sá Machado in July 2020.
Tags
Related Posts