Every October venues across the world celebrate Oktoberfest, influenced by the world's famous beer festival held every year in Munich in the heart of Bavarian Germany. Palms Café and Bar at Sheraton Grand Macao Hotel, Cotai Central, have decided to get in on the action, and this year they will be holding their very own Beer Festival throughout October with a special German menu.
The event promises to take you on a gastronomic journey across the Bavaria region. There'll be a chance to sample delicious pork, potatoes, bread and other tasty ingredients – and of course you'll be able to raise a glass of traditional German beer to match the hearty food on offer.
Sausages and other items served on the special menu at Palms Café and Bar were imported from Germany, and these all perfectly pair with the original and black Paulaner beers, a German beer brand with which Sheraton Grand Macao Hotel, Cotai Central partnered with for this event. Paulaner is quite famous across the world, but Bavarian countries have a special place in their hearts for it. They are fantastic brewers and have some of the best beers known to man.
The food menu – specially crafted for this occasion – features three different types of sausage and a mixed platter for people who prefer sharing with friends and trying a bit of each. There will be Bavarian specialties, such as pork knuckle with cabbage salad and bread dumplings, roasted entrecôte beef steak with mashed potato and roasted onion, spit roasted half chicken with warm potato salad. There is also a mixed platter for all those meat lovers out there: it includes a bit of each Bavarian specialty, as well as some side dishes.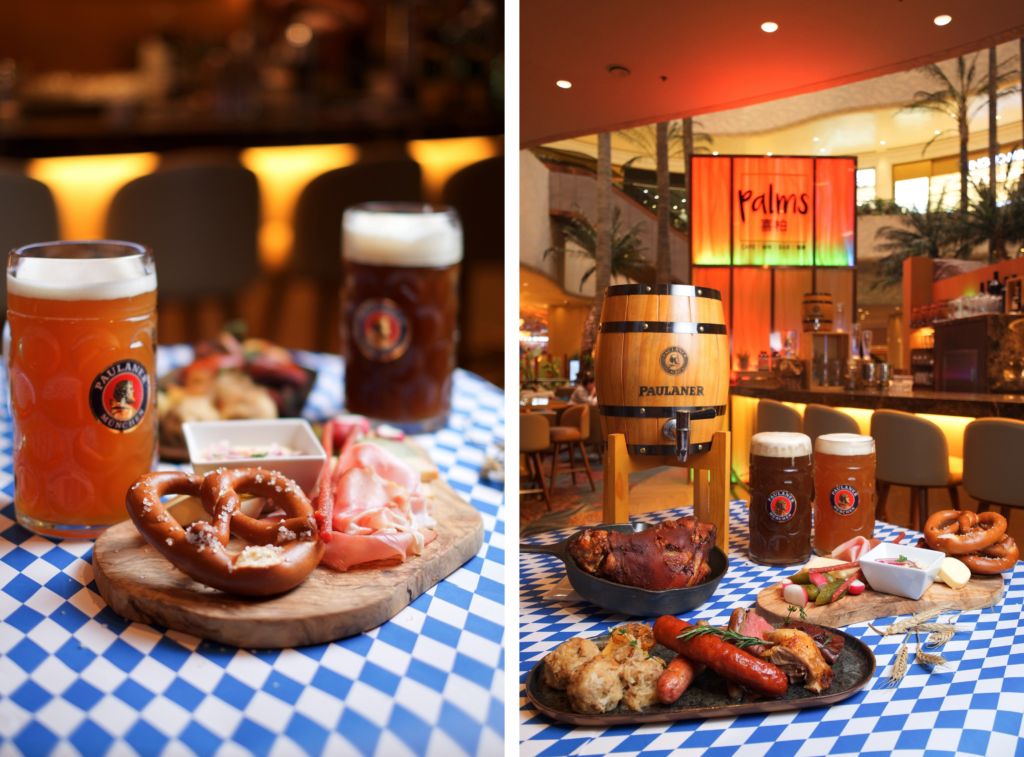 Other dishes include sauerkraut (a type of pickled cabbage), bread dumplings with creamed mushrooms, spicy goulash soup, Camembert dip with radishes and pretzels, and a "brotzeit" ("Brot" being German for bread and "Zeit" for time) board which includes roasted pork, black forest ham, sausages, Bavarian cheese, Camembert dip, pickles and pretzels. The latter is a good choice for sharing. There is also pork knuckle, warm apple strudel with vanilla sauce and ice cream, and much more to keep your belly full and happy!
There will also be great German songs of course and a chance to dance (and sing if you feel like it), so come take a gastronomic ride across Bavaria at Palms Café and Bar this month!
---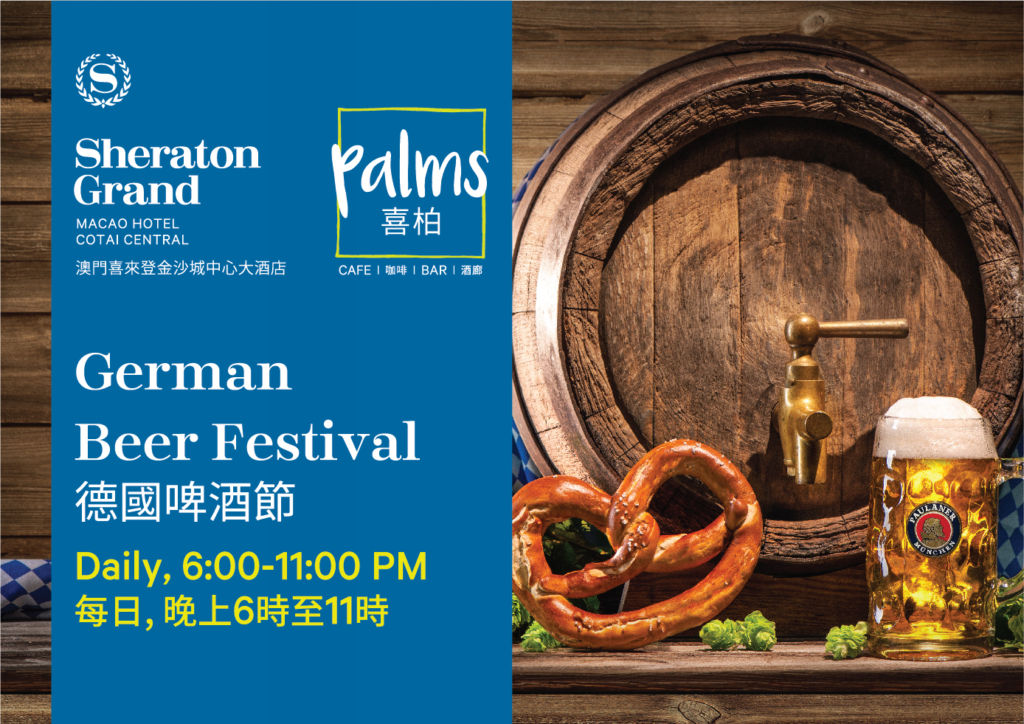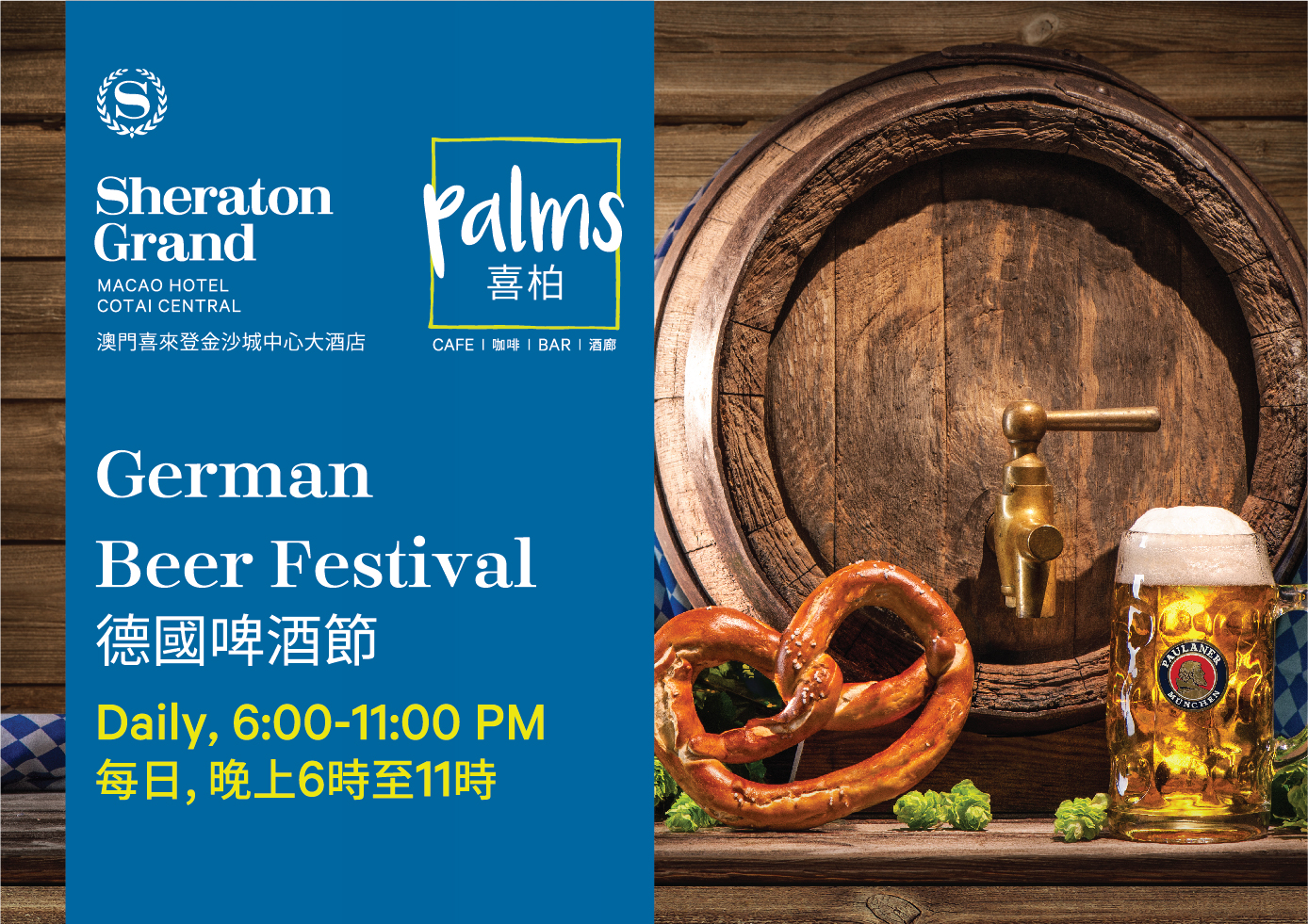 Sheraton's Palms Café and Bar opened early this year. Although they are known for their tropical theme, during October they are holding their inaugural German Beer Festival with traditional Bavarian dishes, beer, and everything German. Besides selected beer, there's an array of traditional dishes to try, including goulash (Bavarian soup), bauernbratwurst (sausages), roasted pork knuckle, plus a mixed Bavarian platter with a bit of everything, side dishes, and apple strudel.
When: 6:00pm–11:00pm, October 8–October 31, 2018
Where: Palms Café and Bar, Sheraton Grand Macao Hotel, Cotai Central, Estrada do Istmo, S/N, Cotai
How much: Prices vary according to dish
For more information please visit Palms Café & Bar website, call +853 8113 1200 or visit Sheraton Grand Macao Hotel, Cotai Central website
Brought to you in partnership with Sheraton Grand Macao Hotel, Cotai Central
Tags
Related Posts