There's a new face serving up all the classic flavorful cocktails and drinks at The Ritz-Carlton Bar & Lounge. The talented Gabrielė Sasnauskaitė from Lithuania is one of the top female bartenders in the industry – and The Ritz-Carlton Macau is her new home as bartender. The Ritz-Carlton Bar & Lounge is a haven offering the rarest and most prestigious selections of gin, including such rarities as Pierde Almas Botanica +9 Mezcal Gin and a 100% organic and vegan Black Tomato Gin from the Netherlands, which is the world's only gin made with black tomatoes.
Gabrielė Sasnauskaitė is the latest rarity to arrive. She's a skilled, unique diamond in the rough. In a male-dominated industry, she sets the bar high when it comes to creation and creativity. Sharing the same philosophy as the hotel and the outlet she's working in when it comes to guests, she believes in changing the way people perceive cocktail culture and wants to create a once-in-a-lifetime experience for guests. Together, Gabrielė Sasnauskaitė and The Ritz-Carlton Bar & Lounge continue to open their doors to new experiences and unique beverages for discerning guests who crave craftsmanship and unique cocktails.
We caught up with her to find out what brought her to Macau, why she chose to mix drinks to make a living, and what Love of a Giant is.
You're originally from Lithuania and now in Macau – how did you end up here and what got you started in the industry?
I was at university and I was studying a completely different thing. I was in Information Management and after graduating I needed something to do. However, I wasn't sure if I wanted to work in my field or try something new or interesting. When I was also in my teens, I worked in my godmother's restaurant, part-time. I used to frequent this bar and it just so happened that the manager was looking for a bartender and one day I just came up to him and asked if I could try. He let me have a go, and that was the start of it all.
What is the different between a mixologist and bartender?
I'm not sure I am a mixologist just yet but I consider myself a creative bartender. In my personal opinion, the difference is that a bartender is a person who is the psychologist for people to talk with and share their problems and feelings, while the mixologist is someone who creates and focuses on the drinks.
What do you like most about your job?
I love the creative part of it. I also love interacting with the people around me and communicating. Meeting new people and having a creative outlet is a great day for me.
What is the hardest challenge?
Maybe, it's to be happy all the time. Because sometimes you always have to be nice to people but you also have your days, and that's just normal. Sometimes you also get a creative crisis and you need to confront that.
What's your favorite ingredient to work into a cocktail?
I'd say gin as an alcohol base. I am trying to change that but it's my favorite. It's easy to be creative with it, you just need to ensure to balance and mix it together well.
Tell us one cocktail that you'll never get tired of making and why?
I like to make a Bloody Mary, because the drink is so versatile and every single time you can make a different blend.
Speaking of cocktails, do you have a signature cocktail that you're known for or that is all yours? What's the inspiration behind it?
The first drink I used to make it on the spot like spontaneously. Then, I won the Beefeater award in my country featuring a drink called, Love of a Giant. It has hard cheese, heavy cream, syrup, and figs on it.
What's your impression of Macau?
It's warm when it comes to both people and the weather. I Googled Macau a lot because I didn't know Macau existed until a few months ago (laughs). But now, I think I'm fairly knowledgeable about the place.
What do you love to drink at home?
Gin and tonic or beer.
Besides the beautiful location, what do you think makes The Ritz-Carlton so special?
I love the people who work here. As a guest, I can always be sure to get the best service and if I'm in the mood to get a drink I'm sure I'll get the best in here. Whatever kind of vibe you feel you'll find it here.
We have one of the world's rarest gins also. It's very special because it requires almost 50 distillations to make just one single bottle – they use cold temperatures and air pressure at less than half the level experienced at the summit of Mount Everest to retain the gin, so it's extremely limited amount. It's one of the rarest and expensive gins in the world.
You can follow Gabriele on Instagram @gabriele.sasnauskaite
Ritz-Carlton Bar & Lounge The Ritz-Carlton, Galaxy Macau, Estrada da Baía de Nossa Senhora da Esperança, Cotai, +853 8886 6712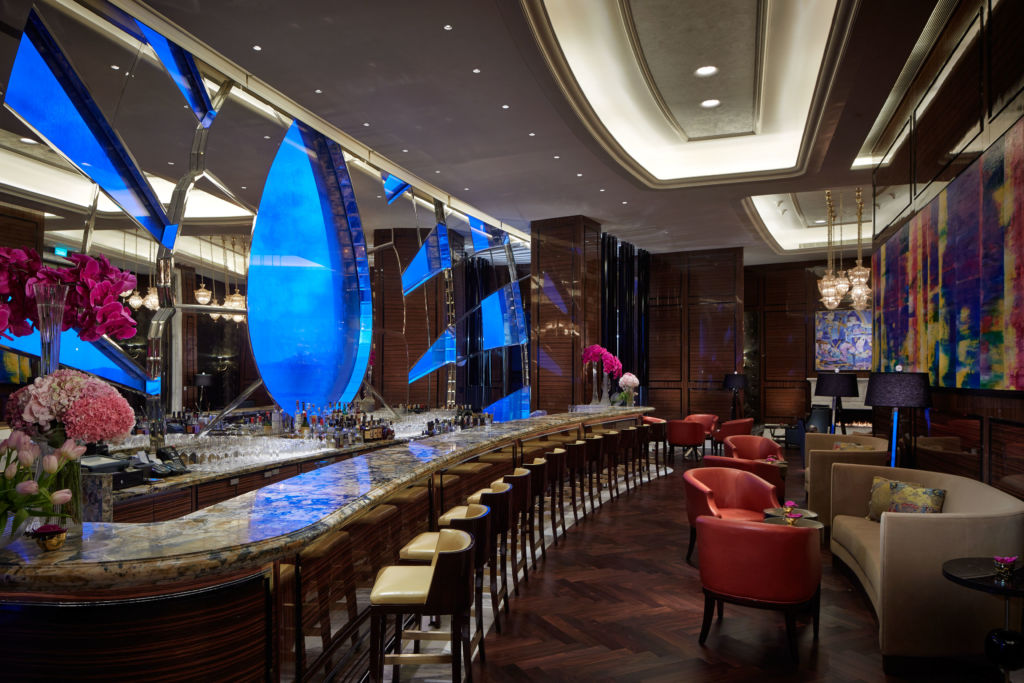 Tags
Related Posts