With all the fancy restaurants and sophisticated cocktail bars available in Macau, sometimes all we want is to call some friends and head to a humble pub for a refreshing pint and some soul food. If you haven't picked a favorite local bar in town (or two!) yet or searching for a new spot, our list of the best pubs and dive bars in Macau is just for you!  
OTT – Old Taipa Tavern
(See featured image)
Ask any expat in Macau where to have a beer or two in a casual spot with a friendly crowd. With a 90% probability, OTT would be their answer. Serving all kinds of drinks, from wine to flaming shots, this bar also offers decent gastropub classics, like nachos or fish and chips. If you get hungry between rounds, their lamb burger is a must-try. 
It's a no-brainer why this pub in the center of Taipa Village has established itself as a favorite place to hang out after work, on weekends, or to watch a game of rugby. Their service is flawless, and the OTT's owners often personally assure that by chatting with patrons and, at times, pouring pints themselves. Old Taipa Tavern is a family-run business, and it shows. Naturally, loyal customers keep coming back to spend a Friday night with friends or for a juicy Sunday afternoon roast with their families.
Opening hours: Monday–Friday, 2:00pm–2:30am; Saturday–Sunday, 1:00pm–2:30am
Old Taipa Tavern 21 Rua dos Negociantes, Taipa Village, +853 2882 5221, www.facebook.com/ottmacau

The Roadhouse Macau
Surrounded by the numerous Asian eateries of Broadway Food Street, The Roadhouse Macau is the number one spot in the city for fans of rock'n'roll and live sports. Owned by an Irish-Filipino couple, this restaurant and bar attract a diverse crowd of Macau locals and expats. With the walls covered in rock, blues, sports memorabilia, speakers blasting rock hits create an authentic setting that you can hardly find anywhere else in Macau. When the weather is pleasant, it's a great idea to take it outside at their al fresco tables. Even on colder days, it's a cozy spot to pick as it provides some heating outside. Should you wish to enjoy some bar games, there are darts and pinball.
The drinks assortment is extensive and standard, with bottled and draft beers, house wine, classic 2000-style cocktails, shots, and spirits. Their daily happy hour from five to eight makes The Roadhouse a perfect place to chat over a few pints or glasses of wine after work. Order some pub grub, and you are all set for the night. There are plenty of tempting Mexican, Irish, American, and Filipino dishes to choose from.
Among their many attractive sides is the live music six days a week. Most of the time, the in-house band Double Dorias is performing with rock'n'roll and blues tunes. But occasionally, other local talents and cover bands hit the stage. What is more, The Roadhouse Macau owns several big plasma TVs inside and a gigantic screen outside where they play live sports events such as football, races, and boxing. 
Opening hours: Monday–Thursday, 5:00pm–2:00am; Friday, 5:00pm–3:00am; Saturday–Sundays, 12:00pm–3:00am 
The Roadhouse Macau E-GO16–GO19 Broadway Food Street, Broadway Macau, Av. Marginal Flor De Lotus, Cotai, +853 2875 2945, www.facebook.com/theroadhousemacau

Duffy's Irish Pub
The Roadhouse Macau's neighboring pub, Duffy's Irish Pub, is Macau's most authentic Irish establishment. Who knows how to drink and party better than the Irish? Some might argue, but we will all agree there is no crazier fun than St. Patrick's Day,  a national holiday in Ireland. Jokes aside, Duffy's is a cozy spot with furniture and decor elements produced in Ireland and shipped to Macau. Black and white family photos from the owner's archive feature his family, including his mother, the inspiration behind the pub's name. Even their bartender Sean, a friendly bloke with an Irish harp tattoo on his arm, comes from the Emerald Isle. 
Besides the inevitable Guinness stout, there is a variety of draft and bottled beer, as well as home-style rustic Irish dishes to pair your pint with. The shepherd's pie is especially yummy and goes so well with a pint of beer. Surprisingly for a pub, the cocktails here are pretty good too. So if you crave a cosmo, Sean will gladly shake it up for you!
Opening hours: Daily, 5:00pm–2:00am
Duffy's Irish Pub C-GO02–GO04 Broadway Food Street, Broadway Macau, Av. Marginal, Flor de Lotus, Cotai, +853 2884 5212, www.facebook.com/duffysbarmacau

Prem1ere Bar & Tasting Room
Hidden behind a dark door on one of the main streets of Taipa Village, Prem1ere Bar & Tasting Room is a popular gathering spot, especially for Taipa dwellers. Behind the long bar counter with tall leather stools, there is a wide array of spirits. Their collection of gin is incredibly impressive. Moreover, they do their in-house infused gin. So don't think twice as this is an ideal bar for a G&T! Not into gin? Opt for a beer, wine, or a refreshing cocktail. 
Occasionally Prem1ere organizes some acoustic guitar and live vocal sets, DJ nights, and Latin parties. Then, the lounge area with comfy armchairs and dimmed lights transforms into a dance floor! 
Opening hours: Daily, 5:00pm–4:00am
Prem1er Bar & Tasting Room 86, Rua Direita Carlos Eugenio, Old Taipa, Macau, +853 2882 7109, www.prem1er.com

Agora Taproom
With a beer pong table and R'n'B hits from the 2000s playing, Agora Taproom has the vibe of a typical American dive bar, minus a two-meter tall bouncer and a bunch of American football fans. The only thing that brings you back to Macau is seeing Chinese soccer live streaming on TV there. On weekend nights, it gets packed, and the party mood floods the air, which gives Agora the reputation of a pre-party spot. 
Even if you are not after shots and dancing all night, just spending an hour here off-peak over a few drinks is worth it. When it comes to beer, on tap or bottled, they offer several lesser-known ones. The gin collection is considerable, and the bartender ladies know how to make a perfect gin and tonic with a matching garnish.  
Opening hours: Daily, 6:00pm–4:30am
Agora – Taproom 45 Rua de Madrid, Wan Yu Villas, Macau, +853 2875 7243, www.facebook.com/agorataproom

McSorley's Ale House
Unconventional for a pub, McSorley's is hidden on the ground floor of The Venetian Macao. However, it doesn't scare away its many patrons as they come to the only pub in Cotai for the drinks and snacks, not for the scenery. Designed as a traditional British pub with leather chairs, wooden panels, and an array of peculiar decor elements, it is as close to a trip to England as one can get these days. Needless to say, the selection of ale here is hard to beat. Apart from ale, lager, and cider, they have "boring beers," as they call it, for those who prefer to stay loyal to Corona or Tsing Tao. Apart from liquor, McSorley's offers comforting pub treats. Their burgers served on a wooden board with a piece of newspaper are some of the best in town. Last but not least, they have sports streaming available at any time of the day.
Opening hours: Daily, 12:00pm–10:00pm
McSorley's Ale House The Venetian Macao, Shop 1038, Estrada Da Baia De Nossa Senhora Da Esperanca, Macau, +853 2882 8198, www.venetianmacao.com/mcsorleys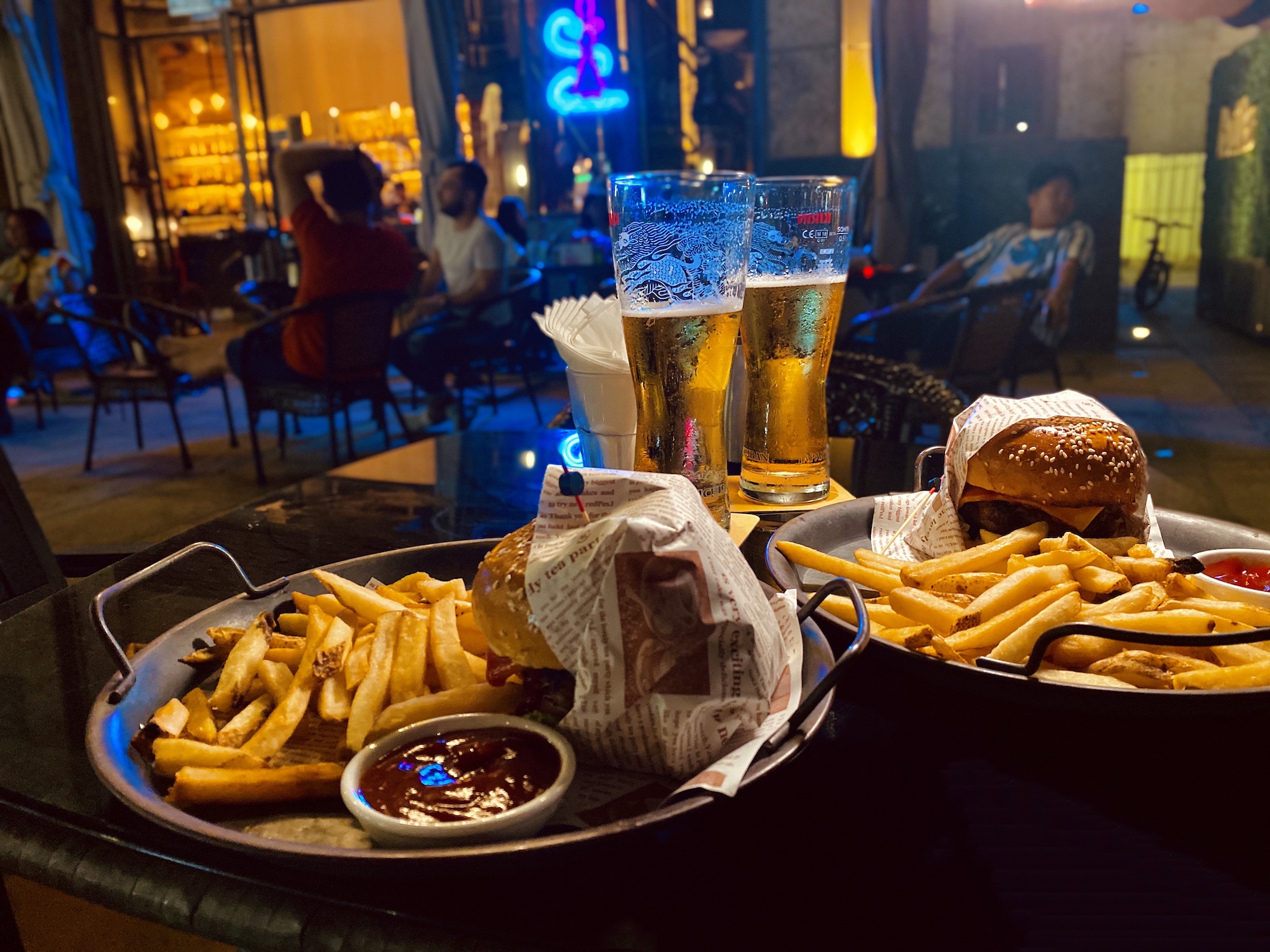 Bottles & Sky cafe 
One Oasis crowd and nearby residents flood this two-story bar almost every night of the week. On Fridays and Saturdays, it is sometimes a challenge to find a free table. Besides being the only bar in the area, locals go to Bottles for many other reasons. Be it their reasonable prices, a large alfresco sitting area, or a diverse menu with delicious options from Indian, Japanese, Italian, and other international cuisines. The drinks selection is relatively standard–some bottled beers, some on tap, some wines, a few cocktails, and familiar spirits. If you want to do something else with your buddies other than drinking, there is a pool table on the second floor. When there is a huge sports competition such as the FIFA World Cup, they tend to put a large screen in the outdoor area to stream.
Opening hours: Sunday–Thursday, 5:00pm–1:00am; Friday–Saturday, 5:00pm–2:00am 
Bottles & SKY Cafe The Verandah, Shop 1 and 8, Estrada de Seac Pai Van, One Oasis, Coloane, +853 2877 2618, www.sunfnbgroup.com/bottles

Minibar & Lounge 
If all you ever want from a local bar is a good pint, a bit of pub entertainment, live sports, and good music, check out Minibar, a humble spot in Taipa. Located in a residential area, it is a popular place to have a few drinks and play some darts or pool. It is a fairly spacious bar with dimmed lights and neon signs on the wall. The bartenders are friendly and efficient, and you don't need to yell on top of your lungs to place an order–the music level is spot on. You would still hear their cool playlist, but be able to chat and hear your friends. 
Opening hours:  Daily, 5:00pm–4:00am
Minibar & Lounge 119 Av. Dr. Sun Yat Sen, Macau, +853 2883 0638, www.facebook.com/minibarlounge

Paulaner Wirtshaus Macau 
If your love for beer goes beyond occasional after-work pints with friends, Paulaner Wirsthaus in Taipa Village should be on your list of favorite bars in Macau. A spot for the true beer connoisseurs, it serves real German beer and a variety of Bavarian specialties such as freshly baked pretzels, schnitzel, and sausages with sauerkraut. Our favorite spot to hang out at Paulaner is their rooftop. Nothing beats sitting in the alfresco area when the weather is pleasant, sipping a refreshing lager in good company.
Opening hours: Daily, 12:00pm–12:00am
Paulaner Wirtshaus Macau 41-43 Rua dos Negociantes, Taipa Village, www.taipavillagemacau.com/paulaner-wirtshaus-macau
Photo credits: OTT, The Roadhouse Macau, Duffy's Irish Pub, Ksenia Kuzmina 
Tags
Related Posts