For Macau foodies, Lai Heen does not require any introduction. The Ritz-Carlton, Macau's one Michelin star awarded restaurant never ceases to amaze their patrons with an extraordinary dining experience. Haute cuisine dishes, impressive wine cellar, stunning design, as well as flawless service are their elements of success. When it comes to Cantonese cuisine, Lai Heen pops up in every list of recommendations. Recently, Lai Heen announced the arrival of highly skilled and experienced chef Jackie Ho. We visited the renowned restaurant to see and taste how 40 years of Chef Ho's culinary knowledge is reflected in Lai Heen's new menu. 

Culinary genius
Chef Ho does not hide that he prefers the Chinese approach to cooking compared to other methods mainly because he finds Chinese cooking methods challenging, therefore more interesting. His signature style is built on traditional recipes prepared with complicated techniques, using the finest ingredients, at times substituting the traditional ones with those inspired by his extensive international experience. Like a true artist, he uses food as his artistic material to create a masterpiece of culinary art. 
Truly, Chef Ho's arrival to Lai Heen is an exciting and promising event. As the chef's ability to harmoniously implement his expertise with different cuisines and their signature ingredients to classic Cantonese recipes and his excellent knowledge of seafood cooking methods guarantees an unforgettable dining experience for Lai Heen guests. Moreover, Chef Ho is curious to learn more about Macanese and Portuguese cuisines. So let's see if the chef's adventures in exploring these important parts of Macau culture will show up in his work.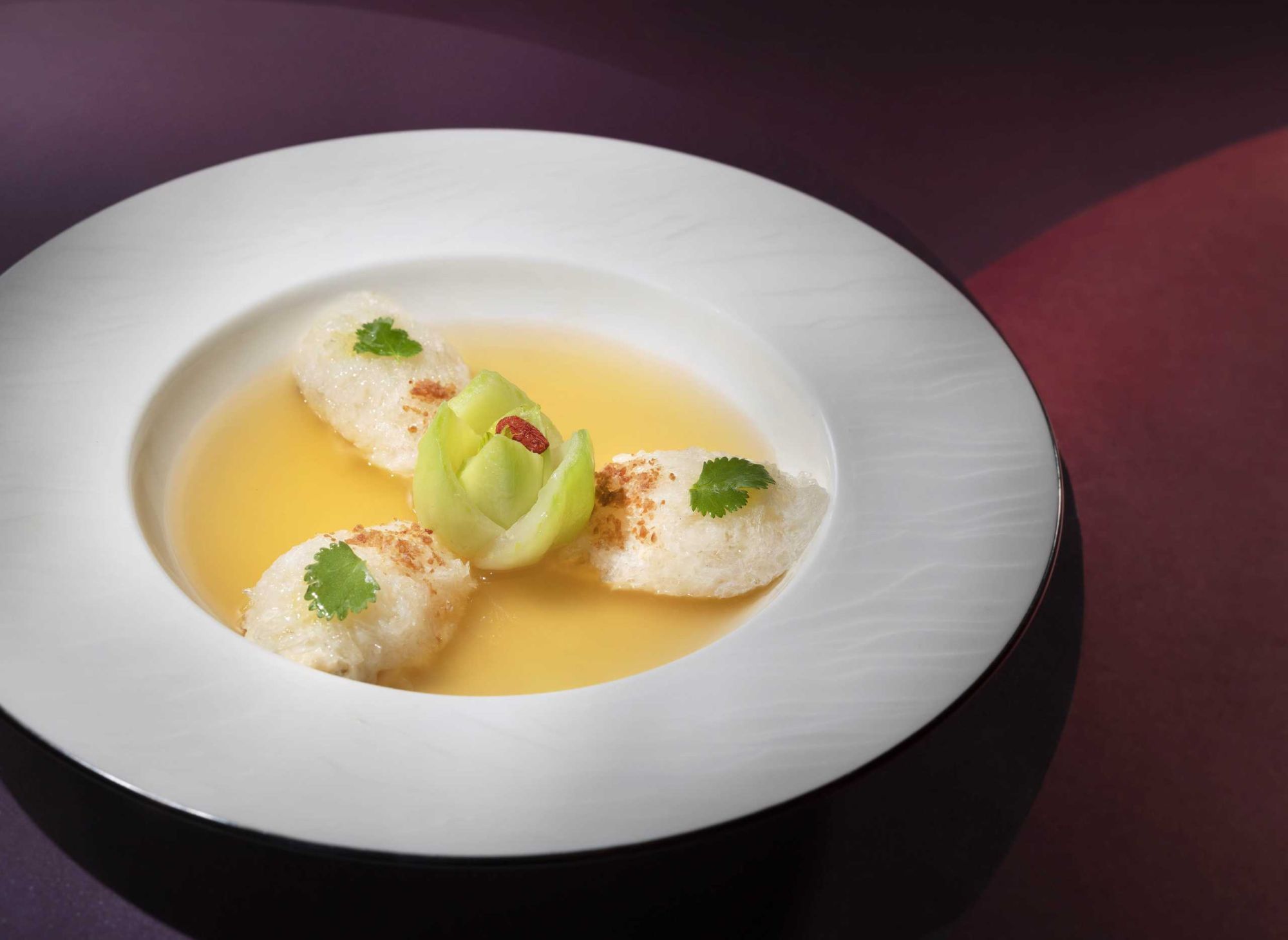 Elevating Cantonese traditions
All the novelties that Chef Ho applies to good old Chinese recipes become not just peculiar experiments, but actually, elevate every one of them. Even when it comes to humble dim sum, the platter that he brings to the table makes a perfect start for a classy meal. Firstly, the presentation is simply superb and right off the bat, the starter showcases Lai Heen's high standards and chef's skills. Everything comes together in a perfect balance. Visually pleasant, the dim sum platter presents a perfection of texture and flavors.
Without doubt, bird's nest is one of the most luxurious products in the world. Cooked as a soup, it is one of Guangdong province's delicacies and a star of banquet menus. Lai Heen's bird's nest soup is a new exciting page in 400 years of the dish history. Steamed together with delicate crab meat and egg white as a "gluing" component, the premium Indonesian bird's nest obtains a new, even more sophisticated flavor and texture. Another aspect that brings this soup to a higher level is the pleasant broth consistency. It's slightly less thick than a traditional bird's nest soup as the thickness is achieved through slow-cooking rather than cornstarch. Both bird's nest and crab are not the easiest ingredients to work with so you can imagine the level of the chef's mastery. Not only does he manage to cook them to perfection but also they are elevated to one of the fanciest dishes possible.
Chef's creativity shows up in all of his new signature dishes. Let's take the free-range chicken with jade whelk and lemongrass casserole. The chicken is cooked with bones, which is a traditional Chinese method of cooking. This is key to making the chicken more flavorful. Jade whelk, a rather large sea snail with a green shell, is popular in China for its mild, slightly sweet flavor and various nutritious benefits. Besides its tender flavor, it brings a nice texture to the dish. Lemongrass adds an unmistakable Thai zest to the dish, making a traditional Chinese clay pot chicken innovative and edgy. 
The royal favorite 
Deep-fried codfish fillet with crispy garlic (see featured image) is a truly royal dish and this is not just a play on words. Previously, Chef Ho was working for several high-end restaurants in Bangkok, and earned the honor to cook for the Thai royal family. Particularly, he served this chef-d'oeuvre and the Thai Royals absolutely loved it!
As a matter of fact, we are not surprised that such sophisticated customers would give this dish a thumbs up. This particular deep-fried codfish fillet is an ultimate trial of a chef's culinary skills. Keeping the codfish tender and moist while making its crust thin and crispy is a task that only the most experienced masters can achieve. The secret is in picking the best ingredients, so the chef chooses French cod for its superior texture and flavor. What is equally important is setting the cooking temperature with high precision. Any minor setback will make the fish dry or the crust will fail to crisp up perfectly.
Codfish is not the most typical protein in Cantonese cuisine. In fact, the recipe that inspired Chef Ho on this dish's creation is Hong Kong-style crab fried with crispy garlic. The recipe is reinvented and crab is substituted with codfish, a fish that is ubiquitous in Macanese and Portuguese cuisine.
If we compare chefs with artists, Chef Ho is both a Renaissance master and a 21st century contemporary one. In his cooking, he cherishes Chinese culinary traditions but knowing these traditions perfectly, he uses all of his knowledge and techniques to create masterpieces that the world of foodies have not seen before.
---
Lai Heen 51F, The Ritz-Carlton, Macau, Galaxy Macau, Estrada da Baía de Nossa Senhora da Esperança, Cotai, +853 8886 6868, www.ritz-carlton.com
Tags
Related Posts