Nestled in Taipa Village, António is a Portuguese restaurant serving traditionally made dishes from its country of origin. With a classical decoration and delicious recipes, it now has a new chef since March 2020. David Abreu is Portuguese and has worked all around, with its last collaboration being the three Michelin starred restaurant in Berkshire (England), Waterside Inn.
There he learned discipline and rules with some of the best from the food world; previous experiences brought him the inspiration and an incredible sense of creativity. Overall, the importance of never giving up and to always strive to get and be better at this craft. We sat down with the chef–over some of his newest creations–at António to chat about what's next and how he's enjoying this new Macau chapter.
First of all, congratulations on your position as António restaurant's new chef. How are you enjoying the experience so far?
I arrived in Macau in February and started working at António in March. With the pandemic situation, management took the chance to do some renovations. It has been a good experience since then, trying to explore the products' quality a bit further, trying to offer, in the best way possible, Portuguese cuisine. I also want to try to give them a new experience; not only when it comes to the authenticity of Portuguese gastronomy, but also presentation-wise, where people can have a different experience but still identify those traditional flavors that remind us of our mothers, and the area where people hail from. It's been a very positive experience so far.
It was a proposal you accepted beforehand?
Yes. I had an acquaintance with whom I've worked with before and was working here (at António) at the time; he told me they needed someone and that's how I decided to try it out.
How did your passion for cooking start?
At the time–school age–I was only looking to be one thing: a football player. That didn't work out, so I took the path of hospitality. When I was younger, I also worked as a waiter and that's basically how I started becoming interested in this area. Not only because I liked it, but also because it's the area (within hospitality) where I felt–and still feel–there's more to learn from and to explore. There's an array of things to try and to experiment with; so many different ways to illustrate and express your way of thinking, your will, and your desires. I started becoming interested and keen on learning more; I still am. We can never think that we know everything and give up. That's basically the main thing that drives me and the thing I feel is the most positive thing when it comes to cooking.
Do you believe cooking is, in itself, a means of expression?
Yes. I always have someone on my mind when I do something. It can be my mother or a chef with whom I worked and gave me ideas and inspired me. I believe everything has already been done; we can always take something and try to make it our own, showcase it in our own way, but always reminded of the fact that we're not unique. There's a lot of people thinking like us. It's about showcasing and trying to creating a different perspective on things.
What are your first memories of cooking or related to food?
That's a good question (laughs). My brother's older than I am and always loved to eat, but cooking really isn't his thing. I saw my mother cooking and started cooking for him. Some days he'd come up to me and say "Wow this is amazing, almost better than mom's!" It kind of started like that–me having a knack for the kitchen that my brother lacked. That's when I started thinking that maybe this would be something I could be good at and strive for. Also, Salvaterra de Magos Professional School took a chance on me and supported me a lot; they saw I had talent and some perspectives in this field of work.
As for Macau, what are your first impressions of the city?
Very positive, to be honest. I look at this experience somewhat like a holiday in the sense that allows me to enjoy my life in ways I wasn't able to before while working in this field. There's a great sense of relaxation and calmness that I really like, especially when compared with the UK, where I had my previous experience. Everything there's a competition; if not with someone else, with yourself. You're always having to give more and better. I feel Macau suits me well.
I like to do things that can and will be done; we just need serenity and time. That's why I feel like I fit in so much more here and in such a positive way.
Tell us a bit about your professional path up to Macau.
After graduating–I was 19–I moved to Lisbon and that's when I started working with chefs. First, in a restaurant in Terreiro do Paço, then Sena Malhoa (also in Lisbon), followed by Villa Real Italia Cascais. From there to Ritz-Carlton in Lisbon again. Then to Four Seasons Hampshire and finally, the three Michelin star restaurant, Waterside inn. Then, I came to António.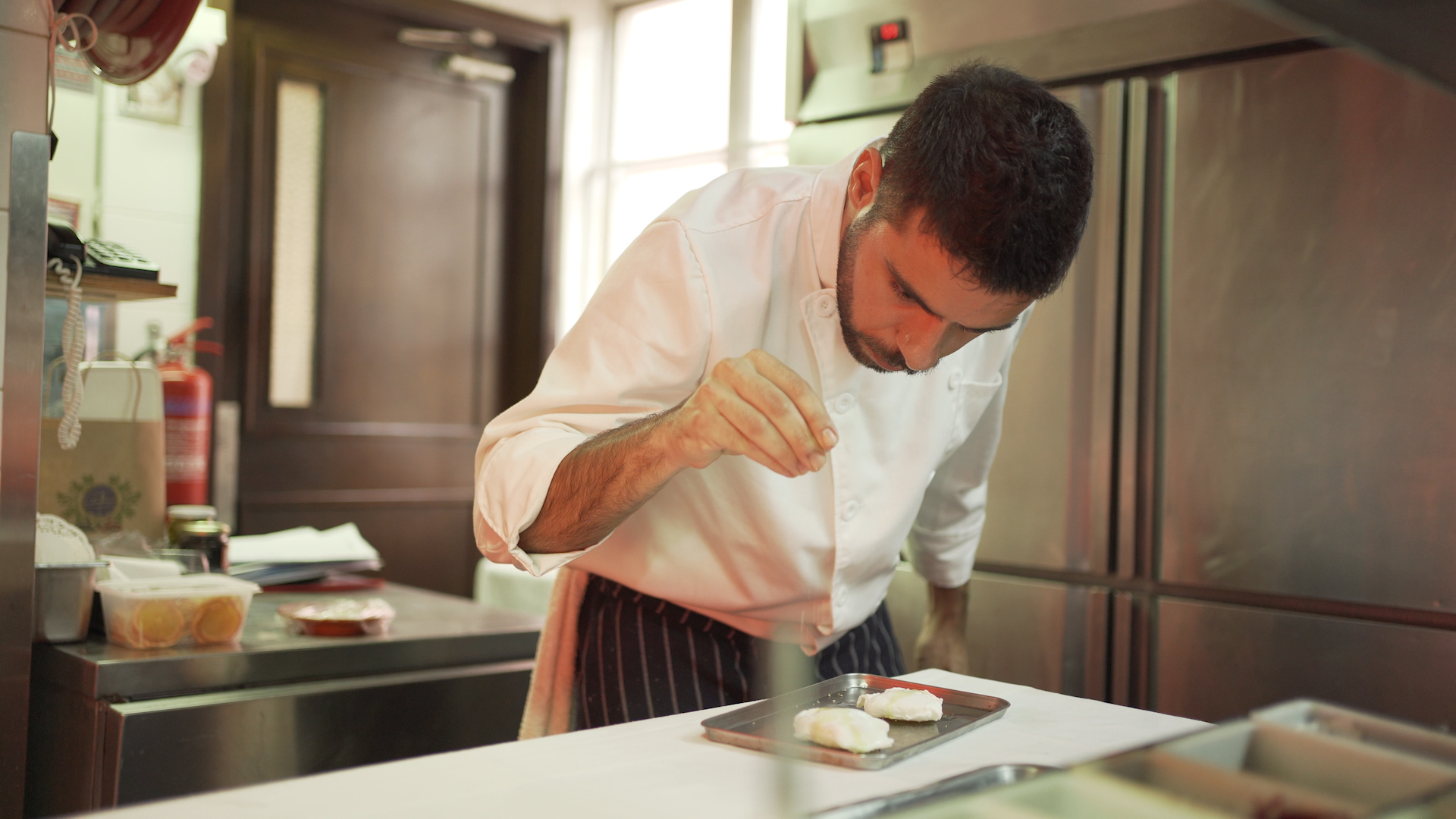 What did you take from that last Michelin experience?
Well, they basically taught me things during a two-year period, which would take me a lifetime to learn if it was on my own.
You've worked in both the hospitality and restaurant industry. What would you say are the biggest differences?
Yes, six of my 10 years of experience were in hotels. There're huge differences, yes. Especially when you go from a Four Seasons–which is an international brand where there's a lot of organization, rules, and protocol. You feel you're not the only one there, that there's a lot of people making things happen.
In restaurants, you depend on yourself, and there's always that extra mile you need to go so things go well and run smoothly. I'd say that people don't worry so much in a hotel because of the big structure that's always running in the background, whereas in restaurants, you worry more and there're more details to pay attention to on your end. But people can also witness what you're giving a huge part of yourself and appreciate it.
Would you say hospitality taught you discipline? And that your experiences in restaurants allowed you to learn more creatively?
In part, yes. But when it comes to discipline, the place I've worked where discipline was key, was actually a restaurant. The Waterside Inn is the oldest three Michelin star French restaurant outside France; 35 years maintaining three stars don't just happen. Things are run exactly the same way since its opening. If you start working there now, you'll be presented with the same rules as when it first opened. The regime, rules, and traditions do produce a certain–and in this case, desired–result. That's the idea, that things made a certain way can only result in a certain way. The key is consistency. I think this is a bit relative, but it's their motto and it works.
What are your main responsibilities here at António?
Firstly, the product is well executed and arrives at the table in the best possible way. This is my main responsibility and I must admit sometimes it's difficult to have that at all times, as there are so many other things needing my attention.
I also want people that work with me to be happy and to like their work. External factors can interfere with a person's work, so one of my tasks is also to be attentive to the staff; sometimes you had a problem at home and won't be able to have such a good performance and I should be able to identify that and help.
I also strive to make the best of people and respect them. In this industry, people are usually looked at as numbers and I don't like that. I like seeing people as people; I don't like labels on my kitchen; we're all the same, working towards the same goal. I've been abroad as well, I know how it feels to be looked as a label and I don't want that for the people I work with.
Ah, food costs are also crucial, of course along with keeping the quality high.
You've been here since March, but you've been crafting some new things in the kitchen already! Can you tell us a bit about that?
I'm still in the first stage; I used to say that I'm not the kind of person that has five children but only cares about one. As a "father" of my creations, I do like all of them. I'm proud of them, even if they could be better. It's our creation and we should all be proud and better them with time.
Galinha Africana is a Macanese dish and António has it on the menu for some time now. We've heard you spiced it up a bit so could you elaborate on that?
I still haven't done a lot of research on Macanese food, but it's been on the restaurant's menu even since before I arrived, so I took a look at it. We serve the chicken topped with the sauce and a side of grated potatoes. I decided to add a side of kimchi (Korean pickles) to spice it up. I talked to one of the chefs who is Korean and we decided to do a cool combination since we're a Portuguese restaurant in Asia and all. Feedback has been positive and so good!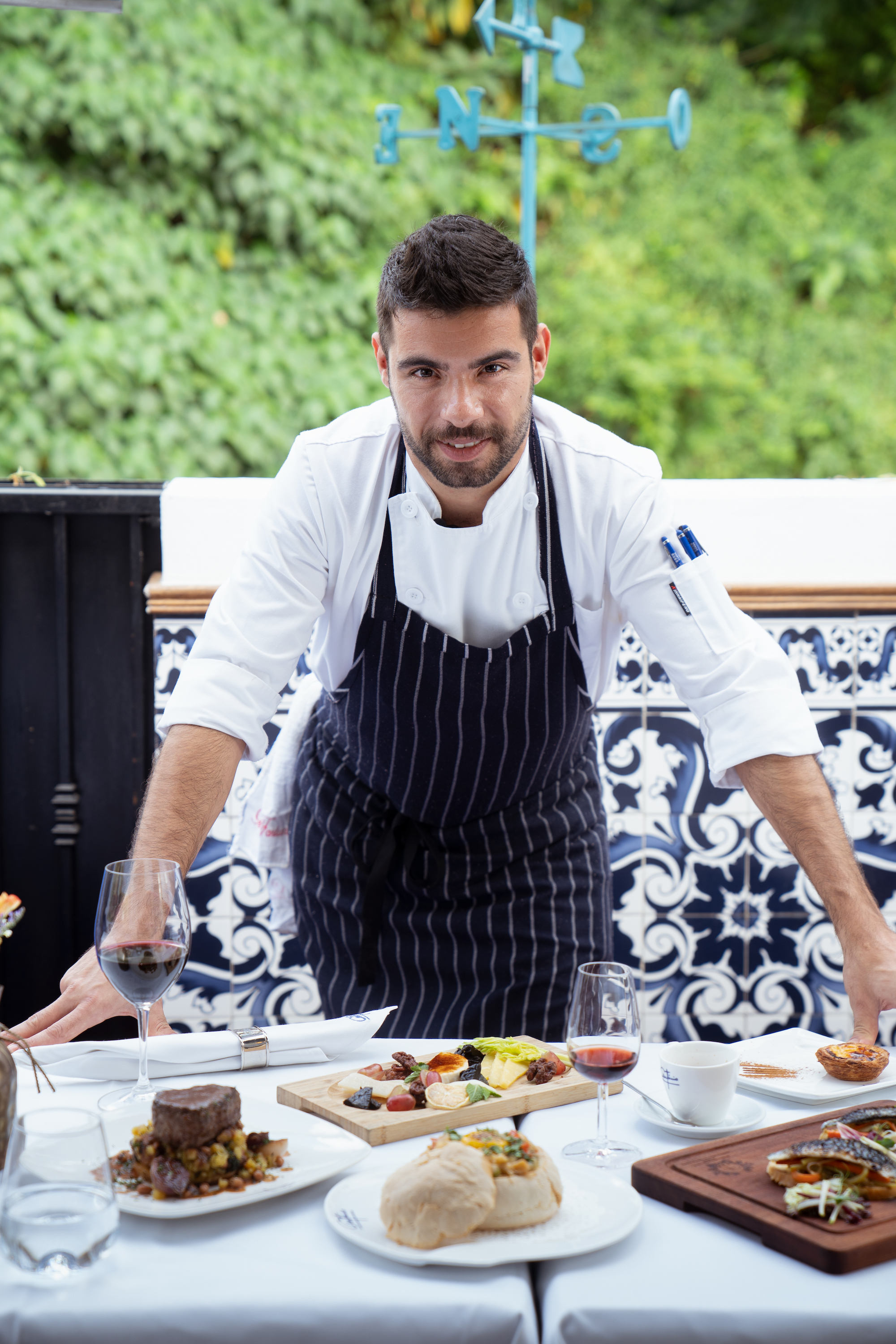 What are the signature dishes?
We can never forget the fact we're a Portuguese restaurant more on the traditional side. So I'd say duck rice, lagareiro-style codfish, suckling pig, caldo verde soup, and seafood rice. I think these are always signature dishes. There are some other things that I believe bring something new and interesting to the menu.
Last time we had lunch at António, you presented us with a wonderful dish made with robalo and bulhão pato. Can you tell us about that?
That's one of the things I'm trying to bring into the menu. Different approaches, some appetizers or mains, but also desserts. Some come in the set lunch menu, others will be included in the a la carte. Although presentation and some of the flavors might be somewhat exotic or taste different, we'll also be reminded of the Portuguese tastes. I'm now trying to include an iced melon soup on the menu since feedback from the set lunch was so positive.
The robalo is part of Vinico, a menu more on the fine-dining side. It's a dish which I respect a lot, inspired by a chef I had and who taught me a lot, Carlos Cardoso. I look at this dish, think of him, and feel a connection. The idea with this fish dish was to bring a sea flavor wave to brighten up this side of the world that is missing fresh fish and seafood, a thing that's very Portuguese.
There's also a "Mirandesa" (Portuguese meat of high quality) which I serve with a homemade sauce and some other flavors; an açorda that comes inside the bread and people love the presentation; especially locals, they go crazy with the fact the dish comes inside the bread. It's really cool to be able to bring these creations to the table and see the people's reactions. Presentation is important, but we can never forget quality, of course.
Talking about chefs and inspirational people, who are some of the people who inspire you?
I will never forget my previous experiences. People who will stay with me forever and taught me a lot; they never gave up on me. In this area, sometimes people lose the will to learn more and these special people never let me do that. I think that's what I'm taking from there: never stop trying to be better. It was very intensive, almost like being in a seminary, but kitchen-related. I love the Michelin world and feel that maybe I could go back to that world someday, who knows. I'm really enjoying my life now.
There are a lot of Portuguese chefs who taught me great things as well. One of the dishes from the set lunch menu is actually inspired by the first chef I had and curiously enough, also worked in Macau: Sebastião Grave. I guess he saw something in me. He looked at me and saw a 20-year-old kid who loved going out at night, but also had something to offer. So he put me at Vila Italia Hotel, in Cascais.
Interestingly enough, I never needed to present my resume anywhere. Not sure if it's deemed as a good thing (laughs), but I find it to be an interesting fact. From then on, it was always contacts and people who were looking for someone to work who talked to someone that knew my work.
Your three essential things in the kitchen.
Hygiene, focus, taste.
What about ingredients?
As a Portuguese: garlic, pepper, and olive oil.
When you're not working, what do you do in Macau?
I play soccer in the local team Atlético de Macau. It's been 10 years since I've played soccer officially and this is just proof that you can't quit on your dreams and wants. Macau and this job allow me to have this spare time I love so much–and feel it's essential to anyone–and wasn't able to have in previous professional experiences. I think it might be one of the best parts of Macau–being able to have free time.
Where do you like dining in Macau?
I like trying other Portuguese restaurants, checking out their ingredients, recipes, and prices. I also like trying new things, including Chinese and Thai cuisines. Adega Velha, Castiço, and also Hei Lin. I like going there for breakfast, for their scrambled eggs. It reminds me of the UK. There's also a hotpot called Haidilao, in Sands Cotai Central, where food is served by a robot and you see the chefs jumping up and down with the noodles, it's super cool! I love the craziness of it, with all the ingredients going up and down the pan, and everything moving.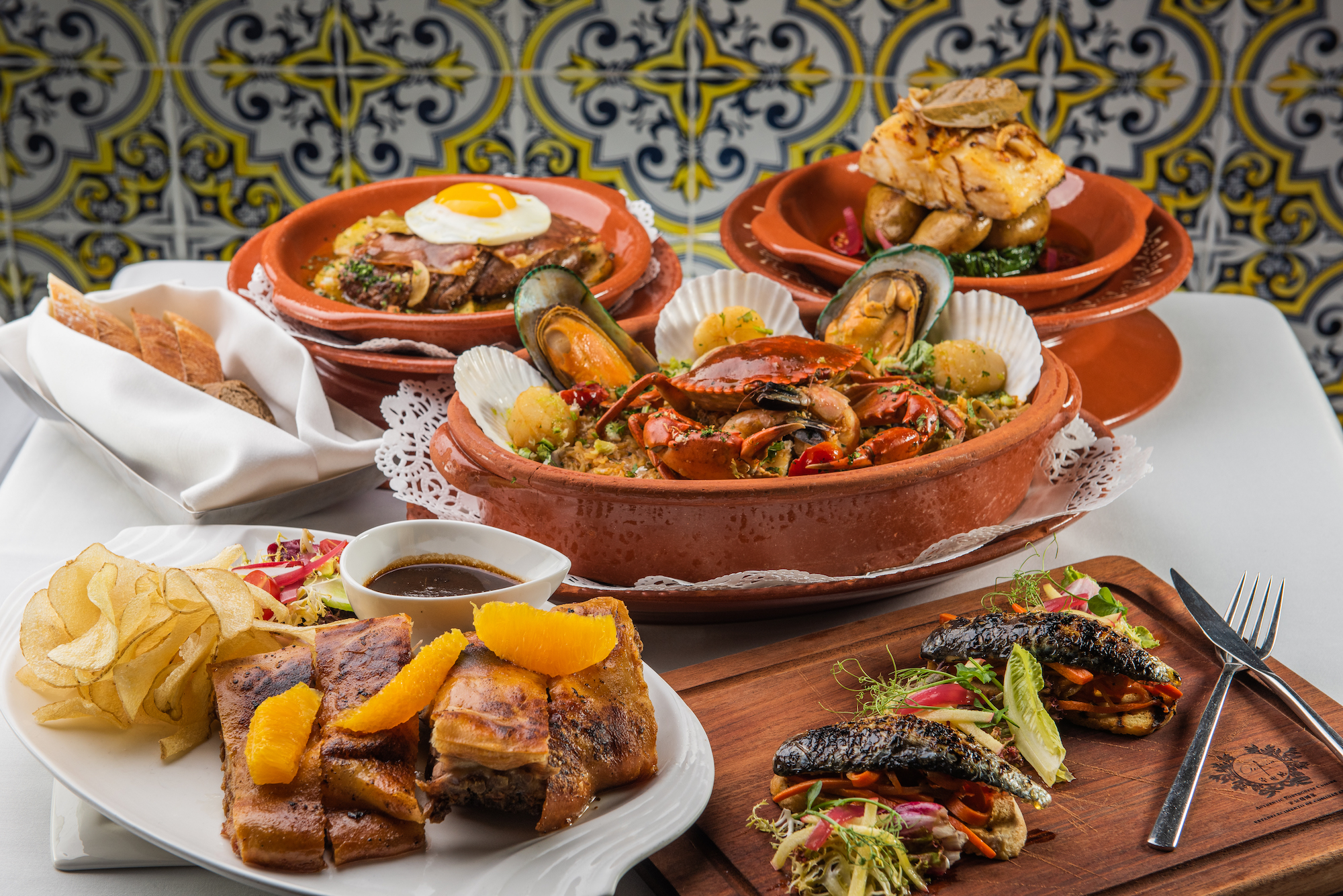 What are you planning ahead for António?
We'll try elevating the quality of products and service, trying to go towards a more fine dining concept always with Portuguese flavors in mind. Create different ways to illustrate the same flavors, but especially give the customers an experience they won't forget.
Would you say António is a place where a big group can come, and people can have different dining experiences?
Yes, in a way. You can always choose more traditional dishes or go for a different, more modern approach always very Portuguese when it comes to the palate.
---
Opening hours: Monday–Sunday, 11:30am–10:30pm
António 7 Rua dos Clérigos, Taipa Village, +853 2888 8668, antoniomacau.com
Tags
Related Posts