MICHELIN guide Hong Kong Macau Dining Series invited German-Swiss Chef Rolf Fliegauf for this year's finale in September.
Chef Rolf Fliegauf is undoubtedly one of Europe's youngest and talented stars of the kitchen. He received his first Michelin star at the early age of 26 and now runs three two-Michelin-starred restaurants in Switzerland: Ecco Ascona, Ecco St. Moritz, and Ecco Zurich.
Having worked his way through some of the world's top Michelin-starred kitchens—including Noma in Copenhagen and Heston Blumenthal's The Fat Duck—Rolf has achieved his own culinary identity and is famed for his use of natural and raw flavors of seasonal ingredients and his playful balance of elements.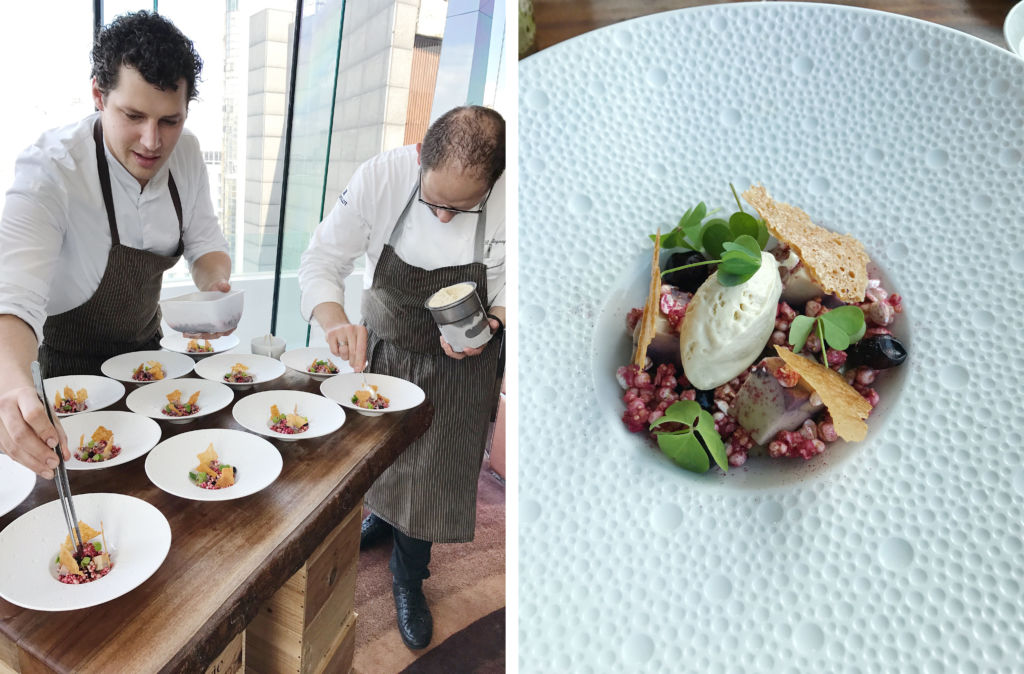 Macau has already seen and tasted a lot when it comes to Michelin dining, but a foie gras muesli, please tell us more!
The idea was to bring a little bit of Swiss to Macau. We love to work with foie gras and we have the famous muesli and the idea fit very well with berries in terms of acid and texture. That's the general idea of the dish. I created it last year and have since then presented it everywhere and it has been a success.
You received your first Michelin star in 2007 at the age of 26, only six months after opening Ecco—this is impressive. How has this affected your career and what has kept you going after such an early success?
I was totally surprised when I received it. I didn't expect it at a young age and the onset of my career. After that one, we became more focused, of course. I felt pressure from people and guests expecting something different and expecting more. I believe it made us stronger to go for the second one. At first, I must admit that I was relaxed and very happy but then the expectations surged and it drove me to work harder.
We see you are quite active on your Instagram, sharing exciting and delicious moments of your culinary life. Why do you think it is important to be digital and share the behind-the-scenes with your audience?
Yes. I think social media is very important and in the future, it will grow more and be a big part of every industry. Share everything—that's our concept. We want to be transparent with our followers, we want to be on the forefront of ideas and not copy anybody else. We want to present that these are our original ideas and share it with everyone. We want to be able to communicate with our Instagram followers.
You've been around Asia, cooking in Shanghai, Hong Kong, and Bangkok, how did you enjoy it, how was the response?
I have travelled a lot in Asia. I find it very interesting. One place is always totally different from another and the product different everywhere else and that's truly amazing. I love it that the people are very open-minded. I think it's a meaningful and successful visit every time I come back to Asia. It's not going to be my last time definitely and I'm not going to stop coming back.
Your eight-course tasting menu at Yi Pavilion is being paired with highly rated wines handpicked by Robert Parker Wine Advocate—why is wine pairing so important for a complete dining experience?
It's very important! The people, the guests, and diners—they want to be surprised and enjoy the whole evening as a dining experience. And, it's very difficult for them to choose from a selection or a bottle of wine that fits for every dish, that can be a tough choice. So, it's amazing that you can surprise them as well with wine pairings. I work closely with the sommelier to find the perfect match and find something special and outstanding.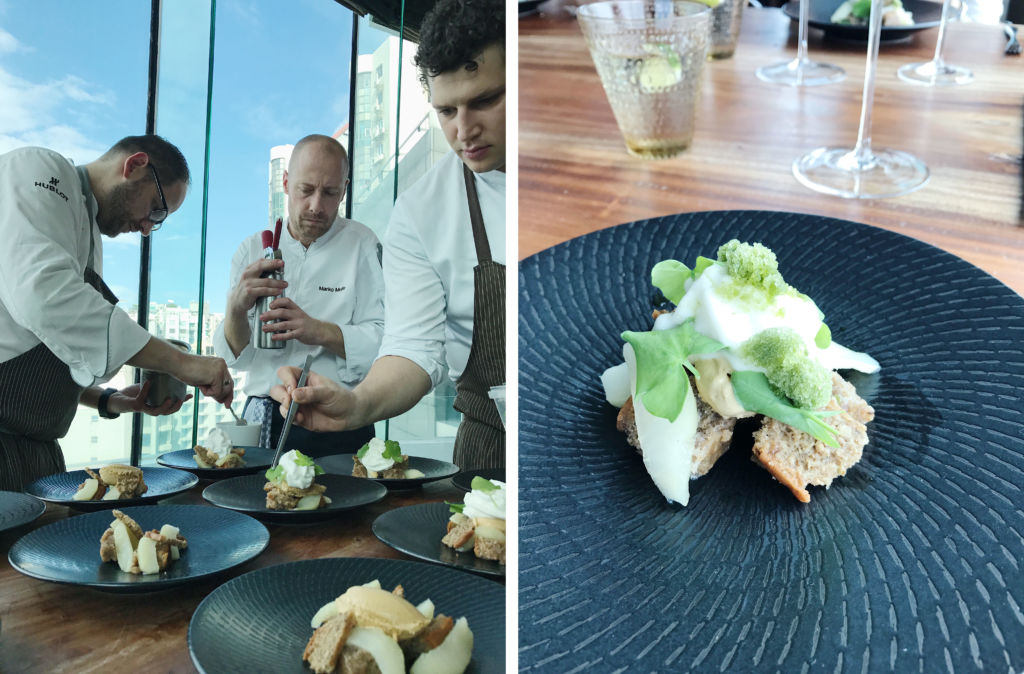 Out of eight courses of the signature dining experience, which one is particularly special? Why?
Besides the Foie Gras Müsli, the poached pear (with salted caramel, walnut and sorrel) dessert was definitely one of the best things we ever did in our kitchen. But of course, second only to the muesli (laughs). It's quite unique to use the sorrel. Normally, people throw it away and we did something fresh and tasteful with it and people were intrigued by it. We find sorrel in valleys in our neighborhood and that was really cool to have fun with it and innovate it into a delightful dessert.
Follow Chef Rolf Fliegauf on Instagram: @rolffliegauf
The MICHELIN guide Hong Kong Macau Dining Series has invited some of the best chefs from Michelin-starred restaurants around the globe to cook for discerning diners in Hong Kong and Macau as part of the International Chef Showcase. Bringing together esteemed gourmet connoisseurs, the exclusive Dining Series is in collaboration with Official Title Partner Melco Resorts and Entertainment and wine experts Robert Parker Wine Advocate – who carefully curate the highly-rated wine pairings for each menu.
Share
Tags
Related Posts