Chef Antonio Coelho shows no sign of slowing down, but we managed to sit down with him for an afternoon of memorable moments and stories from his journey to Macau. The robust gentleman (whose name is not so coincidentally on the front door of his restaurant in Taipa Village) is happy to talk about his love of food and tradition.
How did the concept of Antonio start?
My passion to promote Portuguese food and culture in Macau started this journey in 2008. Now it's a Michelin-recommended restaurant and we serve up an extensive menu. We have warm decor and atmosphere that's great for business luncheons, private dinners and any kind of function.
What are the signature dishes of Antonio's?
António's signature dishes include lobster cocktail, gratinate goat cheese with acacia honey and Portuguese olive oil, and Portuguese duck rice.
You are now a Master Chef of the Chaine des Rotissuer and member of the Portuguese Managers' Association in Macau. How did you get your background in cooking?
I was a health technician and worked for the government. I traveled a lot around Portugal for health inspections but my real hobby was to cook for my friends and entertain lots of people so that's somehow the root of it all. I am a lover of food and that has been the road of my life since then.
What are your principles when it comes to food?
I've experienced a lot of food fusion during my time with the constant travels. It was quite monumental for me in July 2007, when I left my position and created my own restaurant. There was only one principle that stood out of and I know it by heart: I love Portuguese food. I love the traditional and authentic cuisine. It's the one I learned in Portugal. For me that's very important because I prefer the traditional things. Now there are different techniques that have emerged but I like the original recipes.
Most of our ingredients come directly from Portugal, everything from meat to oil and condiments. Everything is imported to Macau.
How did you choose this location for your restaurant?
Taipa Village is old style. It seems nothing but just small houses when we first started here. When I came here in 2007, many people were saying that I was crazy but look at it now, it's filled with restaurants. A restaurant tells a story about something and this place tells a story, too. It's a perfect destination!
Do you get a lot of tourists or mostly locals?
A good amount of locals and tourists, it's a good mix of guests.
What do you love most about your profession?
Quality is very important to me and security is very important to me as well. I like forming a rapport with diners. I am 86 years old (laughs). It can't be anything else but passion to not wanting to stop from what you're doing.  Let's think of it this way – it's like a virus and you need to do what you like and that is very important.
What's the biggest challenge you faced in the business?
I might have been lucky because of many situations in life that occurred for me. With all the challenges, now I know how to create many dishes. I know the business inside out and that is fundamental as an entrepreneur. I believe in luck as well. There are certain moments when you know you've found the right cue.
Can you share with us the famous people who visited Antonio?
Macau government officials are regulars here. We've had movie stars from Hong Kong, USA and France. Many of them visit us to sample Portuguese cuisine. I remember the daughter of the legendary Pablo Picasso – Paloma Picasso. We've had movie stars from Japan and Korea and these visits influence our market.
You have lots of awards. Do you favor one more than the others in particular?
Two very important awards always stand out for me – the Merit of Tourism awarded by the Macau government and the Gold Medal of Merit from the Portuguese Communities awarded by the government of Portugal. There are a lot of awards. But remember, there was a beginning where I had to learn everything, that is the key.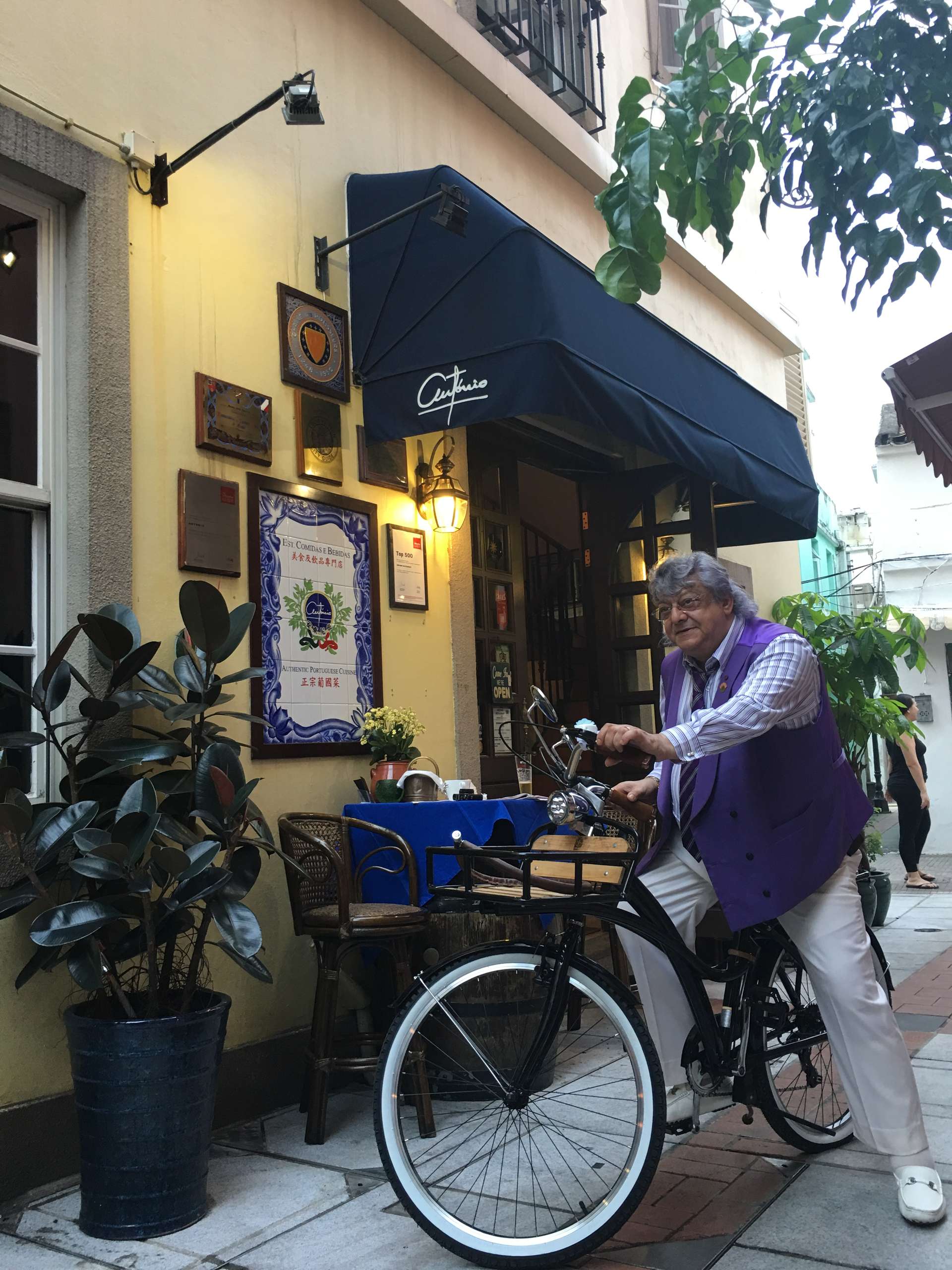 Antonio 7 R. dos Clerigos, Taipa, +853 2899 9998, antoniomacau.com,
www.facebook.com/AntonioRestaurantMacau
Tags
Related Posts