If you're visiting some of Macau's tourist attractions such as Sir Robert Ho Tung Library and St. Augustine's Church, you'll be able to find Anak bakery, after you see Bless Juice Bar opposite a police station. Start walking down a slope passing by Marc David Salon then when you see a long queue of people lining up to get freshly baked bread, you've found it and have arrived at "Filipino Street".
A small family bakery business running for 13 years now, a lot of Filipinos and even tourists line up just to buy their freshly baked Filipino bread. Anak owners, Fajardo, has three children and if you'll notice the logo of their store, you'll see the word "Anak", which means kids or children in Tagalog.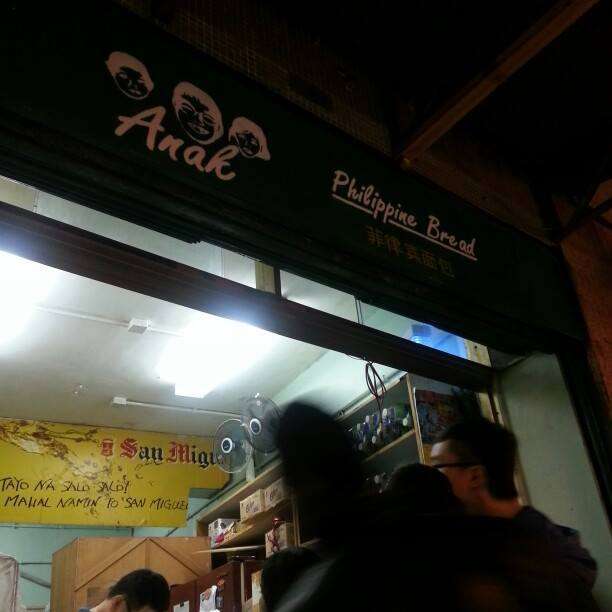 Popular for their well known Pandesal and must try Spanish Bread. In a day, they will make and sell about 1,000-1,200 Pandesal pieces!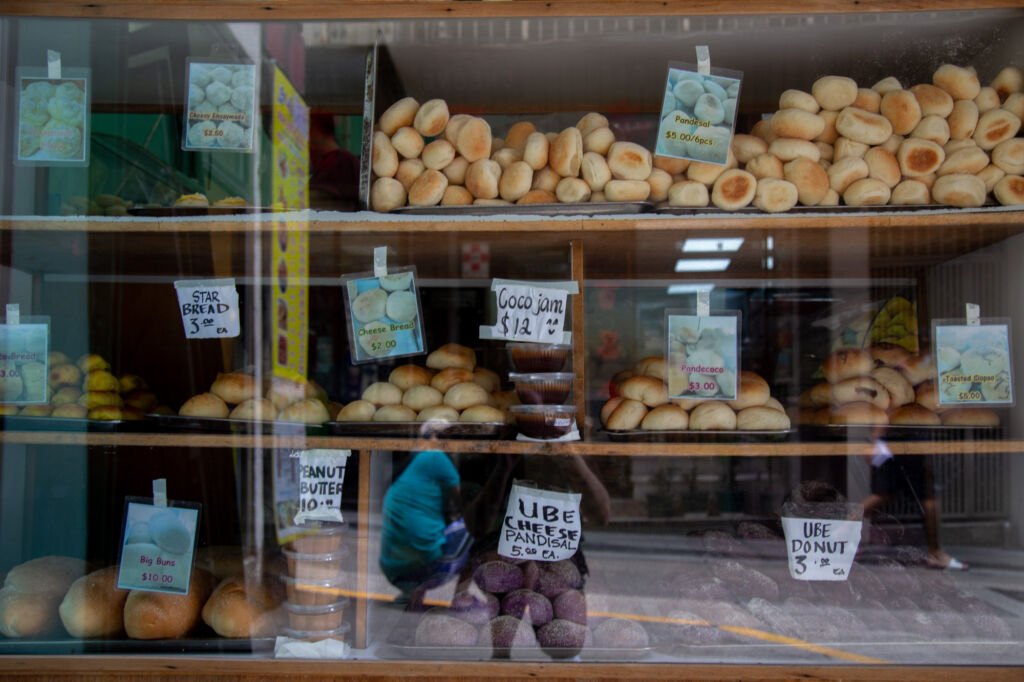 Pandesal MOP $5 / six pcs
A very popular bread in the Philippines, pandesal (bread of salt in Spanish),  is rolled in fine bread crumbs that gives a soft and airy bite to it and has a slightly crunchy crust outside. It is referred to as "the poor man's bread" because it became the cheaper alternative to rice during the Philippine Revolution. This treat is usually eaten with (and sometimes even dipped in) coffee or butter sprinkled with sugar, condensed milk, Nutella or even ice cream!
It's delicious when if you just eat it plain as it doesn't have any filling and you're considered lucky if you get the chance to eat fresh out of the oven! But no worries, even when cold, Pandesal is still considered the best "merienda" (meaning afternoon snack  for Filipinos).
Spanish Bread MOP $1.50 / pc
This is my ultimate favorite! I  simply cannot have enough of them. Once you have one bite, you'll crave for another one.. and another.. and another! Spanish Bread is similar to Pandesal but it has a filling consisting of sugar and butter and it is simply addicting. (Please don't judge my love for these Spanish Bread, once you'll try them, you'll know how I feel).
Puto MOP $5 / six pcs
A type of steamed rice cake usually served as a side to savory dishes such as Dinuguan or Pancit in Philippine cuisine or a simple snack. Their version comes with sprinkled melted cheese on top.
Pan de Coco MOP $3 / pc
A sweet roll filled with shredded coconut mixed with molasses. The name comes  from its filling and is best enjoyed when hot especially when the filling is warm, moist and sweet.
Ensaymada MOP $4 / pc
A popular pastry during Christmas, but also a favorite snack that is topped with buttercream and sugar.
Anak also sometimes sell Siopao (pork steam bun) MOP $5 / one bun. There's also homemade peanut butter MOP $10, Eden Cheese MOP $12, Reno's liver spread MOP $7, this last one is a perfect match to the bakery's pandesal. Affordable, fresh, and simple yet delicious.
Anak Philippine Bread R/C, Edificio Pou Fat, Rua da Alfandega, No. 115. Open daily from 10am-2am, +853 2893 9988
Tags
Related Posts