Associação dos Aposentados, Reformados e Pensionistas de Macau or more commonly known as APOMAC, takes pride in helping local residents–mainly the elderly–by providing them a place to meet friends and family, eat traditional Portuguese and Macanese food and deal with bureaucratic matters. However, these are not the only ways APOMAC aids these citizens. They also have a small clinic with basic medical aid and physical therapy services. We sat down with one of the association's co-founders, Jorge Fão. We talked about his life achievements, where APOMAC stands and what are the main changes to the restaurant. Take a look into the life of one of Macau's most renowned associations! Created in the midst of uncertain times for the territory and its people, it's now a meeting point and a second family for a lot of locals. 
APOMAC is almost 20 years old. Let's start from the beginning, how did the association start?
It started during a period when we felt the need to do something. It was founded at the start of 2001 by three Macanese people and two of them are still very present–myself and Francisco Manhão, who's here almost every day. The founding of such an association came from the fact that immediately after the handover (to China), there were around 3,000 retirees receiving a pension by the Portuguese government. We worked towards securing that they kept receiving this money. You might notice Macau is the only former Portuguese colony where people have the right to a pension. Before the founding of APOMAC, I was very very active with ATFPM (another local association uniting Macau public workers) and dealt a lot with government officials in Portugal.
To cope with this necessity, APOMAC also aided these former public workers with all kinds of bureaucracy that most people can't read or understand because everything is in Portuguese. I was planning to stay for 10 years–I was 58 at the time–but I'm here for 19 years already. I think Manhão and I are staying here until we die (laughs). I always urge people to apply as candidates so I can finally step down… I'd love to have people with fresher, newer, younger ideas managing the association.
Are APOMAC members just the elderly?
In general terms, yes. Nowadays, we deal with a complex and time-consuming matter–the proof of life of our members so they can get the pension. We have to present several forms, including that one but also one to free them from the taxes in Portugal. This is quite tiring and each retiree has to fill out at least three forms. We help them to fill these out.
The association is known for its restaurant and lounge…
Yes, this was also one of our prime concerns, to keep the elderly busy and give them a place to go during the day. We usually see the older residents sitting on benches in the park, in the city, all day long, or at some restaurant. So we created our canteen. It started with five tables and we now have more than 10.
The canteen is not exclusive to APOMAC's members, right?
Exactly. Everyone can come in, eat here and enjoy this place because this became much more than just somewhere people come to spend a few hours and talk with their friends. It's a place where they bring their family members–sons, grandsons, and others. The food became famous and even Portuguese expats and tourists come here. We're not luxurious like some of the restaurants in Macau, but we do have good food and a welcoming environment.
You also provide other basic care. What does this consist of?
Yes, we have a clinic. Unfortunately, we were out of doctors for some time, because the hospital opened a lot of vacancies and everybody tried to get in. We were lucky to find a young doctor and a physical therapist who had worked with us in the past.
How long has the clinic been around?
It started operating not long after the founding of the association itself. We feel that it's really necessary, especially for those who had strokes and other problems that require constant attention and treatment. The appointments are almost free–each physical therapy session costs MOP $50 for members. In the hospital, people can only do a treatment a month or every three months whereas here, we can assist people once a week, so recoveries are much quicker. It's only opened to members because we don't have a big team.
Which nationalities does APOMAC cover? Do you have foreign members?
Yes, we do. There are former CGD (former Macau public workers now being paid by the Portuguese government), former military personnel, other non-Portuguese residents–mostly Chinese–received pensions from the local government, but also people who didn't work in the public service, such as teachers. We accept everyone as long as they are Macau residents. We don't want to discriminate on the basis of their job, so we have open arms when it comes to people living in Macau.
You mentioned you were looking for medical personnel, as well as someone to step into the association's management. Does this person have to be a member of APOMAC?
Not necessarily. I think one of the reasons it was difficult to hire doctors has to do with the fact that we will never be able to match what the government pays. We pay what we can. Our fundings from Macao Foundation worked better before–when we also depended on the government–but not so much right now that the foundation has a stronger say. Fortunately, some people have also been helping us by donating.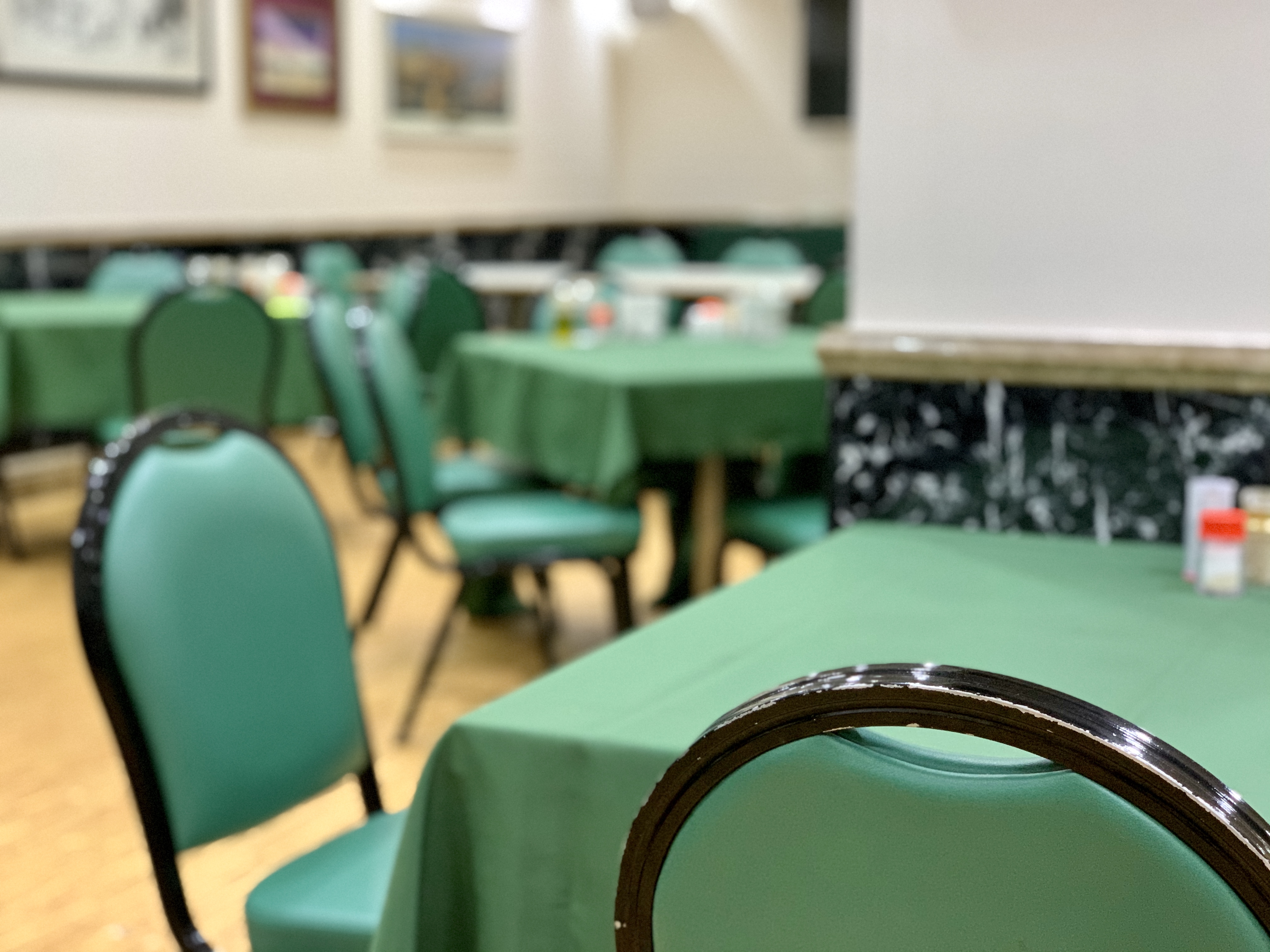 So people can donate money to the association. How can people help in other ways?
Well, we're the ones who've been helping some local associations, especially Chinese ones in terms of legislation. We have a strong knowledge of legal matters and the local legislation, so we sometimes help those groups that don't know that much. What we sometimes have are people willing to help with their knowledge–APOMAC organizes talks from time to time, especially related to health. Some time ago, a Chinese Medicine doctor–acupuncture–volunteered to come to APOMAC and treat members suffering from muscular pain conditions, for example. Sometimes there are people aiding us financially, as the case of a woman who some months ago donated us MOP $300,000!
How can the people living in Macau contribute to the community?
I believe people can help local associations with a bit of everything, also financial aid.
The lady who managed the kitchen, Vitória, passed away recently. She had been working here since the beginning. How is the association coping with this?
We recently hired a young guy, Júlio Lei. He's Macanese as well and his family does business with food items from all over the world, including meat from the US, Portugal, among others. Júlio graduated in the United States, moved to Macau and is taking the kitchen's lead from now on.
The canteen was revamped. Can you tell us a bit about what people can expect if they go there now?
Yes, we've changed it a bit, modernized the kitchen's equipment and have some works going on, thus being closed and reopening on March 20, 2020. Júlio is keeping the menu, but adding some new things, including stepping up the quality of the beef. He also wants to lower the prices for all the members. Júlio has a different mindset; he's more eager to help rather than make money.
What are the most requested dishes?
I have to be honest. There are many dishes people love in here. The chicken curry, the oxtail, and the oxtail curry sell very well, but so does the minchi, and the suckling pig.
Not forgetting the "APOMAC steak", right?
Ah, yes! (laughs) I don't why, but all the Portuguese order the steak when they come here. Sometimes there are tables of 10 or 12 people and all asked for the steak! "This is the best steak in Macau", they say. However, Júlio said he's adding more variations of beef–rib-eye, angus, and more. We could never do these revamps alone and Vitória didn't have the patience to innovate, so this is a good thing.
Why do you think APOMAC's canteen is so successful amongst both locals and tourists?
Well, the most obvious fact is the prices we offer. The food here is really affordable, especially when compared with what's being charged out there. I believe essential goods–such as food–has to be cheap. And retirees don't have fat pensions. Another fact might be the quality of our menu. Besides the taste, we also take pride in the quality of the ingredients and products. I don't like having frozen goods, so every time we can, we fetch things from the market, such as fish, chicken, eggs, vegetables. The only frozen item we have is beef, especially for the steak. We import from New Zealand, Australia, and Argentina.
Is there anything exclusive to your menu here in APOMAC?
Yes, the buffalo cheek is exclusive to our kitchen, I don't know anyone else serving it in Macau. Our tacho is also so flavorsome because we put buffalo cheek in it.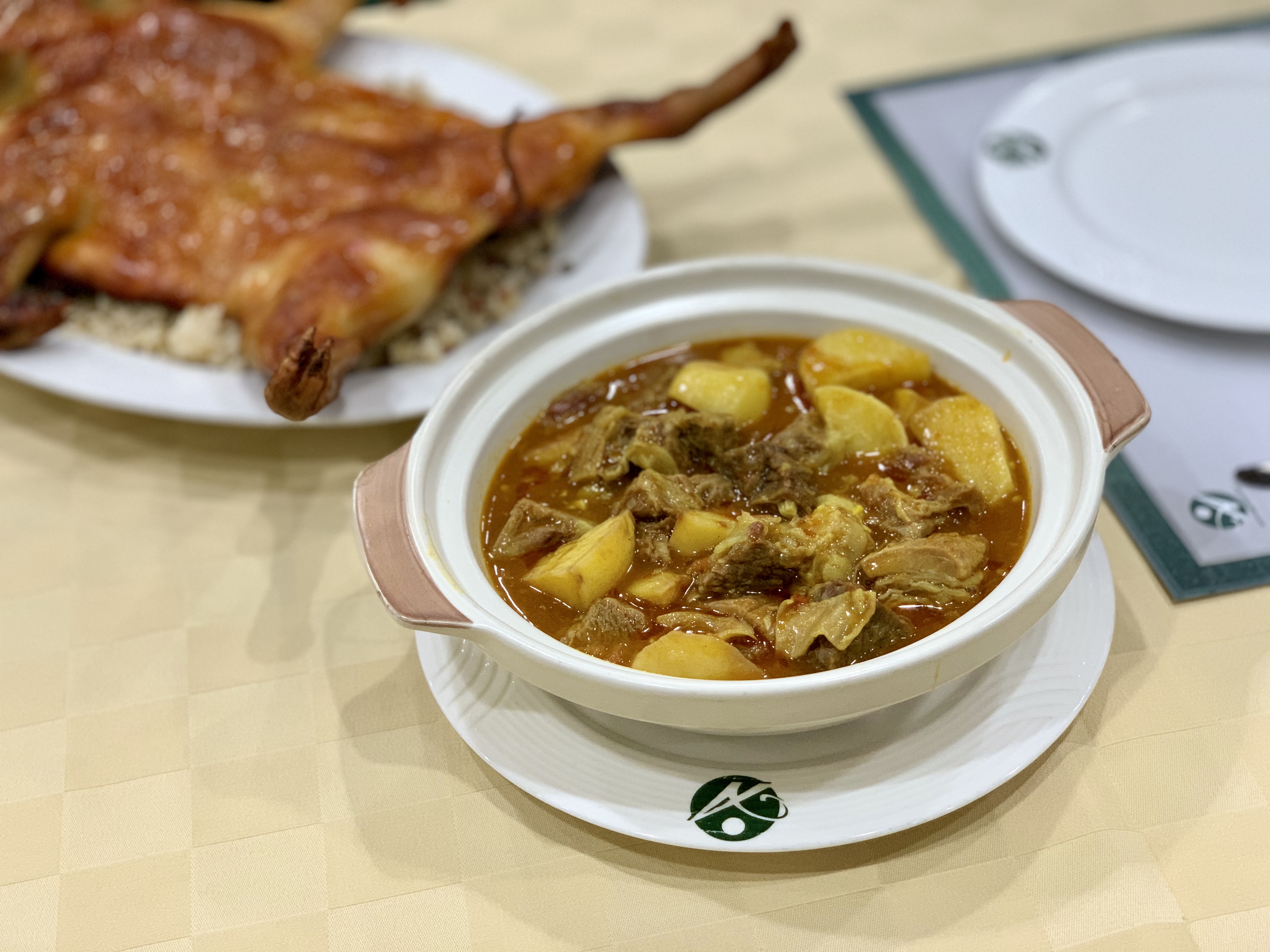 What about Macanese dishes? Do you have more besides minchi?
Yes, we do everything–tacho, capela, diabo. Tacho is usually made during Christmas and New Year because it's a very heavy dish, with lots of meat. We do it periodically, but we do it. As well as Portuguese dishes such as cozido and Portuguese-style roasted lamb. And let me tell you, I feel our suckling pig is much better than the one people eat in Portugal because the skin of the one we do gets toasted and crunchy, whereas the ones in Portuguese get all soft and chewy.
So you do have an eye and hand for the kitchen yourself?
I do like to cook, yes. Actually, I was the one who put three of our dishes on the menu–the lobster rice was one of them. I taught them to do it, as well as the seafood rice. The difference between mine and the Spanish or the Portuguese one is the spices and the presentation. The eyes also have a say when it comes to food. My lobster rice looks like a flower pot. No one puts what I put… saffron! I like putting it on some dishes, especially rice ones. It gives dishes a colorful look and aroma and these are important.
Where did you get the knack for cooking?
We descend from a modest family. My father comes from a Chinese Macau family, he grew up on a local asylum and studied Portuguese. My mom is the daughter of a Portuguese man who met a Shanghai woman there and got married. We were eight children–five girls and three boys–and I was the second in line, so I had to cook, among other things. I started cooking when I was around eight years old and was king of changing diapers as well (laughs).
Where did you live as a child?
Our family lived in front of Hoi Fu Building, along with lots of other Macanese families whose parents worked as public officers. It was a building with four stories where public workers lived, including mine, my wife's family, Manhão's, António Conceição Junior's family as well.
What recollections do you have of those times?
Honestly, those were simpler times. Less crowded, less busy. There was not much entertainment either, so we had fun with traditional Macau games, playing football with the other kids. Life was completely different. I don't dislike the differences, but I feel our times were healthier; people now are always with their phones–they dine together, but always on their own phones, they are not sociable.
What was your journey like growing up? 
I was born and raised in Macau and never left town to study. How could I, with a family of eight brothers and sisters? There was not much money to go to study abroad. I studied Portuguese, went to Dom Bosco school and then Pedro Nolasco da Silva school–which was located at Calçada do Tronco Velho– the predecessor of the Portuguese School.
Did you speak Portuguese at home?
Not really, but some of my family members didn't like the fact we didn't speak it. My aunt hated that we spoke Chinese at home, but I feel people should be able to speak whichever language they feel most comfortable with. During the 60s, I did the (compulsory) military service in Macau and completed the military sergeant course. At the time, my knowledge of Chinese was key because they used me as an interpreter. The military commands didn't like hearing Chinese, but they needed people to know it. After doing that, I took a vacancy in the Macau government and was always in administration departments, which I like very much. That's when I co-created ATFPM (Associação dos Trabalhadores da Função Pública de Macau) with 20 more people or so.
You were also a legislator for the Macau Legislative Assembly, representing ATFPM. What do you feel were your most relevant moments?
We helped to pass at least four diplomas, including the regulations of local cybercafés. We also presented one of the first drafts of legislation to regulate trade unions in Macau. Unfortunately, it was vetoed and still is every time it's presented.
Now let's get to something the world loves: food. Jorge Fão introduced us to their kitchen's newest manager, Júlio Lei. With a degree in psychiatry–majoring in elderly care and criminals–he is grateful to APOMAC for being able to use his skills to help the older communities in Macau. The canteen reopened its doors full steam on March 20, 2020 after undergoing renovations and Lei talked to us about how food is bliss and a comfort element in many elders' lives.
What is your role in APOMAC?
I am the canteen's manager now. This is a traditional restaurant, but I'd call it a special kind of traditional. Macau is made up of two traditions: the Portuguese and the Chinese. The latter has spread everywhere, but the taste of Portuguese food in Macau is not as thick as the Chinese is. My friends coming from the States to visit, they rarely hear about food, only casinos. They have no idea of the traditions and cultures, especially the Macanese. I'd say that this is where tradition is.
But you're trying to revamp it a bit, right?
Exactly. I'd say more to upgrade it a bit so the members have more variety of food to choose from. In terms of tradition, I think the food is perfect; there's actually nothing I can do to improve this element. However, I'll add more benefits to the association's members, more promotions and to promote our culture out into the world. Make use of marketing tools, for example.
Did you regularly have Macanese food as a kid?
My grandparents are Macanese, so I had this food pretty much every day. I went to the USA when I was 17, so I do know how to mix cultures altogether. I think it's the best way to showcase our own out there. Some people here like to experience all kinds of cuisines, so part of the menu is more Chinese-style dishes, while others have more Macanese ones as well as Portuguese dishes.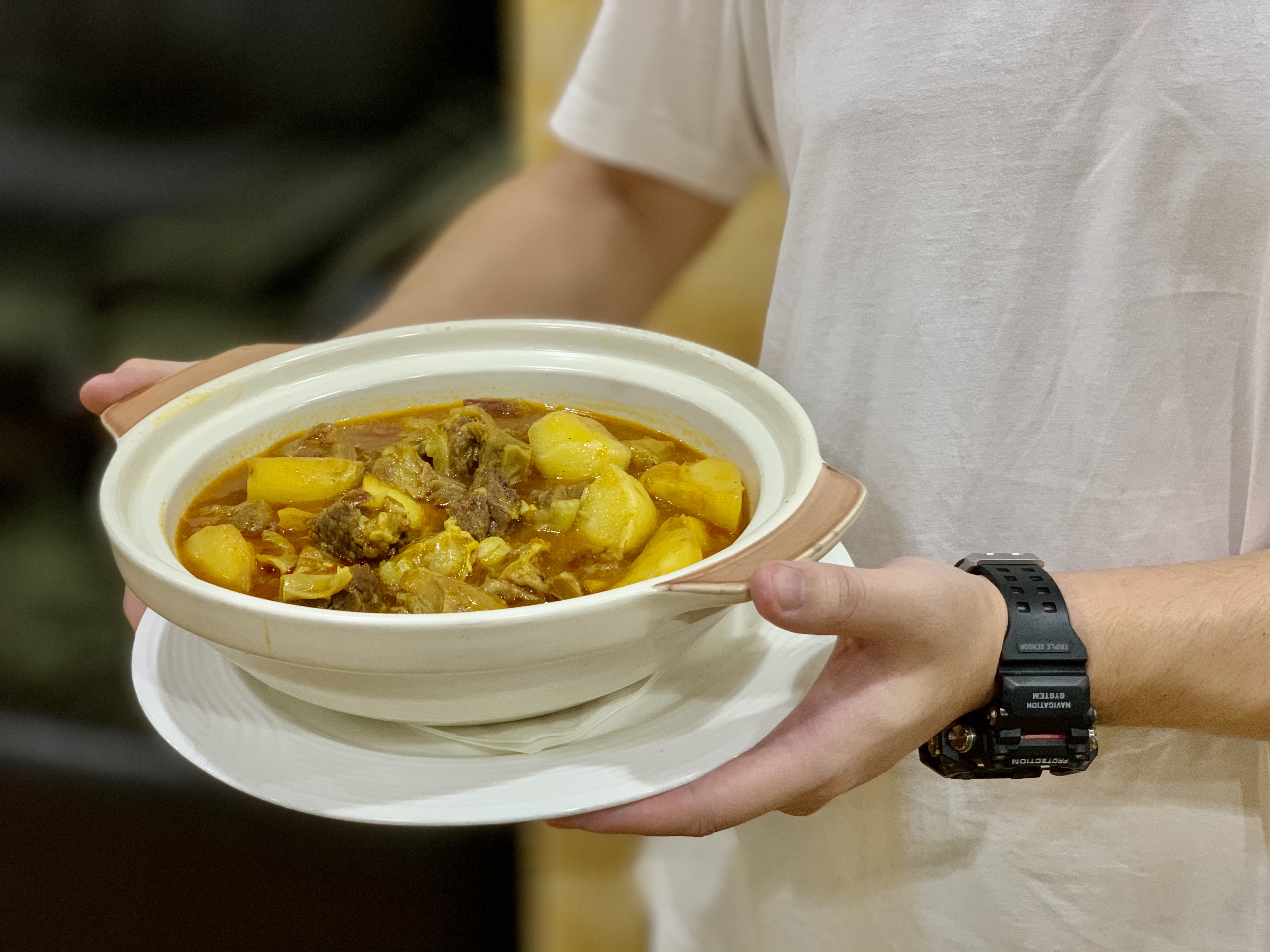 How do you feel working with an association dedicated to the elderly?
Honestly, I feel grateful. First of all, serving the elders in Macau isn't an easy job to do, because you'd most certainly have to wait for vacancies to open at a hospital or some public department. Those help people in physical terms, but I believe that here, with APOMAC and its canteen, I can help them emotionally. I graduated in Psychiatry in the US and have a great interest in the field of elderly care. That's why this job gives me so much joy.
It will be easier for you to bring high-quality products to the kitchen. Can you tell us why?
Actually, my family's business is related to the import and export of international goods, specializing in Portuguese, American and Italian products.
So it looks like you got things covered around here…
(laughs) I'm just trying to find my favorite things to do around here.
Do you like cooking as well?
Yes, I do. I learned from my grandmother. Kids usually don't like paying attention and taking time to learn, but I did. I believe cooking brings people closer together.
---
For more information on APOMAC and what they do, check their website
APOMAC 49B Avenida de Sidónio Pais, China Plaza Building, Macau, +853 2852 4325, www.apomac.net
Tags
Related Posts