Belos Tempos is a Portuguese expression meaning "Great Times", and it personifies this restaurant set in Rua da Felicidade. With some of the most authentic and oldest recipes when it comes to Macanese cuisine, Belos Tempos never disappoints. Ana Manhão–the owner–is proud of this project, loves the surroundings of her location and is always eager to teach her own ways of cooking these original dishes. We sat down with the chef, owner and connoisseur to know more about her life path, food choices and more! For Ana Manhão, there should be no "secrets" when it comes to preserving a cuisine. Want to know why? Read on and get to know one of Macau's hidden gems when it comes to food.
Before opening Belos Tempos, what did you dedicate your time to?
I was a public worker my entire life until I retired. The idea of starting a restaurant came from the fact that I have always loved to cook, especially for my family and friends, my kids' friends and my own. I really take pride and comfort in seeing people appreciate food. I also love when people are interested in cooking and knowing more about our culture.
Belos Tempos has been around for some time now. When did you start this?
We opened in 2013 and I did so to maintain the Macanese culture, which has always been the primary goal. Besides Macanese food, I also serve some Portuguese dishes.
What are people's reactions when they have Macanese food for the first time?
They usually like it and the feedback has been that they feel Macanese dishes taste like home, like comfort food. It doesn't care about fancy plating or decorations, or gourmet aspects. Even Portuguese tourists–they found Macanese food to be very wholesome. They were surprised that Macanese food was so good and kind of similar to theirs. They thought they'd have something with a more Chinese flair. Some of them even thought that they'd have to eat with chopsticks (laughs).
What are the most requested dishes at Belos Tempos?
Minchi, of course! Portuguese chicken and African chicken as well–which ironically don't exist in Portugal or African countries.
For the Portuguese dishes, did you also learn them from your family?
No. I learned on my visits to Portugal. Sometimes it's hard to make Macau dishes elsewhere, as well as the Portuguese ones. I learned a lot of dishes and the cultural gaps are really noticeable. We (in Macau) grew up with a strong basis of Chinese food and culture. It's important to say that the dishes can be the same, but the recipes sometimes change a bit. That's why different family recipes have different flavors.
What are the biggest differences between recipes?
Let's take, for example, minchi. It's usually because of the sauces and condiments used by each person. Some people mix sugar and soy sauce to level down the saltiness while others, like me, use oyster sauce. Why? Because it's already both salty and sweet, which allows that bitter taste as well.
So would you say this is a family secret? 
Not really, because I believe there should be no secrets when it comes to gastronomy and cooking. If one wants to keep a cuisine alive, one can't have any secrets. Otherwise, how can you keep it going from generation to generation? I learned to cook with my family, especially my mom and my grandmother, although they didn't let us in the kitchen, let alone experience cooking itself. We were kids so we had no business going there. She was old school, did things people don't do nowadays, especially in restaurants. She tasted the food as she cooked. When I started cooking, I usually asked her to help me out, to try my dishes. "It's not good", she started by saying. I replied that I did it exactly as she said, but the taste isn't just about the recipe, it's always about the experience and a certain talent.
You also teach people the ways of Macanese food…
Yes, and there are two things they have to do. Go to the market–to select fresh ingredients and products–and stay true to the recipes I teach. It's not a question of being more or less traditional, more or less inventive. One has to know the basics to someday venture into new experiences. When I teach people, I tell them to follow the original recipe, the one I'm teaching.
Do you believe that dishes shouldn't be altered?
Well, it depends. But if, for instance, someone orders the African chicken and asks for non-spicy, I'll suggest changing their order to roasted chicken. Simply because one of the main ingredients for African chicken has that spicy flair.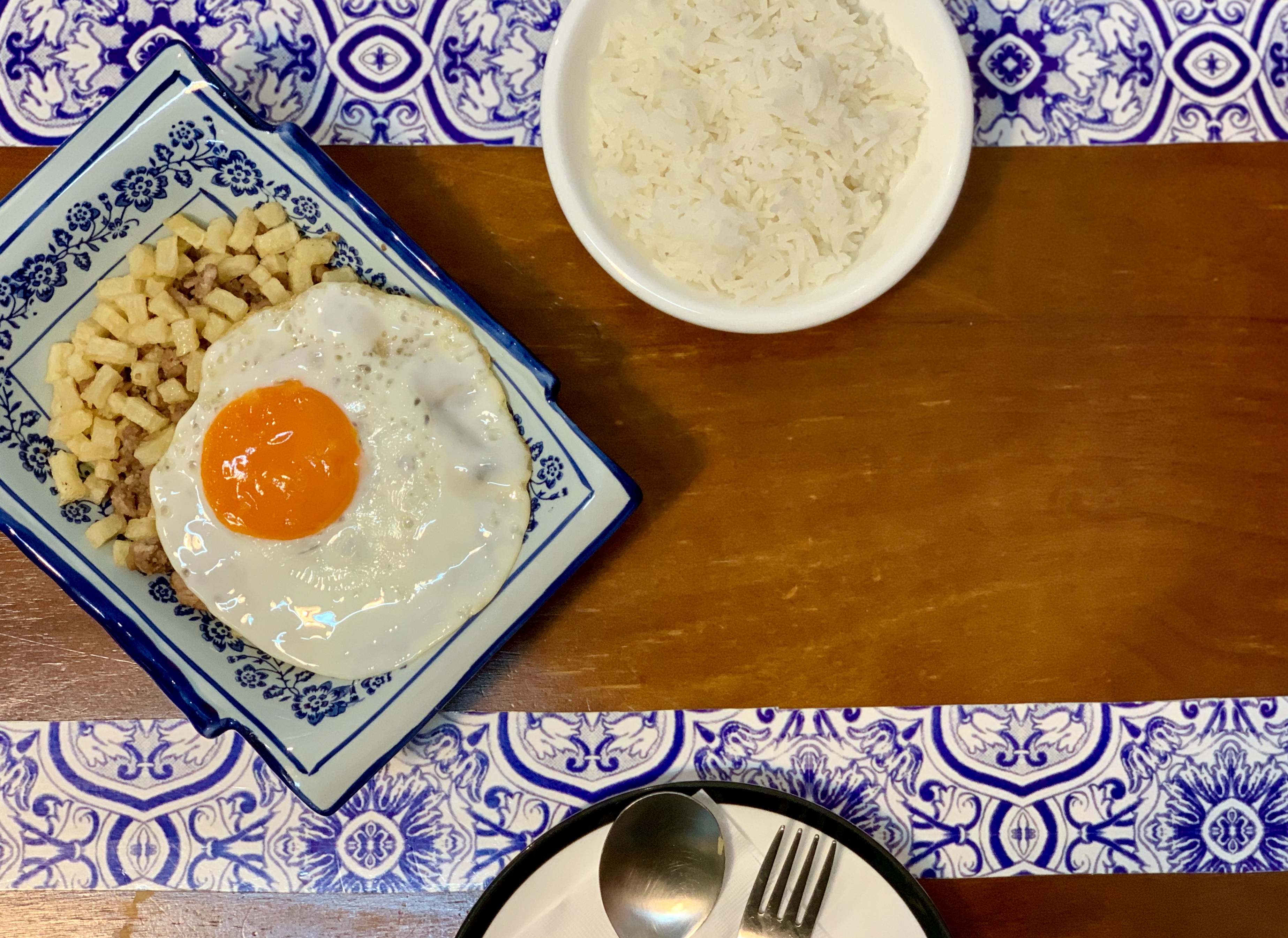 Would you say that you're more on the traditional side of things, then?
I'd say so, yes. I promise to the person who taught me how to cook that I'd never change the recipes. There are dishes–mainly desserts–where we obviously need to cut the sugar quantities in half. The reason is that these recipes are dozens of years old and nowadays people don't consume this much sugar. It doesn't even taste good. Some dishes we learned in Portugal, like the cozido (a dish of steamed meat and vegetables served with sides of rice and potato) has to be carefully done. The meat isn't the same, it doesn't have the same quality here and in Portugal. The taste will always be different.
Did you have any experience on this subject?
Yes, I remember one time in Harbin. They asked me to cook Portuguese duck rice with their ducks. Well, I was unable to make it because the ducks weren't the same as in Portugal. In Chinese cuisine, the duck is cooked in a certain way and muscular ducks make great assets. In Portugal, they are to be soft. What happened in Harbin was that the duck in the rice was hard, difficult to chew. That's why this didn't work out. They also asked me to do creamy codfish in the oven, and that didn't go well either, because of the difference in the cream. Thankfully I took a salted codfish with me! (laughs) However, I wasn't very successful either because of the cream.
So is there a way around these obstacles to showcase Portuguese and Macanese foods out in the world without stripping them of their original flavors?
We can't simply go and make something. We have to be careful to be sure we can deliver a positive result and spread the word in a true and authentic way. Tacho is also a quite difficult dish to do abroad. Where will I find the Chinese chorizo or the pig's dried skin? The Confraternity had a reunion of Macanese people and I was asked to do it in Portugal once and I had to take the skin with me from Macau. The first thing that people got was the skin because they were both happy to see something they haven't seen in a long time and curious to know how it got there (laughs).
Are there any Macanese dishes difficult to cook nowadays?
Yes. Sarrabulho (made with pig's intestines, heart and blood), for example. This very typical Macanese dish isn't around anymore, at least here, because we can't find these ingredients anymore–there aren't any. Sarrabulho is made with these meats minced kind of like minchi, condimented with the pig's blood. We don't kill pigs at home anymore nor are there any in the market. We don't import it anymore because we can't know, for sure, where the blood is coming from. And two essential things in a kitchen are sanitary measures and the quality of products and ingredients. Another dish that we rarely see anymore is duck cabidela (made with duck's blood). The blood has to be fresh from the animal, so the dish is properly done. This last one I learned from my mom.
However, the hardest might be diabo (devil). Tacho is usually made for Christmas, and diabo, for New Year's Eve. Tacho includes a lot of meats so it's a heavy dish. Diabo is made with the remnants of those meats and other Christmas dishes, such as Chinese smoked duck and breaded ribs. We don't cook all this anymore, at least not at the same time. Families are smaller, people are all scattered, so meals have fewer dishes. The difficulty of diabo lies in the fact of having to cook all those dishes to be able to have the final dish. You'd have to do ribs, duck, roasted lamb and turkey, tacho… It's kind of a stew, not as much sauce as tacho and it also has ginger and some spices.
The Manhão family has come a long way. Were you all keen on cooking and learning?
We always ate very well at home (laughs). My grandmother and my mom organized big parties, such as weddings, baptisms, but also Christmas and New Year lunches and dinners. I think that's why I'm so interested in bringing these flavors out.
Belos Tempos is more than a restaurant. Can you tell us more about that?
Besides serving food, I also organize cooking workshops for whoever wants to learn the ways into Macanese cuisine. I used to have a folklore group–of traditional Portuguese dances–and it's important for me to teach younger generations who want to learn to cook for either themselves or others. There are also some curious tourists and want to learn as well. But it's funny that almost all of them want to know all about the minchi, that's usually what people ask for. But the Macanese gastronomy has so many other dishes… Even minchi has several variations, depending on occasions.
How so?
Minchi with fried potatoes is clearly on top. Then there is minchi with Chinese vegetables–with vinegar–also with bitter melon, the "plus five" that's usually cooked in the summertime and has yam, which is cut and presented like the fried potato cubes. What usually changes in these variations are the accessories. Minchi is more about the way of dicing and cooking the meat than the dish itself.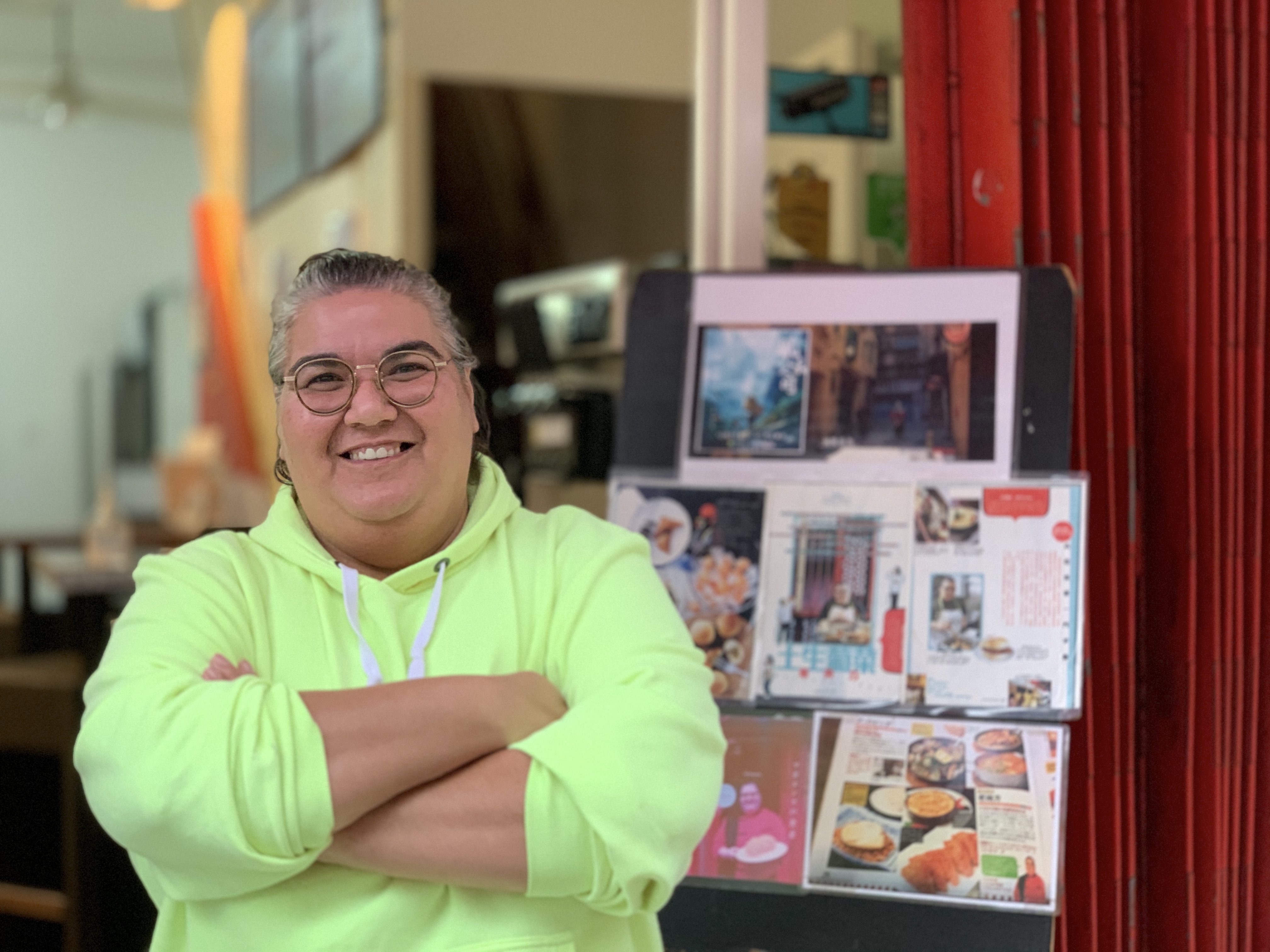 Belos Tempos is also a school, then?
It's a place to teach people, yes. Contacts are made through the local association Macau no Coração. Unfortunately, there are no more folk dances, so Macanese cooking classes are also a way to innovate our activities and find new ways to spread the culture.
Do you prefer to make mains or desserts?
Personally, I prefer mains, but one can never preserve a cuisine without knowing its full scope, so I also had to learn some dessert recipes, like "bride's hairs" (cabelos de noiva in Portuguese), which is basically really thin egg yolks threads. It's a delicate dish; it's not like a simple pudding or a cake, which are present in several menus from Macanese restaurants. I recall one time I tried to do so, more than 70 eggs went to waste (laughs) because it was one of my first times. I had to get the hang of it, do the threads really thin: my mom used to say "it's bride's hair, not groom's".
So would you rather try difficult dishes?
Sometimes, yes. I've been dedicating myself to more difficult dishes, but especially because those are the ones that have been disappearing. Either because ingredients are hard to find, it's time-consuming to make or simply got lost in time. Thankfully, I have some of my family's recipes still with me.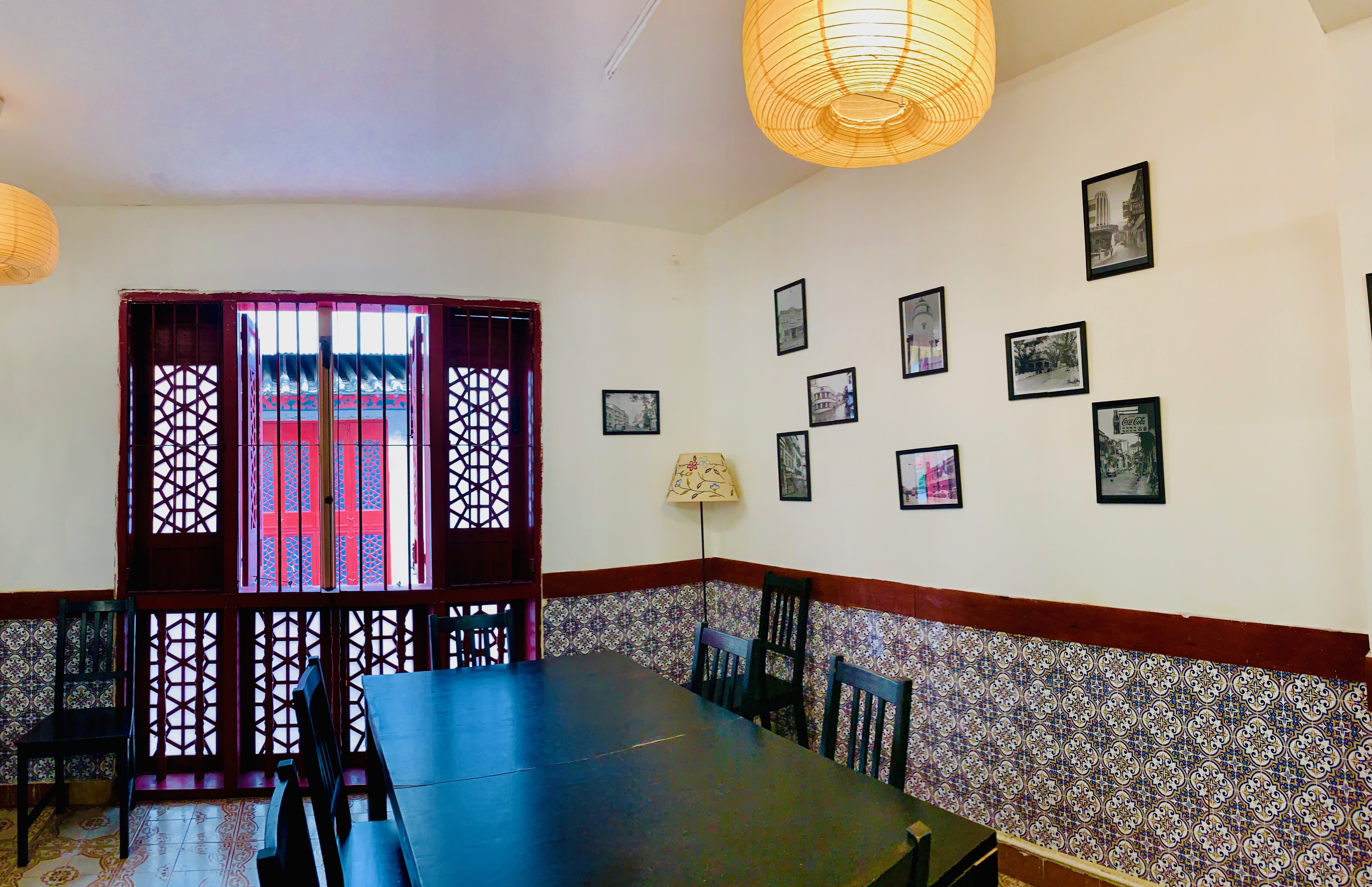 Belos Tempos is located in one of Macau's oldest and most touristic streets. How were you able to find this spot?
It's still quite calm around here and when I knew of this vacant place, I got to liking it. I like this place very much, and it allows me to showcase the Macanese cuisine to Koreans, Chinese, Japanese tourists. It might not seem so, but this a very traditional corner of the city; really friendly and if a neighbor of mine is missing sugar, he comes and asks and I do the same.
How was it, to grow up in Macau?
The environment was much more relaxing. The community was closer and more united. I'm not saying it grew apart, but life today is much more fast-paced. People have their own routines and schedules. It's more difficult to find time to organize dinner and events, we never have the whole bunch reunited.
Where did you live as a kid?
At the Mount Fortress neighborhood. We played outdoors, in the streets. It was an area with no cars and I was lucky enough to know everyone around there. I used to say I got the best of both worlds–I enjoyed both Chinese and Portuguese festivities. My mom would bake a cake or some traditional dishes and take it to our family friends' homes. At that time, we didn't offer presents; we offered food!
When you're not in the restaurant, what do you enjoy doing?
When I need to get away from all the hustle and bustle and clear my head, what I like most is taking my camera and go photo shooting around the city. Photography is one of my passions, mainly because our daily lives are made going forward and it's really interesting for me to stop and head backward; there are so many things we've been missing on the way. I stop the car, park it and start walking backward.
---
For more information on cooking workshops, contact them through their Facebook page
Belos Tempos 10 Rua da Felicidade, Macau, +853 2893 8670
Tags
Related Posts