With the mid-autumn festival almost upon us, the battle of the best mooncakes is about to begin, but what makes a good mooncake? There are many factors to consider when buying these traditional treats. Should you go for the classic Cantonese-style fillings of bean paste or something more modern, like chocolate or fruit? The filling and the exterior should also not be too sweet or too chewy and you'll find that the best ones have a perfectly balanced flavor. Also, when considering as a gift, it is not just about the taste, but also about the presentation. We love mooncakes packaged in unique, beautiful boxes with quirky designs.
We've trawled Macau to find the best mooncake offerings out there – whether it's for your dining tables or as a gift. or whether you like traditional recipes or contemporary versions, we've got you covered.
Mandarin Oriental, Macau
(See featured image above)
The Mandarin Cake Shop is always top of our list, and for good reason. Their delicious meticulously crafted cakes and pastries always brighten our day bright at this delightful spot. For the mid-autumn festival, they've prepared something super special to adorn our dining tables. They've come up with a medley of delicate mooncakes paired with exquisite artisan teas. Made only from the finest ingredients, indulge in classic all-time favorite flavors such as their low sugar silver lotus paste with double egg yolk, Pandan paste with double egg yolk, five kernels with Yunnan ham and Vida Rica Yin Yang baked with coconut cream and black sesame paste. The mid-autumn Bloom Traditional Mooncake case is priced at MOP $428.
If you're looking out for a lavish gift then their luxurious mid-autumn deluxe hamper is a perfect choice too. It is priced at MOP $3,288 and the Mid-Autumn Bloom Traditional Mooncake takes center stage ni this hamper. It includes a Monopole Rouge, limited edition 120th anniversary, Bordeaux, France, two pieces of Australian abalone, Mandarin Oriental's homemade XO sauce, dried shitake mushrooms, Peach gum, Mandarin Oriental assorted butter cookies, Vida Rica caramelized walnuts with sesame, Vida Rica spicy togarashi cashew nuts, and an assorted tea sachet gift set – whoever receives this will be as thankful as they come.
Mandarin Oriental, Macau 945 Avenida Dr. Sun Yat Sen, NAPE, Macau, +853 8805 8888, www.mandarinoriental.com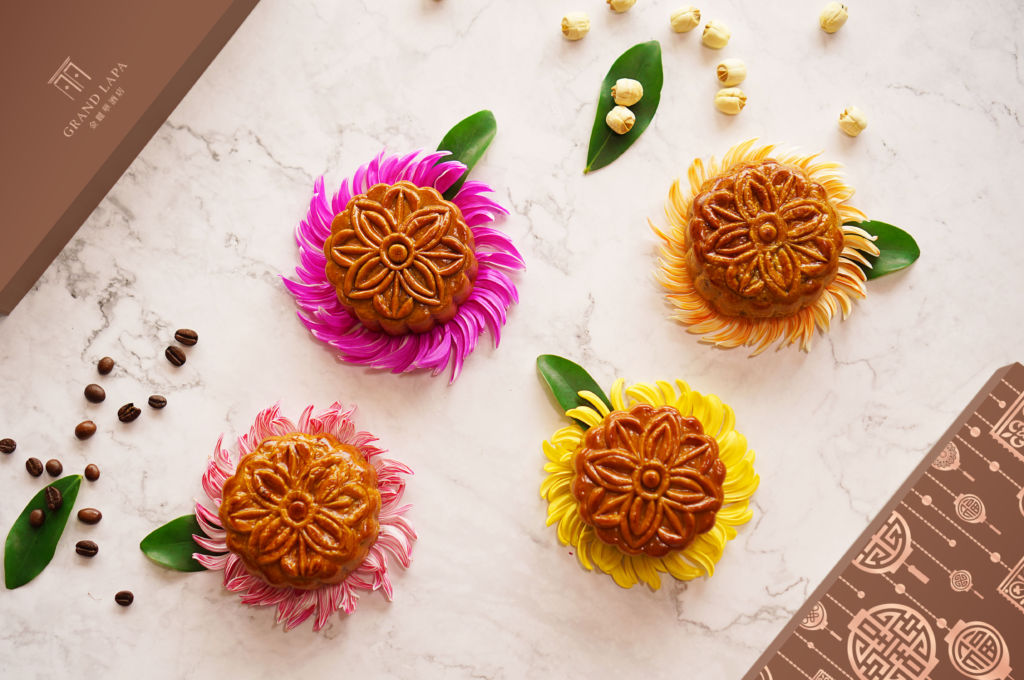 Grand Lapa Macau
A local favorite – all the kids love Grand Lapa's cakes and pastries. Elegant and traditional, their golden-hued mooncakes are the perfect dessert after a heartwarming meal with the whole family. The exquisite masterpieces from the talented Grand Lapa team include mooncakes with lotus seed paste and double egg yolk and mooncakes with coffee paste and double egg yolk. Every bite will be a joy for the senses. Like the symbols that the mid-autumn festival celebration represent, these classic mooncakes symbolize family, traditions, and love. The mooncake set is priced at MOP $368 per box.
Grand Lapa Macau Avenida de Amizade, Macau, +853 2856 7888, www.grandlapa.com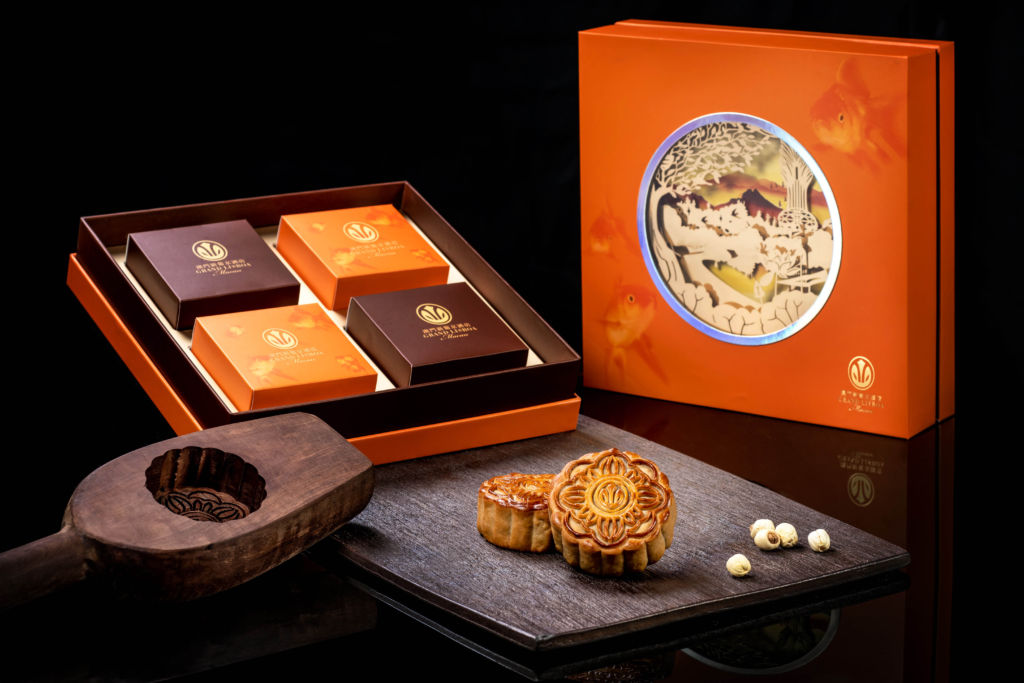 Grand Lisboa
Straight from the Grand Lisboa Hotel's three-star Michelin restaurant, these magnificent mooncakes are a real grand affair. The 8 Dim Sum Head Chef Yah Wah Fai has created a series of handcrafted and delectable varieties to satisfy your full-moon cravings. The specially designed gift boxes feature classic flavors inside. "The 8 Mooncake with Double Egg Yolks and Lotus Seed Paste" gift box features four pieces inside and the case comes toned in orange, with a 3D papercut art of the floral emblem of Macau – 'The Lotus' in a pond and the Grand Lisboa Hotel.
The papercut art, combined with The 8's symbolic goldfishes, represents the festive atmosphere and is a symbol of traditional Chinese culture. The Double Egg Yolks and Lotus Seed Paste Mooncake follow the traditional recipe, crafted with silky smooth white lotus seed paste and rich double egg yolks – the classic flavor of this traditional festive delicacy. The six-piece "The 8 Lava Custard Mini Mooncake" gift box features a bold and innovative design, with a metallic turquoise color as the main tone. These mooncake boxes make the perfect gift for family and friends. "The 8 Mooncake with Double Egg Yolks and Lotus Seed Paste" is a more exclusive gift box and "The 8 Lava Custard Mini Mooncake" gift box is priced at MOP $460 and MOP $380, respectively.
Grand Lisboa Avenida de Lisboa, Macau, +853 2828 3838, www.grandlisboa.com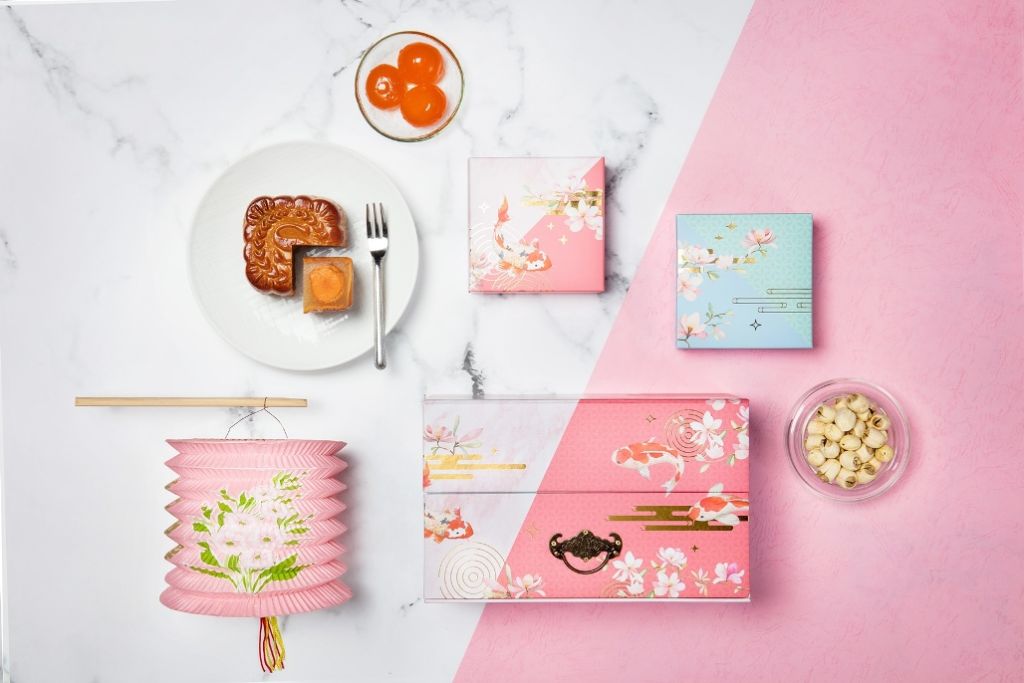 Sheraton Grand Macao Hotel, Cotai Central
The mooncakes from this massive hotel come in three signature mooncake flavors – yep, good things come in threes. The traditionally popular Mini Egg Custard Mooncakes are expertly crafted with the finest ingredients and filled with delicious creamy egg custard. The Low Sugar Deluxe Lotus with Egg Yolks Mooncakes meanwhile are made from a smooth low-sugar lotus paste and egg yolks. Both are a perfect blend of traditional flavors and healthy ingredients. For a more savory taste, guests can try the Chinese Ham Mooncake with Assorted Nuts and Yolk, which are filled with five kinds of nuts, including walnut, black melon seeds, almond, white sesame seeds and olive seeds.
There are also three beautiful designs on each of the special mooncake gift sets to pair with different flavors. Guests can purchase Sheraton Grand Macao mooncakes from the Palms Café and Bar or Xin restaurant for MOP$ 328 per box, and mooncake gift sets with WG Tea are available from MOP $738.
Sheraton Grand Macao Hotel Estrada do Istmo, Cotai, +853 2880 2000, www.sheratongrandmacao.com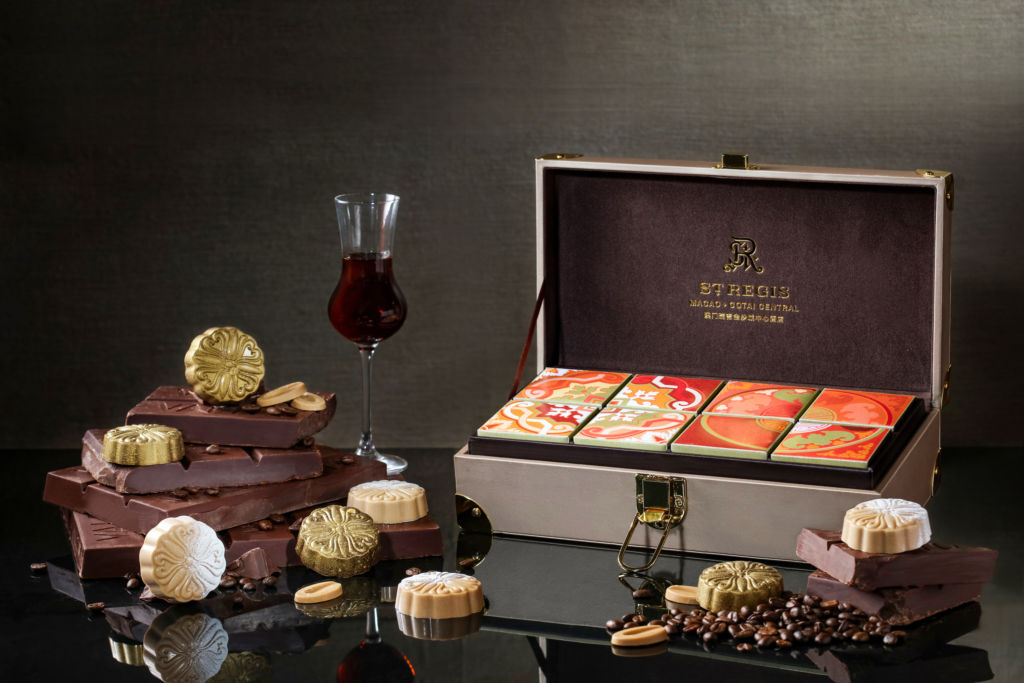 The St. Regis Macao, Cotai Central
If there ever was an award for the most beautiful mooncake gift box, The St. Regis Macao's exclusive Chocolate Mooncake Collection case would win it. Encased in a leather treasure chest, it is a gorgeous container – and inside more pleasure can be found in the form of eight intricately handcrafted Valrhona chocolate mooncakes.
Discover eight exclusive mooncakes individually packaged in uniquely designed boxes inspired by the Macanese 'Harmony' mural at The St. Regis Bar. Each box contains four exquisite pieces of Swiss Chocolate Truffle with Vintage Rum Mooncakes and four decadent pieces of Café au Lait Valrhona Chocolate Mooncakes – each made with Valrhona gourmet chocolate. Only 88 leather boxes of the limited edition chocolate mooncakes are available for purchase at The Manor restaurant at The St. Regis Macao from now through September 26, 2018. Each gift box is priced at MOP $588.
 The St. Regis Macao Estrada do Istmo, Cotai, +853 2882 8898, www.stresgismacao.com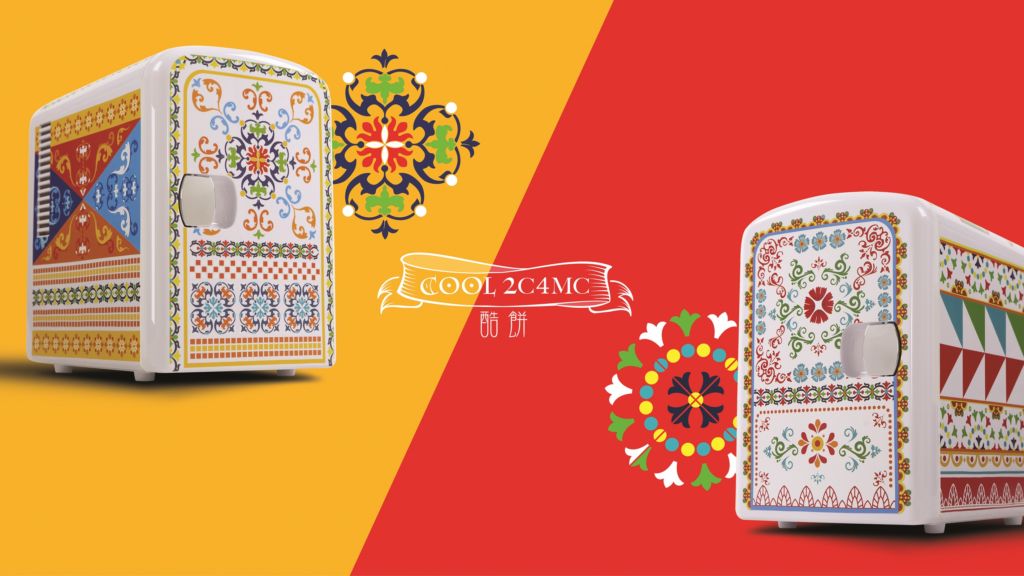 Grand Hyatt Macau
Grand Hyatt Macau's annual mooncake collection features beautiful Macanese packaging this year. The delicious treats come tucked away in a mini curved retro case that that resembles a fridge, bread tin or a colonial postbox. It opens up to reveal the magical mooncakes inside. The innovative design of the case allows you to keep the insides either cold or warm, so it is functional as well as stylish. 
With a design inspired by European decorative ornaments and the striking flower patterns often used on traditional Portuguese tiles, the fridge comes in white with two different floral patterns that both symbolize the colorful heritage of Macau. Enjoy the crafted recipes of the mooncake yourself, or give them as awesome presents. The mooncakes come in four flavors, including red date, milk with red bean paste, sweet potato and taro. The mooncakes are available at Grand Hyatt Macau's Lobby Boutique. Each box is priced at MOP $569.
Grand Hyatt City of Dreams, Estrada do Istmo, Cotai, +853 8868 1908, www.macau.grandhyatt.com
Share
Tags
Related Posts