Cha Bei at Galaxy Macau™ is well-known for their health-conscious menu and delicious pastries – and now they want to show that their culinary expertise extends beyond desserts and afternoon teas. To prove it, they created a festive 'Par-tea' dinner menu, inspired by travels and holiday memories. See what is on the menu and find out what else Cha Bei have prepared this Christmas.  
Cha Bei Community
Do you dare to follow the white rabbit and explore the big world available at this stylish restaurant. Cha Bei is like Alice in Wonderland combined with a French florist, so prepare yourself to be delighted before heading to the table and diving into a gastronomic adventure here. The design that earned them an honorable mention at the San Francisco Design Week Awards and it is an ideal spot for visuals, dreamers, and Instagram lovers. 
Cha Bei is not just another cute Instagrammable cafe though, it is more than this. It is a place with a holistic approach, integrated concept and a skillful cooking team led by gifted Chef de Cuisine, Boon Neo. The concept rolls around the inspirations of Joanna Lui Hickox, Cha Bei's curator, a trendy award-winning businesswoman. Travel, art, design and, of course, tea constitute the restaurant's DNA. Consequently, it attracts people who share the same interests – not only locals but talented and enthusiastic people around the world.
We just adore Cha Bei for their support of small businesses and sustainable initiatives. Like the glamorous pink kombucha which they have on tap produced by two sisters from Hong Kong. Or their collaboration with Impossible foods which brought sustainable meat alternatives to their menu.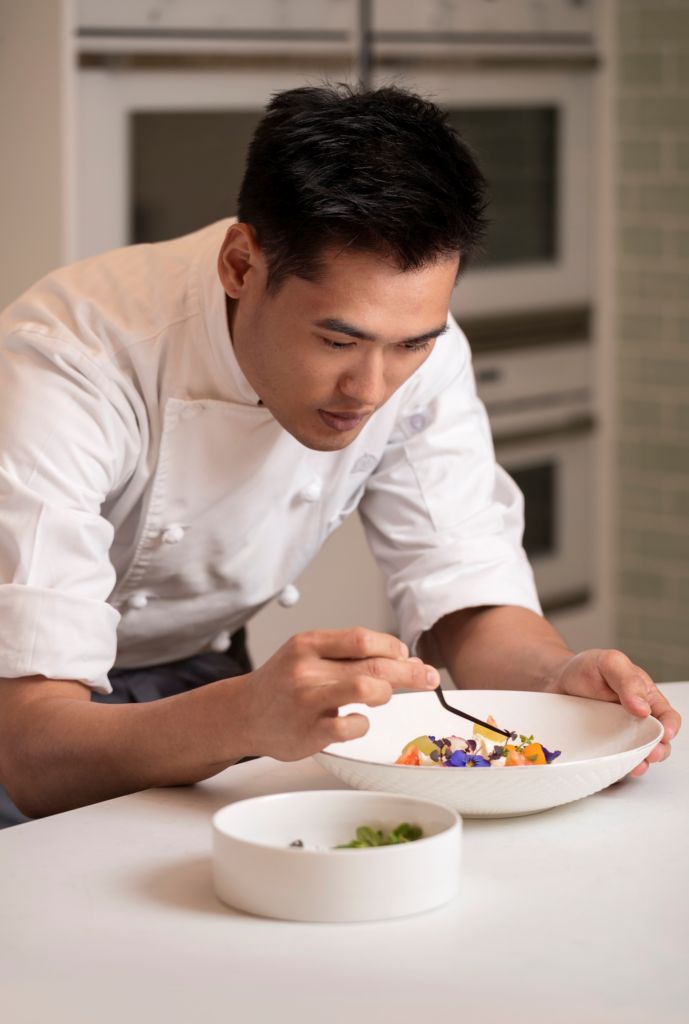 Travel-inspired Menu
Cha Bei takes what they bring to your dining table very seriously. Embodying chef Boon Neo's exceptional cooking skills and Joanna's brilliant ideas, the new festive Par-tea dinner menu (see featured image above) resembles a travel album that carries carefully collected memories from distant voyages. Every dish on the menu brings is a new culinary destination. 
The dinner starts with Chestnut Velouté, a velvety soup based on roasted earthy chestnuts just like those that vendors sell on streets and Christmas markets of winter Paris. Warming and comforting, humble and delicious, this soup is both a perfect starter for a festive meal and a symbol of the holiday season. 
The taste of Homemade Saffron Tagliolini with Seared Sea Scallop and Tiger Prawn will then transport you to a big Italian family celebration. It's Italy in a nutshell: The rich sauce is based on a shellfish paste with brandy, fresh scallops and prawns, cherry tomatoes, al-dente saffron pasta – all of which makes a bold, colorful and delectable dish.
Pastry Connoisseurs
The absolute must-try of the Par-tea menu is Beef Wellington, the king of English feasts. It is extremely difficult to cook. The trick is not to overcook the beef yet the puff pastry, obviously, has to be properly cooked. They get it right here of course with flair – Cha Bei's Wellington surely does not disappoint. The meat is soft, buttery and medium-rare enveloped in crusty pastry with a fine layer of fragrant wild mushrooms and Parma ham in between. All that goodness is served with some black truffle sauce, grilled oyster mushrooms, and truffle potato puree. Yum!
However, if this perfection of a meat entree doesn't tempt you, there is a French twist on Wellington, Salmon En Croute, also – succulent Scottish salmon covered with spinach and cream cheese. We already knew Cha Bei is an expert in sweet pastries, and now they have shown irrefutable evidence they can do savory pastries too. 
Photogenic Desserts
Obviously, no festive dinner goes without a dessert. At Cha Bei, it's hard not to anticipate the sweet end of the meal the moment you start as there is numerous sweet delicacies on display. The impressive selection includes desserts that deserve to be photographed, framed and put on a wall. Their special Christmas cakes are almost too good to eat – they look like Christmas tree decorations, and are as beautiful as they are tasty. 
The Pine Noisette Chocolate cake that concludes the festive dinner will have you reaching for your phone to snap a pic. The perfectly symmetrical pine with chocolate mousse is crowned with a snowflake, decorated with golden flakes and surrounded by tiny meringue mushrooms, ginger cookies, droplets of red currant compote and fresh berries. Do we need to say anything else?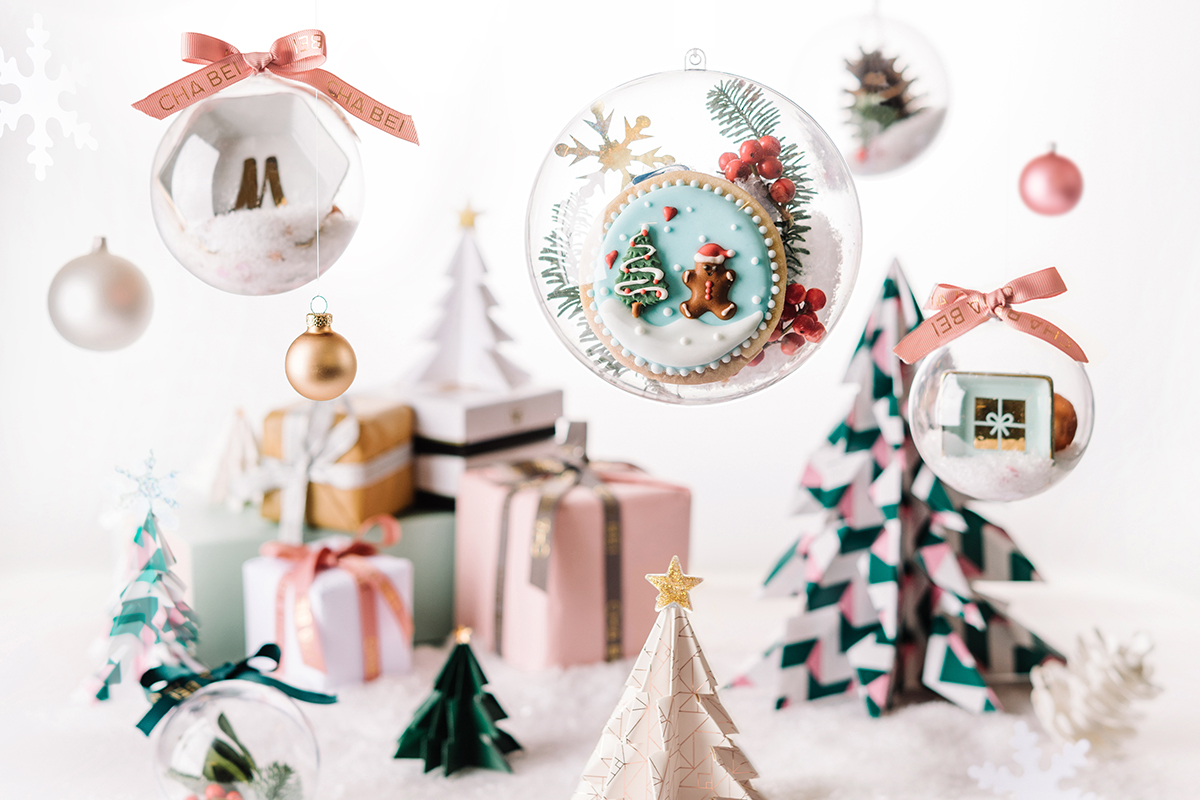 Before leaving, it is worthy to check Cha Bei's "Gift Gallery" – especially if your hunt for Christmas gifts is not over. Besides their regular collection of gourmet sweets, fashion accessories, homeware, and countless other artisan discoveries, Cha Bei team have prepared some cute Christmassy souvenirs for your loved ones too!
When: 10:30am–9:00pm, December 1–31, 2018
4-course Festive Par-tea dinner menu available from 6:00pm–9:00pm
Where: 1/F, 1047, Cha Bei Restaurant, Galaxy Macau, Estrada da Baía de Nossa Senhora da Esperança, Galaxy Macau, Cotai
How much: Festive Par-Tea Dinner – MOP $398 per person
For more information, check their website and to see the 4-course 'Par-tea' dinner menu, click here
For reservations, call +853 8883 2221
Tags
Related Posts