Are you yearning for something to soothe your soul and warm your belly? You won't find anything as satisfying as a delicious hot pot best shared with people you love. Make your way to Macau's fantastic restaurants and sample the most intriguing to predictably good combinations of the best hot pots in the city.
Banyan Tree Macau
(Featured image above)
Indulge in a hot pot feast at the comfort of your private cabana at Banyan Tree Macau. You don't need a special occasion to treat yourself and others to one of the best hot pots in the city. Savor a selection of premium beef, Kurobuta pork, Alaskan King Crab Legs, and a wide variety of fresh seafood along with the wonder of Asian nourishing soup base including Tom Yum Goong, Thai Chicken Coconut broth Sichuan spicy broth, and traditional chicken broth to warm your heart and body. It is priced at MOP $988* per set and ideal for two persons or MOP $1,888* per set and ideal for four persons. It is available from 6:30pm to 10:00pm.
Banyan Tree Macau Galaxy Macau, Estrada da Baia de Nossa da Esperanca, Cotai, +853 8883 6688, www.banyantree.com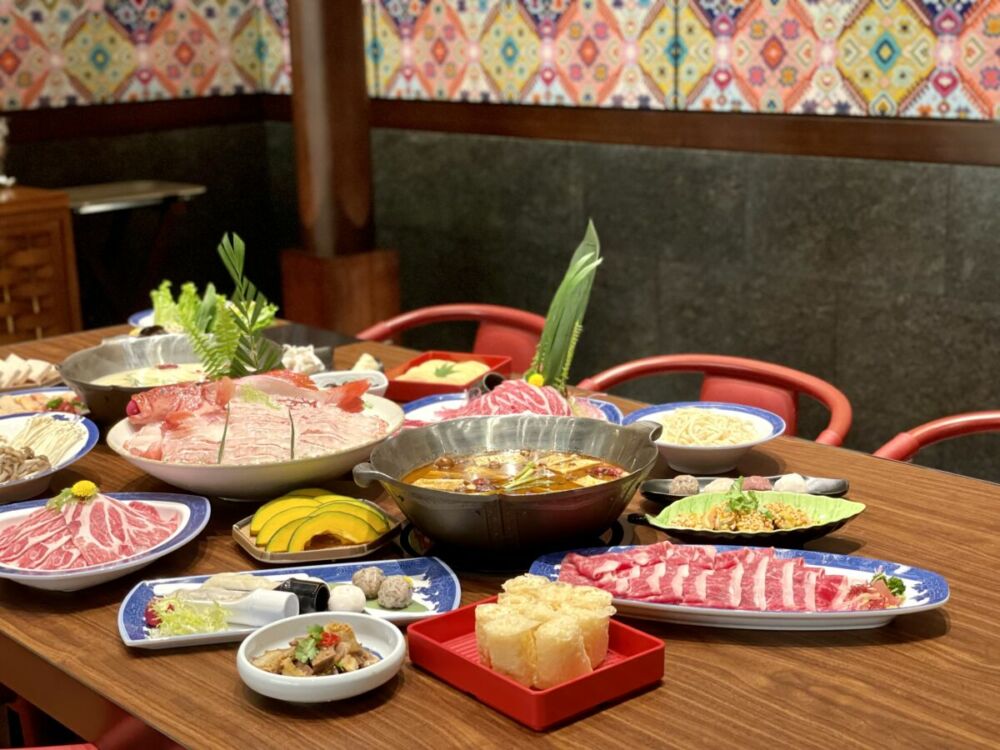 Wulao 
One of the city's most recent resort destinations, Grand Lisboa Palace, is home to Wulao, Taiwan's famous upscale hot pot restaurant. Stepping up the hot pot game in the city by introducing an authentic Taiwanese gourmet experience, Wulao's hot pot is prepared with fine ingredients flown in directly from Taiwan. The restaurant's interiors are filled with Chinese traditional colors, works of embroidery, and architectural elements, all gracefully combined to lend the space a "Heaven on Earth" atmosphere. Although Macau's branch doesn't offer the brand's popular duck blood hot pot, the options available on its menu are no less soul-satisfying. We recommend you to go for a twin side hot pot and try two Wulao signature broths in one go: Layered Tofu Hotpot and Spicy Wulao Hotpot. While the first consists of layered tofu in a tasty pork-based broth boiled down with ginseng and Chinese herbs, the latter, which differs from any other Sichuan hot pot broth, is prepared with Chinese herbs and a few secret ingredients for a rich and unique flavor. Don't pass up on their signature creamy tofu too, small iced tofu morsels that will melt in your mouth after simmering and soaking up the fragrant broth.
Wulao Level 1, Grand Lisboa Palace Macau, Rua do Tiro, Cotai, Macau, +853 8881 1800, www.grandlisboapalace.com

Lotus Palace
They wouldn't call some humble eatery "palace". So when you visit Lotus Palace, expect an opulent interior and an abundance of food options. Among other things, this Chinese restaurant at The Parisian Macao is known for its premium hotpot offering a mind-blowing selection of ingredients, from carefully selected meat to seafood. First and foremost, the soup variety is hard to beat. They have comfort bases such as Chinese herbal chicken soup, as well as more extravagant ones–coriander with century egg or pigeon. Guests can pick whatever they want to dip in the soup from the a la carte menu (Scottish razor clam and Australian Wagyu beef are highly recommended). Those who prefer a set menu can choose from the two–one is more affordable, the second one would be great for special occasions. Both menus include seafood, meat, veggies, noodles, and dessert. The service at Lotus Palace is attentive and friendly, so if you are having your first hot pot adventure, you can totally rely on the staff to guide you through it.
Lotus Palace Shop 3316, Level 3, The Parisian Macao, Estrada do Istmo, Lote 3, Cotai Strip,  +853 8118 9260, www.parisianmacao.com
Also read: Lotus Palace at The Parisian Macao: Have Hot Pot Like a Pro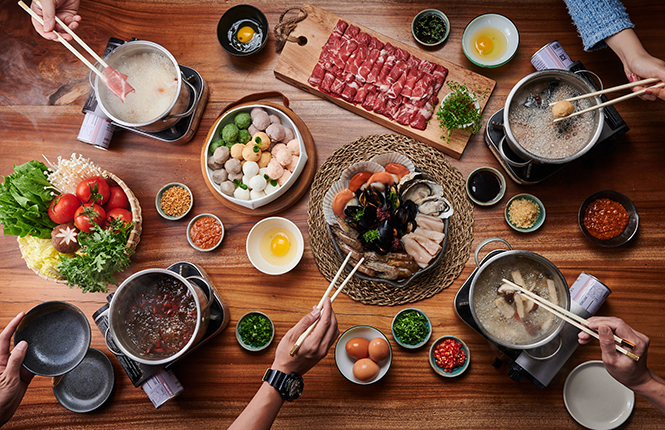 Monsoon
Monsoon is extremely popular with Macau visitors and residents love this location for the taste of real home cooking. If you're a spicy food lover, you will be spoilt for choice with insanely hot Sichuan and Hunan specialties. The renowned Monsoon Hot Pot is a special part of their menu. It is meticulously served in an individual hot pot with your choice of premium soup base. Each hot pot session can be enjoyed at a maximum of two and a half hours.
Altira Macau  Avenida de Kwong Tung, Taipa, +853 2886 8888, altiramacau.com/en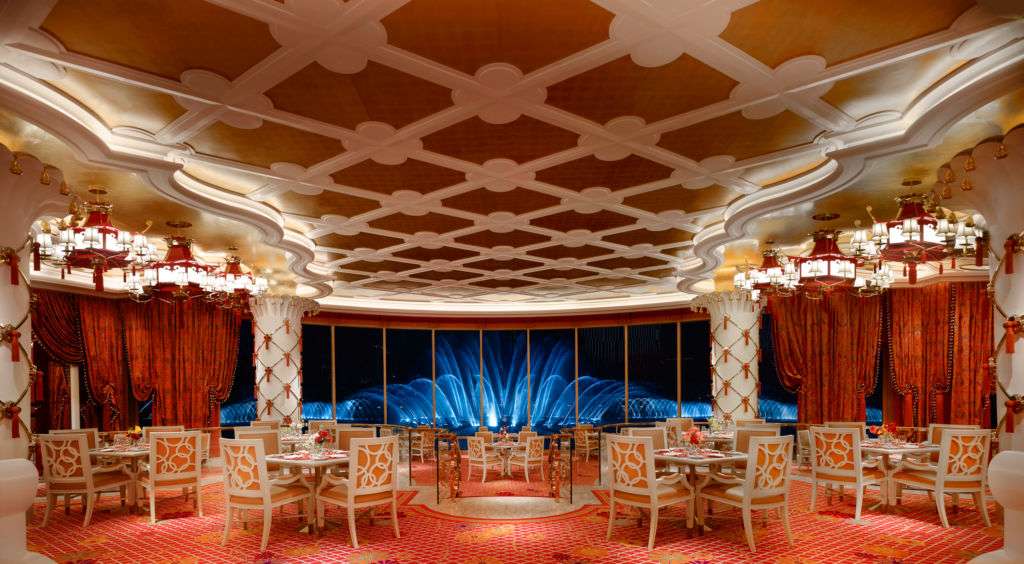 FONTANA 
Fresh abalones, oysters, mud crab, assorted premium seafood, and meat set all comprise a rich hot pot menu at Fontana that will sate your appetite. Choose from nine signature broths featuring traditional, herbal, and regional flavors. Then, select from high-quality meats and organic vegetables from sets priced at MOP $888 for two persons. Enjoy your meal with your loved ones with a panoramic view of Performance Lake. The seating at Fontana has been designed as a two-tiered dining room and the dining experience here is always quite memorable.
Fontana  Wynn Palace, Avenida da Nave, Desportiva, Cotai, +853 8889 3663, www.wynnpalace.com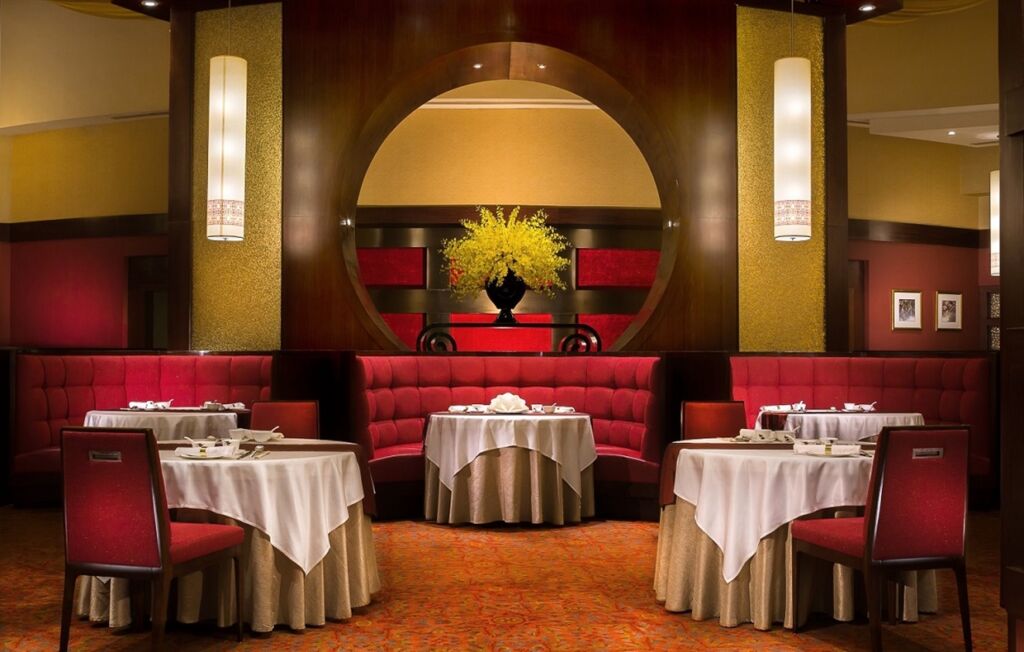 Golden Court
Golden Court is already prominent for the high caliber of Cantonese cuisine. The freshness of seafood at this location is simply incomparable with an array of fish and shellfish selection through 18 live fish tanks. Guests will love the free valet or self parking for three hours upon spending giving them time to shop at Sands Macao or go for a stroll after a lovely meal. The vibe here is always elegant and intimate offering guests privacy to enjoy special moments.
Golden Court 3/F, Sands Macao, 203 Largo de Monte Carlo, Macau, +853 8983 8222, www.sandsmacao.com/golden-court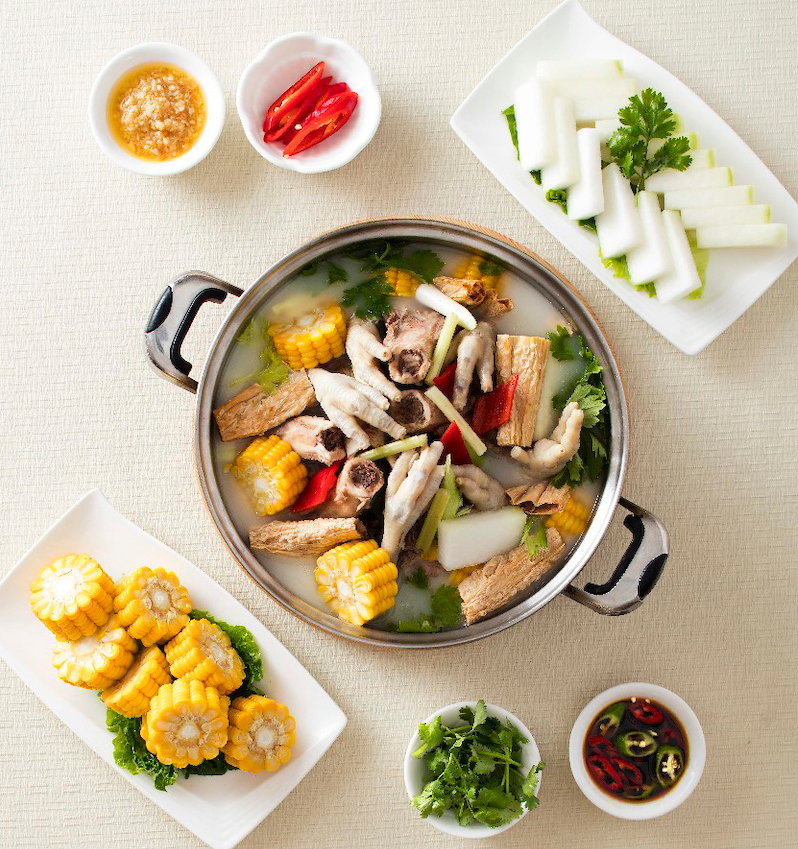 Lei Ka Choi
Broadway Macau is always a beautiful location for a stroll with family, friends, or colleagues. Head to one of our favorite dining spots for sharing at Lei Ka Choi. Taking pride in a more traditional taste, we recommend a taste of classic pork bone marrow casserole. Just the right blend of spices and ingredients with nothing too complicated for our taste buds, this comfort food, and the laidback vibe plus delicious options is what you'll need for relaxed dining with the whole family or friends and colleagues.
Lei Ka Choi Broadway Macau, Avenida Marginal Flor de Lotus, Cotai, +853 8883 3338, www.broadwaymacau.com

Hip Seng Seafood Hotpot
Everything on the menu of Hip Seng Seafood Hotpot is simply mouth-watering. Capturing the heart of Cantonese food culture, this restaurant is frequented by true foodies looking for a unique and delicious hot pot meal. Their menu features a wide variety of fresh seafood including fresh Japanese-style abalone, Canadian geoduck, and Four Treasure seafood balls, in addition to a unique hot pot soup base. Guests will also find nine luxury dining rooms to enjoy a private fine-dining experience or even host a celebration.
StarWorld Hotel 5/F, Avenida da Amizade, Macau, +853 8290 8668, www.starworldmacau.com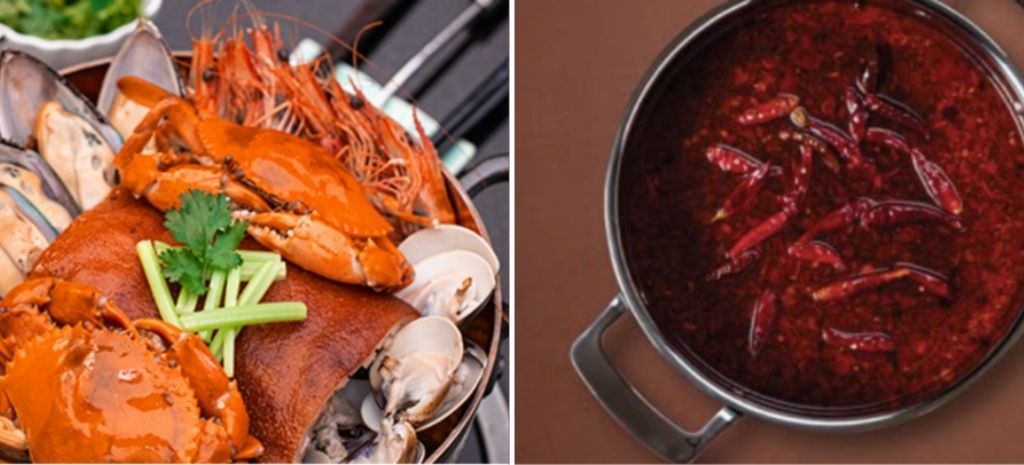 Hao Guo
Head to MGM Cotai if you're craving hot pot. Hao Guo offers the best seafood hotpot and regional Chinese cuisine all under one roof. Explore a wide selection of premium ingredients combined with traditional, contemporary, or herbal broths across northern and southern China which can be cooked in individual or specially-designed sharing hot pots. It's a vibrant place for families, friends, and even workmates to commune and celebrate after a long day. The restaurant features a series of open, private, and semi-private spaces and an outdoor terrace giving diners a lot of seating options.
Hao Guo MGM Cotai, Macau Ave. Da Nave Desportiva, Cotai, Macau +853 8806 2368, www.mgm.mo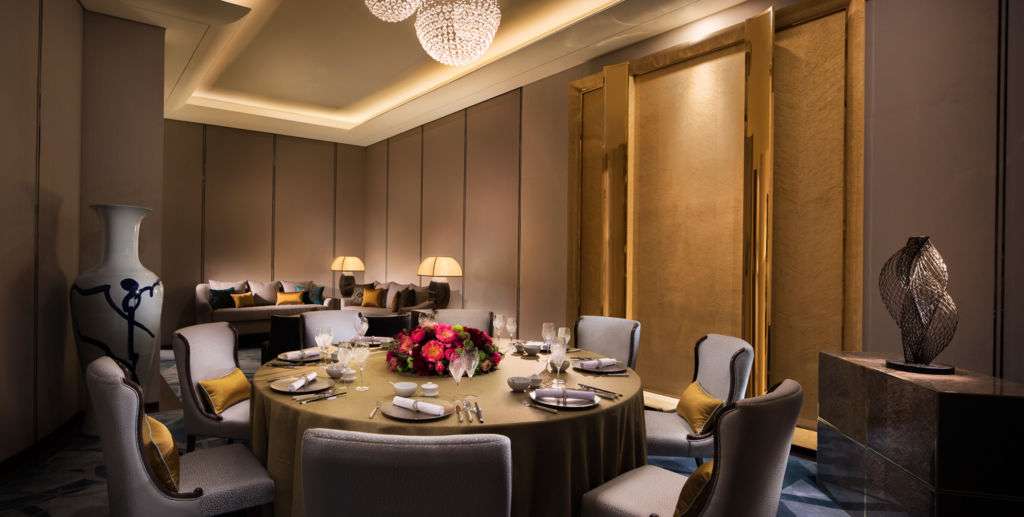 Man Ho Chinese Restaurant
Nestled at JW Marriott Hotel Macau's stylish surroundings, Man Ho Chinese Restaurant is quite posh for a hotpot escapade. But don't let that deceive you, the serene setting is where a heartwarming hot pot awaits with a wide selection of tender meats, live abalones, shrimps, oysters, garden-fresh vegetables, and more. You will also find nine private dining rooms at this restaurant. Each setting provides privacy and comfort while relishing the good food and creating wonderful memories with loved ones.
Man Ho Chinese Restaurant JW Marriott Hotel Macau, Galaxy Macau, Cotai, +853 8886 6888, www.galaxymacau.com
Hong Kong Gold Medal Seafood Hot Pot
Hong Kong Gold Medal Seafood Hot Pot is nestled in Galaxy Macau, where a few of our Macau hot pot selections are as well. However, this is no ordinary hot pot location because they offer a gastronomic journey boasting a unique selection of soup bases, such as the signature premium beef broth. Fresh seasonal seafood from around the world is the secret to the restaurant's success and it offers diners an exciting journey of flavors!
Hong Kong Gold Medal Seafood Hot Pot Galaxy Macau, M/F, M01, +853 8883 2266, www.galaxymacau.com
Haidilao Hot Pot
First founded in Sichuan in 1994 and nowadays having nearly 1600 branches spread all around the world, Haidilao Hot Pot is no less than an institution. The Macau branch of this chain specializing in hot pot is located at The Londoner Macao integrated resort and, often filled with families, it is a firm favorite among the local crowd. Although making little room for visual distractions, as the limelight at this place is set on its delicious fare, Haidilao is an inviting eatery sporting a modern design.
Haidilao Hot Pot serves up seven different kinds of broths, among which Sichuan spicy hot pot and tomato soup hot pot are the most popular, and a myriad of dishes to go with them. From seafood, beef, and lamb to leafy greens, mushrooms, tofu, and classic options such as cheese crispy sausage and crispy fried fish skin, guests are spoiled for choices at Haidilao Hot Pot. To wash down the hot pot feast, Haidilao offers its own homonymous beer brand.
This article was originally written by Apple Salangsang in January 2018 and updated by Sara Santos Silva in October 2021.
Tags
Related Posts