Set on the top floors of the spectacular entertainment and leisure destinations – Galaxy Macau, Ritz-Carlton, Macau is perhaps one of the most premium hotels in town. Though my many visits, I have discovered an exciting and exquisite dining destination lately, and very few people know about it.
Situated on the 53rd floor, The Ritz-Carlton Club offers a sense of privacy and exclusivity.  An elegant and refined space with an understated palette of creams and grays, which stand out against the dark stained wooden flooring, its private rooms are interconnected and adorned with a remarkable collection of modern art . Floor to ceiling stained cut glass windows frames the ambiance of the room. A custom-designed, hand-blown crystal glass chandelier suspends from the coved ceiling, adding a touch of sparkle to the room.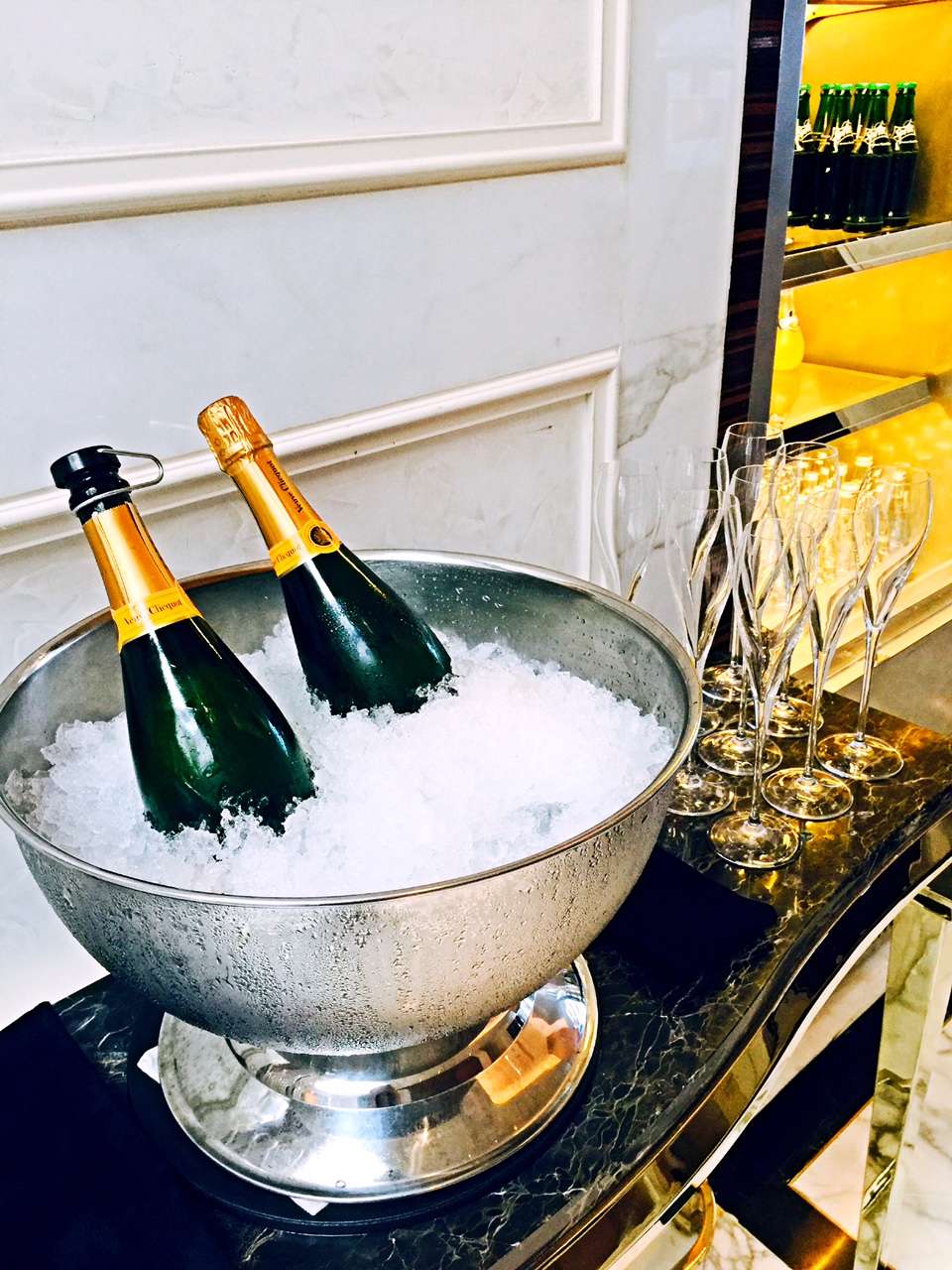 The gallery dining area is bright and breezy with a fresh garden-inspired color palette of mint, lime and turquoise. It is the perfect place for guests to enjoy breakfast surrounded by beautiful Calcutta Oro marble walls, featuring custom handcrafted porcelain details created by artisans in Canada. A contemporary custom designed chandelier made up of different tones of blue Murano glass hangs from the cove ceiling adding a touch of sparkle to the room. In addition, the patterned Calcutta Oro marble floors balance out space with subtle hints of green and blue repeated throughout.
Whether you would like a glass of Veuve Clicquot champagne for lunch or some stunningly perfumed tea to be enjoyed in the morning or afternoon, the space has everything that will satisfy your cravings. Be pleasantly surprised by the Le Palais des Thés tea collection offered at the club. A tea production company based in France, Le Palais des Thés creates unique blends such as "Fleur de Geisha," a cherry blossom green tea inspired by the Japanese Hanami tradition of cherry blossom viewing. It will leave you mesmerized and amazed.
Stylistically speaking, the milk bottles that are custom-made for the Ritz-Carlton, Macau, are the most fascinating presentation of milk that I have encountered lately. With a cow's head imprinted against an opaque white background and the hotel's logo below it, the bottle immediately glamorized the entire milk drinking experience.
During lunch, there are chefs standing by to prepare your favorite bowl of noodles or simple hot dishes for you à la minute, while marvelously fresh fruits and salads are available in a different section. Afternoon delights are served in Ritz-Carlton's signature style, delicately sized, with both sweet and savory elements, as well as several delicious scones on the side. After all, intimacy, exclusivity, and personalized attention to detail are hallmarks of The Ritz-Carlton standards of hospitality and The Ritz-Carlton Club proves no exception in enabling guests to revel in the finest personal service and the best of Asian luxury. It is open daily for breakfast, lunch, afternoon tea, and dinner.
The Club Lounge 53rd floor The Ritz-Carlton Macau +853 8886 6868, www.ritzcarlton.com
Tags
Related Posts