The Macau Jazz Week takes place from December 11 to 15 and it's a free admission festival for all to appreciate music in its natural state. The opening concert: Ensemble Transience (International) features Macau musicians. Founded by Hong Kong guitarist and composer Teriver Cheung, the contemporary jazz chamber group, Ensemble Transience, merges jazz, classical and various styles with unlimited forms of instrumentation. Since 2015, this group has been touring international and receives enthusiastic feedback. For this very Macau Jazz Week, with conductor Ang Shao Wen and organist Kerong Chok from Singapore with drummer Hong Chanutr Techatana-nan from Thailand, Cheung will be playing works by himself and Chok, featuring Macau musicians: trumpeter Nelson Leung, oboist Tina Che, saxophonist Alex Cheng and Worktones String Quartet, and lifting the curtain of the Jazz Week entitled "The Sound of Pan Asia". There is also a talk by Ang as conductor and Chok as composer, searching for the path of contemporary jazz in Asia.
Chok Kerong is an internationally renowned organist, pianist, and composer. He has released two albums, "Good Company" and "Tales They Told Me", both of which feature his expansive songwriting and command of the organ. His current organ trio is considered to be one of the finest ensembles to emerge from Singapore, and the group's music reflects the members' dedication to swing, the blues and an aesthetic that favors authenticity above all. Expect uncompromising music that engages both heart and mind, presented with a startling depth of expression. The Kerong Chok Trio (Singapore) Concert happens on December 13.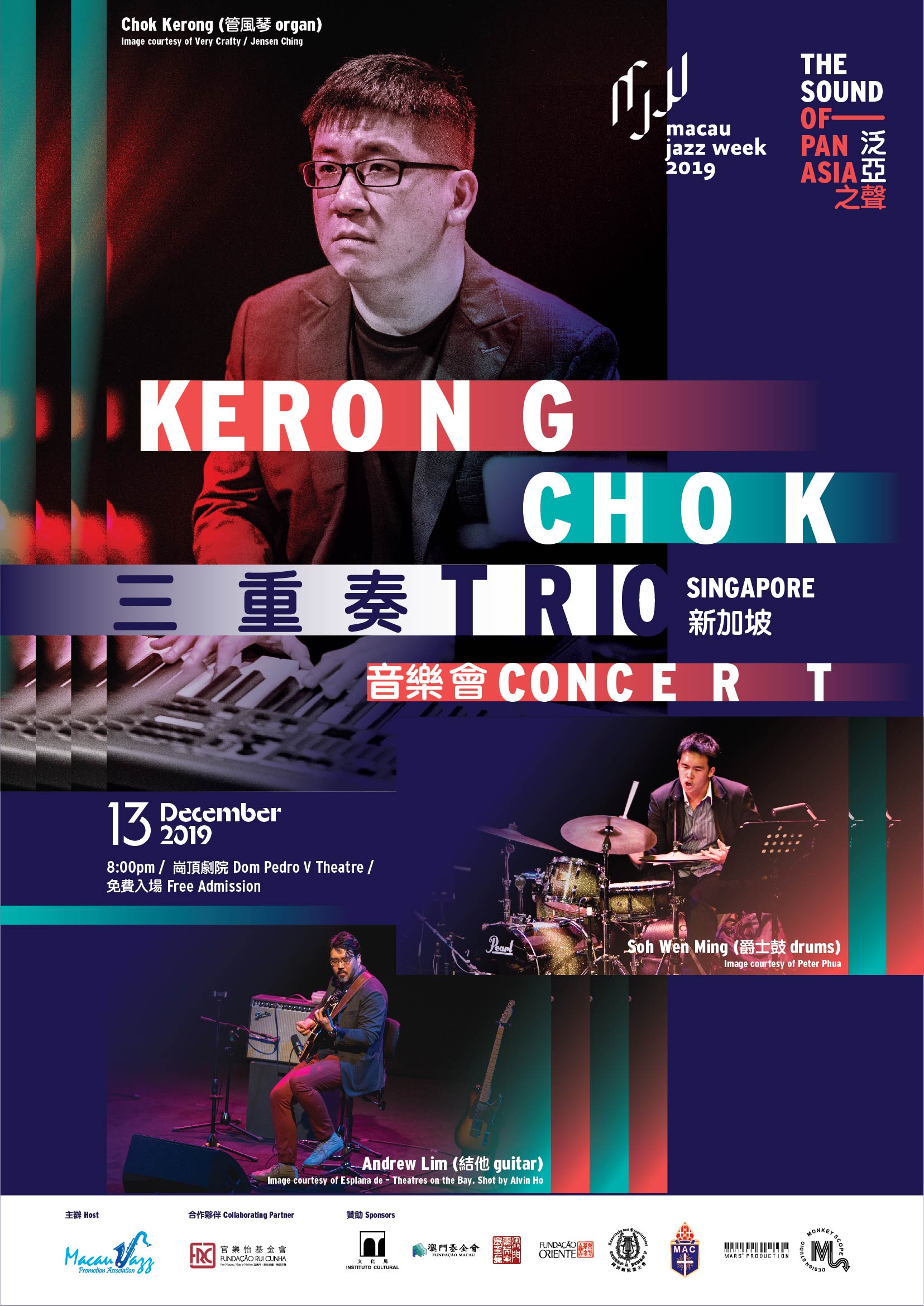 The Vincent Ong Trio (Malaysia) ft. Jens Bunge (Germany) concert, takes place on December 14. Bassist Vincent Ong has been active in Malaysia and Asia region on both performing stage and recording studio, with profound experience and excellent performance skills, he's back to the Jazz Week as a leader, featuring the legendary German harmonica player Jens Bunge: endorsed by Toots Thielemans and played with Art Farmer and Barbara Denneriein, etc. Bunge has issued either personal albums and is the exclusive sampling musician of various brands of music modules. Ong and Bunge give a unique performance of both original and classics with pianist Kom Wongsawrt (Thailand) and drummer Charles Wong. (Malaysia).
Chromatic harmonica is the instrument that Jen Bunge performs, with exquisite tone and unique skills. Bunge is invited to give a masterclass to introduce the harmonica and its application on jazz, on December 15. The closing event of this year's jazz week is a  jam session. This has become a compulsory Jazz Week event.
Local musicians perform with guests, and Macau guitarist Chan Hon Chong and Hong Kong guitarist Terry Yau participate. Join them at the beautiful Orient Foundation and have a laid-back Sunday with music of no boundaries! The concert finale happens on December 15. The Macau Jazz New Forces Concert by local groups debuted in 2015, as the largest platform in Macau. Macau Anglican College Big Band and Macau Jazz Orchestra will participate, while Macau Youth Chinese Orchestra is also invited to break the boundaries.
When: Opening concert – 8:00pm, Wednesday, December 11, 2019
Talk: The Path of Contemporary Jazz in Asia – 7:30pm, Thursday, December 12, 2019
Kerong Chok Trio (Singapore) concert – 8:00pm, Friday, December 13, 2019
Vincent Ong Trio (Malaysia) ft. Jens Bunge (Germany) concert – 8:00pm, Saturday, December 14, 2019
Jens Bunge jazz harmonica masterclass – 2:00pm, Sunday, December 15, 2019
Big jazz jam – 4:00pm, Sunday, December 15, 2019
Finale Concert: Macau Jazz New Forces Concert – 8:00pm, Sunday, December 15, 2019
Where: Concerts – Dom Pedro V Theatre, Largo de Santo Agostinho, Macau
Masterclass and jam session – Casa Garden, Orient Foundation, 13 Praça de Luís de Camões, Macau
How much: Free admission
For more information, send an email to [email protected]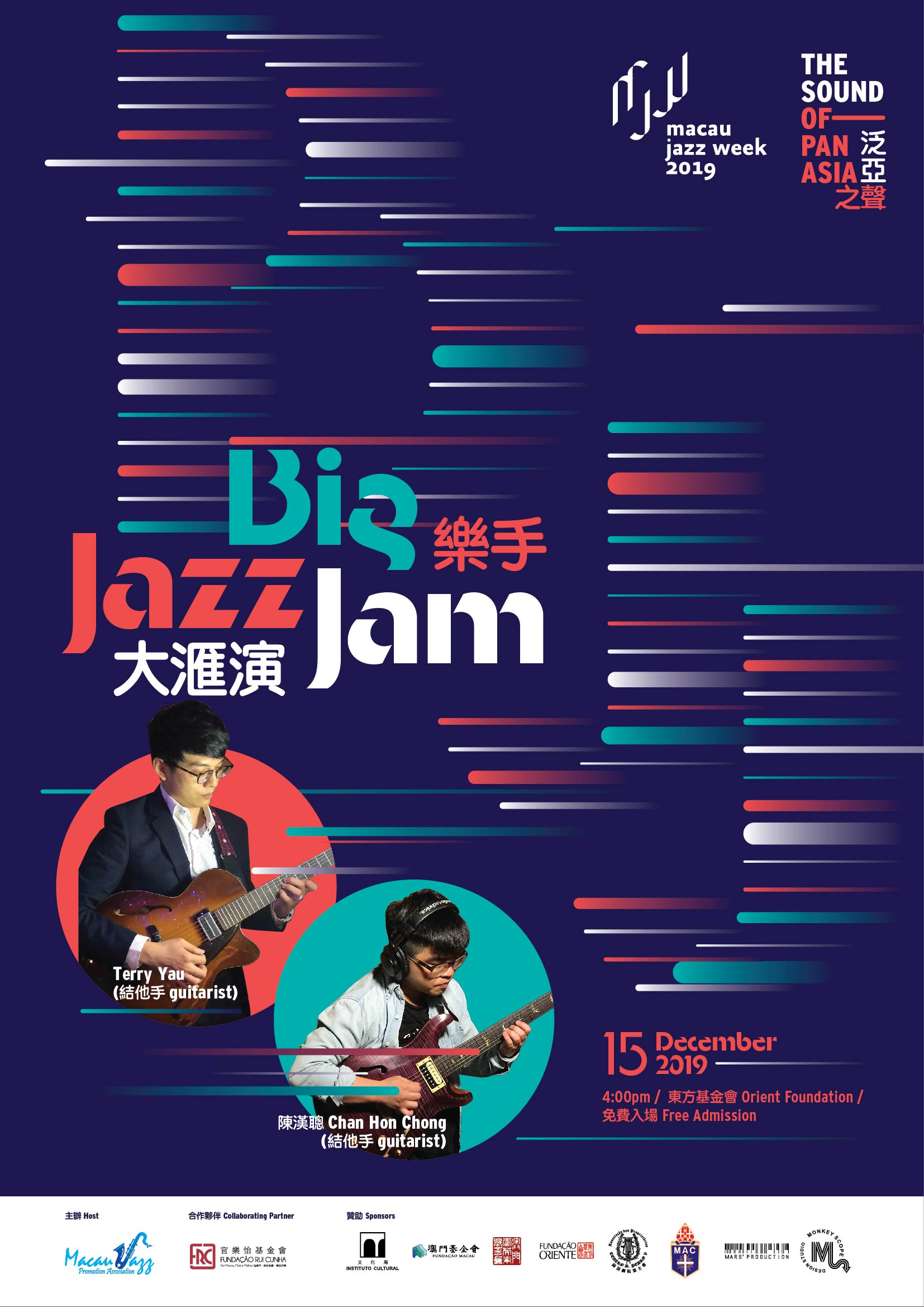 Tags
Related Posts