If you thought Mexican food was all about nachos, tequila, and tacos, think again. In order to get a proper gauge of Hong Kong's Mexican food scene, we went straight to the source. Our taste-testing adventures were supplemented with some tips from Mauricio Lozano, President of The Mexican Chamber of Commerce in Hong Kong (MexCham). So if you're dying to know which are the top Mexican go-to eateries in Hong Kong, this is for you. The good news is that there are too many to mention but we managed to narrow them down to a top ten, thanks to Mauricio!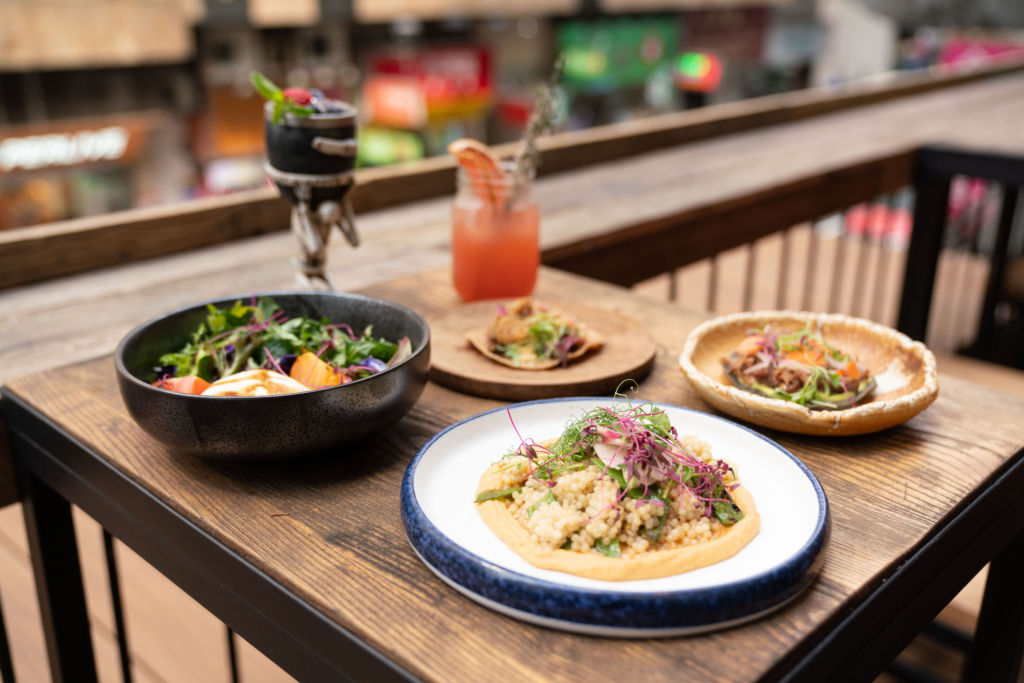 Te Quiero Mucho
A must-order dish here is the "Taste of Yucatan", the most interesting and unique tostada in the city! The brunch and breakfast service here is also the only place in Hong Kong serving Mexican breakfast fare like chilaquiles which are tortilla chips, served with spicy tomato sauce, cheese and avocado.
Translating to "I love you very much" in Spanish, Te Quiero Mucho (TQM) is a fresh concept by the Ovolo hotel group. How do we know it's authentic? How about the three Mexican chefs and Mexican hotel manager! No surprise here then that many have hailed the tacos here as the best in Hong Kong. The vibe is unpretentious yet trendy, a good place for catching up with friends while grabbing a bite. They'll be opening a second location at Ovolo Southside at the end of September which means more Mexican flavors in the city!
Te Quiero Mucho GF & L1 286 Queen's Road Central, Sheung Wan, Hong Kong, +852 3423 3290, www.tqm.hk
11 Westside
Mexico native Esdras Ochoa is the famous head chef behind this truly "west side" joint located in Kennedy Town. In fact, chef Ochoa–dubbed "the world's Taco King"–was featured in the Netflix series "The Final Table". The Lover's Beach Taco is stuffed with tempura oyster, burnt jalapeño beurre blanc and Santa Barbara uni, simply delish! Seats on Taco Tuesdays (all tacos 50% off!) are hard to come by, so do make reservations in advance and on Thursdays, all beers and shots are 50% off–salud!
11 Westside 1/F, The Hudson, 11 Davis Street, Kennedy Town, Hong Kong​, +852 9300 8068 (WhatsApp), www.facebook.com/11Westside
Photo credit: Chino Facebook page
Chino
Also located in Kennedy Town, Chino was one of the first higher-end Mexican places that opened up in Hong Kong. It has a fusion concept serving mostly Mexican cuisine such as enchiladas and mole with a touch of Japanese. Did you know that mole is Mexico's national dish? It's almost like a curry made of a rich traditional sauce, difficult to find outside the country. Come for top-grade ingredients and seafood such as scallop, lobster and Kataifi shrimp. The chef plays up the typical pork carnitas with pulled duck instead, paired with grape tomatillo. The ambiance makes Chino a quiet place to bring your significant other out on date night. For tasty updates on their menu, check out their Facebook page.
Chino 1B-1C New Praya, Kennedy Town, Hong Kong, +852 2606 0588, chinorestaurant.com
Agave Mexican Cantina
If you didn't already notice from the dishes listed above, Agave serves more than just Tex-Mex. It's known as the classic original Mexican place in Hong Kong, having been around for almost two decades! The restaurant's head is Chef Luis Porras, who has been in Asia for over 25 years now, cooking up authentic Mexican specialties (check the "Epecialidades Mexicanas" section on the menu). Dishes that you simply must try here include empanadas (Latino baked or fried pastry dumplings), molcajetes (an Aztec-Maya dish served in a hot volcanic stone bowl with cilantro rice), frijoles "charros" (beans in broth) and ensalada de nopal (roasted cactus salad). Their Mexican lunch set is particularly popular and this is the place to be for a down to earth meal with hearty food!
Agave Mexican Cantina (Central) G/F 26 Hollywood Road, Central, Hong Kong, +852 2523 1988
(Wanchai) Shop C & D, G/F 93-107 Lockhart Road, Wan Chai, Hong Kong, +852 2866 3228, www.epicurean.com.hk
Photo credit: El Macho Facebook page
El Macho
This charming neighborhood joint is a wonderful little place on a corner in Sai Ying Pun. Get a vibey street feel at this local hangout with a long bar and lively decorations, colorful sombrero hats and inspiring murals in the style of Frida Kahlo and Diego Rivera. Their frozen margaritas are a must-order with a food selection of tacos, quesadillas and nachos. Jalapeño poppers and the chimichanga deep-fried burritos are simple yet pleasingly filling. For dessert, churros with hot chocolate really hit the spot! Check their Facebook page for updates on their delicious offerings and updates.
El Macho 1 Third Street, Sai Ying Pun, Hong Kong, +852 2523 2488, www.facebook.com/pg/elmachohk
Taqueria Supermacho
Trendy is the word for this taco joint by Black Sheep Restaurants gunning for Jalisco and Baja's beach party vibes. Upon entering, you'll be greeted with cheers of "Hola bienvenidos!" and there's usually a buzzing crowd of Soho regulars enjoying creative cocktails. Get the Coco Loco served in a coconut shell with hibiscus-infused silver tequila that's super refreshing and fruity! Their ceviche dishes are worth highlighting for the quality of their seafood along with their queso fundido (baked cheese with adobo-marinated steak), rock shrimp aguachile (like ceviche submerged in water with avocados), charcoal-grilled Mexican street corn and the grilled chicken tostadas shouldn't be missed either.
Taqueria Supermacho 33-35 Bridges Street, Sheung Wan, Hong Kong, +852 2333 0111, www.taqueriasupermacho.com
XOCO Mexican Cantina and Bar
Alright, we have to admit that we don't all always crave mega-authentic Mexican fare. Sometimes, we straight up just want cheezy, cliche Tex-Mex with a side of tequila. This Mexican cantina in Mid-level does the trick if you want to avoid the rowdy venues at Wan Chai or Lan Kwai Fong. If you like Chili's in the US, you'll like XOCO and their margaritas are touted to be the best in town. Their enchiladas, burritos, chimichangas, and fajitas are also great munchables to go with an ice-cold beer.
XOCO Mexican Cantina and Bar 31-37 Mosque Street, Mid-level, Soho, Hong Kong, +852 3620 2323, www.facebook.com/pg/xocosoho
Photo credit: El Charro Cyberport Facebook page
El Charro
If you've got little ones in tow, head to this upscale restaurant in the Cyberport mall, in the midst of a business park by the sea. The drinks list is extensive, and there's actually a Kid's Menu with smoothies and milkshakes to boot! Check out their pastor tacos (slow-cooked seasoned pork topped with roasted pineapple and pico de gallo) and tacos de pescado (Baja California-style battered fish served on soft flour tortilla) to go with your drinks. If you're feeling a little lazy, the great news is that they also deliver and you can order here.
El Charro Shop 208, Cyberport, 100 Cyberport Road, Pok Fu Lam, Hong Kong, +852 2793 2522, www.elcharro.hk
Seven Sea Soup. Photo credit: Verde Mar website
Verde Mar
Eligio Escobedo is the chef behind Verde Mar and has been in Hong Kong's Mexican food scene for years, initially founding (and closing) the original taco trucks that helped to grow awareness and familiarity with the cuisine. His food mostly leans towards Tex Mex, but he does make some dishes that no other place in Hong Kong has so far–mostly different stews and soups, home-cooking style food that Mexicans would usually get during family dinners back home. Notable dishes include birria beef stew, winter avocado hotpot, whole roasted suckling pig (order three days in advance!) and horchata (plant milk beverage). Vegans and vegetarians are very welcome and are accommodated with special menus as well.
Verde Mar 24 Tai Wong Street East, Wan Chai, Hong Kong, +852 2810 0888, verde-mar.com
Photo credit: Brickhouse Facebook page
Brickhouse
If you like speakeasies, this is the place to go. Hidden in an alleyway off the main Lan Kwai Fong party strip, Brickhouse is a late-night restaurant and bar by Maximal Concepts, the folks behind Mott 32. This award-winning dining sport is the most authentic (dare we say best?) Mexican option out of those in Central's nightlife district. Here, you simply must order their hamachi and bandera de Mexico (tuna) ceviches, protein pancake 2.0 with wagyu beef cheek and Oaxaca cheese, and the 24-hour slow-cooked beef rib. If you're in the mood for something a little more intoxicating, head straight for the legendary cocktails, such as the spicy michelada with watermelon or the paloma with mezcal and grapefruit cordial.
Brickhouse 20 D'Aguilar Street, Hong Kong, www.brickhouse.com.hk
COA
Homegrown Hong Kong bar COA–focusing on Mexican inspired artisanal cocktails–deserves an honorary mention on this list for the excellent and faithful way it presents the rich and vibrant drinking culture of Mexico. There're the usual tequila and mezcal but also other Mexican spirits such as raicilla, tuxca, bacanora, sotol and charanda!
Jay Khan is the Hong Kong-born and raised cocktail bar veteran behind COA, well-known (and loved) in the industry. COA is notable for holding the city's largest agave collection, clocking in at around 200 bottles. Must order drinks here are the negroni mezcal with an actual piece of dark chocolate and fermented pineapple and hibiscus tequila which sounds so fruity and interesting!
COA Shop A, LG/F Wah Shin House, 6-10 Shin Hing Street, Central, Hong Kong, Central; +852 2813 5787, coa.com.hk
Tags
Related Posts