Staying at a hotel usually means one thing–you're on a holiday! However, staycations in a megacity like Hong Kong can be difficult to fully feel like you're on a well-deserved break. We visited the Kerry Hotel, Hong Kong and absolutely loved the experience! Kerry Hotel opened back in 2017 as the city's first urban resort which boasts a resort vibe where you can really feel like you've checked into a destination and not just a hotel for a few days.
Kerry Hotel is located on the Kowloon side of Hong Kong in the area of Hung Hom. The hotel is easily accessible with a direct ferry from Central and the convenient Whampoa MTR Station nearby. If one word would sum up our stay at Kerry Hotel, it would be "spacious". Everything felt so open and spacious–hotel areas, rooms, facilities, restaurants, and others. The way it has been designed really allows for guests to feel a real sense of spaciousness–something that is hard to feel and find in Hong Kong.
The endlessly creative Andre Fu is responsible for the gorgeous interiors and once you enter the lobby, what strikes you first is the high ceilings with floor to ceiling windows allowing daylight to stream in through them and for anyone who walks into the hotel, to soak in the stunning city around them. Check-in is swift, pleasant and in no time you're arriving at your room.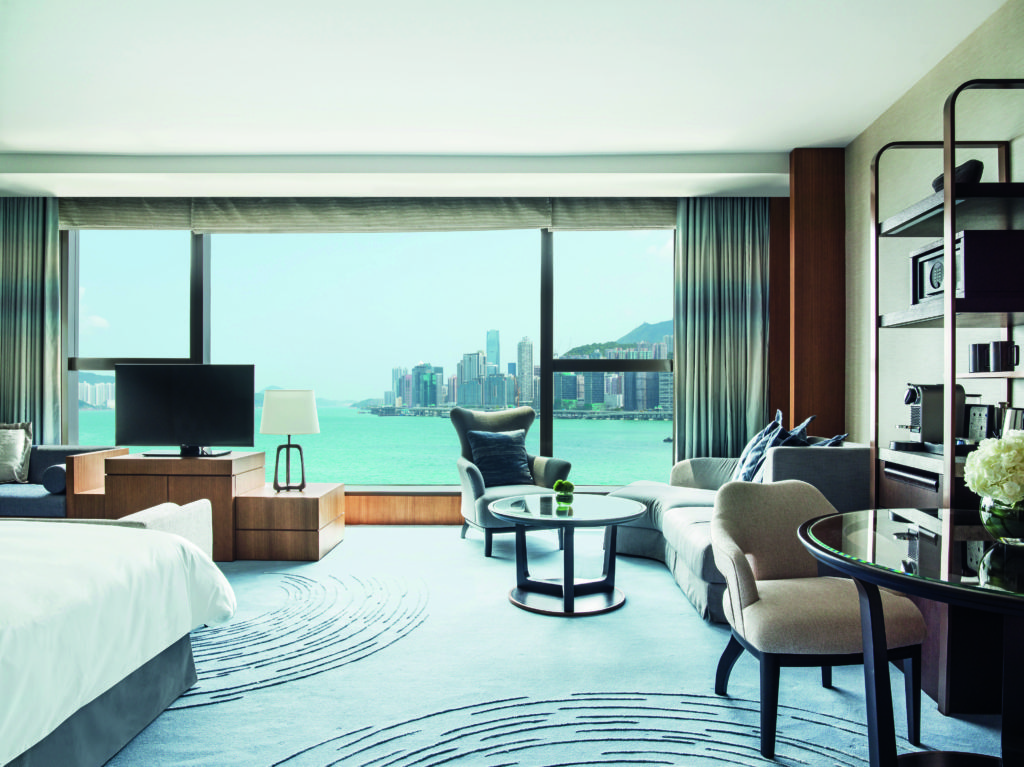 Rooms
Kerry Hotel boasts an impressive 546 guest rooms. Our room was on the 12th floor overlooking the dreamy Victoria Harbour. The uninterrupted harbor view from our room is the first thing we noticed as we enter the Deluxe sea view room. The view was especially mesmerizing at night.  The spacious rooms are fitted out nicely, with a large comfy bed and pillows, soft sheets, and comfy bathrobes which we lounged in for most of our stay. The laid-back vibe of the hotel is reflected in the rooms as well, with the open layout of the room and the carefully chosen color palette really allowing you to feel a sense of calmness. The touches of blue carpets and pillows blended in well with the earthy tones as well. There was a huge TV perfect for viewing the on-demand free movies, free WIFI, and a minibar too. Is it really a staycation without a bath? Of course not! Our room had an excellent rain shower and bathtub to soak in, double sinks, hanging space in the bathroom, and an abundance of…you guessed it, space! Free amenities were included which catered to most of our needs, as well as a complimentary bottle of champagne, fruit, and sweet snacks waiting as we arrived.
Dining
Kerry Hotel features quite a few places to enjoy a meal. From Big Bay Café which is an all-round kind of space where breakfast lunch and dinner are served. Their contemporary Chinese restaurant, Hung Tong boasts some of the tastiest Chinese food we have had for a while. Kerry Hotel's bar Red Sugar and its large outdoor terrace are not to be missed! Sunset on their terrace with a cocktail in hand is a right of passage when you visit the hotel- stunning is an understatement.
Since we had dined at their fabulous Chinese restaurant on a separate occasion we opted to fully enjoy room service in our plush robes while basking in the evening view from our room. Their in-room dining menu is pretty extensive and we ordered from both the Asian and Western menus. We ordered nasi goreng and a burger which were both equally fantastic!
The Club is the best place to relax with a great view of Victoria Harbour. Club access is almost like having your own private area to eat, drink, enjoy the view, and even work from if you want to. We enjoyed breakfast, afternoon tea, and happy hour all complimentary since we had Club access. It was really worth it for us during our stay, and would definitely recommend it. Their breakfast is served semi-buffet style with lots of options and local favorites like pineapple buns… yum!
Facilities
Kerry Hotel is undoubtedly famous for its incredible swimming pool, with a 180-degree view of Hong Kong, its infinity pool is hard to beat. It makes for the perfect spot to stare out into the harbor and soak in this amazing city we live in. Laying poolside offers views just as great and with plenty of umbrellas everywhere, it's perfect for those who like to get a tan on or read in the shade. You can also order drinks and food poolside which is a huge bonus as so many Hong Kong hotels do not allow this. There's something about dining poolside that really screams holiday, doesn't it?
Their spa deserves just as much mention as their swimming pool too! In fact, it was actually one of the best spa experiences we've had in Hong Kong. The massage therapists were very experienced and knowledgeable and didn't spend their time pushing us to buy products, but instead shared very helpful and useful tips for post-massage care and suggestions on the type of treatments to try next time! The spa rooms were comfortable, quiet, and relaxing–everything a spa room should be! The foot and head areas on the massage beds can be slightly elevated to suit your needs.
A final mention to the staff at Kerry Hotel, who were very professional and friendly throughout our stay. Never intrusive, always smiling and willing to help, we left feeling refreshed, rested, and ready to go back again soon!
---
"The Couples Retreat" package is a great option as well starting at HKD $3,900+10% per room per night. The Kerry Summer Staycation Series offers are available from 8 June to 30 September, 2020.
Kerry Hotel 38 Hung Luen Rd, Hung Hom Bay, Kowloon, +852 2252 5888, www.shangri-la.com
Tags