The city is buzzing with exciting events. This month feels like a marker as the year-end approaches. Have you explored Hong Kong's hotspots and ticked off things to do on your 2017 bucket list? We've got a fantastic list for foodies to check out. With the season changing, new menu offers, revamped restaurants, and stylish soirees—definitely what we all need for a sweet November.
MERCATO
(Featured image above)
The vibrant sharing-style Italian restaurant highlights new offers on their menu this month. Have a taste of the finest Italian products combined with fresh local produce creating a beautiful meal for which Italians are known for. With an elegant yet warm vibe, Mercato is the perfect place for all kinds of dining experiences. Sample the crab crostini, seared scallops from the a la carte menu. Don't leave without trying the delightful desserts in the form of honey yogurt pannacotta and hazelnut souffle tart.
Mercato, 8F, California Tower, 32 D'Aguilar St, Central, Hong Kong, +852 3706 8567, www.mercato-international.com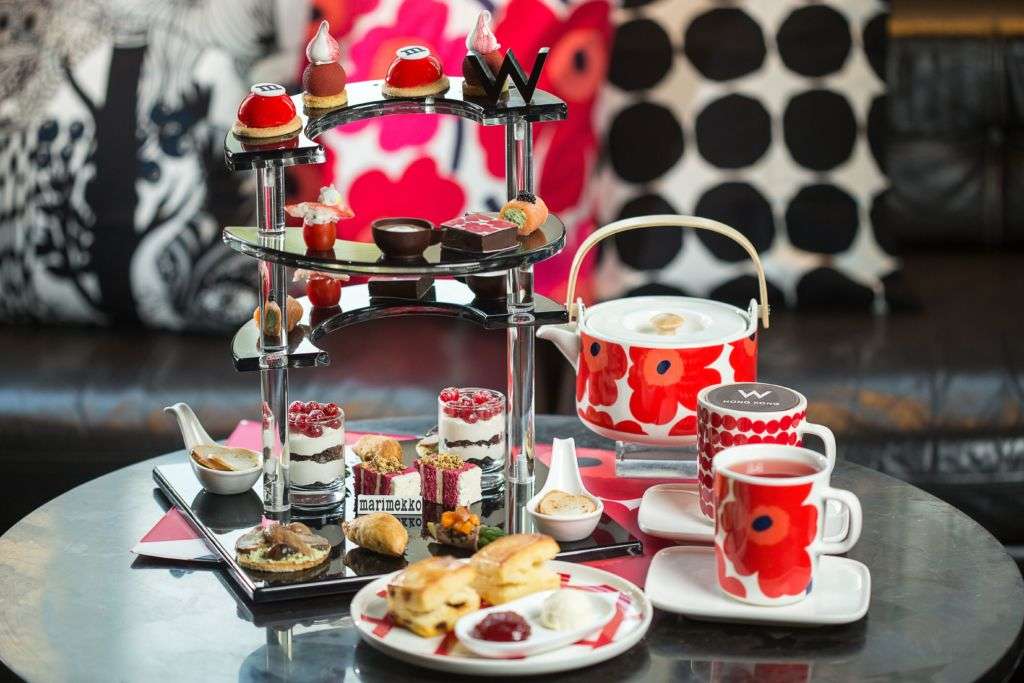 W HONG KONG X MARIMEKKO AFTERNOON TEA
Renowned Finnish design brand Marimekko joins forces with W Hong Kong to create a chic and elegant afternoon tea set this November. We love afternoon tea so much that we're always on the hunt for the most wonderful experiences in the city. And at first sight, Marimekko's bold colors and unique design immediately stand out from the presentation, its pretty much Marimekko themed everything! The flavors take us to seventh heaven as high tea desserts such as the red velvet strip cake and truffle chocolate taste delicious with every bite. The is one of the most Insta-worthy tea sets we have seen in quite some time and we especially love the crunchy chocolate and Bailey's cream glass with red currant dessert. Don't forget to hashtag #whongkongxmarimekko
The exquisite afternoon tea set is available from November 6 to 30, 2017 from Monday to Friday at 2:30pm to 6:00pm. It is priced at HKD $418 plus 10% charge for two.
W Hong Kong, Austin Road West, West Kowloon, Hong Kong, +852 3717 2889, www.w-hongkong.com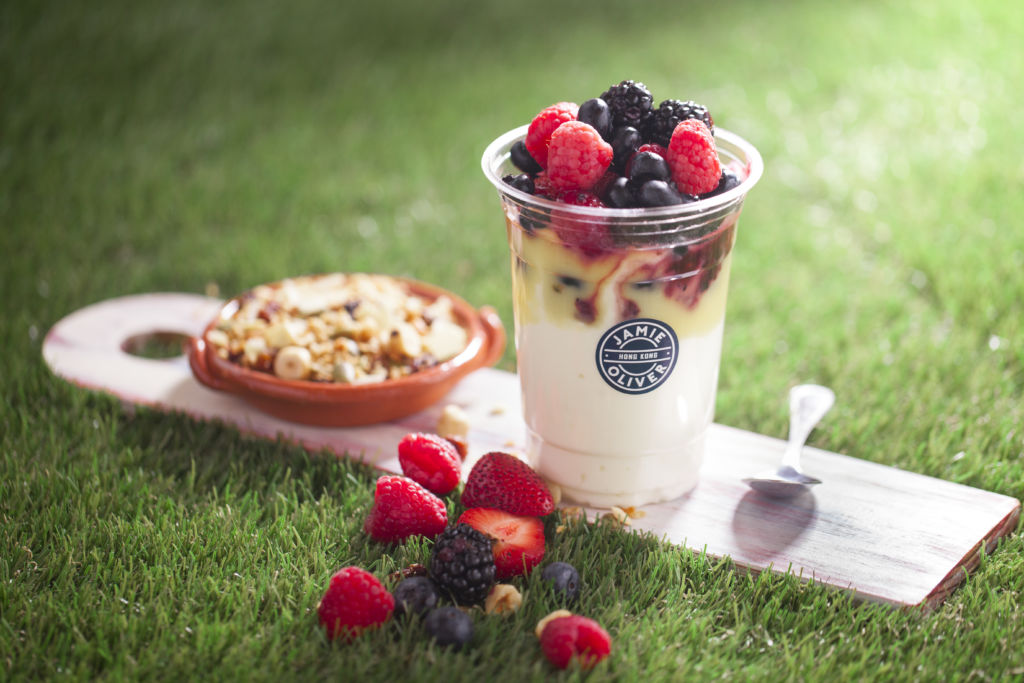 JAMIE'S DELI
Strategically located in Hong Kong's Harbour City, Jamie's Deli brings convenience, quality, and delicious taste to the bustling neighborhood. Fuss-free dining that's healthy, the dining spot marks the first outpost of British Celebrity Chef Jamie Oliver's eponymous grab and go concept in Asia.
Begin with breakfast for champions with freshly prepared salads, sandwiches, hot entrees and pizza that are just as nutritious as they are satisfying. Try the hot pastrami (HKD $55) and the Reuben sandwich (HKD $60), reimagined with Oliver's signature healthy twist. Choose lighter options, like the Bircher muesli (HKD $40) or the ham and cheese croissant (HKD $35). The lunch sets are also pocket-friendly such as the kale caesar (HKD $48), Gennaro's meatballs (HKD $55) and Sicilian baked sole (HKD $58). Healthy and happy kind of meals are the best to brighten up any kind of day.
Jamie's Deli, Shop 412, 4/F, Ocean Centre, Harbour City, Tsim Sha Tsui, Kowloon, +852 3758 3333,  www.jamieoliver.com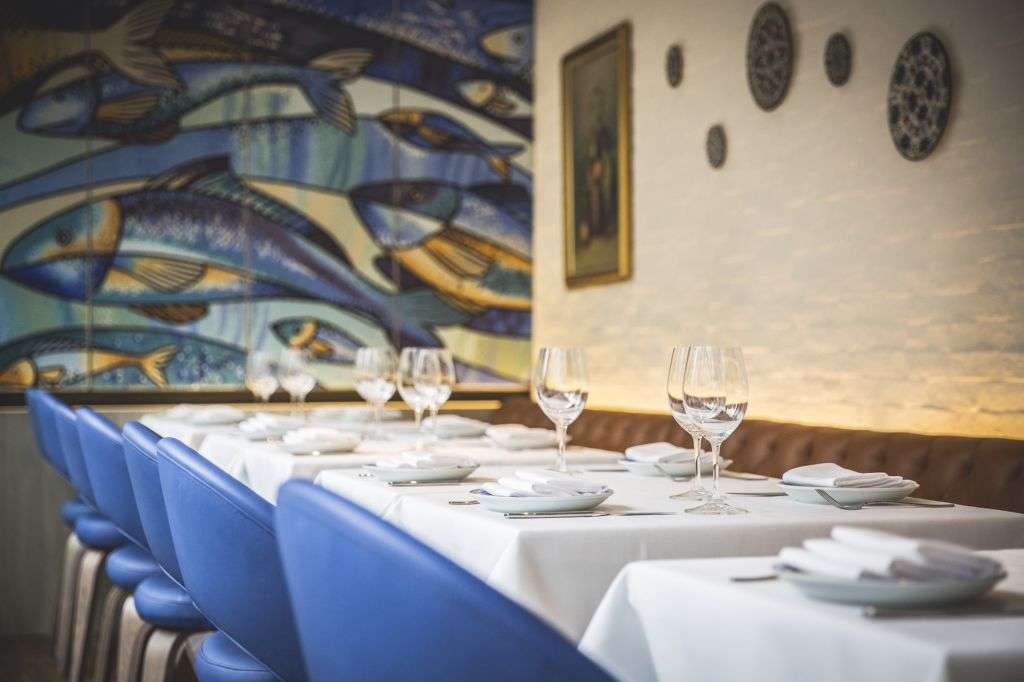 CASA LISBOA
This Portuguese dining hotspot in Hong Kong features an unforgettable weekend brunch that takes you on an exciting culinary journey. The new 8-course brunch menu that's available every Saturday and Sunday focuses on Portuguese flavors with the classic and new dishes over the relaxing ambiance of the stylish restaurant at just HKD $350 per person.
It is a gastronomical journey with the following six starters, featuring both Casa Lisboa's classics and sensational new items. Some of the classics include codfish cakes and clams casa Lisboa. The clams come slightly spiced, so if you prefer them with no chilli, just ask! They did that for us. In addition, the chef has also prepared some exclusive starters like garlic octopus, which is served hot and sizzling right in front of your eyes, "Alentejo gazpacho" cold soup and "Algarvia Tartare" beetroot goat cheese salad for the weekend brunch. The standout starter though is the sapateira. This will be a surprising discovery for those who love seafood. A very popular dish back in Portugal, sapateira is essentially a cold crab salad but it's so much more than that. You will love it.
The main course is served straight after, with six options to choose from. Among the six dishes, the Casa Lisboa "Francesinha" sandwich and codfish in "caldeirada" sauce are the exclusive special feature main dishes for this weekend brunch and not served during the weekdays. Francesinha is a traditional dish originating from northern Portugal in the city of Porto. It's basically a heart attack on a plate waiting to happen but its so damn delicious that you will take the risk. The sauce is a tad spicy just in case you are sensitive to that. We tried their bacalhau a bras which is a traditional dish made with salted cod, potatoes, and eggs. It doesn't sound like much we know but its a great mix of flavors and the texture is really different, those who have been to Portugal will appreciate this dish and the memories it will bring back. Their arroz do pato is beautifully presented and cooked. This main is known to English speakers as duck rice but it is most definitely not your standard rice dish. The rice is cooked in the duck broth before being roasted in the oven and served. The top of the rice is crispy with slices of chorizo while the inside of the dish is shredded duck and rice. Phenomenal. Desserts are great and worth a mention but its hard to fit them in. We loved their pineapple ravioli and serradurra and their chocolate cake is great too. If you are in a big enough group, go for one of each and share!
Casa Lisboa Gastronomia Portuguesa 2F, Parekh House, 63 Wyndham Street, Central, +852 2905 1168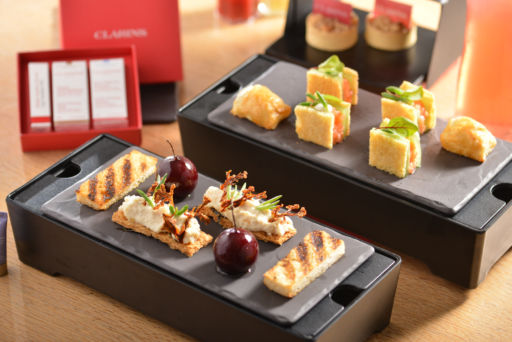 ALIBI'S AFTERNOON TEA SET IN COLLABORATION WITH CLARINS
Alibi – Wine Dine Be Social presents an exclusive afternoon tea set in collaboration with prestigious beauty brand Clarins. Inspired by the skincare brand's signature Instant Light Lip Comfort Oil, the Hotel's culinary team has created an array of delicious afternoon tea treats including foie gras cherry with grilled sourdough toast; smoked cod rillette with cauliflower, saffron coral and ice plant on nori puff pastry and slow-cooked duck confit sausage roll.
The journey continues with irresistible desserts including CarameFuji apple bonbon; Rosewater teardrop jelly with candied rose petal; Hazelnut-orange cream with Madirofolo single origin 65% cocoa dark chocolate on a sable biscuit and Earl Grey panna cotta tartlet.
Alibi's resident mixologist, Leo Cheung, has also crafted a refreshing Rose petal mocktail to complement the tea set.
It is available from September 15 to November 30. The afternoon tea is priced at HK $458 for two persons (limited to 10 sets per day), with an additional HK $388 to include a bottle of Perrier-Jouët Grand Brut Champagne. Each guest will also receive a complimentary Clarin's Mini Lip Oil and Skincare Set (valued at HK $315 each) after enjoying the tea set.
Cordis Hong Kong, 55 Shanghai St, Mong Kok, Hong Kong, +852 3552 3028, www.cordihotels.com
••
WATCH OUT FOR THESE EXCITING EVENTS IN HONG KONG
•••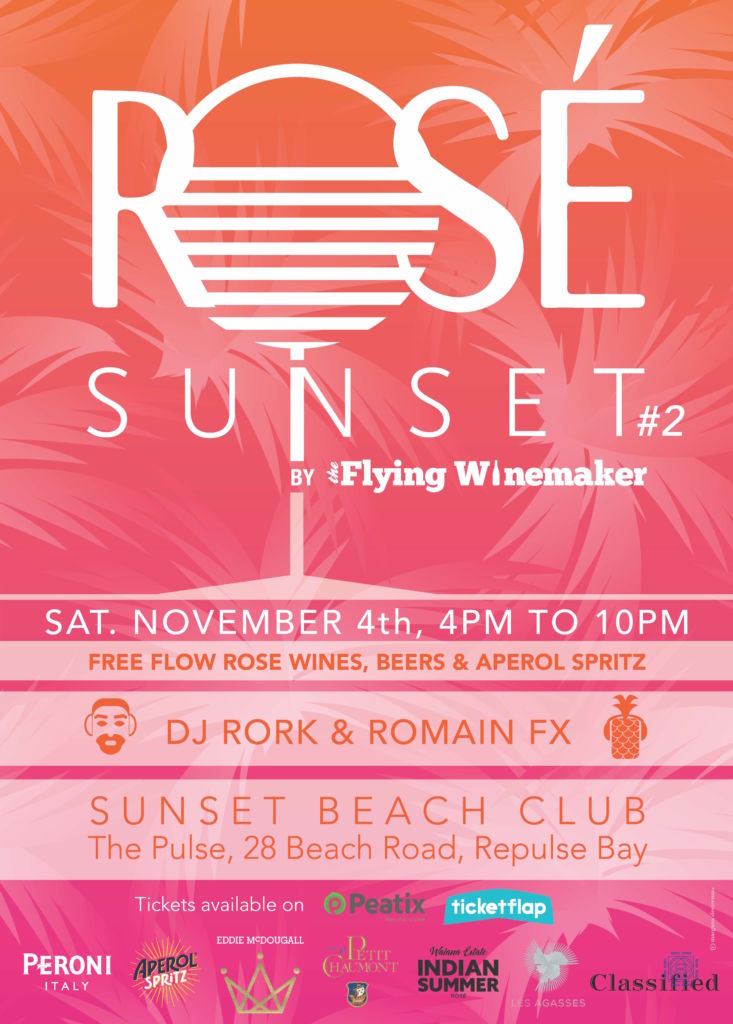 Rosé Sunset by The Flying Winemaker
As the winter weather begins, there's no better way to sip some stylish drinks with a stunning view of the city! Head to the second Rosé Sunset at Sunset Beach Club on Saturday, November 4.
Savor delicious bites with friends and enjoy the outdoors with some lively music delivered by legendary DJs in Hong Kong. Dj Rork and Roamin FX will set fire to the party and guarantee a fun and fabulous affair. Watch out for free-flowing rosé wines, beers, and Aperol spritz. Celebrate the first weekend of sweet November in style!
When: Saturday, November 4, 2017
Where: The Sunset Beach Club, The Pulse, 28 Beach Road, Repulse Bay
How much: MOP $100–MOP $220
For more inquiries, visit www.flyingwinemaker.com.hk or tickets at rosesunsethk.peatix.com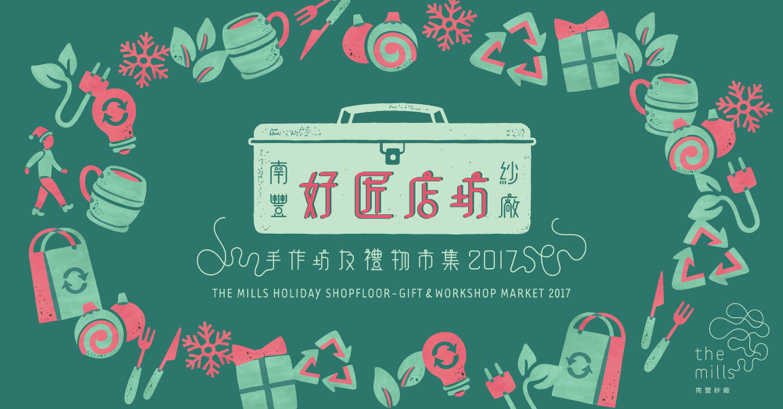 The Mills Holiday Shopfloor—Gift and Workshop Market 2017
Shopping is both an exciting and daunting activity this holiday season. Sometimes finding unique gifts can be challenging but The Mill Holiday Shopfloor is back this year by popular demand. Embark on a series of workshops that will help you customize your gifts to give it a personal touch.
Choose gifts that are substantial, meaningful and a perfect fit for the receiver. All the vendors offer just that: unique, customized, upcycled and durable gifts. Visit various booths at Nan Fung Place, The Annex and pick up that special gift.  In addition to workshops, The Mills Holiday Shopfloor is happy to welcome Mr. Tomy Fong, the first Certified BJCP International Beer Judge from Hong Kong, to host two talks about beer culture in Hong Kong, fun facts about beer and the art of beer tasting. There will also be free beer trial session at The Mills Holiday Shopfloor – Gift and Workshop Market 2017.
When: 1:00pm–8:00pm, Saturday–Sunday, November 25–26, 2017
Where: The Annex, 2F, Nan Fung Place, 173 Des Voeux Road C, Central, Hong Kong (Sheung Wan MTR Exit E3)
For more details, contact +852 3979 2300 or visit www.facebook.com/themillshk
Tags