Every guest who frequently dines at Caffé B, Macau's Italian restaurant with a stunning view of the Nam Van Lake, can hardly imagine this place without Cristiano Cannata. Greeting guests with a charming smile six days a week, Caffé B's manager has turned it into a well-known and successful family-style restaurant that is fully booked even during harder times such as 2020. How did he manage to lead the team through the challenges to achieve fortune? We sat down with Cristiano and asked him about Italian heritage, people skills, and becoming a lumberjack in Canada!
Many people around the world love Italian cuisine and going to Italian restaurants. Why do you think that is?
I believe it's because of the variety and quality of the products. Also, the Mediterranean diet is among the world's healthiest, so that is one more reason. 
Moreover, Italy is a country with a strong history of immigration. Italians left Italy and brought Italian food everywhere they went, so it became popular internationally.
Good point. How hard is it to run an Italian restaurant outside of Italy? What are the main challenges? 
I left Italy in 2001. First, I lived in New York for ten years, which became the hardest and most challenging school for me. It's extremely demanding. You always have to be on top. After that, I lived in Turkey, Abu Dhabi, Thailand, Laos, and eventually came to Macau. So I've dealt with thousands of different people and learned people's needs. Let's say, what a New Yorker needs is not what a Turkish person needs. You learn to adapt to a situation and make your customer feel comfortable. As a manager, you are in the position of taking care, not serving. Since the beginning, I learned how to put myself in my customer's shoes, that's the secret. 
Then, there are the products. You need to keep the standard and choose the suppliers carefully. 
Would you say it is hard to keep the restaurant authentic so far from its place of origin? 
Not if you choose the right team. Apart from that, everything that we serve is tested before it ends up on the plates. It would help if you had a balance. As we work in Asia, we have to adapt Italian cuisine to Asian tastes. For example, we make the seasoning lighter as Asians prefer their food less seasoned. At the same time, we don't have pizza with pineapple!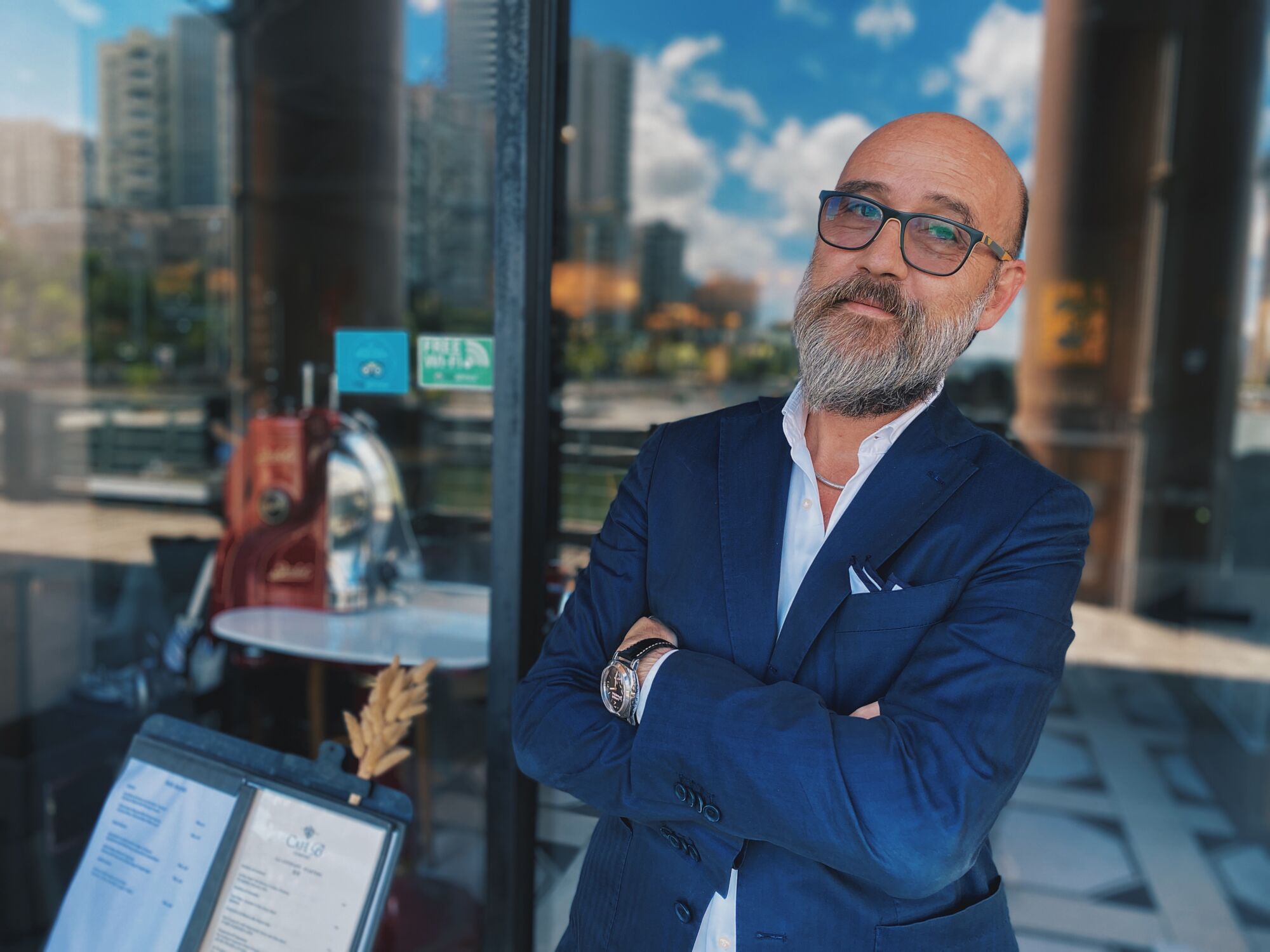 So what would you say is more important, keeping it authentic or answering the demand?
Authenticity. And the numbers talk to prove it. 
You have a rather international team at Caffé B. You are from Italy, your chef is from Japan, and there are team members from the Philippines and Macau. How do you successfully manage it? 
Our cultural differences don't really get in the way. We are working together as a team. I am nobody without my team; we discuss everything; we share problems. I always accept suggestions and listen to complaints. We spend more time together than with our families, so you need to maintain trust. 
How would you describe your management style? 
I'm a 100% democratic leader. I don't consider myself a Napoleon and don't mind cleaning dirty dishes. The customer comes first. Everything we have achieved at Caffé B is from our team effort.
How does Caffé B stand out from the rest of the competition? How did you grow your loyal customer base? 
Most of the restaurants I consider competitors are inside integrated resorts or hotels. Of course, we cannot compete with them in terms of marketing. Since I came here four years ago, I built a strong relationship with local customers. Now Caffé B is full almost every day, 90% of our customers visit us at least once a week, and kids ask their parents to see Uncle Cris. 
Caffé B is more than a restaurant. It is a family. So during the pandemic, when everyone is stuck in Macau, this approach helped us survive and keep the business successful.
In a nutshell, it's about the quality of food, price, and customer service. Customers don't come back if they don't feel welcome. Thus, I make sure they do. Of course, it's not just me; I'm only one slice of the whole cake.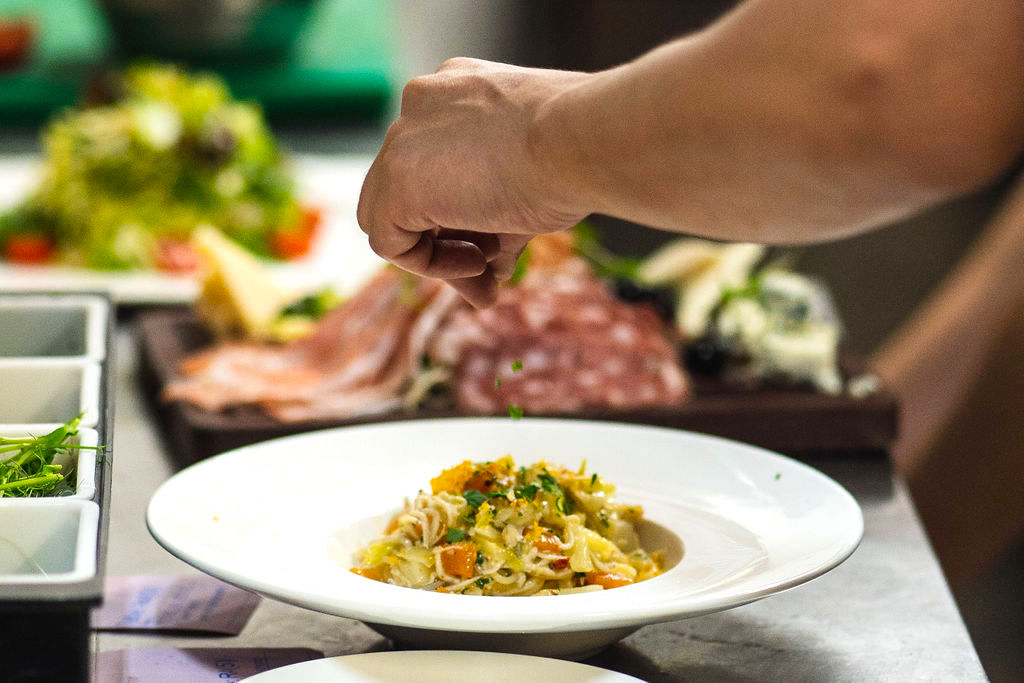 However, you won't argue that you represent Caffé B. You are always there, and your personality has become somewhat a part of the brand, do you agree? 
I do, yes. 
Why is it essential for you to be present and interact with guests? 
It's a fundamental part. To do this job, you need to be social, be around your guests. The moment I start to hate people, I'll need to change my job, move to Canada, and become a lumberjack. Sometimes I wish so!
At least, you already have a beard! So what stops you from giving up?
Right (laughs). Well, you need to know what you are doing. Working when people are celebrating and having a good time during Christmas, holidays, and others can be tough. You need to love your job, and I do. I enjoy being around people. If you put me in an office, that would kill me. I know most of our guests. You know, Caffé B was empty one day in the last few months–it was my wedding day and everyone was there. 
I love my job and Macau. I've partied enough in my life, so now I'm focused on making Caffé B successful, progress, and grow. 
What's your typical day like?
My working time starts at 10:30am when I check emails at home. Around 11:30am, I arrive at the restaurant, check the reservations, and make sure everything is ready. We open at noon, then at 3:00pm–3.30pm I go home and relax a bit. Then I come back for dinner time, where we reopen at 6:00pm, and I'm here till we close, six days a week. God worked for six days, so why should I do seven?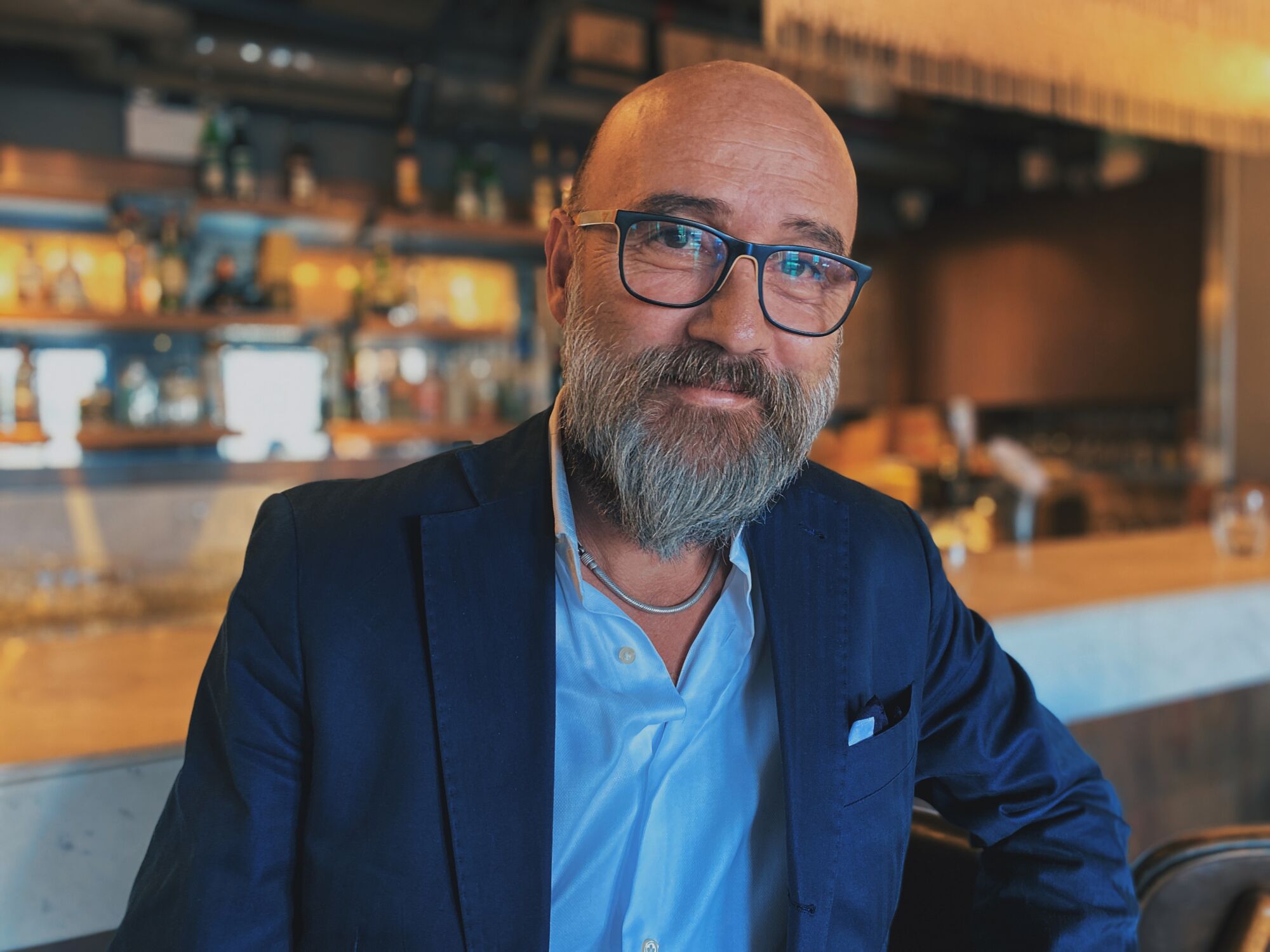 Fair enough! You spend a lot of time at work. What would you describe as the most memorable or proud moment during your time at Caffé B? 
There have been so many. I have become a member of the Chaine des Rotisseurs which is very satisfying. What makes me proud is that I took over a restaurant that wasn't that popular and turned it into a successful one. As we say in Italy, Rome wasn't built in one day. The journey that I've had here makes me immensely proud–coming to the restaurant, checking the computer, and seeing the full house. 
Let's talk a little about the challenges of 2020. How did you adjust to the new reality? 
Overall, we have been lucky. At first, we suffered in February during the lockdown. Then we worked a couple of weeks just for takeaway and delivery. When we reopened, people showed up little by little once they felt safe. Our strategy paid off, as we target the locals, not tourists. We suffered initially, but after we were able to manage it and now we are busy. We didn't have to lay off any of the staff, didn't change the menu or adjust prices. It's what we had been working on for years. We built a small yet solid restaurant. 
Usually, in July and August of each year, we lose some profit because people go on holiday. Not this year, though. 
When you say you target the local audience, what does it mean? How exactly do you do that?
We focus on social media. Facebook and Instagram are the most powerful advertising platforms for us. Guests come, eat, take photos, and post them online. And then we have customers showing us pictures from social media, asking if they could have the same thing. 
We are not pretending to work in a Michelin restaurant, but the presentation is essential for us. Miki (the chef) has an eye and attention to detail to create a stunning presentation. That and the visual content we post on our social media platforms play a significant role in our success. That's how many guests find out about Caffé B.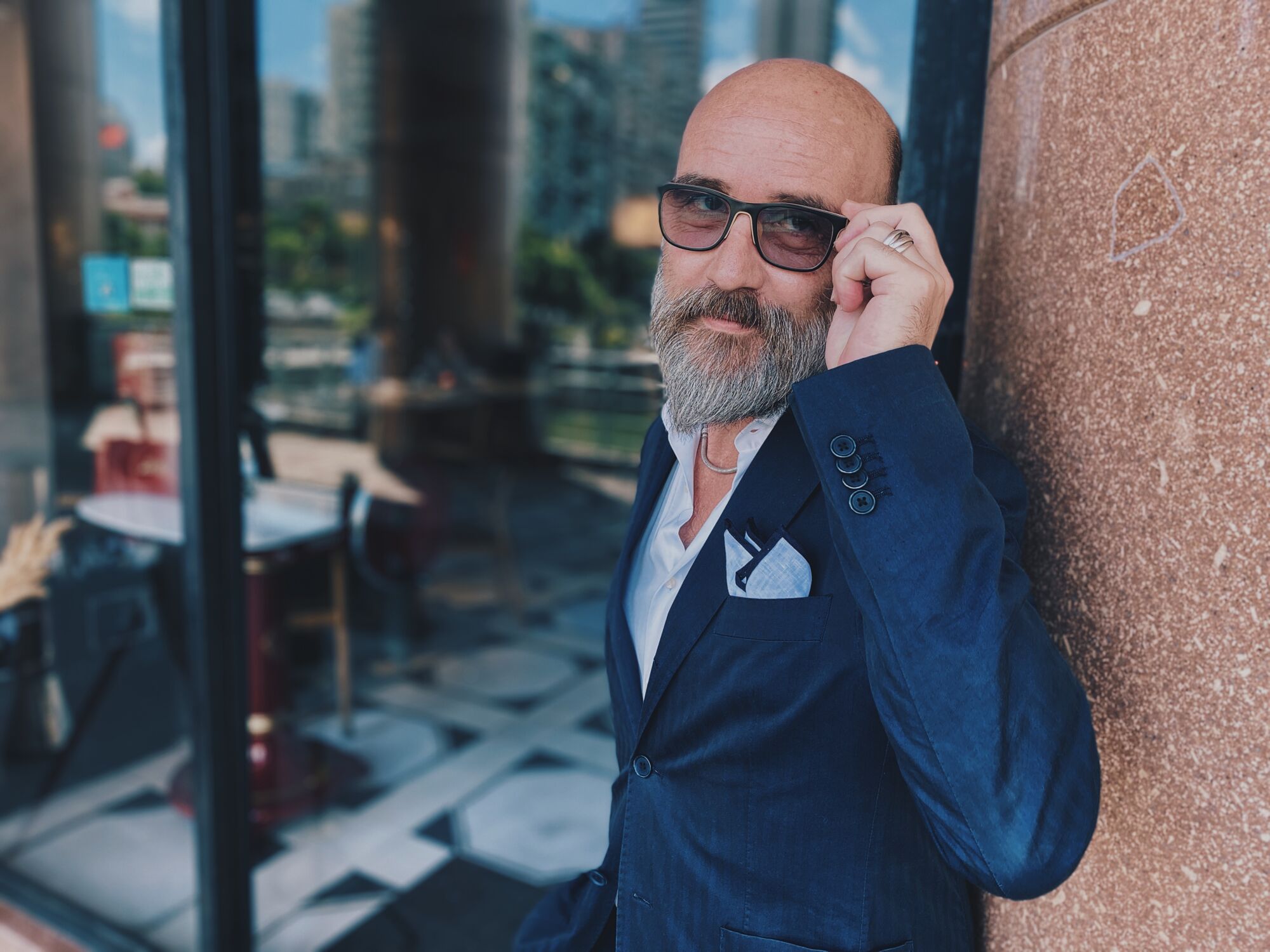 You also organize wine dinners occasionally. What is it like, and how can one take part in it?
We do one every month in collaboration with suppliers. These dinners are for no more than 30 people who sit together at common tables. We talk about wine and do wine pairings. Depending on which wine we present, our chef creates specific dishes. Last year we made a four seasons dinner, had a live trio playing Vivaldi while the guest enjoyed food and wine.  
But it's not just about wine; we also organized one sake dinner that was sold out three days after we announced it. Usually, we promote these dinners on social media and newsletter. There are going to be more in autumn. A truffle season dinner is coming for sure!
Any plans you would like to share with the Macau Lifestyle audience? 
In fact, yes, we have a new lunch menu in September. Besides, there is a major dinner menu upgrade coming later on. However, our chef changes the specials every week, so technically, we have something new weekly. 
Also read: Tutto Bene: Must-Try Italian Dishes at Caffe B
---
Caffé B Lake View Mansion Block 1, 744-G-H Avenida Panoramica do Lago Nam Van, Macau, +853 2838 6886, www.facebook.com/Caffe-B
Photo credits: Ksenia Kuzmina, Caffé B
Tags
Related Posts