The unprecedented times we live in have brought wellness and mental health to the limelight. Curating experiences through guided meditation, singing bowls, yoga, self-healing, and chakra healing, wellness coach Lou Lou is at the forefront of the on-the-rise wellness movement in Macau and has been expanding horizons into aromatherapy and the organization of corporate wellness events for luxury brands like Sulwhasoo and La Mer. Moreover, the Macau-based wellness coach is an Amazon best-selling book author and an ambassador to athletic apparel brand lululemon. Like many of us, it was by navigating life's most challenging moments and embracing change that Lou Lou found her purpose. We sat down with her to learn all about her journey, the work she does, and how it can impact people's lives.
Can you tell us about your background like where did you grow up and what did you study?
I grew up in Macau and lived in the city until I left for college in the United States to study finance and accounting. In Asian culture, we are supposed to study something useful that we can make a successful career out of. My passion was psychology but I didn't pursue it and I kind of regret all the time I spent not doing what I love. Once I moved to the United States my whole perspective on life changed. After graduating I got a job with Deloitte in San Francisco, a dream come true. In 2009,  certain that I wasn't happy working spreadsheets all day, I decided to quit my job and moved back to Macau, a decision I often questioned and at times even felt could have been the wrong decision. It took me some time to realize it was totally worth it!
You wrote an Amazon best-seller book, Seek Within. Can you tell us about the book?
I went on a trip to 22 countries in 180 days by myself and wrote the book afterward. Seek Within is about this travel experience, my yoga teacher training in Bali which I took during the trip, and the pursuit of answers inside instead of outside, how to walk the journey inwards.
In 2017 I was at the lowest point of my life, struggling to identify what I wanted to do. After graduating in the US my family, a very traditional Fujianese family, expected me to be making big money in banking, getting married, and starting a family. I was actually kind of a disappointment for them since I didn't take that path (laughs). At that time, there was something in my heart I felt was right to pursue but wasn't really sure of what it was. But I put a lot of pressure on myself too and kept focusing on the fact that I was well into my thirties, not married, no family of my own and so I wondered: what if I take a big step and then it turns out to be an even bigger failure? So I decided to take a break from life in general, from family and friends that kept telling me I needed to settle down, even though deep down in my heart I knew it was not something I wanted to do then. That's when I took the trip.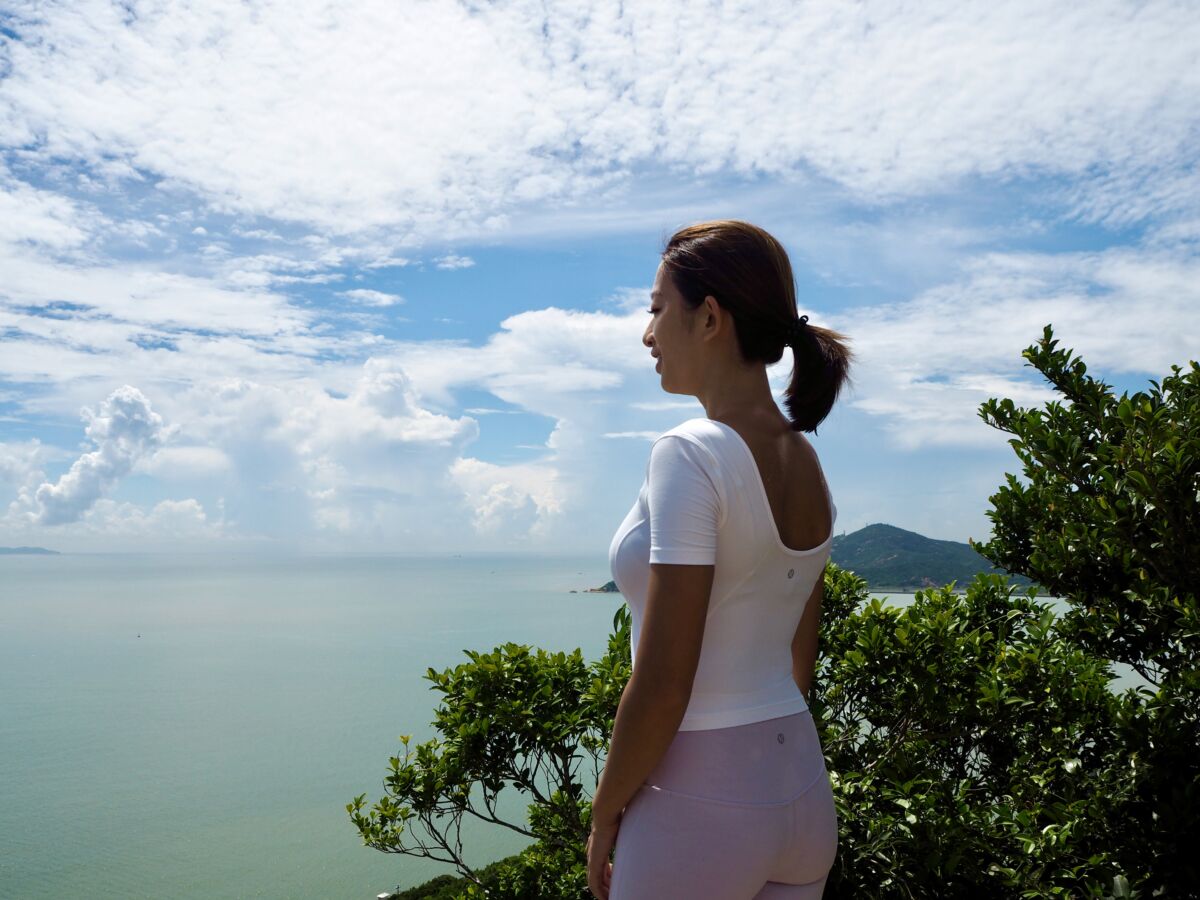 For those who might not be familiar with what you do, could you share what your current occupation is and tell us more about the experiences through which people can learn from you?
I am a wellness coach but started out as a yoga teacher. My yoga teacher training in Bali was life-changing, I got to learn a lot about the philosophy behind yoga. There was a lot of focus on meditation during this training and that provided me with the knowledge to teach it to others.
In the early stage, my approach to wellness was based on yoga and yoga philosophy, singing bowls, basically the natural healing techniques. Now I'm combining them with more scientific ways to teach. I'm incorporating the Mindfulness-Based Stress Reduction (MBSR) and Mindfulness-Based Cognitive Therapy (MBCT) into my teaching. Both of them are scientific approaches to teaching meditation and mindfulness. Science has a lot of research to support that meditation works. In eight weeks you can change the structure of your brain if you practice on a daily basis for 45 minutes. With this new insight and by exploring these different angles to wellness, I realize that it all comes together slowly: science and natural healing methods. 
I lead different courses: singing bowls, meditation, which can be done individually or combined, and chakra healing or inner child healing. I teach yoga too but only private classes or included within hotel wellness packages. The way I perform singing bowls meditation is a bit different from other teachers. I don't allow my students to sleep (laughs)! The singing bowl is a helpful tool to help people calm and wind down. Our brain waves change as we wind down, and then we can easily get into a meditating state. In fact, everything I teach is interconnected, interlaced like a mandala painting. I also teach an eight-week course called "Seek Within", which is basically a full course that includes meditation, singing bowls, and self-healing, and chakra healing. 
What do you think people are looking for when they reach out to you? And what do you think led them to that particular place in their life?
Stress relief–to reduce negative emotions, sleep issues, and losing a sense of life purpose, much like a mid-life crisis–except, it's happening way earlier in life. We are brought up to be extremely competitive. We shifted from "human being" to "human doing". We're like machines running by the program where we forget how to live. The first and second levels of my "Seek Within" course are designed for people who want to solve the first three problems I've mentioned. The advanced course is about pursuing who you are, discovering your life purpose, and listening to your own heart. While growing up there is a strong focus on learning new skills, but we rarely get a chance to learn who we are. Meditation helps to peel away what is not you and leaves you with your core. It is simple but not easy though.
What advice would you give to someone aiming to reconnect with themselves and trying to pursue a more grounded lifestyle?
Definitely practice meditation. It's the easiest, cheapest, most convenient way to. Those who try it for a few weeks will notice the transformation. In the beginning, I always recommend people to join a meditation class. When we are changing behavior we're actually rewiring our programming, which makes the beginning the most difficult and challenging stage. All my courses take eight weeks because eight weeks is a period of change for the human body. Of course, for better results, people have to do their own work at home too, but just by practicing it consistently for eight weeks in a team setting, with a group to share the experience with, the benefits are tremendous. Sharing the experience is important because students can witness each other's progress, which is motivating.
What do you think holds people back from reaching their full potential?
Themselves. While growing up, our families and the education system determined how we should behave, shaping us. As a result, we ended up unable to behave from our core. We developed emotional patterns based on our programming and act according to these patterns. For example, kids who lack attention during childhood tend to become trouble-makers in adulthood, in hopes of drawing attention to themselves. Those who often got rejected during childhood usually don't grow to be self-confident, constantly setting up obstacles before even trying to succeed at something. By allowing these emotional patterns to prevail, we are the ones holding ourselves back so what we need to do is break with the pattern. Another issue is pressure from society, namely the pressure to fit into certain preconceived models. Social media plays an important role here, as people don't usually share their vulnerabilities but the bright side of their lives. Meditation can help to cope with this too by enabling us to achieve a very peaceful and firm center, this way not easily drifting away, influenced by the environment, or experiencing self-doubt.
What are the benefits of guided meditation to the sound of singing bowls?
When you first practice meditation you always need a focus point. It can be your body, your breathing, sensations, usually something physical. For advanced practice, emotions and thoughts can become focal points. Sound, music, and singing bowls in particular are very good to keep us grounded. I play singing bowls for meditation by heart, I don't follow a musical score. With this, every time the experience will be different and the brain doesn't have anything to expect which enables us to kind of break the pattern of logical thoughts, using our hearts to listen and gaining awareness. We're always so logical and constantly overuse our minds, every so often we just need to rely on our hearts and instincts. Amazon founder Jeff Bezos said that his most critical decisions in life were made by instinct. Meditation helps us increase that sense of instinct, allowing us to make decisions from our core and not over the influence of external elements.
How about the healing inner child sessions: what happens during the process and how can they foster self-knowledge and self-growth?
First, I tell students about the background of self-healing and how they can perform it on their own. A lot of my practices are for people to take home, I don't want them to rely on me, I want them to be able to practice on their own. These sessions work best for those who have practiced meditation before because they can get into that state more easily but of course beginners are always welcome too. The second stage is based on hypnosis because it goes deeper than meditation, even though meditation can go very deep as well. At this stage, students go back to their childhood and talk to the kid they once were and give that kid what they needed but didn't have then. Some people are suppressing their feelings and once they let them all out not only do they accept but also embrace them. Some can't identify their problems and manage to find out during the process. Through this session, students can learn what is holding them back, and having that knowledge is power. The third and last stage, equally important, is about sharing. When students share their experience they create what we call a field or zone in hypnosis, where they interconnect and tune into the vibe. Through this safe space where people share their vulnerabilities, students become aware of other people's struggles, acknowledging they are not alone and that feeling is empowering.
People are more focused on wellness and self-care than ever before. Why do you think that is? Do you think the current pandemic has played a significant role in this?
Definitely yes, the pandemic has played a significant role even though the whole movement started before. I can tell that my students are getting younger, young people are dealing with significant stress levels nowadays. I also notice that big companies and brands are more focused on wellness and mental health now. They're promoting team-building events focused on mental wellbeing, going beyond yoga, and focusing on their employees' mental health. In fact, I recently did a team-building event for a renowned Italian luxury fashion brand.
The fact that celebrities recently have been openly speaking about mental health has had a great impact too. Take tennis player Naomi Osaka, Taiwanese NBA player Jeremy Lin or model Kendall Jenner for example. Before, when people publicly expressed their struggles they would get criticized. Now they're looked up to and that is so important to witness. Brands want to be identified with someone who is candid about how they feel. Even people who you'd think have everything it takes to be happy–looks, means, fame–face hardship somewhere along the way. Just like the pandemic is fair for everyone, so are anxiety and depression. These are some very good examples I can use in my class to teach. Many people still think their happiness is directly related to specific achievements, but they are lying to themselves.
What are some of the most beautiful places you have visited? What are some of your fondest memories of the tour? Did you experience any particular eye-opening self-knowledge moment?
I loved South Africa for nature, the animals roaming free, and the natural landscape as far as the eye can see. Kruger Park is gigantic! What struck me the most was how tiny and insignificant you feel. I stayed in a floor-to-ceiling glass guest room and at night I could imagine the immense vastness and darkness all-around. It's the closest I've ever gotten to nature. Going to Belize has been very special too because I love to dive, of course, I had to do the Great Blue Hole. The moment you approach the hole is unnerving, it's completely dark when you see it from above. Despite the fear, I jumped into the water and while diving down I could see the magnificent stones dating back to as far as the Ice Age down along the hole. It looks like an underwater cathedral. The feeling down there is out of this world, it's absolute peace.  Trekking on ice in Patagonia along the Argentina border was memorable. At any step, I felt like I could fall into the freezing water! I also remember going island hopping in Galapagos and finally speaking openly to the people aboard, something I haven't done in a long time since I was being overly protective. I'm glad I did so because the people you meet along the way are such an important part of a trip like this.  This trip showed me that sometimes it's ok to let your guard down and trust people.
As a woman, did you feel you faced any particular challenges while traveling on your own?
In Mexico, I took a cab and there were two guys sitting in the front, the driver plus one, which seemed strange. On the way to my hotel, they started trying to rip me off, asking for around USD $90 for the trip, which was way above the fair price. I was very persistent in offering just a third. They seemed mad and kept speaking in Spanish to each other, but eventually agreed to USD $30 dollars and I got to my hotel safely. That was the last time I took a cab while traveling. From that moment on I always took the bus instead. A few months later I heard on the news that authorities had found the bodies of several tourists in a mass grave and the US issued a red travel alert to Mexico. As a woman traveling on her own, I was naturally more vulnerable to these kinds of events.
The Spanish-speaking countries were the toughest because almost no one spoke English. I'm not good with directions and I always ask people how to get somewhere. In Cuba, there was no internet available. I had to go to a grocery store to get a one-dollar small piece of paper with a code to access the internet for ten minutes if I managed to find a signal! 
Where do you usually go in Macau for some peace and quiet? How do you spend your free time in the city?
I love to go hiking in Coloane, that's my favorite thing to do. I often  go out for hotpot too, I love going to Haidilao.
Any future plans or upcoming projects you could share with us? Big hopes and dreams?
I always wanted to launch my own meditation app, even though that's big hopes and dreams (laughs)! With an app, I could reach a wider audience. Also, after working with brands like Sulwhasoo and other major brands, I want to establish an event organization business focused on wellness. I am already doing it now, backed up by a small team and we have the capacity to respond to the current market in Macau but with plans to organize bigger events in China. In a recent team building event for a luxury fashion brand, we did singing bowl meditation in the early morning session and an aromatherapy session during the afternoon. I taught how to mix essential oils to benefit each chakra as well as a DIY tutorial where team members made necklaces and scented hanging crafts with essential oils. I just launched my own organic essential oils brand, Lou Lou Aroma, with seven different aromas each of them corresponding to a chakra. We source the best ingredients from all over the world to create these oils. 
---
Reach out to Lou Lou through her Facebook page, Instagram @experiencewithloulou or website. To book a session, just drop her a message. Updates on sessions and upcoming courses are posted on her Facebook page. Lou Lou's book, Seek Within, is available on Amazon here.
Tags
Related Posts