Born in Canberra, Australia, Matthew Helm began his career at a very early age helping out on the family winery, Helm Wines. After school or on weekends it was either pruning, harvesting, processing, cleaning casks and vats, bottling, labeling, or selling the family's wines. He chose a different path by becoming a professional chef, starting at Park Hyatt, Canberra, and studying at The Canberra Institute of Technology. Matthew has accumulated a vast repertoire of cuisines, countries, and awards since then. He has spent more than 28 years working at some of the best high-end luxury resorts and hotels in the world, including The Gleneagles (Scotland), Kempinski Vier Jahreszeiten Munich (Germany), Rayavadee Krabi (Thailand), The Oberoi and Sahl Hasheesh Hurghada (Egypt), Raffles Hotel (Singapore), Altria Macau, Wynn & Encore Macau and most recently Galaxy Macau.
Matthew Helm currently holds the positions of President, Macau Culinary Association (a proud member of World Association of Chefs Societies), Conseiller Culinaire de Macao (Commandeur) of La Chaîne des Rôtisseurs, Bailliage National de Macau, and Culinary Advisor for Macau Kitchenware Association. We sat down with him and asked him about the Macau Culinary Association and his favorite food by cuisine!
Let's start at the beginning, what is The Macau Culinary Association and when and why was it founded?
Macau Culinary Association's (MCA) vision is to give members a sense of community by further enhancing and exchanging ideas and experiences between like-minded culinary professionals and at the same time promoting Macau as a gastronomy destination. For the past 15 years, MCA has curated different platforms for chefs of all levels to showcase their skills, creativity, passion, innovation, and dedication. MCA was jointly founded in 2006 by Raimund Pichlmaier,  John Ress, Lee Ming Ho, and David Wong with an intention to further develop culinary standards in Macau.
Currently, I'm the president of MCA (2019-present) and former presidents include Perry Yuen and Raimund Pichlmaier, who have all dedicated their spare time to further develop the footprint of MCA for chefs.
How many members do you currently have? How can one join the MCA?
MCA welcomes professional chefs, culinary advocates, and influencers to join us to strengthen what we offer. This would potentially help us bring international culinary events, competitions, acclaimed chefs, food writers, ambassadors, influencers, and educators into Macau with the collaboration and support of the Macao SAR Government and other associations. Due to the devastating impact of Covid-19 over the past year and a half, unfortunately, our membership numbers dropped below what they have been in the past, but we are looking forward to an increased membership coming into 2022.
The MCA committee consists of 12 professional or culinary ambassadors who are well respected in their fields from Macau or have been based in Macau for a long period of time. We also have five distinguished honorary members, some of whom are active advisors.
As for how to join MCA, the application process to become a member is very straightforward. Firstly, visit our website and apply by filling out an application with your details and proof of payment. If you have any queries or questions, do email us at [email protected].
What are the benefits of membership?
Once you become a member of the Macau Culinary Association you are simultaneously a member of the World Association of Chefs Society, or World Chefs, which is a global network of more than 100 official chef or culinary associations, with over 10 million members as. MCA members may also enjoy our privilege program at cafes, bistros, restaurants, culinary shops, and selected vendors who are listed on our website under the member section.
The culinary competitions we hold each year have no entry charge for members as well. If you're not a member and would like to participate, just register as an active member through our link. The public may register to observe and experience some of these competitions and award ceremonies to network with Macau's talented chefs. Also, active and qualified members have the opportunity to apply to be a judge at a competition, or they may even apply to become an active board member and give something back to the community.
What is your role at the MCA and what are your main responsibilities?
I was fortunate to be appointed to the role of president in 2019 and am proud to serve this distinguished association. My responsibilities as president range from regional to international duties, and cover everything from working alongside the board to select competition venues, appoint judges and oversee the smooth running of these events; working with the Macau government, hospitality schools, universities, and hotels to source chefs to represent Macau and our industry at different events; representing the association as the voting delegate at a number of global events, including the World Chef Congress & Expo and the bi-yearly Asia Forum Presidents (AFP), which consists of 21 countries; and all the administrative elements that come with an association.
How did you come to be in Macau? How long has it been now?
In 2007 I received a phone call from an old friend about an opportunity to relocate and be part of an opening team for a hotel or casino in Macau. This was the very first I had heard of Macau, so like many others, I had little knowledge of the place. After some research and conversations with friends, I arranged a visit to understand what the future held in store for me in Macau.
After visiting Macau I felt quite optimistic about this opportunity, as it was to be my first time being a part of a pre-opening team. I took the challenge and did not look back. Since then I have been a part of a few integrated resort casino pre-opening teams and have been fortunate to meet some amazing individuals through my time in Macau.
Pre Covid-19, MCA hosted and attended many events both internationally and domestically, and ran many educational courses and charity works.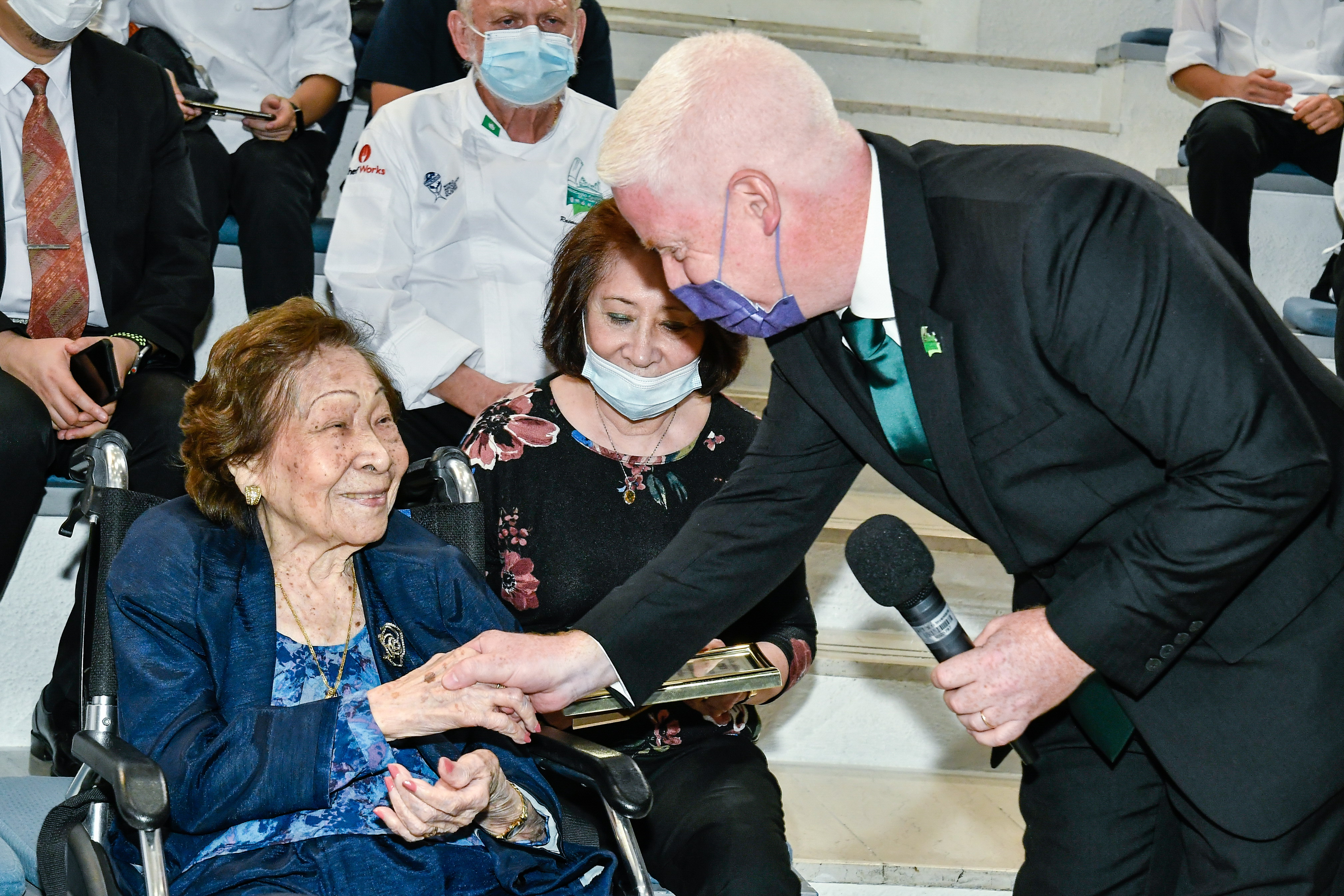 Can you tell us about some of the events that have been held in the past?
We are very proud of what we have established over the years and the assistance we have been able to provide culinary professionals of Macau. Pre Covid-19 times, we were very active with high aspirations for the future but unfortunately, all events were canceled in 2020 due to the pandemic. Usually each year the Macau Culinary Association holds four to five regional competitions, which include:
The Young Macanese and Macanese Cooking Competition: In collaboration, MCA and IFTM host two local competitions to celebrate Macanese cuisine. We were fortunate to be able to have held these two competitions in November 2020 with IFTM and were honored to have invited and had the presence of Adia de Jesus (105 years old) dubbed "The Godmother Of Macanese Cuisine". She attended the award ceremony and on behalf of the Macau Culinary Association and the World Association of Chefs Society, we presented her with "Outstanding Lifetime Contribution to Macanese Cuisine", a befitting award and unforgettable memory for the Macau community. She left us earlier this year, so this special award ceremony truly was a treasure.
The Chocolate Showpiece Competition: An artistic and highly skilled competition we get to observe the amazing imagination and creativity of the chocolatiers of Macau. This is a live visual competition where the public may observe (free of charge!) teams of chefs assembling their delicate and creative masterpieces.
The Young Chef (Western Cuisine) in collaboration with La Chaîne des Rôtisseurs, Bailliage National de Macau: A specialized competition where competing chefs must be under 27 years of age, and we only accept 12 competitors per year into this prestigious competition. The standards we have witnessed over the years in the respect of techniques, plating, and innovation are totally inspiring. In 2019 in collaboration with M.U.S.T we held this competition with 12 young chefs at their amazing kitchen facilities, the feedback was sensational from all parties. This competition is held at the end of the year therefore MCA and partners focus on utilizing "game" as the main ingredient. The young chefs will create and write a three-course menu, with recipes for the judges and present two dishes of each course within a timeframe of 3.5 hours. The following year, the champion of this competition will represent Macau Internationally at The Jeunes Chefs Rôtisseurs Competition. They would be up against 30 or more international chefs cooking it out for the gold medal of la Chaîne des Rôtisseurs and the Arthur Bolli Memorial Trophy.
International Chefs Day, 20th October, is a special day for all chefs globally, this day was created in 2004 by the late Dr. Bill Gallagher, a celebrated chef and former president of the World Association of Chefs Societies (World Chefs). International Chefs Day is about the profession and educating people about healthy food.
What type of educational courses do you usually hold? Are they open to non-professional chefs?
Currently, we do not hold any courses or cooking classes, but we are currently seeking kitchen venues where we could start up cooking classes to cater more towards the community needs with our professional panel of expertise. MCA can provide speakers for seminars or demonstrations at universities, schools, hotels, and integrated resorts upon request.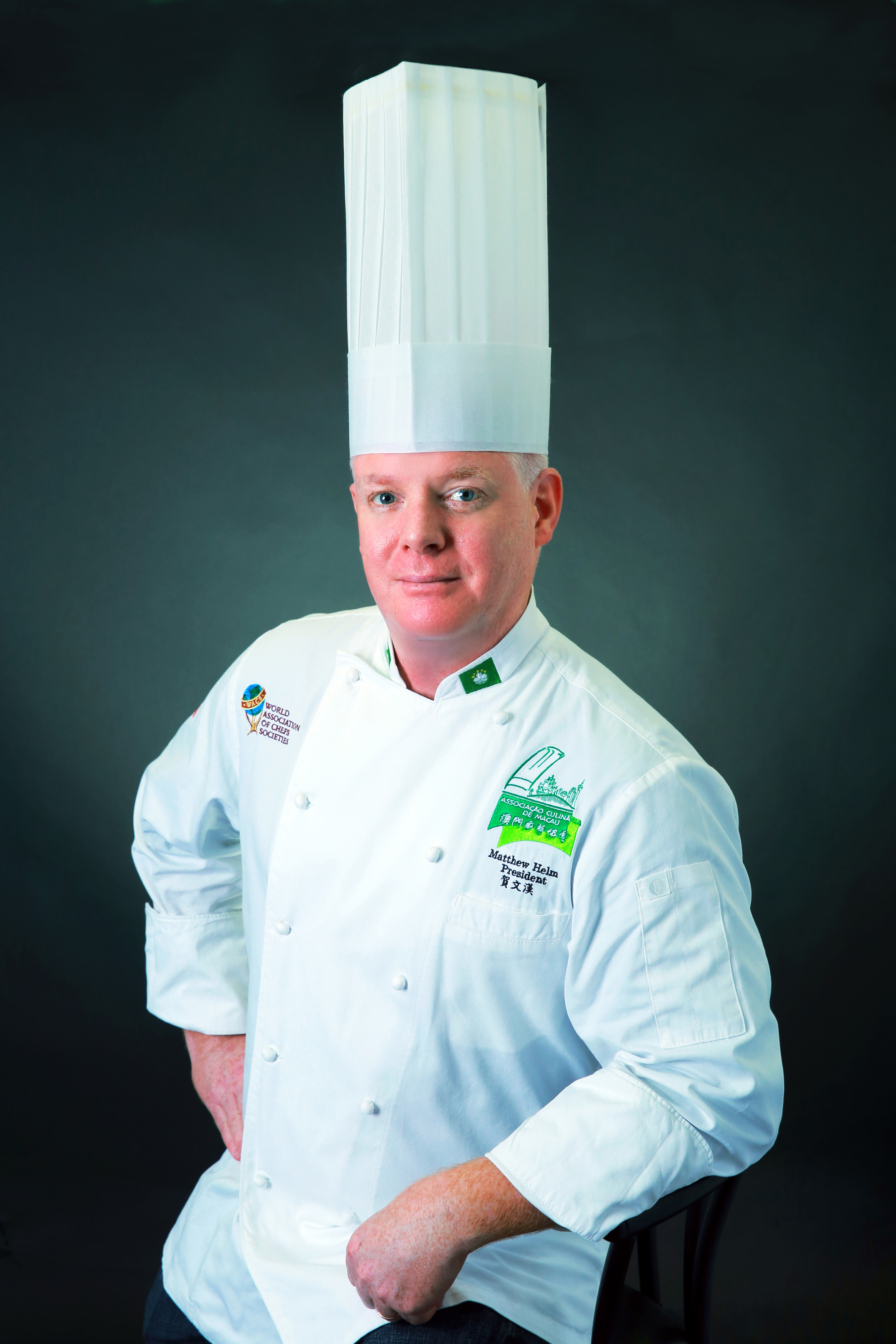 You hold a few active positions including president of MCA and Consulier Culinaire of the Chaîne de Rôtisseurs, Macau, could you share with our readers more about the Chaîne de Rôtisseurs, Macau and your role there?
My role as Consulier Culinaire of the Chaîne des Rôtisseurs, Macau is to advise the Bailli Délégué and committee on establishments, cuisines and the primary function is the realization of potential dinners, based on ambiance, service standards, decor, decorations, and menu offerings. Worldwide the Chaîne des Rôtisseurs has nearly 26,000 members, represented in all five continents, and established in over 120 countries. This includes chefs, hoteliers, wineries, cruise ships, Michelin-starred chefs, and famous influential personalities. For information on Chaîne de Rôtisseurs Macau please go to www.chainemacau.com.
What was your first impression of Macau when you first arrived?
The day I landed in Macau (2007) will never be forgotten, I was not used to the high humidity and so was quite uncomfortable to start. However, once I adjusted to the so-called "spring climate", I ventured throughout this mystical SAR, which grew on me over time with its fascinating history, old-world charm, Portuguese colonial architecture, narrow cobbled roads, small one-stop shops with the charismatic aunties and uncles selling items and we must mention the amazing scale of bamboo scaffolding!
Overall, people were welcoming, friendly and helpful, everywhere was convenient, accessible, and affordable. Macau reminded me of a large country town, but with a much denser population and a lot of blinding neon lights throughout the streets, a surreal feeling for any newcomer. Also, not to forget supersized integrated resort casinos, which were abundant with high-end retail stores.
Macau is a very safe living environment where you meet dynamic individuals, visionaries, entrepreneurs, movers and shakers, educators, and a lot of upcoming talents from all walks of life.
Where are your secret spots for dining? Or your must-visits when you have friends visiting come non-Covid-19 times?
With the diversity of cuisines available in Macau, we are seriously spoiled. We have cuisines ranging from regions of China, Korean, Italian, Indian, Japanese, Macanese, Malaysian, Portuguese, Philippines, Thailand, Vietnamese, and the list goes on and on.
For Macanese food, when friends used to come to Macau we would head to Henri's Galley (Est. 1976) and see our friend, owner, and chef Raymond Vong, for African chicken, spicy king prawn, curry fresh crab, and beef minchi. Not to forget, La Famiglia with chef Florita Alves' expertise and for iconic dishes like  Macanese assorted fries, minchi, capela, tacho, coconut chicken and turmeric pork.
The new kid on the block, Soda Port, located at Legend Palace Hotel with Chef Jeronimo Reinaldo Calangi, at the helm. This is an impressive addition to the Macau restaurant scene, they are innovative with the local cuisine.
For Portuguese food, it would have to be Baia and Mariazinha they both are really authentic and maintain the flavor profiles consistently. Both are well worth a visit.
Feng Wei Ju is a must for spice lovers (Szechuan cuisine), authentic cuisine, and attentive service. Highly recommendable, you cannot go wrong.
Western food to impress and special occasions, definitely, Robuchon au Dôme. The team there has maintained its wow factor for over a decade with its offerings of French cuisine at its finest.
For authentic southern Italian dishes and pizza, Casa Don Alfonso with the majority of their ingredients coming directly from Italy.
Indian food at Goa Nights, with its modern interpretations of Indian and Goan cuisine. The restaurant bar has a fresh and cool ambiance and cocktails are innovative. Also, Moti Mahal, non-fuss, honest food with extensive offering and the execution will make you go back for more.
As for western cafés, Lax Café, which my wife (Nicole) owns and operates. It is a neighborhood café, casual, hearty, healthy, with vegan and vegetarian menu offerings, café classics, and all-day breakfast. The walls have Laxart, which are freehand chalk drawings of the menu offerings. Also once a month is the famous wine-tasting parties which must be booked in advance, Lax is also pet friendly to keep your best friend satisfied.
---
Macau Culinary Association Rua Da Vitoria, No.2G, Macau, www.macauculinary.com, www.facebook.com/macauchefs
Tags
Related Posts