Náv might as well be one of our favorite recent discoveries. After meeting at a yoga event in Macau–local-based Dave Wan and Manuel Variz had an instant connection and decided to form a band. The focus? Handpan, an evolution of Hang, an instrument invented in Switzerland. The handpan has been gaining notoriety throughout the world in recent years. It looks like a flying saucer and makes metal-like sounds that can be incorporated into numerous music genres. There's now a third person involved with Náv as well, Ashley. She's responsible for the technical side of concerts and performances.
The pair started performing at peaceful and quiet places, surrounded by nature, like Coloane and temples across Macau. You might not be familiar with the expression "healing sessions". After all, what do these entail? Náv already performed in very different environments: from collaborations with techno and electronic music artists at Live Music Association to sessions at the Portuguese Bookshop where healing and calm are paramount, they show audiences the versatility of the handpan and how much they can do for people. We sat down with the pair to learn more about healing sessions, their official original songs, and more!
First of all, congrats on this music project! Let our readers know how it started.
[Manuel Variz] In the beginning, it was only me and Dave (Wan), back in 2019. We met while attending the Connections event, by the yoga instructor, Rita Gonçalves. We had a cool connection and the same taste in music. From there we started collaborating and, after that, we were invited by Antonio Martinez–from Black Sand Theatre–to perform at the Fringe Festival. We created the band at the end of 2019 and, after that, just started creating music. We now have four originals, including the first one "Into the Woods", the second "Under the Tree", the third is "Kalachakra" and the last one, "Tin Hau". That's how we started. In the beginning, we performed outside, in places surrounded by nature.
What's the concept then?
Related to nature. "Into the Woods" is called so because of the story behind it and also because we like going to Coloane and other quiet areas that people don't know about. We just jam in those places and try creating sounds with those feelings. If you listen to our songs, they're more or less all in that sense. The most different one might be "Kalachakra". It's more punchy, trance-like. We have this mix of more melodic or healing, and others more trance-like experiences. We also like to create an atmosphere, where the audience can relax and also get into a deep state of mind, more melancholic, and to let them think and travel inside their own minds.
[Ashley] "Kalachakra" was named so because it's also related to the Buddhist religion and it's a bit like a loop for people to enter it and appreciate. We had a show at Legend Club and wanted the clubbing environment to flourish as well.
[Manuel] We met Ashley while partying around Macau and discovered we all have the same interests. She was interested in this project and is helping us to do many things, such as lighting, designing the logo, multimedia stuff, and promotion, social media, amongst other things. She puts her energy into it.
Did you already play an instrument before meeting each other?
[Dave] Yes, I've been playing handpan for about six years already.
[Manuel] I bought my first handpan two years ago.
For those who don't know, what's a handpan?
It started in Switzerland and there are now many different brands.
Do they make different sounds?
Yes, different ones have different scales. Ours is in D Minor, called the Curd Scale. That's what we're more comfortable playing with. We've just bought one in C Scale too. We want to create different moods and are now finding out what kind of music we can create with it. But we feel it's going to be more on the relaxed and therapeutic side. More proper for healing sessions and the other one for punchier performances.
What does a handpan sound like?
It's a percussion instrument made of metal, but it isn't a sharp sound like drums; it's a rooted feeling. Sometimes, it looks like you're playing guitar. It's organic, a more acoustic vibrance. It doesn't sound like someone is beating on metal, more like a xylophone.
What are the healing sessions?
We still haven't done our own solo event. We always collaborated or were invited to perform at some kind of event or venue. Our goal, once we start doing events, is to provide a more relaxed, deep, and trance-like experience, to help people open their minds and travel in their own mood and vibes.
How did you come up with the name Náv?
(laughs) When we first started a band, we figured we had to name it. I started googling and searched for "pan"–which in English is a cooking accessory–and something came up: Pan, the god of the wild, shepherds and flocks, nature of mountain wilds, rustic music and impromptus, from Greek mythology. I was really fascinated by the way it was directly connected to nature, to music, flutes–this energy from the forests. Visually, it's a god with horns, looks like a goat, kind of a centaur. "It makes sense", I thought.
Pan, in Greek mythology, is written with the Pi sign (π) A and V and it reads "Pan".  Visually, it looks like "NAV", so it just made sense. It's easy for people to pronounce and easy to remember. We liked the idea of NAV, which in Portuguese means a flying device, like a UFO; it's connected to our music as the handpan looks like a flying saucer. That's the essence of the name, basically.
You all have daytime jobs as well, right?
Yes. It started as a hobby and now it's getting more serious but we're going with the flow.
What are your full-time jobs?
I'm an art teacher.
[Dave] I'm a woodworker, I have a shop and my own brand of furniture made in Macau, called Zawood (宅木).
[Ashley] I don't have a full-time job now, I've been freelancing. Doing more spiritual-related work, like tarot card readings, painting, do some lightning works, stuff like that.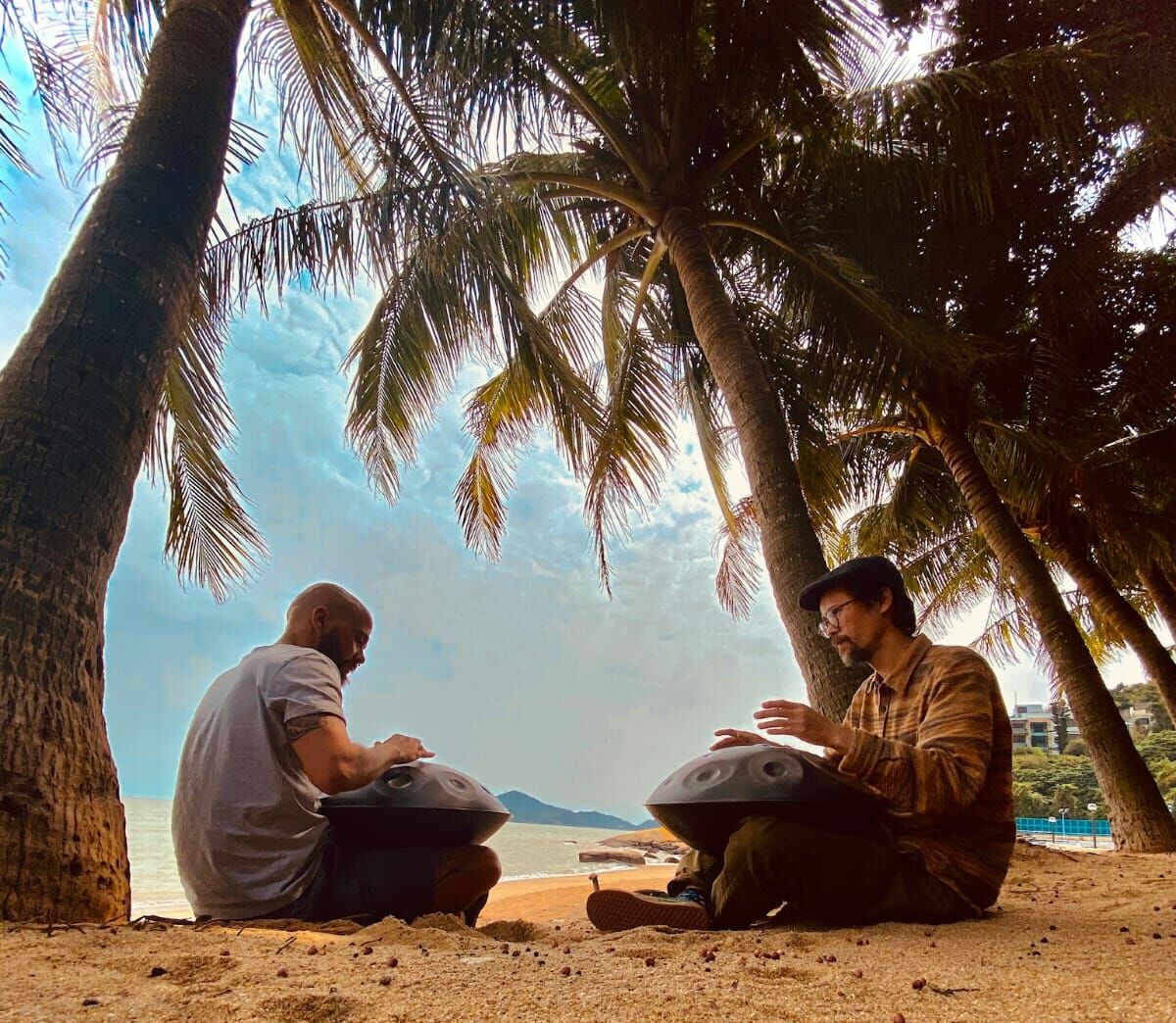 So Náv specializes in playing the handpan?
Yes. We performed at Legend Club after being invited by local DJ Derek Khoo, for one of the Together We Dance parties. We performed live mixing digital sounds with our organic ones. It went really well, so we're planning to have more of these. In certain ways, we want to create healing sessions–more relaxed, with just organic instruments–where people can chill; we try creating different atmospheres that stimulate all the senses, playing with the lightning, incense, visuals. We want sessions where people can just relax.
On the other hand and because we also like nightlife, is to perform at clubs, which we already did. That side will definitely need a bit of digital, some sampling, and soundscape, where we create certain environments where we emerge with the handpans and some new instruments such as the didgeridoo–we used it last time at Casa Garden, in an art exhibition by António Mil-Homens. It was the first healing session we performed, with some added things like lights and visuals.
Are you planning to have just the handpan?
The plan is to add more instruments in the future, but our main focus now is the handpan. We still need to improve a little bit because we want to release an EP at the end of this year or the start of the next one; our main focus now is to release those sounds and more videos regarding these, as well as promoting them.
So you're actually thinking of releasing a product?
Yes. We were discussing that there may not be enough time to release it this year–because we have full-time jobs–but next year for sure. First an EP, a full album later.
We can people expect to see you perform and what were some of the past venues?
The first performance was at Fringe Festival (January, 2020), and the second one was at Legend Club. Then followed the Portuguese Bookshop and Casa Garden. We also performed at the anniversary of Aerial Macau, at the beach. There was a dancer in the background, it was really nice.
Actually, we also perform a lot in less visited areas, always busking around Macau; these aren't formal ones, just jamming and finding new sounds. We like going to certain places in Macau as well.
Can you tell us which?
Tin Hau Temple, in Coloane, for example. It's also the name of our most recent song because it was created there. We were just jamming and some things started to appear. That's how it went.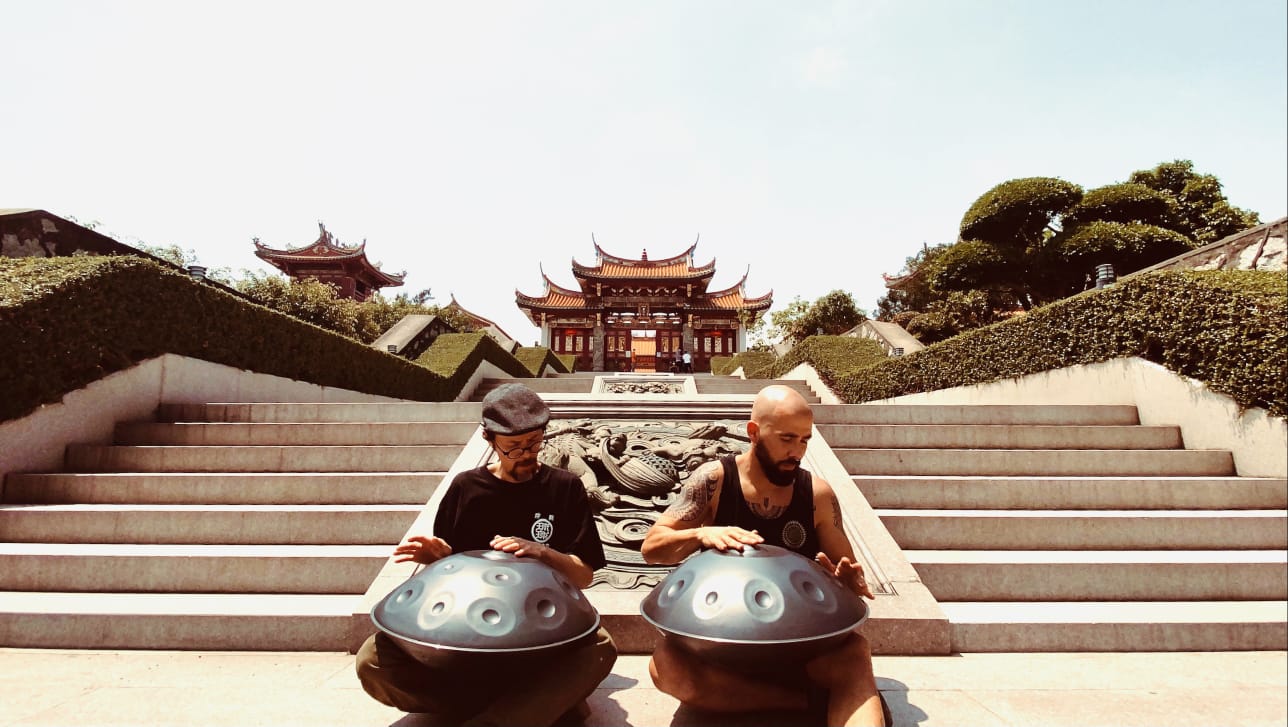 So where does your inspiration come from?
I'd say our inspiration is Macau, the things we look for in the city.
[Ashley] It's actually really interesting. When we created Tin Hau, it happened while jamming. I didn't realize it at first; we went back to the temple a second time to shoot a video, we played again and that's when I felt the energy really strong there. It made total sense.
So you also do videos?
Yes, for Into the Woods and Tin Hau. We want to release the videos fully with the songs. We're now working on all the other songs to release the video with it.
What do you do in your free time?
Actually, I guess that during our free time (from work) we do music (laughs). We just focus on the music and going to these places we talked about. But we also go to the swimming pool and we love to party. We like electronic music; which is also part of our inspiration, along with trance music and all these underground styles. If you notice, the grooves in our music as also repeating themselves. It's an upbeat kind of groove. I also spend time with my family, as well as with Dave and Ashley. I hike, walk around Coloane and visit Cheoc Van Beach.
[Dave] We're always together, especially with our families.
And some of your favorite restaurants?
[Manuel] For me, La Cucina Italiana, in Taipa Village, also Nga Tim, in Coloane Village.
[Dave] I like Puffin Café as well, with burgers and good menus.
[Ashley] Dave is vegetarian, so when we dine, we always go to vegetarian places. I really like a Chinese vegetarian one in Barra. We even do Vegetarian Fridays!
If you have friends visiting Macau from abroad, where would you take them to?
Partying (laughs)!
[Manuel] It depends what they like to do, but for dining, definitely Nga Tim, which is outdoor, more chill and relaxing. It's the first place to eat where I'd take them. Also, Coloane, which I think is the best part of Macau to enjoy. Of course, I'd take them to old areas with churches and temples, but more related to nature, for sure.
When going out, where do you go to?
Now, Live Music Association. Sky 21 is really nice as well, to have a drink in the afternoon. Now I have kids and there's really no time for afternoon drinking, so I manage my time wisely. I play and spend time with my friends and my family and I like electronic music, so LMA is the place I usually go to.
---
For more information and contacts, reach Náv through their Facebook page and Instagram @navsessions. Check out their YouTube channel as well to find out more.
Tags
Related Posts