The Russian travel show, "Let's Go, Let's Eat" arrives in Macau and we get more than just a glimpse of the handsome host John Warren. The British national who has embraced Moscow as his home narrates his life in the city marking more than 36 years to date. Bringing his adventures through the small screen to Russian viewers, we ask him how it all started.
The first thing we see you introduced as is " Russian television presenter born in Miami." Tell us your story.
Well, I am English. My parents just happened to be in Miami when I was born. I had a pretty normal life. I was sent to school in England when I was seven. I played rugby and cricket, the usual sports. And when I was about 12 or 13, there was an old rule or tradition in the school that if some of the boys wanted to learn something they will have to find a teacher to teach them something new. There were some of us who wanted to learn Russian so I thought I want to be good at something nobody else was good at at that time.
So, I grabbed the Russian language by the horns and I can say that I'm the most fluent Russian-speaking foreigner there is [laughs].
How did you get involved in being a television presenter?
I was simply invited. I think I have never been afraid to say what I think. I'm good at articulating my thoughts. I was then working at a sausage factory outside Moscow and I started getting invites to talk shows because of the amusement of my personality as non-national fluent in the local language. I slowly became the golden boy for talk shows and I got friendly with some people in the industry during the course of my guesting and tv appearances. Then, one evening someone said to me, so if you had a tv show, what would it be? I calmly said that would be all things I love such as travel, food, animals, beautiful women, and discovering new things.
Two years later as I was about to leave Russia and go to Cambodia to set up a music festival on a deserted island. The TV channel contacted me and told me that they'd like to do my idea and I said no way. I've been living 20 years in Russia and I'm leaving. I thought "I don't want to be in Russia anymore". And I thought about Alex's school fees (my son), and suddenly it dawned on me that Cambodia was probably not the best decision. So, I went ahead with the TV show.
What's the premise of the show?
It all starts with John's travels. We first started going to England and then started exploring other countries like France. Now we get invited to explore cities and places. We used to have an air time of 26 mins and now it's 40 mins. We used to have two cooking sessions in our segment, now only one. I do mostly about what Russians did in a certain place, what they can do and discover or explore. It's safe to say, I do a lot of eating during these travels.
What's the concept around the Macau episode? 
We think Macau is a great destination. The Russians like gambling and everyone likes Asia, in general. Thailand is the obvious choice for many tourists but now it seems people get tired of it and think of other options. I think Macau is a great destination. Russians like nightlife, shopping, a bit of glamour, and some beaches.
What are the things you like in Macau so far?
The food is phenomenal which is what I've tried so far. I believe the Portuguese left a great heritage in this place. It has the best of both worlds, the old and the new, Chinese and Portuguese culture.
What can we expect to see in the episode in Macau?
I think what we try to do with all our programs is to invigorate and energize people to stop watching TV and go see the amazing planet we live on. We have a Russian audience and do it the way Russians do it.
Our episodes are usually comical because good humor is always great. I am exactly who I am on camera as I am off camera. I am not an actor and don't have a journalistic background. I just go with it and try to be sincere and show the real side of Macau.
We'd like to show them the crowd and then the good food as well. It's very easy to say negative things about anything. We tend not to do that. We want to deliver genuine experiences to our viewers. The team is happy when I'm happy which is great. That makes for excellent teamwork and creates fantastic features.
Any advice to anyone wanting to learn Russian?
Russian is an amazing language. But, you can't just pick it up as you go along. There is no point in learning the language unless you want to live there. English is not widely spoken in Russia but in Moscow though, it's often used these days. I really feel like an ambassador of Russia. I want to convey the city's story and adventure to everyone. I've lived there for 36 years. I still think one day I might leave the place but in all honesty, all my working life and everything I know of everything has a Russian angle to it so that's something to ponder.
You have been a grain supplier and sausage maker and now TV presenter? What is next for you?
I love music and I'm going back to DJ school to raise my game a little bit. You can learn something new at every point or stage of your life. I'd love to do more of the things I love doing. My one and only son is going to university and he will be paying for his own fees. I am really looking at two more years of this kind of work and doing more places I have always dreamt of going to.
Someday, I could actually look at setting up a restaurant. I love cooking. I might write a book about the Russian language and the funny side of it. And, I don't see my parents enough and really want to spend time with them.
Watch the show at www.ntv.ru/video/1532404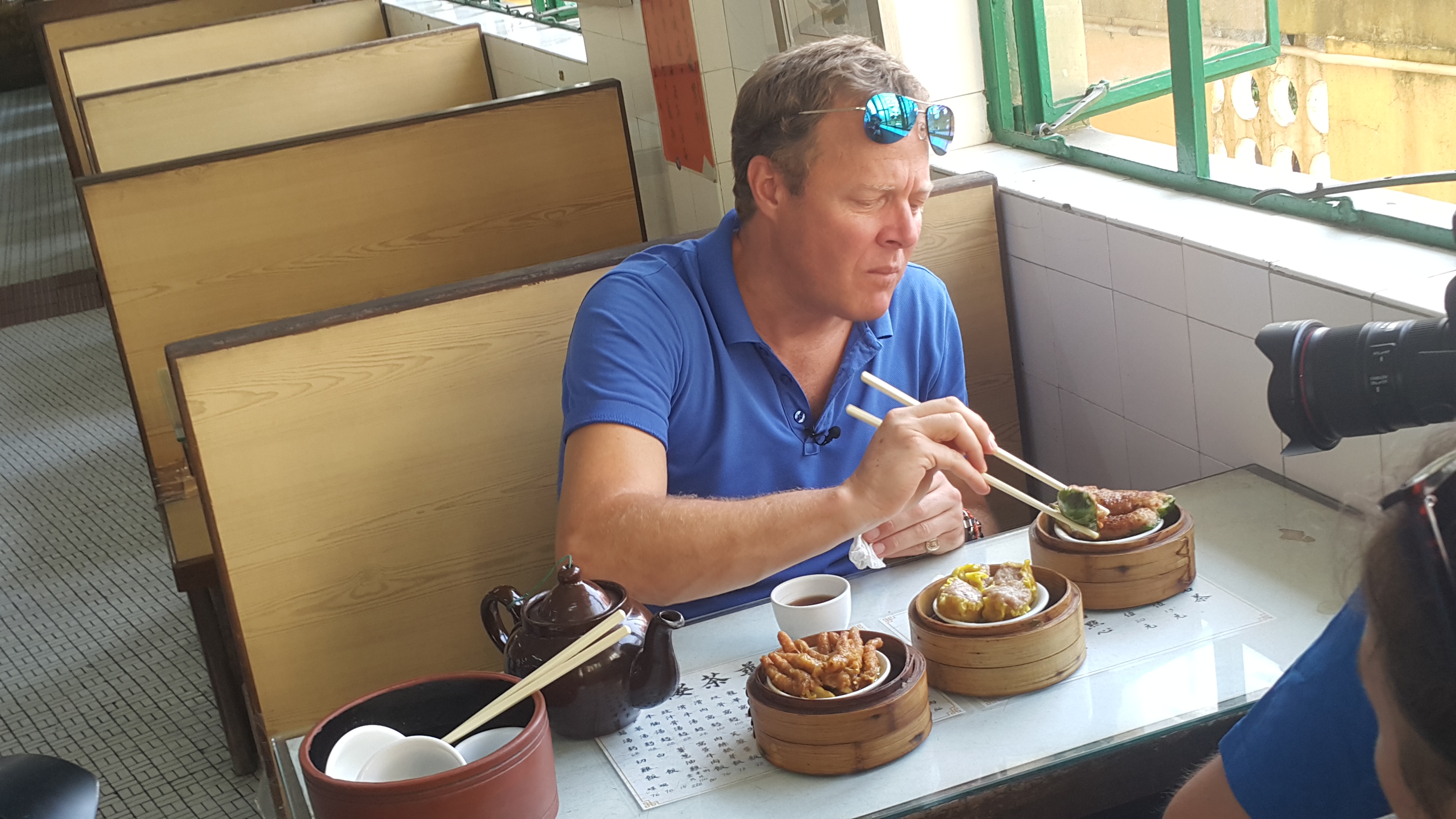 Share
Tags
Related Posts