Hong Kong is a magical place when it comes to culinary experiences. You'll find the finest restaurants serving virtually every cuisine from around the world in this colorful city. One place that has continued to stand out as a dining destination for more than a decade is Sevva. Set in stunning décor, alluring artwork, replete with amazing views and unforgettable menu, Sevva is the brainchild of Hong Kong's society figure Bonnae Gokson. The stylish founder of Sevva, Ms. B's Cakery and the C'est La B cafes had an illustrious career in fashion, design, and hospitality as manifested in her business ventures.
Meeting the metro's fashion icon after attending her successful book launch of "Weddings, Butterflies & The Sweetest Dreams", we sat down to learn more about what fuels her creative mind and passion. Bonnae Gokson's simple and honest answers were surprising and refreshing, reminding us that a setback or failure is never a hindrance to succeed in her tale of Sevva.
You've been in the fashion industry for a long time, what is fashion for you now?
My whole life has been involved in fashion. My grandfather actually started a department store in Shanghai thus entrusting it to my mother so I was fated to be within the same sphere. Basically, I have been in the retail end of things my whole life as I have been meant to and trained by a lot of famous designers. I was in visual merchandising and I probably opened more or less 50 stores. My last job role in fashion was with Chanel as Regional Director for Image in the Asia-Pacific region.
How did you cross over from fashion to F&B? How did that journey take place?
Well, I'm not new to the F&B business. In the old days, we had a store with a homeware line and a florist. It was quite a dynamite and there was a little cafe in which I was in charge of.  I conceptualized that space and it was popular even for visiting celebrities and A-listers. After my stint in Chanel, I went on a sabbatical. I kind of felt that I didn't want to work anymore. But my friends were telling me, you'll be wasted if you don't continue. Like my creative energy would be such a waste, and then that's when the idea of Sevva started, so that's my story.
Why Sevva? What's the general concept behind it?
To tell you the truth, my sister had a beautiful home in France and we lived there. I was used to visiting Laduree and roaming Rue Royale. I had the concept of bringing those cafes to Hong Kong. That was almost 13 years ago and no one in Hong Kong really heard of Laduree then. I was about to sign and bring Laduree as a cafe here but there were constraints on the franchise deal. My friends advised me differently, they had doubts on how I'll be able to use my creativity on an existing brand plus the royalties were so high.
With more motivation, I discovered the Prince's Building. One weekend I wrote a note to the head of leasing department saying that I heard they might have a spot there. And, then the next note comes saying, "Are you ready to open by Christmas"? That was it, and then I never looked back.
Honestly, I was scared but I wanted my story to go on. Many people say that Marie Antoinette was a painful inspiration. It was a parallel to my path as I didn't know if I could do well. That's why I have the cake that signifies Marie-Antoinette. It's in memory of the connection I lost in France. I meditated on it because you don't know the unknown just yourself when you started on your journey. And look at us now! It's been an amazing 11 years and we still have many of the same staff since we opened. (smiles)
Let's talk about Sevva, what does the name mean? 
"Seva" is a Sanskrit word that means service. It actually means, "to leave your ego behind and honor everybody by giving your best". It's an act of selfless work. I didn't want my brand to be just whatever I felt like. I wanted it to have meaning. We, of course, added in another "V" to distinguish it a bit.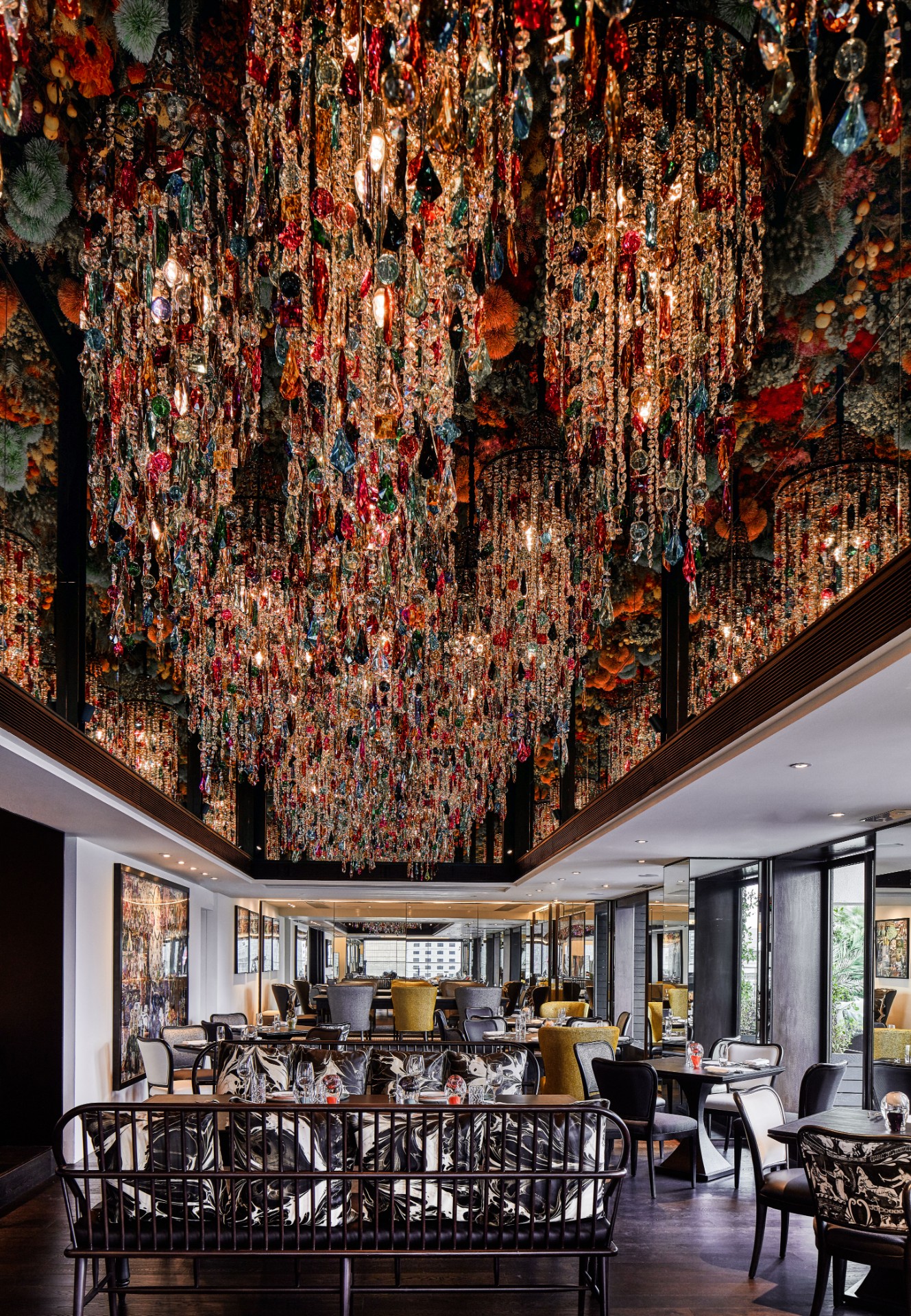 Sevva has been so popular and successful for many years. Why did you decide to revamp?
It was a must for us because of the wear and tear. Don't forget that this is a 1960s building and imagine having a thousand people dropping in on our good days. This is one of the oldest and most iconic structures in Hong Kong and you'll definitely see signs of deterioration. We wanted to evoke a new feeling in here. I personally wanted to give it residential energy feel rather than just the restaurant feel. It was very important to me for this place to have a soul and personality.
Can you share with us all about the redesign process? Who was involved, where your ideas came from? How long did it take?
I am 100% involved in everything about Sevva. I've designed almost every aspect of the business and brand. I even brought an award-winning florist from London who was the winner of many of Chelsea Flower Shows. I also designed all the lights and chandeliers.
Where do your ideas come from?
My inspiration comes from anywhere and everywhere. I have memories of things out in the streets as I stroll. I am a very visual person. I worked within that creative atmosphere for many years and with the best in various industries such as architecture, fashion, beauty, and design. But I guess the most challenging part was to work with existing things in the space of Sevva. I wanted the place to have energy and I wanted jewel tones to highlight the corners. I believe in the essence of colors and how it changes the moods and perspective.
Sevva's dining has been revamped as well, can you tell us what guests can come to expect from the new menu?
Everybody's taste is different. We certainly have new additions to the menu. I've always had a guest chef from Australia who was with the prominent restaurant NOBU many years. I've worked with many amazing people in the industry from all over the globe. And to tell you the truth, everyone loves the Sevva favorites.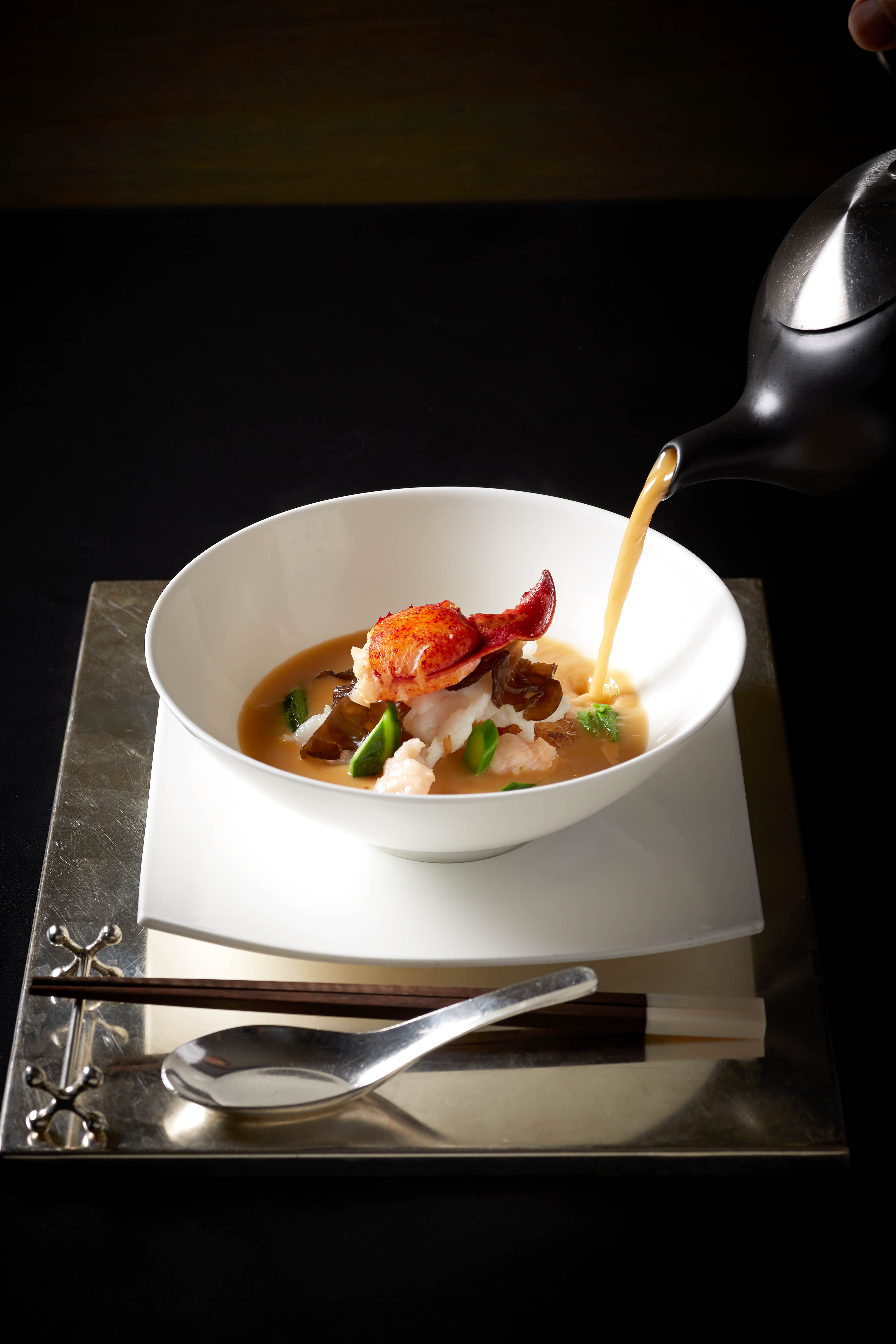 Sevva has one of the best rooftop views in the city, besides the great views, stylish interiors, and delicious food, what do you feel is something that is often overlooked by people when they visit?
Nothing really comes to mind. In fact, we really should be counting our blessings. To be well-known not just in Hong Kong and Macau but elsewhere as well makes us really proud. We've got people coming from all over Europe and the US to visit us because they've heard great reviews and recommendations. We've received compliments from general managers of hotels across the city and the tourism board and that's a really amazing feat.
Outside of Sevva, you are also the mastermind behind Ms. B's Cakery, why a bakery?
I never really imagined that I'd have a bakery. In the beginning, the business was packed with people ordering the cakes. And at the same time, our food menu was very extensive and the kitchen spaces were tiny. Space was an issue with hundreds of orders per day. The chefs were saying they can't take orders anymore. I took the time to walk around town and found a little place that was perfect. I took that spot to supply our orders and gave it a different branding so that it's two different businesses. And then just like that, everything else followed suit.
Last year you launched your own coffee table book, this year you redesigned Sevva, What's coming up for you next year? Any exciting plans?
Que sera sera. I guess that's it really! I want to focus on myself because I've dedicated more than 100% of my time on all projects and it seems endless. We are in the process of designing the Christmas and Chinese New Year menus as we speak. I'd love to do more travels although I'm not really the kind of person who plans a lot. We've had talks about franchising Sevva so we'll see how it all unfolds (smiles).
---
Sevva Prince's Building, 10 Chater Rd, Central, Hong Kong, +852 2537 1388, www.sevva.hk www.facebook.com/sevva.hk
Tags
Related Posts