Amidst the chaos of the festive season, why not gift yourself and look after your body and soul at a spa. They say this season is the season for love, family and giving, but give some love to yourself as well! We recommend a spa break this time of the year, and the options for a relaxing beauty and wellness treatment in Macau are innumerable so we've sampled them and plucked out the best ones.
THE ST. REGIS MACAO, COTAI CENTRAL
(See featured image above)
St. Regis Macao's Iridium Spa is heaven on earth. Their Intraceuticals Oxygen Treatment is a revolutionary treatment that is a must-have this festive season. It is a treatment that makes it possible to achieve glowing skin in a non-invasive way.
This nourishing winter facial rejuvenation treatment has been making waves in Hollywood. Stars, supermodels and beauty bloggers have been captivated by Intraceuticals, which uses therapeutic-grade oxygen and hyaluronic acid that delivers specialized active serums to the skin. It is delicate and fuss-free. What makes it amazing is it instantly lifts, tones and hydrates the skin. The results are immediately felt and seen. You'll feel a certain vibrancy as your skin becomes noticeably brighter and firmer. It's priced at MOP $2,880 plus 5% government tax. You'll also receive a Booster Series product valued at MOP $478 for true celeb status style.
Iridium Spa The St. Regis Macao, 38F, Estrada do Istmo, Cotai, +853 8113 4949, www.iridiumspamacao.com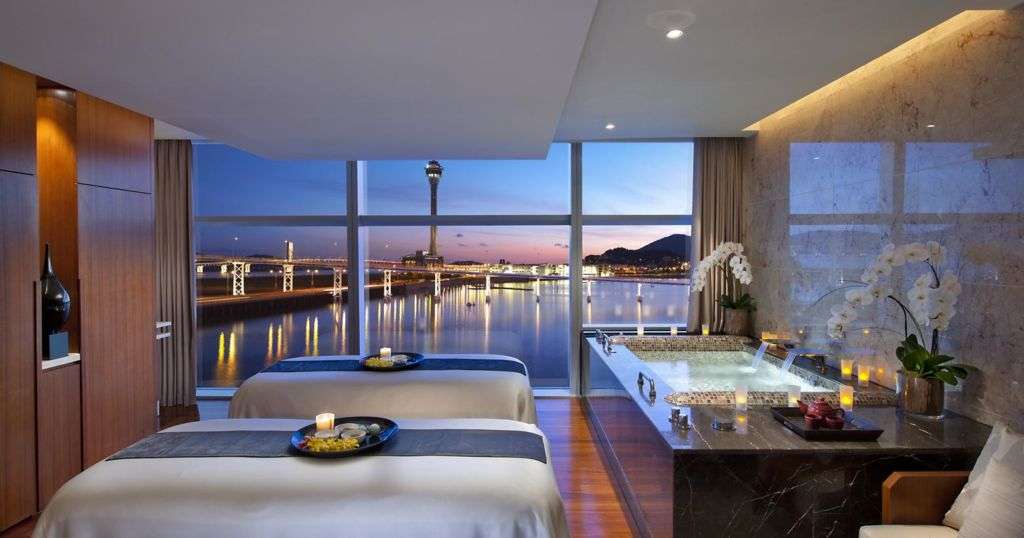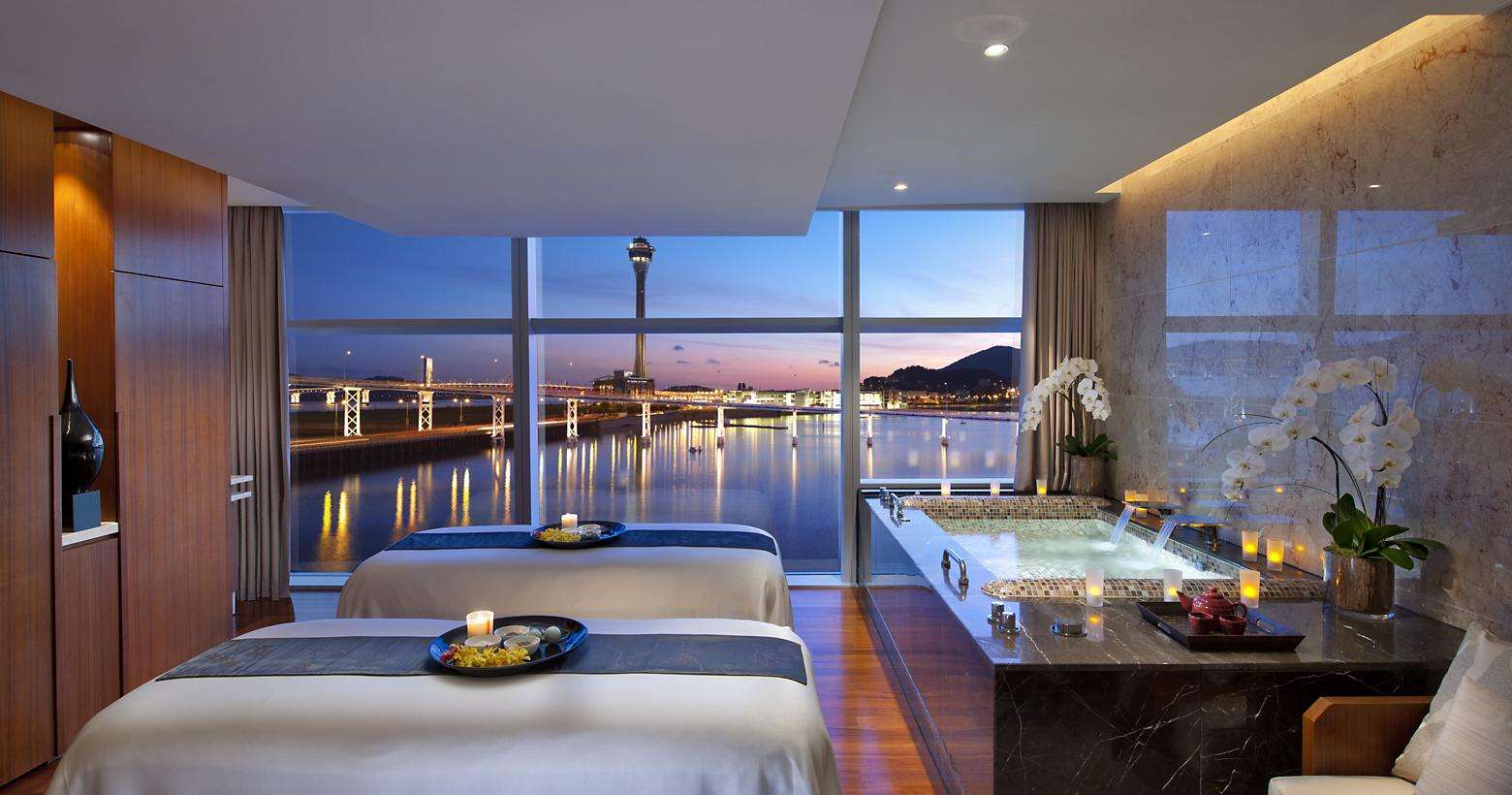 Mandarin Oriental Macau
The city has a rich selection of spa treatments but one of the most luxurious places to go for a spectacular spa experience is Mandarin Oriental, Macau. If stress-free is what you're aiming for then The Spa Holistic Wellbeing at The Spa is just the right treatment you need to battle those worries away. It is available from December 1 to January 6, 2019. If you're still struggling with your Christmas list then Mandarin Oriental Macau's luxurious hampers from The Spa are the most thoughtful presents ever. The Wellness Hamper is priced at MOP $1,645 and the#ImAFan Hamper is priced at MOP $1,275. The treatments are priced at MOP $1,080 onwards and worth every pataca.
Mandarin Oriental, Macau 945 Avenida Dr. Sun Yat Sen, NAPE, Macau, +853 8805 8888, www.mandarinoriental.com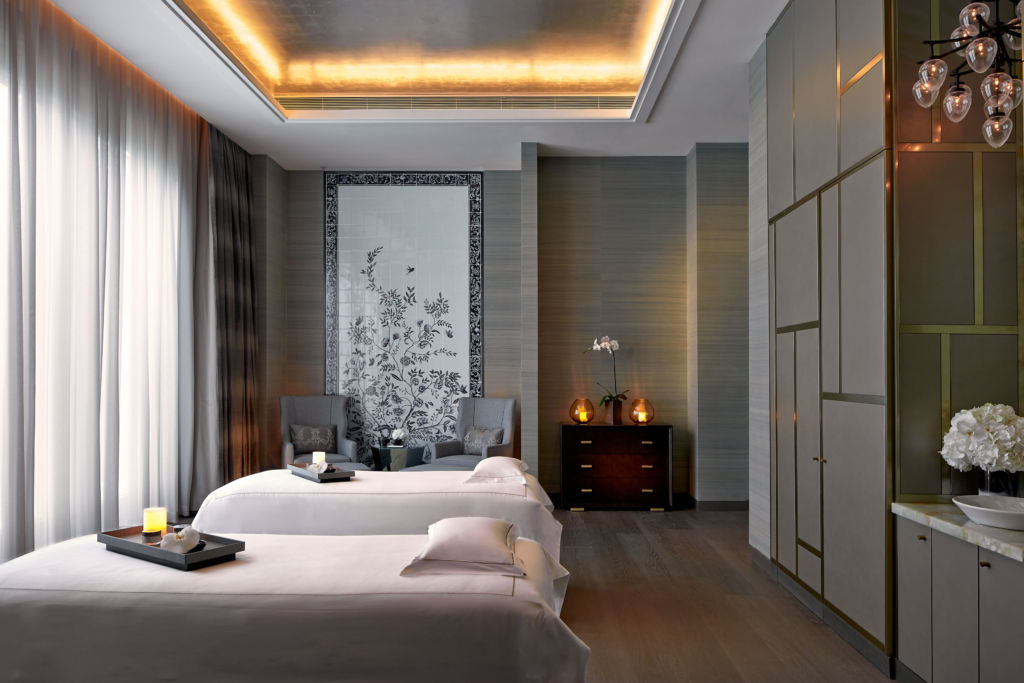 The Ritz-Carlton Macau
Give your loved one the gift of peace and wellness with a pampering day at The Ritz-Carlton Macau's ESPA. Better yet, treat yourself to this relaxing experience after a year of highs and lows. Calm your senses before you welcome 2019 in your life at this beautiful space in the city. The rejuvenating remedies on offer are made to alleviate deep-seated tension and stress this winter. Soothe your mind and soul at this haven of tranquility. The Festive Bliss is priced at MOP $2,200 for 120 minutes of serenity this season of joy. It includes a body massage with hot stones, a personalized express facial and a relaxing scalp massage.  It also includes an ESPA Gift containing a 15ml ESPA Aromatherapy Body Oil. The prices are subject to a 10% service charge and 5% government tax. What are you waiting for? Book this fabulous experience.
ESPA The Ritz-Carlton Macau, 3/F, Estrada da baia da Nossa Senhora, da Esperanca, Cotai, +853 8886 6868, www.theritzcarlton.com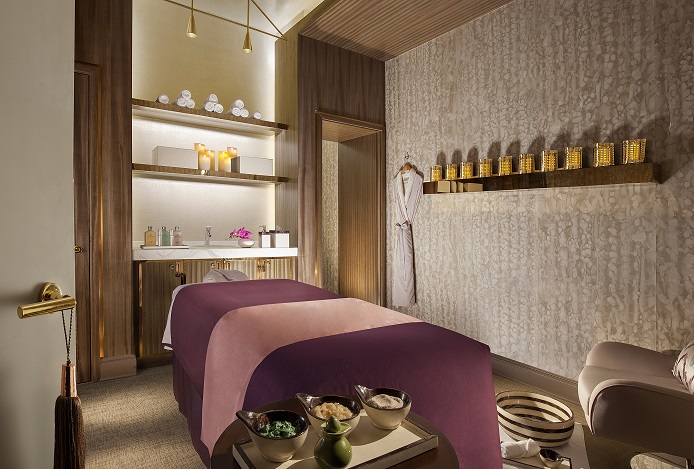 The Parisian Macao
In the heart of The Parisian Macao is Le SPA'tique. It has quickly become a favorite by many for innovative treatments. This month, they have introduced a dynamic new pollution-busting and brightening facial treatment based on world-renowned LING skincare and harnessing the power of ultrasonic waves. The Sonic Wave An-TEA Pollution Facial offers a state of the art treatment using ultrasonic waves to rid the skin of toxins, instantly revealing a brighter complexion. The unique facial treatment is enhanced with a specialized massage designed to firm the skin and a peppermint alginate mask to further boost the serum. The 90-minute treatment is available at a special introductory price of MOP $1,240 from November 1 to December 31, 2018.
The Parisian Macao Estrada do Istmo, Cotai, +853 2882 8833, www.parisianmacao.com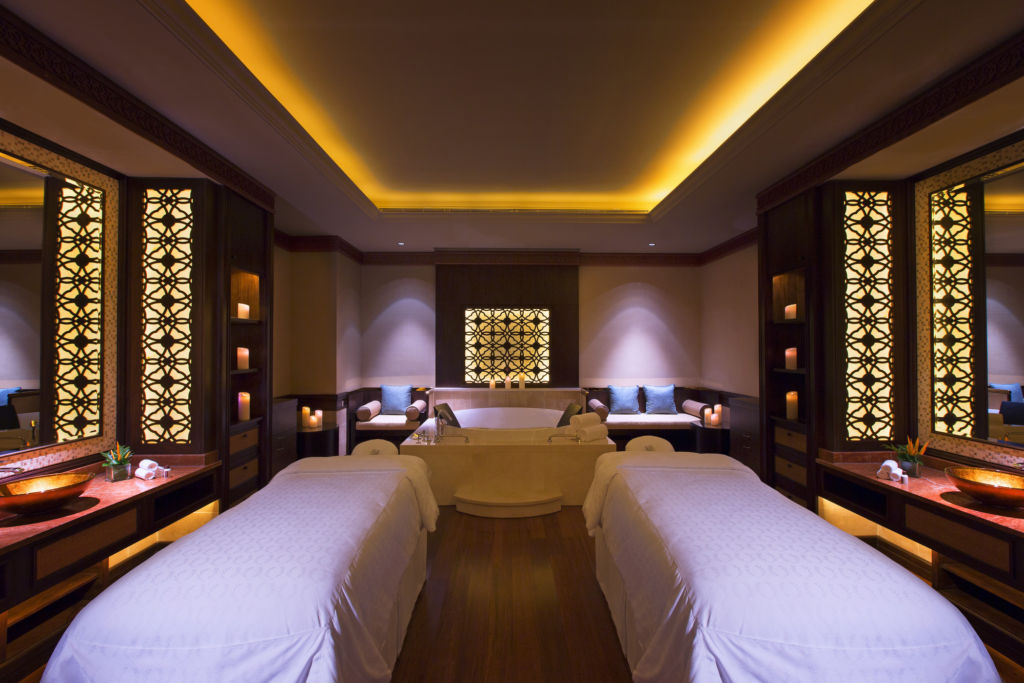 Sheraton Grand Macao Hotel
Everyone needs to recharge – whether it's before or after the festive season doesn't matter. Still for a Christmas retreat, wwe suggest you head to Shine Spa at Sheraton Grand Macao Hotel. This treatment will energize your skin. Their signature  Shine spa massage combined with a 30-minute golden body wrap and a 30-minute mini facial makes for the perfect combination of a holiday reset to prepare you for 2019. You also receive a complimentary The Perfume Studio fragrance set valued at over MOP $800. The two-hour treatment is priced at MOP $1,980.
Shine Spa Level 3, Sheraton Grand Macao Hotel, Estrada do Istmo, Cotai, Macau, +853 8113 0222, www.sheratongrandmacao.com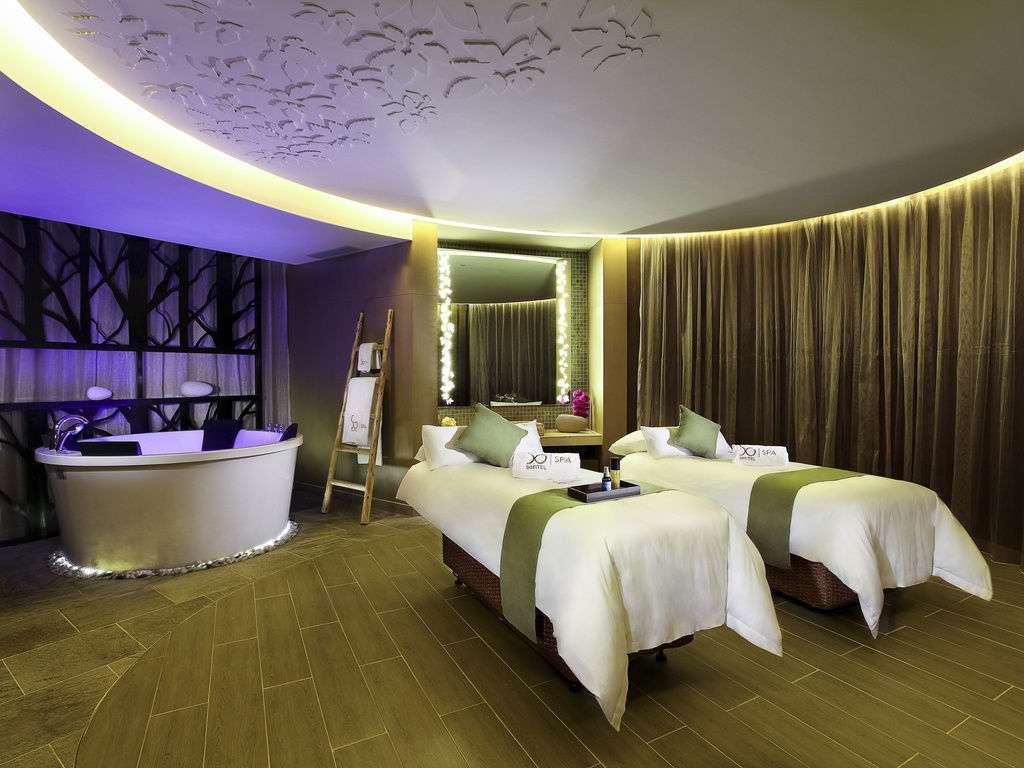 Sofitel Macau At Ponte 16
If you're a fan of hot stone massages then you're in for a calming retreat at Sofitel Macau At Ponte 16's So Spa. Their Hot Stone Massage utilizes thermal conductive basalt rocks warmed in hot water and soaked with exquisite essential oil. Imagine the warmth reaching the deepest layers of your muscle tissue to relax your body completely, calming the nervous system, and relieving muscle pain.
The heat can facilitate the essential oil to penetrate the sebum layer, soften and break down fat cells and improve circulation and boost metabolism, prompting the body to detox naturally. During the promotion period between December 1 to January 31, 2019, guests can receive a complimentary 25-minute treatment of your choice and a cash voucher worth MOP $100 applicable at next visit only upon the purchase of a 75-minute Hot Stone Massage worth MOP $780.
So SPA 6/F, Sofitel Macau At Ponte 16, Rua do Visconde Paco de Arcos, +853 8861 7801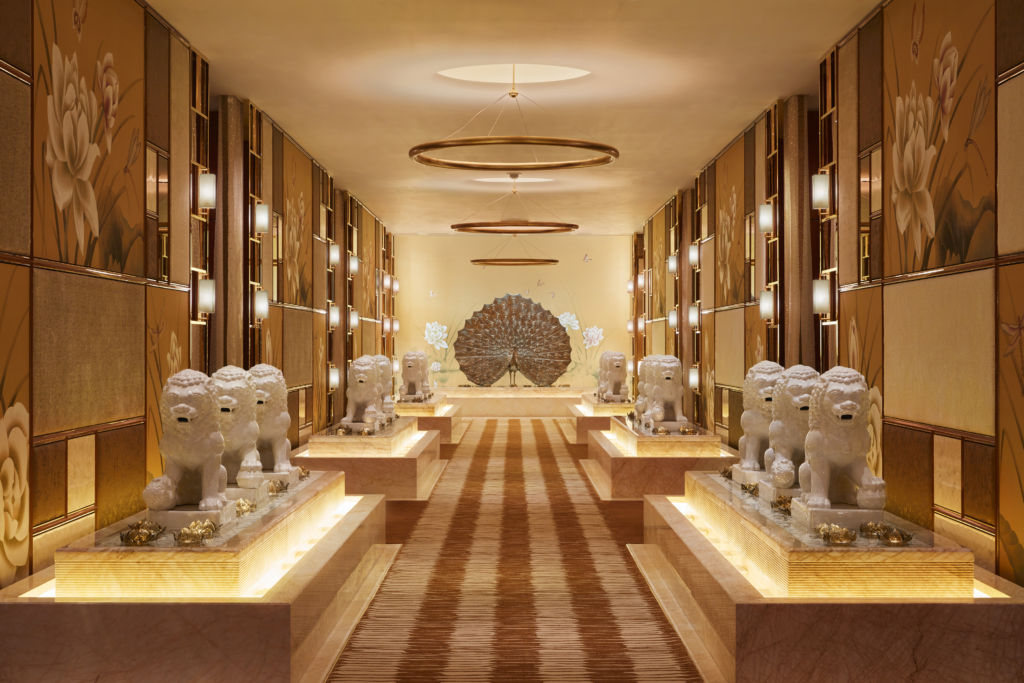 Wynn Palace
You might have heard great things about The Spa at Wynn Palace and we recommend you sample it for yourself. Give yourself the gift of pampering with the Diamond Tranquility treatment. The decadent Diamond Multisensory Lifting Facial also includes a relaxing body massage using the legendary Diamond Body Cream. Made of the finest ingredients for a beauty look that reinforces your skin's natural defense system thereby presenting long-lasting hydration and improving elasticity, this is a one-of-a-kind treatment to try. It's priced at MOP $3,200 and lasts for two and a half hours.
Wynn Palace Cotai Av da Nave desportiva, Macau, +853 8889 8889, www.wynnpalace.com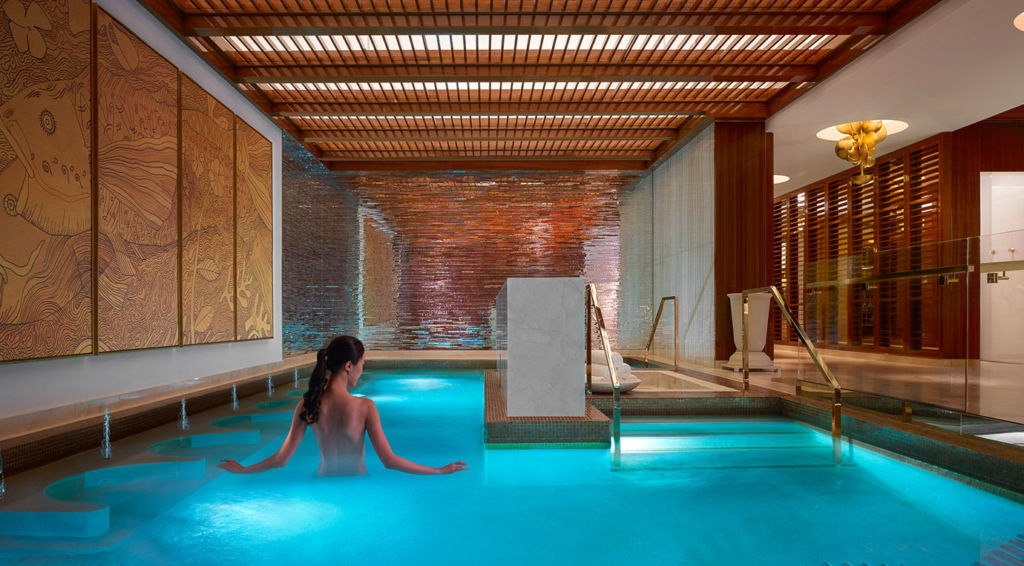 WYNN MACAU
The festive parties and gatherings can all be tiring. So make sure to book an appointment at Wynn Macau's The Spa at Encore for a Ginseng Glow. The impressive treatment will soothe tired, overstressed muscles with the healing benefits of ginseng, custom blended oils and heated stones. The relaxing massage will also help balance and reconnect your body with its core. After awakening your senses, the oxygen facial and special diamond radiance mask will rejuvenate lackluster skin, restoring your complexion to its youthful structure, strength and glow. The two and a half hour of beauty reboot is priced at MOP $2,900.
Wynn Macau Rua Cidade de Sintra, NAPE, Macau, +853 2888 9966, www.wynnmacau.com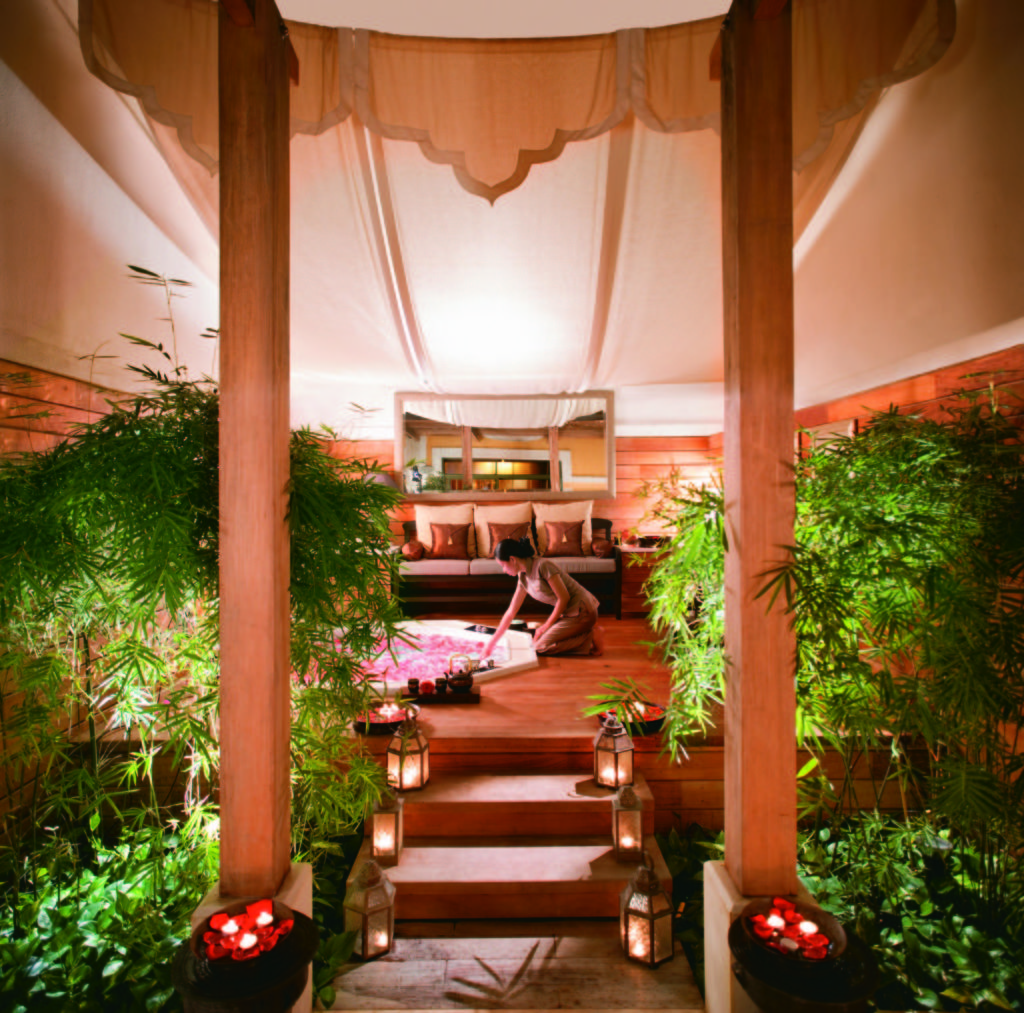 Grand Lapa Macau
Dissipate your stress at Grand Lapa Macau's The Spa this holiday season. One of the must-try treatments is their Macanese Sangria Ritual. The unique journey of relaxation is comprised of three-parts, incorporating grape seeds, extracts, and essential oils.  It starts with a sensual body scrub using fresh grapes and crushed rice with a mixture of grape seed oil, rosemary and essential oil. The next stage is a revitalizing sangria bath in the outdoor whirlpool bath of your private spa garden, accompanied by a glass of specially made sangria for drinking. Made from red wine and grape seed extracts, the sangria bath stimulates the circulatory system and moisturizes the skin. The journey ends with an 80-minute grape seed oil massage. It is priced at MOP $1,820.
Grand Lapa Macau 956-1110 Avenida da Amizade, Macau, +853 2856 7888, www.grandlapa.com
Tags
Related Posts