It is a scientific fact we cannot avoid–the meat industry is one of the biggest contributors to climate change. Moreover, all the influential health organizations claim that reduced meat consumption and going mostly plant-based is beneficial for your health. Of course, there's no forcing a diet on everyone but going meatless has its benefits. For your upcoming Meatless Mondays, or for our vegetarian and vegan readers, here is a list of the best vegetarian and vegan places in Macau that will not disappoint.
Chakra Space
Meng Wong claims that Chakra Space totally reflects his lifestyle and it shows. It sort of feels like visiting that one buddy of yours that is all about a healthy lifestyle, spirituality, and art. Oh, and he is also a talented chef.
In fact, it is the owner who is responsible for all the food preparation here. Vegan food with a sustainable approach is what he cooks. Dishes arrive at the table presented in such a homey, yet stylish way that an Instagram post can't wait. Most of the menu is based on Asian flavors, some curries with mushrooms and vegetables and delicious desserts. Four-legged friends are welcome here, by the way.
Opening hours: 12:30am–6:00pm, 7:00pm–10:00pm, Tuesday–Sunday. Closed on Monday
Chakra Space 19 Calcada da Barra, Macau, +853 6677 8669, www.facebook.com/octaspace1

The Blissful Carrot 
A renowned Taipa Village eatery with amazingly conscious owners. Not only they offer one of the tastiest vegetarian options in Macau, but they also constantly participate in and support sustainable initiatives. They have recently been adding new Asian dishes to their menu. Ask for spicy "tuna" bun, vegan ramen and vegan dumplings. Follow them on social networks to be updated on vegetarian novelties. We suggest ordering in advance to grab your food upon arrival and enjoy their wholesome dishes on the nearby steps surrounded by old Taipa trees.
They also brew their own kombucha and it should definitely be added to your healthy shopping list.
Opening hours: 10:00am–8:00am, Thursday–Tuesday. Closed on Wednesday
The Blissful Carrot 79 Rua Direita Carlos Eugenio, Taipa Village, +853 6298 8433, www.facebook.com/blissfulcarrot

Sum Yuen in Pou Tai Monastery 
Sum Yuen is a well-hidden vegan restaurant in the Taipa Buddhist monastery. Not many spots in the city have such a tranquil vibe as this place. It might lack sophistication and trendiness, but it all boils down to food, doesn't it? Well, Sum Yuen definitely delivers that. They serve Chinese vegetarian dishes like marinated tofu and cabbage rolls. As the menu is pretty extensive, it's best to come with friends and order several things to share.
Opening hours: 11:00am–8:00pm, Monday–Saturday, 9:00pm–9:00pm, Sunday
Sum Yuen Pou Tai Temple, 5 Estrada Lou Lim Ieok, Taipa, +853 893 0321, www.facebook.com/sumyuenmacau

Veggie Macau
Beautifully presented vegetarian food in a simple but cozy space. Although the majority of the food in Veggie could easily pass your healthy diet criteria, they do offer some guilty pleasures for you to indulge in like a banana chocolate waffle.
Veggie Macau's menu is inspired by national cuisines and feature dishes like tofu tikka masala, pineapple and vegetarian "meat" quesadilla, baked vegetarian bolognese spaghetti with cheese. We just can't get enough of their pastel lattes–green matcha and Japanese sweet potato.
Opening hours: 12:00pm–9:00pm, Wednesday–Monday, closed on Tuesday
Veggie Macau 1-3 Rua do Tap Siac, Macau, +853 2836 6891, www.facebook.com/VeggieMacau

Puffin Cafe 
Named after a cute little bird, Puffin Cafe serves salads, pasta, sandwiches, wraps and more. Although they do have some non-vegetarian dishes, a big part of their menu is plant-based. Moreover, some of the dishes can be cooked without meat on request.
Puffin's whole wheat wrap with creamy spinach filling and stuffed portobello mushroom are firm favorites. Pair them with an avocado soy milkshake for a perfect combo. If you're not satisfied with what they offer on the menu, you can build your own sandwich or salad with some home-made mayo. Yum!
Opening hours: 11:00am–9:30pm, Wednesday–Monday, closed on Tuesday
Puffin Cafe San Wan building, 16A Rua de Santo António, Macau, +853 2883 6663, www.facebook.com/pg/PuffinCafe

Ting Ting Café Restaurant and kiosk
Ting Ting Café Kiosk is located inside a small park on Praça de Jorge Álvares. You can say they sell fast food, only healthier. They started with vegetarian burgers that quickly became popular. These days, one of their bestsellers are beetroot vegetable soup, tofu burger, black pepper mushroom burger, and organic quinoa salad sushi. If you are pressed for time during lunch, this spot would be a great choice. Order some freshly squeezed juice of your choice or a smoothie to go before heading back to work or city exploring.
An older brother of the kiosk, Ting Ting Café Restaurant is a casual dining spot for vegetarians. The food served is the same and they have a set lunch menu.
Opening hours: 8:30am–7:00pm, Monday–Friday; 9:30am–7:00pm, Saturday, closed on Sunday
Ting Ting Café Kiosk Praça de Jorge Álvares, Macau, +853 6387 7345
Opening hours: 8:00am–8:00pm, Monday–Friday; 9:00am–7:00pm, Saturday–Sunday
Ting Ting Café Restaurant 4 Beco das Caixas, Macau, +853 6698 3483, www.facebook.com/TingTingCafe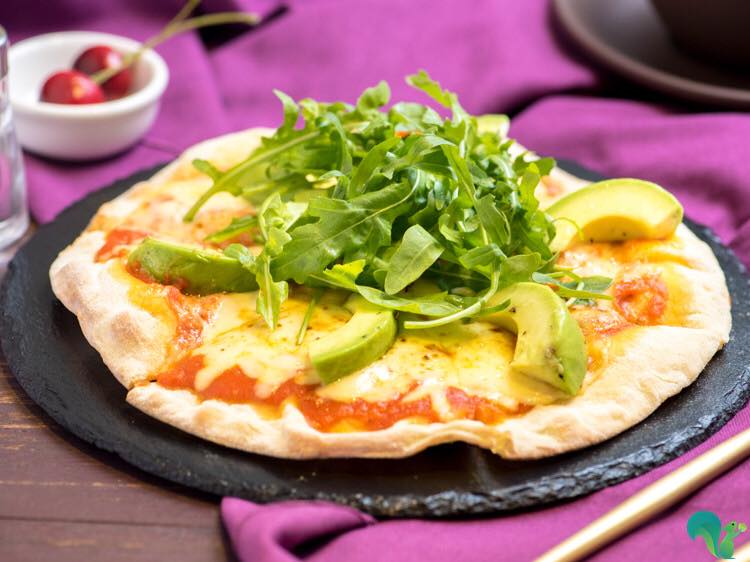 Veggie Castle
When you crave some vegetarian Italian cuisine, this is where you should go. Veggie Castle has a variety of pizzas, risotto, and pasta, including fragrant black truffle, mushroom, and asparagus spaghetti. Their menu is 100% vegetarian and, besides Italian dishes, features salads, soups, and burgers. The desserts here are heavenly with cakes as their specialty, particularly the earl grey chiffon cake. Try it with some hot Ukranian plum juice for an interesting twist!
Opening hours: 11:00am–9:30pm, Tuesday–Sunday, closed on Monday
Veggie Castle 8 Patio Fu Van, +853 682 96348,  www.facebook.com/Veggie-Castle

Vega Vega
Here is another decent option for vegetarian Italian comfort food. They have pasta, risotto, pizza and a bunch of plant-based starters. They substitute dairy in creamy sauces with plant-based milk and it works perfectly in pasta and risotto. The majority of dishes are vegan, but there are some that contain dairy cheese. However, regular cheese can be substituted for vegan cheese upon request.
The drinks section offers some interesting smoothies such as dragon fruit or grape. An avocado and banana smoothie can easily make a deliciously light lunch.
Opening hours: 11:30am–9:30pm, daily
Vega Vega 9 Rua de Cinco de Outubro, Macau, +853 2880 2092, www.facebook.com/VegaVegaMacau
Tags
Related Posts