Salads have a reputation among some as dull, tasteless and "diet food". This couldn't be more wrong because salads are becoming more popular and have developed their own taste profile. We've selected the best places in Macau, whether vegan, vegetarian or packed with protein!
Healthy Habits
(See featured image above)
This is a minimalist spot serving all things healthy. From tuna bowls, quinoa dishes, açaí fruit bowls, heavy protein plates, teas, fresh fruit juices–their menu is a sight to see. They are a little pricey but it's worth every cent for their big portions and fresh veggies! They have now extended their schedule and are open until 10:00pm. Great news, Healthy Habits also delivers to the Macau area. The owners speak Chinese, English, and Portuguese, so there's no need to worry about botching your order! Check their Facebook page for more information, as well as products to shop for your own kitchen.
Opening hours: Daily, 11:00am–10:00pm
Healthy Habits R/C A, Edifício La Bahia, 203 Avenida Comercial de Macau, Macau, +853 2859 3386, www.instagram.com/healthy.habits.cafe
Also read: Best Vegetarian & Vegan Places in Macau
Also read: Where to Find Mexican Food in Macau
Sauce Salaboratory
This hidden gem is located right in the city center. Their food is made of fresh fruit and veggies and there are options that include meat as well. The food here is cheap and chock full of protein! Also, the restaurant is really nice and has good vibes, so head here if you are looking for a locally-owned and managed business, crafting original salads that are tasty and pocket-friendly. Presentation is key and Sauce Salaboratory's founders know that! Their dishes are beautifully fresh, so don't hesitate to pop by and try one for yourself. Check their Facebook page to browse through their menu and they have now opened a second shop in Taipa!
Opening hours: Daily, 11:00am–8:00pm
Sauce Salaboratory Pátio de Chon Sau, Macau, +853 6393 9584
201 Avenida de Kwong Tung, Taipa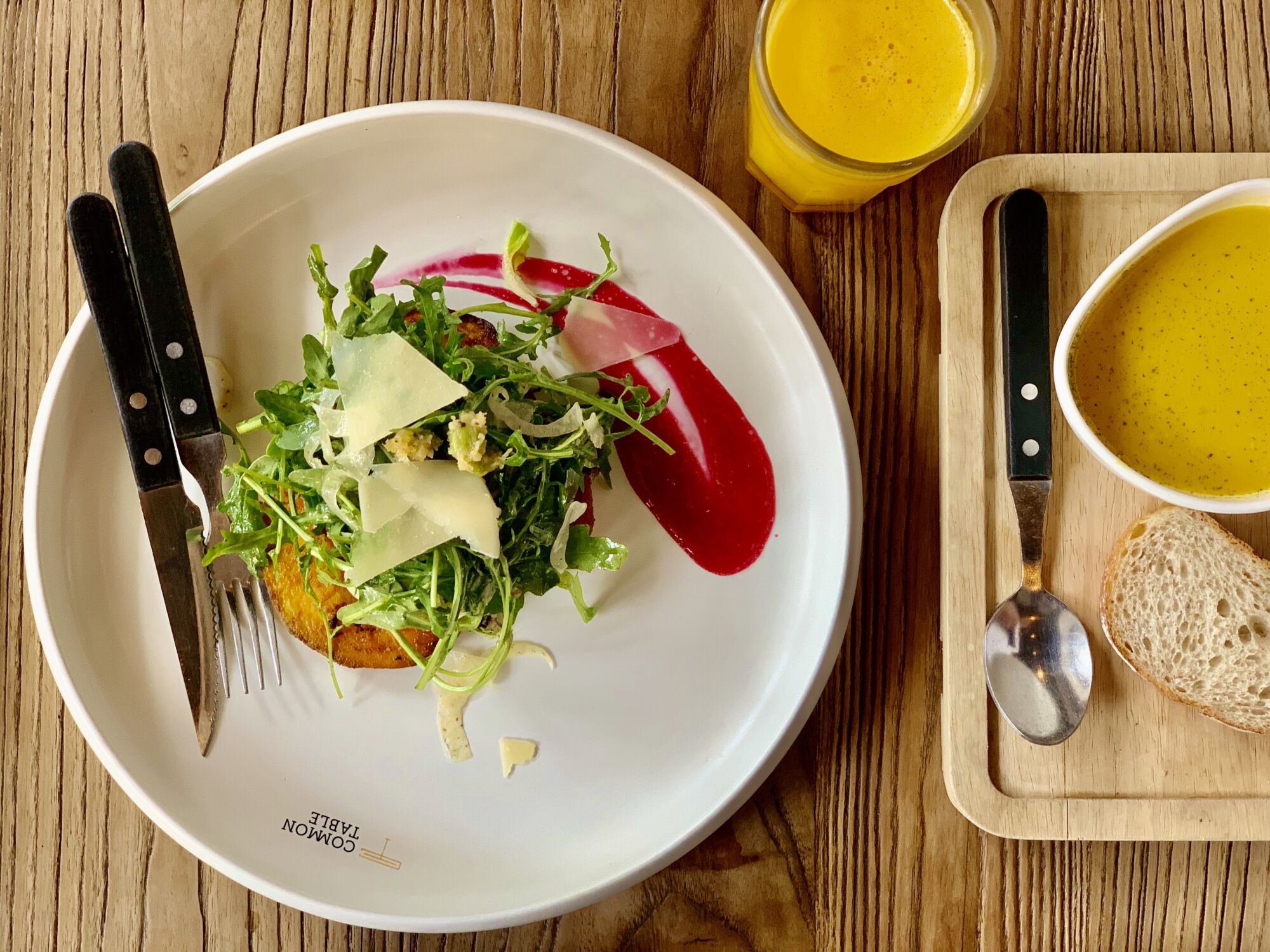 Common Table 
Their energy salad is a must-have! Big enough to share or to be someone's main dish, it's one of Common Table's signature delights for either lunchtime or a late snack. While some seek trends, the main ingredient here is freshness: with roasted pumpkin slices, beetroot, crunchy quinoa, and lettuce, plus chewy mozzarella bites and thinly sliced radish, this is a perfect dish for summertime! Have it with a soup and one of their artisanal teas on the side and if sharing is your thing, ask the truly scented and tasteful basil spaghetti with vegetables. Check their Facebook page for menu updates and yummy photos!
Opening hours: Daily, 8:00am–11:00pm
Common Table Avenida de Guimarães, Nova City R/C Shop A, Taipa, +853 2885 6601, www.instagram.com/commontable.mo
Also read: Common Table's Dinner Menu: From Snails to Steaks
Also read: Where to Have the Best Pasta in Macau
Larry's Place
Close enough to the city center, but tucked away in a nice and quiet street, Larry's Place is named after its owner, a Macanese entrepreneur who loves food and healthy and fresh ingredients. From fruit shakes and juices to coffee and rice bowls, salads are the menu's highlight. Brown rice, lots of fresh veggies, avocado, chicken and tuna are some of the ingredients you can choose from. Pair your favorite salad with fresh juice and have a great lunch! Salads cost between MOP $38 and $45, so be sure to check their menu on their Facebook page, order and grab your meal or ask for delivery to your home or office in the Macau area.
Opening hours: Monday–Saturday, 8:00am–8:00pm
Larry's Place 2 Beco do Gonçalo, Macau, +853 6528 9786, larrysplacemacau.business.site
Also read: Macau's Best Veggie Burgers
Also read: Best Places for Food Delivery in Macau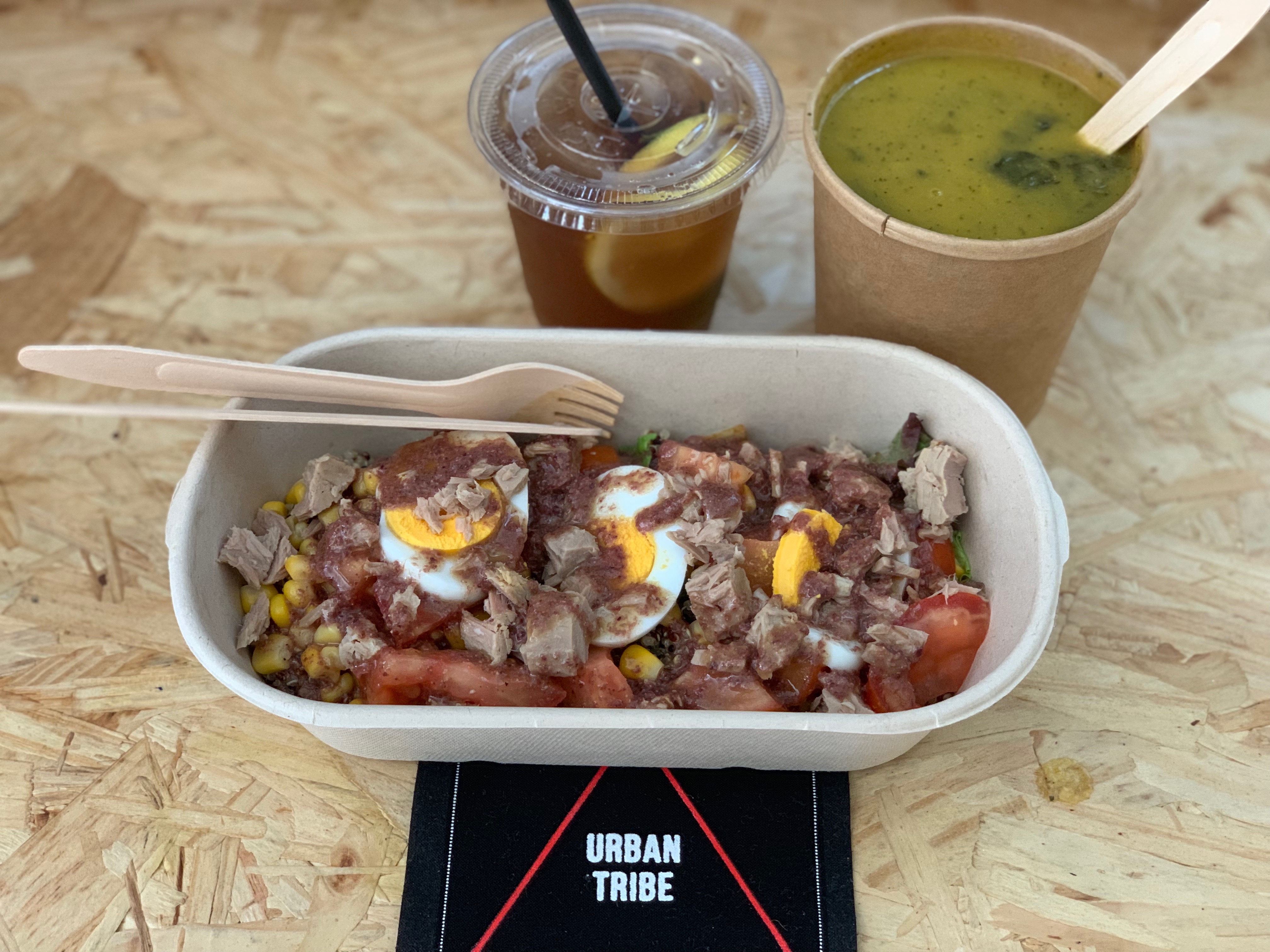 Urban Tribe
Inaugurated this year, Urban Tribe is focused on organic food and providing an environmentally-friendly dining experience, with reusable and recyclable goods and amazingly fresh ingredients. Urban Tribe's homemade soup is something not to be missed, so be sure to try it. Their main salads have three options of base: quinoa, pasta or lettuce, to which one then adds whatever ingredients you prefer. From olives to tomato, egg to tuna and chicken, their final product is simple, yet superbly tasty. When was the last time you had such a beautiful combination? They also serve coffee, homemade cakes, pizza, quiches, and other items such as organic Portuguese wine, granola from New Zealand, and organic yogurts. More products are going to be sold in the future, so stay tuned. Their Facebook page has all the information you need but you're more than welcome to drool over their food pictures too!
Opening hours: Monday–Friday, 11:00pm–7:00pm
Urban Tribe 1 Calçada da Rocha, Macau, +853 6555 8067, www.facebook.com/urbantribemacau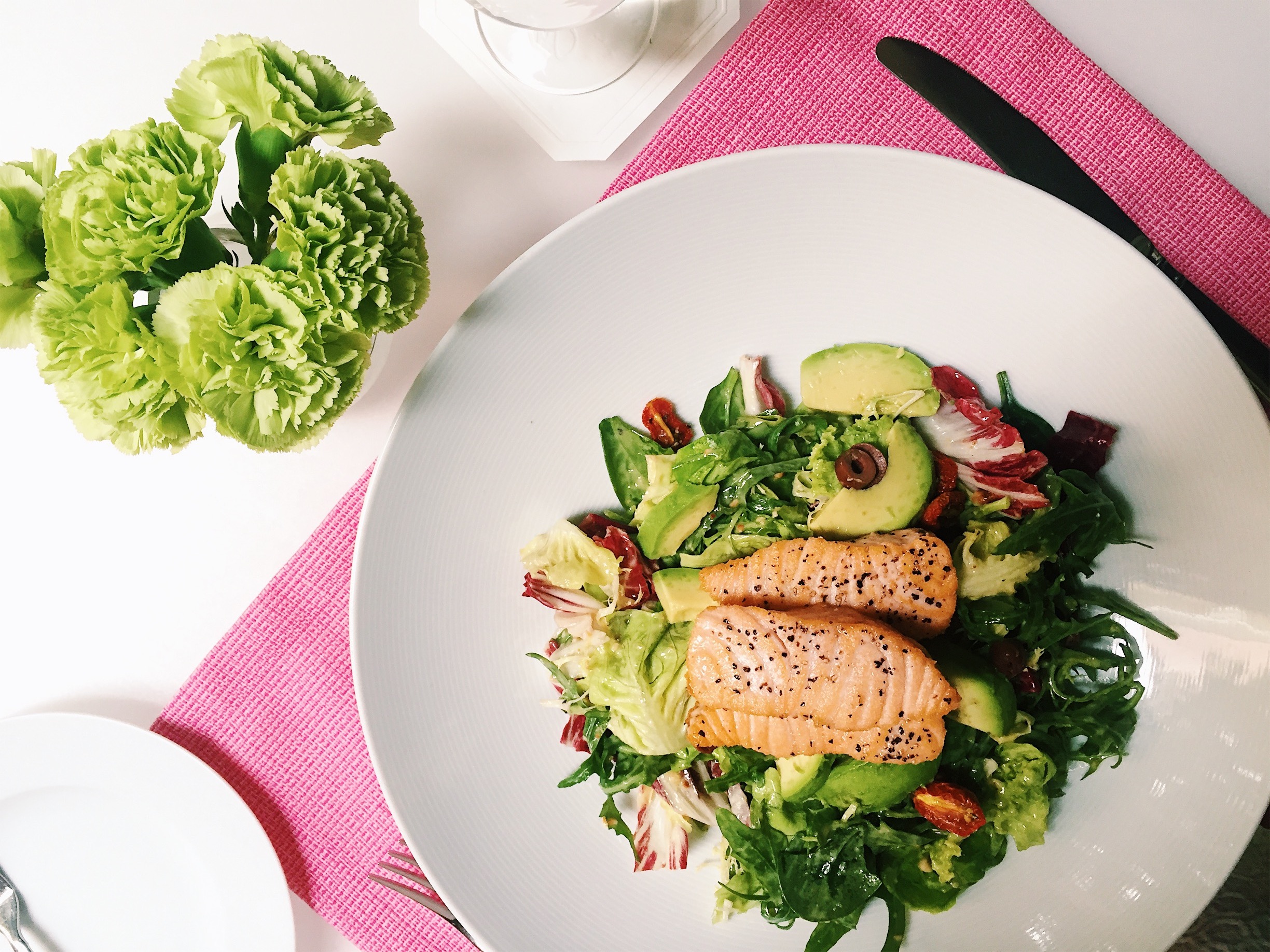 Café Esplanada
With four great salads on their menu, the only difficult thing when dining here will be which to choose. This Wynn Macau restaurant has one of the best alfresco areas in town overlooking the pool, perfect for people with children or someone wanting a breath of fresh air, away from the crowd. We recommend Café Esplanada's goat cheese salad with baby spinach, kale, walnuts, and other ingredients, it's the perfect dish for a quick and light lunch leaving you satisfied for hours. Portions are generous, so there's no chance to ruin your diet by snacking! Check out their menu here.
Opening hours: Daily, 6:30am–00:00am
Café Esplanada Wynn Macau, Rua Cidade de Sintra, Macau, +853 8986 3663, www.wynnmacau.com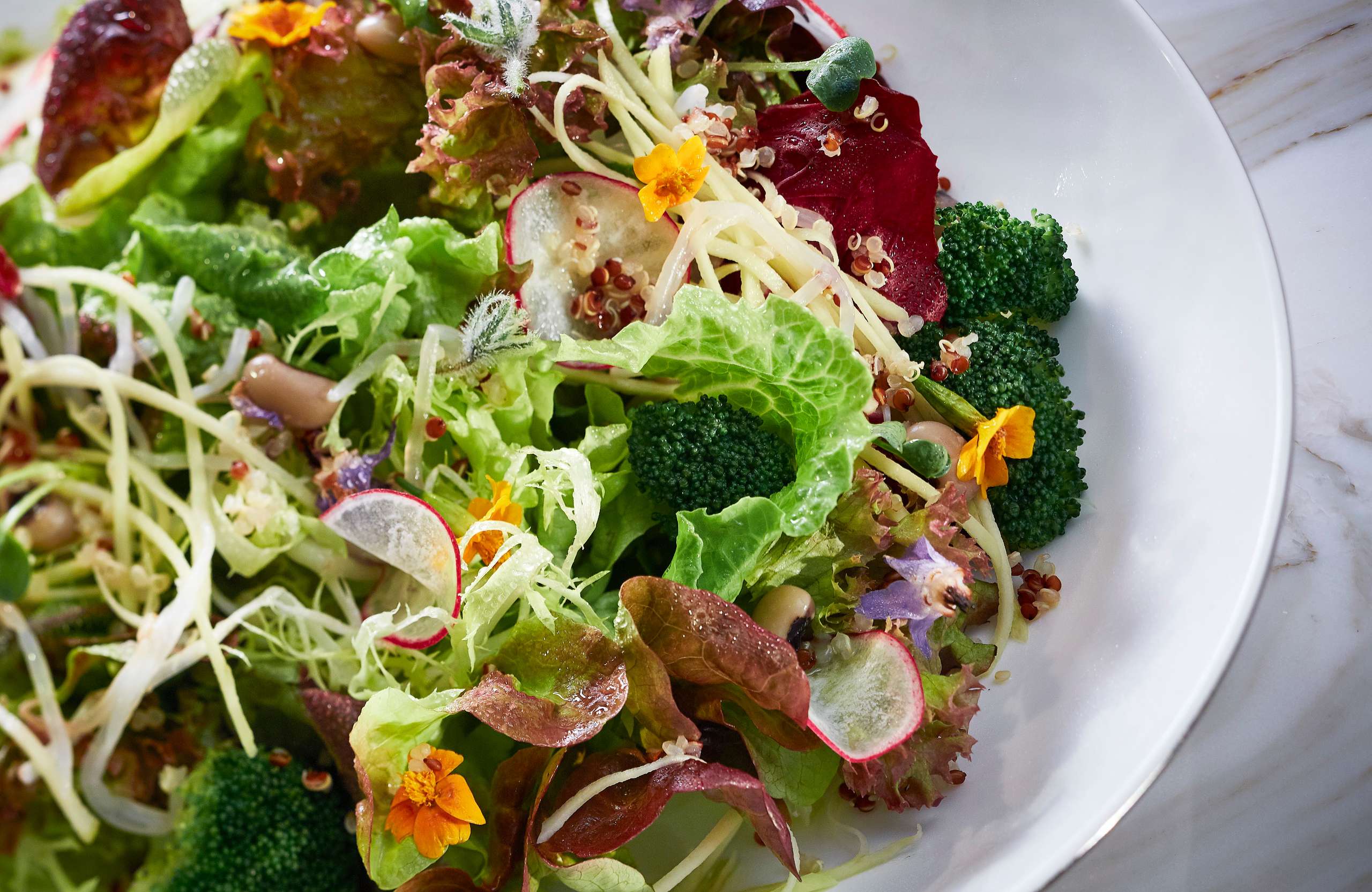 Cha Bei
Cha Bei is a little oasis tucked in Galaxy Macau. Their menu is full of guilt-free foods and the salads are a great example. Beautifully arranged greens and fresh veggies are showcased in the perfect mix of healthy ingredients. The signature Cha Bei salad is served with crunchy walnuts, seasonal leaves, and much more. The atmosphere here is great and healthy food aplenty here so do order up a storm without feeling bad. For more information on their menu, check it here.
Opening hours: Daily, 10:30am–9:00pm
Cha Bei 1047, 1/F, Galaxy Macau, Avenida Marginal Flor de Lotus, Cotai, Macau, +853 8883 2221, www.galaxymacau.com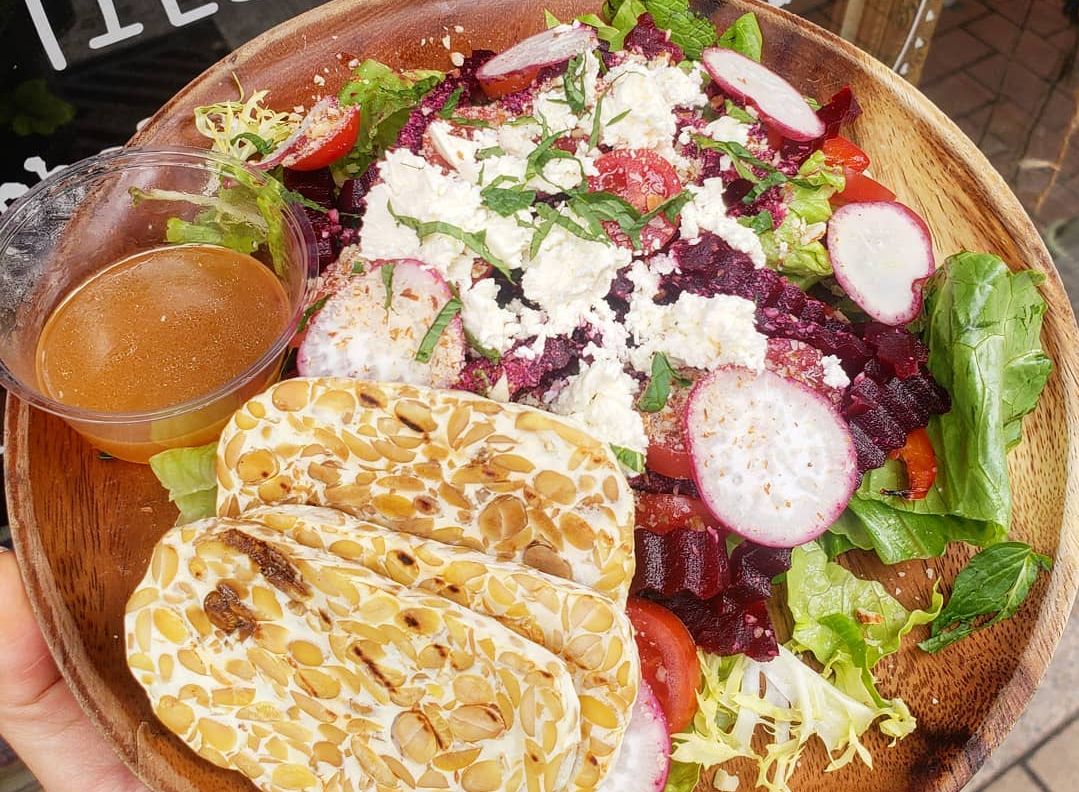 The Blissful Carrot
Vegan, vegetarian, and eco-friendly, everyone is welcome here! Known for its kombucha, healthy desserts, and so many other dishes with healthy and rich ingredients, what really stands out at The Blissful Carrot* are their salads. Full of fibre and veggie protein, it is the ideal lunch for a full-on afternoon or an early dinner. According to the restaurant's website, everything started with the need for healthier options in the city for the founders' "funky circle of friends which included acrobats, dancers, and world-renowned athletes". They also have catering services for schools and other institutions. It is one of the few spots in Macau where one can find a fine line of raw desserts. You can browse through their menu on their Facebook page.
Opening hours: Thursday–Tuesday, 10:00am–8:00pm
The Blissful Carrot 79 Rua Direita Carlos Eugénio, Taipa Village, +853 6298 8433, www.instagram.com/theblissfulcarrot
*The Blissful Carrot is no longer operating as a shop. However, they still sell vegetarian and vegan dishes, as well as their in-house-made pantry items such as coconut yogurt and kombucha via Aomi and MFood. If you have any questions, hit them up on Facebook and WhatsApp, but orders are to be placed via the delivery applications. For their Juice Detox program and private catering, contact The Blissful Carrot on Facebook or WhatsApp.
Also read: Alyson & Syen: Sustainability & Conscious Living with The Blissful Carrot
Also read: Start Your Day Right: Best Places for Healthy Breakfasts in Macau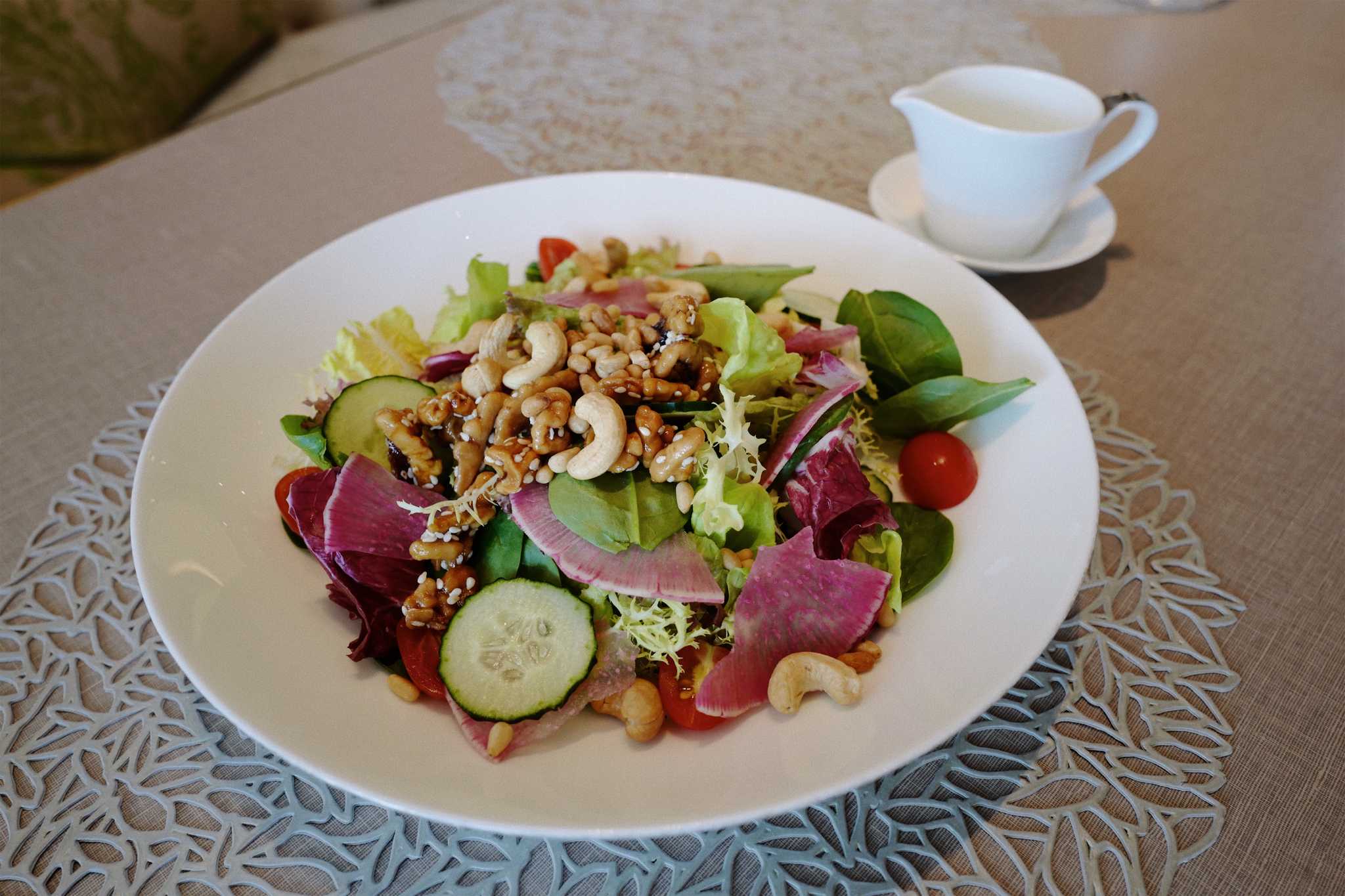 Lobby Lounge at Mandarin Oriental, Macau
Lobby Lounge has some exquisite findings and this salad is one of them! With tasteful and flavorsome ingredients like fresh lettuce and cucumber, crunchy and juicy tomatoes, meat, cashew, and more, this salad is a must-have when looking for a light, yet wholesome and fulfilling meal. Heading there with some friends and looking to experience more flavors and dishes? Here's our review of their latest additions to their menu!
Opening hours: Daily, 9:00am–10:00pm
Lobby Lounge Mandarin Oriental, Macau, 945 Avenida Dr. Sun Yat Sen, NAPE, +853 8805 8888, www.mandarinoriental.com
Fernando's Restaurant
Said to be "the best salad in Macau", this garden salad is made with the freshest, home-grown vegetables. These are undoubtedly the place where you'll eat the best tomatoes in town. You'll have to go all the way to Hac Sa Beach, but the drive is certainly worth it. Seasoned in a very Portuguese style–salt, lots of olive oil, and vinegar–it's a breath of fresh air when it comes to an unassuming, simple, yet fulfilling dish. When looking for a great piece of garden salad, Fernando is the place to go. Besides this–usually eaten as a side dish–there are other delicious options in this place, which prepare all their grilled signatures on a charcoal grill.
Opening hours: Daily, 12:00pm–9:30pm
Fernando's Restaurant 9 Praia de Hac Sá, Coloane, +853 2888 2264
Also read: Fernando Restaurant: Macau's All-Time Favorite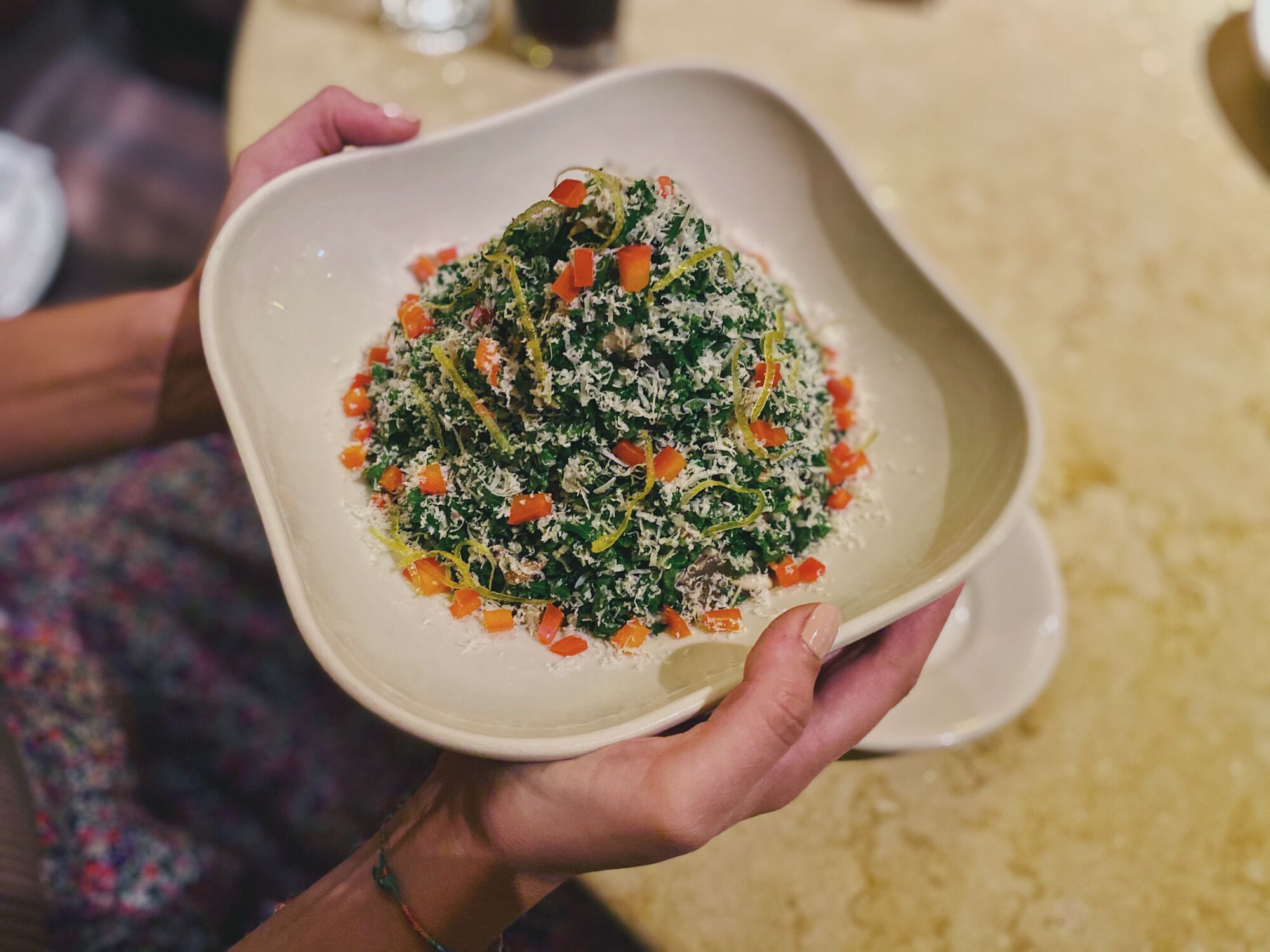 The Cheesecake Factory
A platter of healthy might not be what pops on your mind when you dream of The Cheesecake Factory's menu. However, it should. It's actually one of the best–and well served–salads we've tasted. With kale and quinoa as main ingredients, it can look bitter and tasteless, but this is the case of the more the merrier: these two are combined with grapes, fresh sweet red pepper, crunchy sunflower seeds, parmesan cheese, and their worldly known lemon vinaigrette sauce. This is definitely a must-order when there, even if you're going for a massive burger or some Mexican goodies. However, be careful with what you wish for: don't go in there alone or you won't be able to have all the food. The salad is good to share for three to four people as a starter, two to three as a main dish.
The Cheesecake Factory Shop 2203D-E, Level 2, Sands Cotai Central, Macau, +853 2882 3398, www.sandscotaicentral.com/the-cheesecake-factory
Also read: Let Them Eat Cake: Macau's Best Cake Shops
Also read: Great Places for Pancakes in Macau
Tags
Related Posts