In a bustling city like Macau where work can occupy pretty much all of our time, it's always exciting to look forward to the holidays and spend some time with our friends and loved ones. We're here to remind you that we all need to take a breather once in a while and what better way to do so than in a spa! Take a few hours off to pamper yourself at the Banyan Tree Spa, because you deserve it!
Tucked away on the second floor of Banyan Tree Macau, Banyan Tree Spa is designed to fulfill your relaxation and rejuvenation needs. Take pleasure in all the facilities on offer, including its innovative signature Rainmist Steam Bath and Rain Shower, and be pampered by skillful and professional therapists trained and certified by the Banyan Tree Academy. We're a little over the moon in having experienced the most luxurious and comprehensive spa in Macau. We pampered ourselves and opted for the winter package, Winter Indulgence, just recently and it was the ultimate treatment we needed in melting all the tension our body gained throughout the year. The whole experience was pure luxury and relaxation from start to finish—we highly recommend you give it a try too! Three hours is all you need and we guarantee you'll be at your most relaxed and rejuvenated state yet.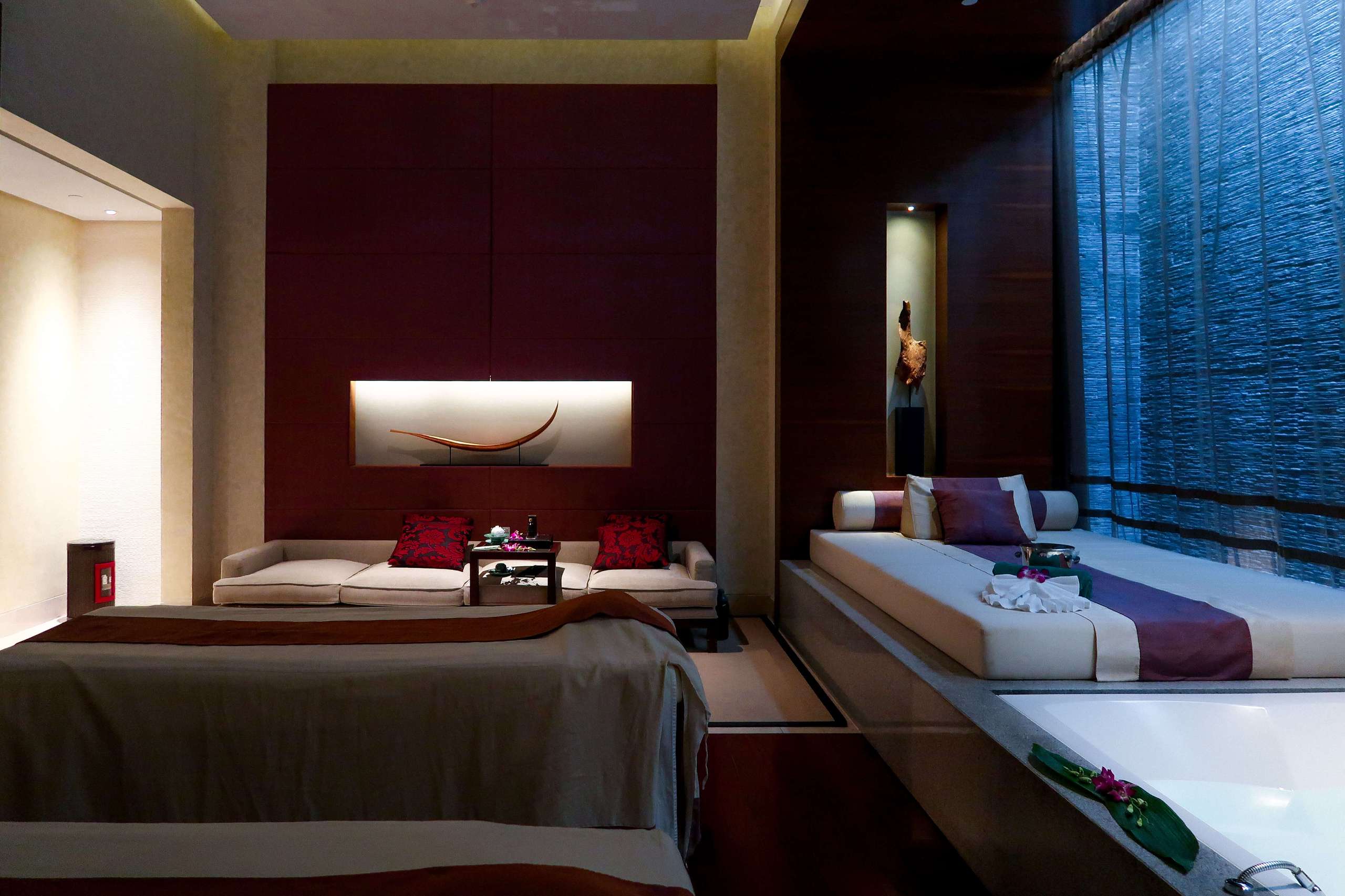 The moment you arrive at Banyan Tree Spa, attentive and pleasant staff are ready to greet you and offer some tea as your assigned therapist preps your treatment room. There are different types of rooms featuring different facilities with the biggest and most luxurious one, the Deluxe Room, featuring an in-room bath, two sets of lounging beds and massage beds, and its very own Rainmist Steam Bath and Rain Shower. It could have easily been a hotel room given its size and the impressive amenities inside. A little pro tip—when booking a treatment, request the Deluxe Room and subject to availability, enjoy the facilities with your special someone.
The treatment is initiated, of course, with Banyan Tree Spa's traditional Rainmist Experience to relax your tired muscles and fully prepare your body for the treatment. 10 to 15 minutes Rainmist shower and steam bath and you're ready to begin a complete relaxation journey.
Standard with all Banyan Tree Spa's treatments, you start off with a quick foot soak and exfoliating treatment using green tea extracts. During this process, you get a chance to get to know your seasoned therapists who will explain the treatment and products used. You get to choose the type of essential oil used, body massage, and facial massage preference.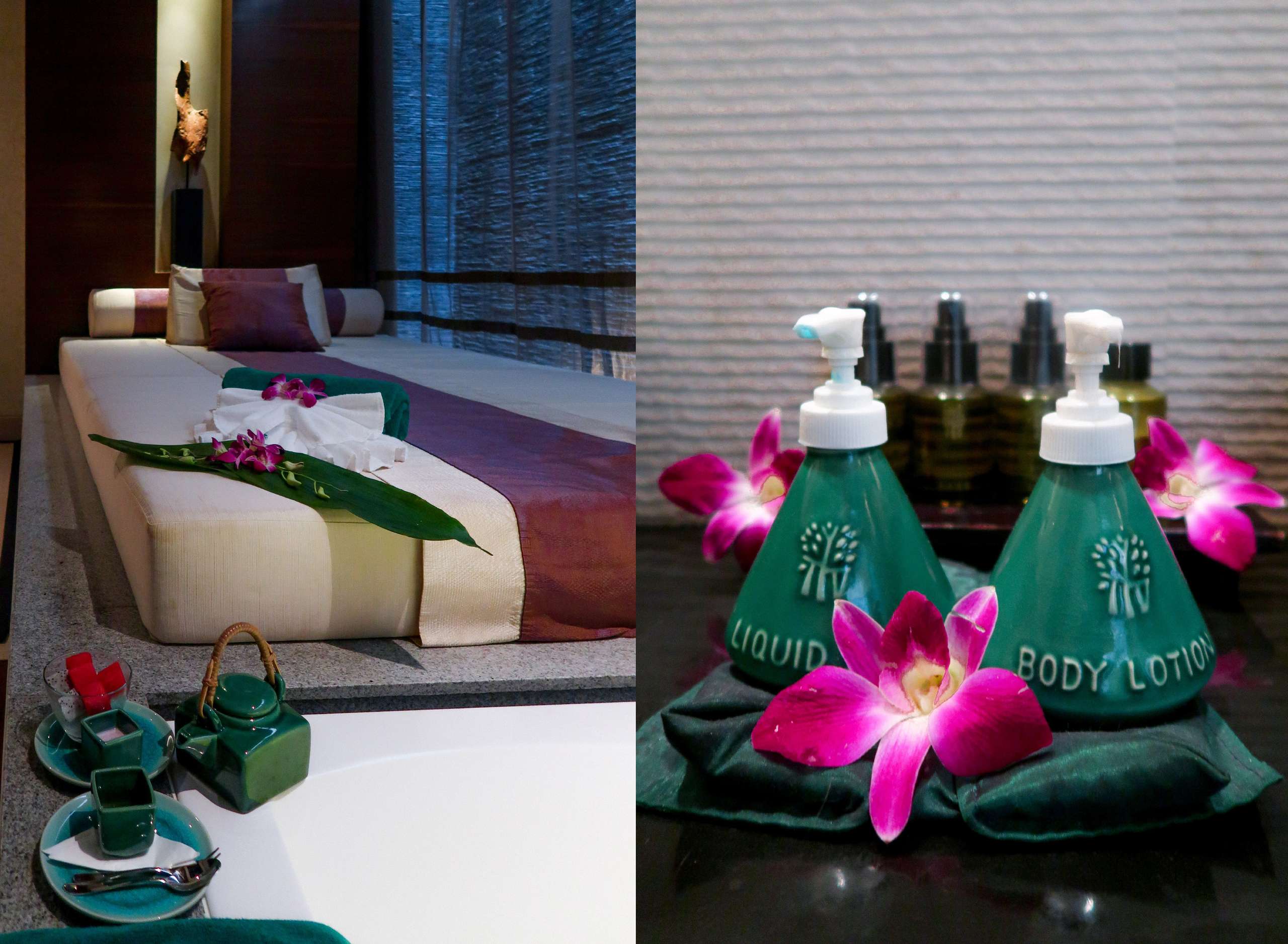 The treatment then continues with a 30-minute Thai herbal treatment using warm poultices of traditional Thai herbs and essential oils wrapped in white cloth and massaged to the body. This is designed to soothe stressed muscles and paves the way for the next treatment. Then your therapist will proceed with the Lomi Lomi massage, a traditional Hawaiian massage and also known as the "loving hands" massage. For 90-minutes, you will experience combined massage techniques working gently yet deeply into your muscles. The whole purpose of the Lomi Lomi massage is to release tension, rejuvenate the body, and instill a sense of peace, harmony, and well-being. 
To fully achieve a deep state of relaxation, the treatment is capped off with a 30-minute rejuvenation bath to uplift the senses and brighten up dull skin. Enjoy the bath with some tea of your preference, a fruit platter, and a cup of yogurt. Of course, you can opt to have one last Rainmist Experience and finish off with that. By the time you've blown yourself dry and put your clothes back on, you're ready to take on the city fully revitalized.
As the name suggests, this package is truly a winter indulgence. Pamper yourself or your loved ones by booking the Winter Indulgence Package now. Available until January 5th, you can also receive a complimentary Thai Chamanard essential oil and oil burner upon confirmation of booking. Open 10:00am–11:00pm.
Banyan Tree Spa, 2F, Banyan Tree Macau, Galaxy Macau, Estrada da Baía de Nossa Senhora da Esperança, Cotai, +853 8883 6633, [email protected]
Tags
Related Posts