Macau Lifestyle's team members have been advocating for sustainable beauty for quite some time now. We love supporting brands with the right goals. That is why we value truly ethical and sustainable skincare and wellness brands rooted in real honesty. One that truly stands out when we talk about being eco-friendly is Drunk Elephant. Speaking with Drunk Elephant's founder, Tiffany Masterson, we tackled the subject of conscious buying and how the beauty industry is evolving rapidly in the current climate.
It's immediately apparent to us that Drunk Elephant is not any ordinary skincare brand. Emphasizing its ethos as a well-rounded lifestyle brand, Tiffany actually derived the origins of the brand based on her personal journey of skin issues. She became proactive at finding out how to solve her skin issues when she couldn't find the right products. She eventually decided to make them herself that paved the way for her incredible journey. Today, her brand stands on well-respected principles that allow Drunk Elephant to empower and make a true difference in the realm of the beauty world.
Could you tell us a bit about yourself and your background? How did you end up with a skincare line? What are your first memories of skincare or a skincare routine as a child?
I was a stay at home mom when I started Drunk Elephant. I actually got into skincare as an adult, partly because I was searching for solutions to my own skincare concerns, and partly because I had friends and family asking me for recommendations. Before developing Drunk Elephant, I had all sorts of skin issues–my skin was break-out prone, sensitized and I struggled with mild rosacea and visible pores. I figured out what was problematic for my skin through trial and error. Silicones, drying alcohols, SLS, essential oils, fragrances, dyes, and chemical screens were in everything I picked up, in some combination of a few to all of them. I began studying ingredients and their effect on our skin, which led to my curiosity and passion for the topic. I suspected there were a lot of people out there who shared my same sensitivities. Also, I didn't care about anything being "all-natural". The idea of joining the good synthetics with the good naturals, while leaving out my triggers, really intrigued me enough to start the skincare line.
There are so many skincare products out there, why did you decide to create your own? What makes yours stand out?
I decided to create my own line when I couldn't find any products out there that did not contain at least one of the ingredient categories that I found problematic for my skin. We call those the Suspicious Six, and they are essential oils, drying alcohols, silicones, chemical sunscreens, fragrance/dyes, and SLS. Beyond that, we are committed to using only ingredients that either directly benefits the health of the skin or support the integrity of our formulations. We never take into account whether something is synthetic or natural, instead choosing ingredients based on biocompatibility. That's why we focus on healthy pH levels, formulations the skin recognizes, small molecular structure that's easily absorbed, and effective active ingredients that also support and maintain the skin's acid mantle.
Drunk Elephant skincare is hailed as being high-quality skincare products at an affordable price–how have you managed to do that?
My approach to developing Drunk Elephant is to think about how I would want the products I am putting on my own skin to be made; I'm always in the consumer's shoes because I am the consumer. By doing this I'm never tempted to cut corners–I want the best for myself and I want people who spend their hard-earned money on my brand to get what they paid for. I firmly believe that if the products truly work, people will be happy and then will tell everyone they know. That organic word-of-mouth has been the key to Drunk Elephant's fast rate of growth and success.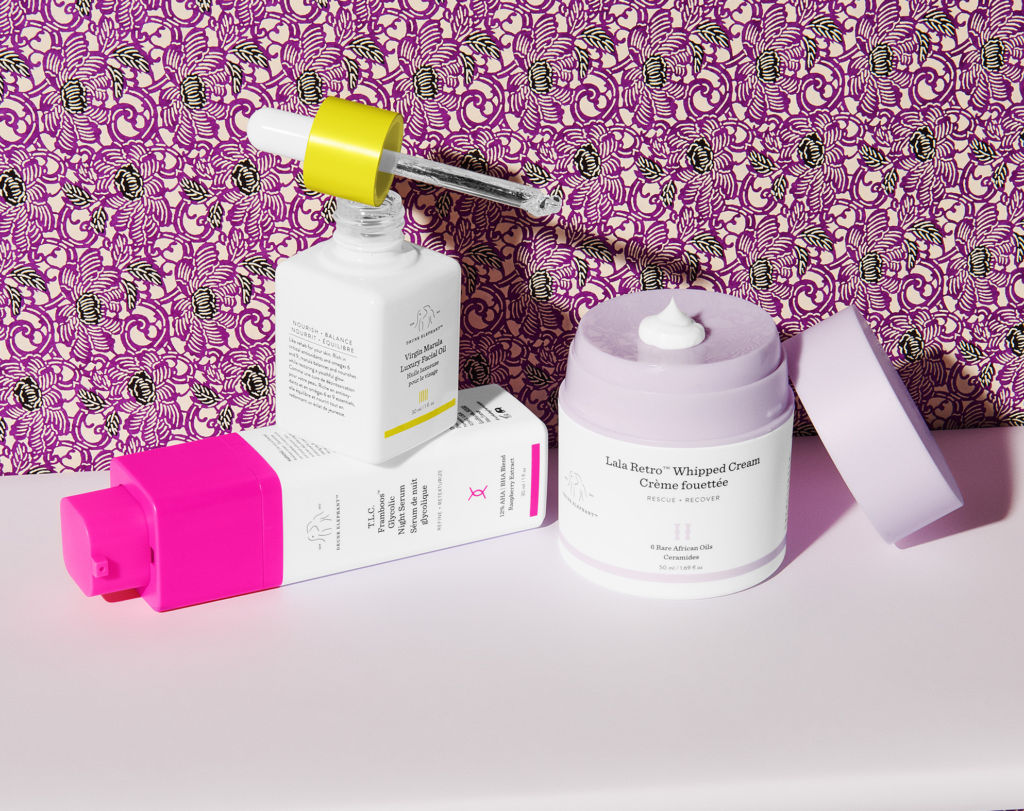 Beauty products are full of ingredients we sometimes don't know about, what are the "Suspicious 6″? Can you talk a little about what you call the "Suspicious 6"?
The Suspicious 6 are the ingredients I found to be problematic to my skin. They aren't scary or even necessarily bad or "toxic", they just, in my opinion, can disrupt the function of the skin itself leading to annoying skin behaviors that could otherwise be avoided such as acne-prone, sensitive, combination, overly dry or oily, and more. They are as follows: 
Essential Oils – By their nature, their volatile fragrance compounds are sensitizing to skin. There is no benefit to them that can't be replicated by other non-fragrant ingredients that do not share their downsides.
Drying Alcohols – These are the alcohols that have the potential to dehydrate and sensitize and are identified by the names SD alcohol, denatured alcohol, alcohol denat, natural alcohol, grain alcohol, ethyl alcohol or just plain alcohol on an ingredient list. We believe they cause long-term damage to the skin. While these help actives penetrate into the skin more easily, they do so by dissolving the lipids that help keep skin pliant and moisturized. This results in inflammation of the skin, which in turn can provoke breakouts.
Silicones – They can congest skin, especially with heavier weight occlusive silicones (dimethicone), and they prevent actives (like ascorbic acid) from penetrating into the skin and doing their job. Some may also dehydrate the skin.
Chemical Screens – Many find these types of sunscreen actives to be sensitizing, especially when used around the eye area or by those with skin sensitivities and disorders (like rosacea or eczema). We believe that they also, through sensitization, can lead to random breakouts and worsening of acne. They can be great, but for some, they can be problematic so we use physical screens instead. 
Fragrance/Dyes – Designed to add a pretty color or scent to a formula, these have literally no benefit to the skin, but can be sensitizing and take up space from ingredients that are actually good for the skin.
SLS – A surfactant that is a little too good at its job. Not only can it be very harsh in terms of stripping moisture, but it is also a small molecule that penetrates into the skin, causing inflammation, and potentially damaging the skin barrier.
Can you tell us a little bit more about what biocompatible skincare is and means?
For Drunk Elephant, "Biocompatible" ingredients are those that the skin can recognize and absorb, and are not harmful to living tissue, including the skin itself. It's not about natural or synthetic, only what is beneficial for the skin.
What is your personal skincare philosophy?
My personal skincare philosophy is "less is more". By that I mean two things:
First, you only need ingredients that are directly beneficial to the health of your skin or supportive of the formulation, keeping it safe and effective. Avoid the extra marketing ingredients (fluff) that really aren't necessary and can in many cases be disruptive like colorants, scents, mattifiers, silicones, and others. They're just extra and not needed at all!
Second, you don't need so many products. To benefit from my philosophy of avoiding the Suspicious 6, you only need a few things. A cleanser, a moisturizer, and of course a sunscreen will suffice. Less is always more in the beginning too, so you don't overwhelm your skin and you can slowly introduce additional products at the pace best for your skin. 
Is there a story behind the name "Drunk Elephant"? How did you come up with it and decide that it was the right fit?
Well, I fell in love at first sight with Marula oil. I could tell it absorbed very easily and on the surface it made my skin feel great. In an effort to learn more about it, I googled the term "marula" and a video showing elephants appearing tipsy after eating the fallen fruit came up. It's an adorable video and it felt like a relief from all the seriousness involved in developing a skincare line. I'm no doctor and I'm not a scientist so I couldn't really name it "Tiffany Masterson" and I didn't want to anyway. When Drunk Elephant popped into my head, I started asking others what they thought. Not everyone liked it for a skincare brand, but everyone thought it was an unforgettable and intriguing name– it felt right in my gut so I went with it.  It's very much representative of my personality too. I'm hard-working and I don't take myself too seriously, and that is exactly how the brand is. 
If you could only choose one Drunk Elephant product, which is your favorite, and why?
It wouldn't be a product, it would be the unique ingredient-elimination philosophy that makes the brand different compared to all the others. 
The product packaging is colorful, fun, and functional, what was your approach to packaging?
I wanted packaging that would protect the antioxidants and actives from light and air. Like me, the formulations work hard, but there's also a not-as-serious side and that's where the whimsy and bright, happy colors come in. I don't take myself too seriously and neither does Drunk Elephant but we both get the job done. The packaging is reflective of me personally and how I approach life in general.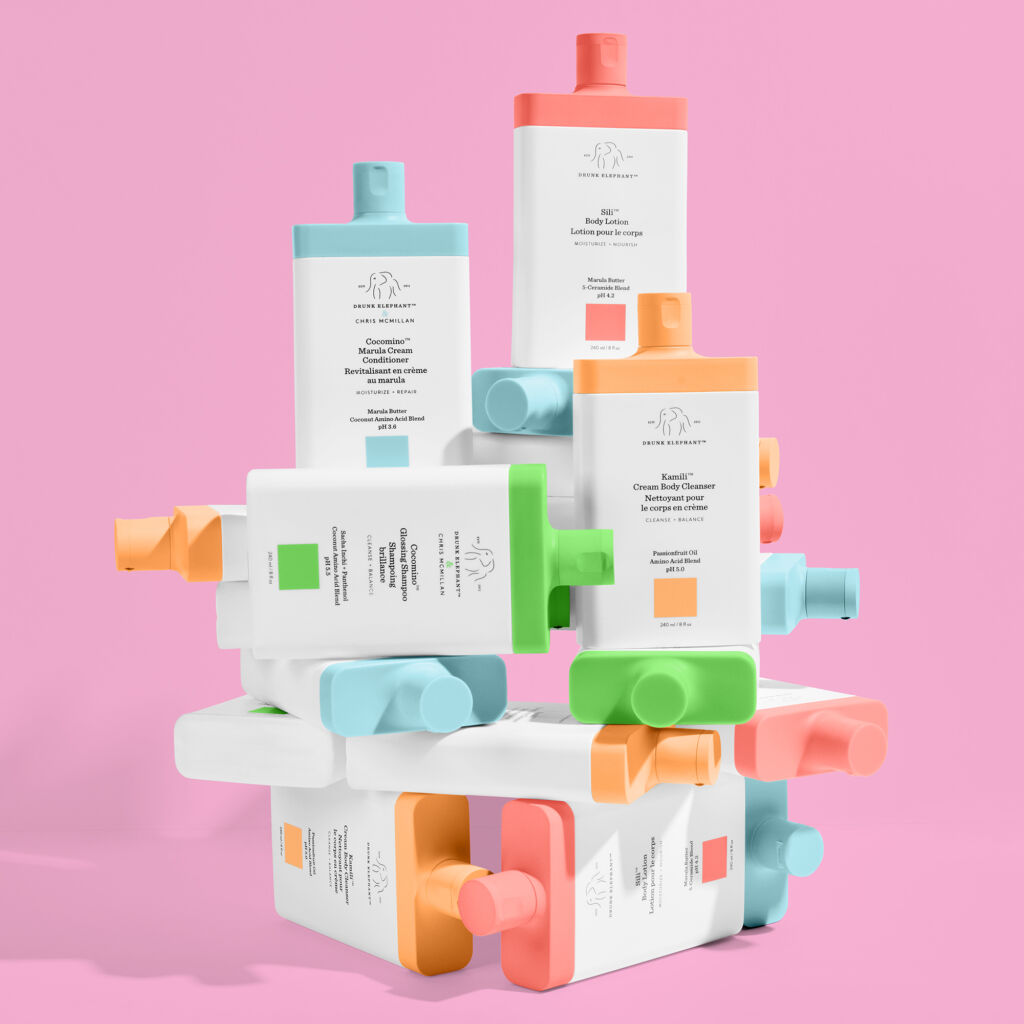 You just launched your hair and body range, what made you move into that field? What can we expect from this new range of products?
The new hair and body collections have been under development for two years. My consumers were asking for it and I personally wanted to apply my philosophy head to toe. Chris McMillan is my hairstylist and my friend. He's like family to me and we've known each other since we were babies. Chris brought up the idea of doing a hairline together first about five years ago, and then over the years we just got more serious about pulling the trigger. We developed the formulas, and Chris tested them, making sure they worked on all types of hair. I really wanted products for my scalp, hair, and body that were free of the Suspicious 6 so that our scalp and body could both thrive like the skin on our faces.
What are the biggest skincare trends in 2020?
I purposely don't look at other brands or trends. Overall, I think more brands will join the "clean" movement. I think there will be more transparency in response to the consumer who is getting savvier and more demanding every day (in a good way)!
You're an entrepreneur, a business owner, mother to four kids, how do you manage all the different roles of your life? What keeps you balanced?
The same philosophy that guides my brand bleeds over into all areas of my life–family, work, relationships, diet, self-care. Focus on the good and cut out the negative.  I eat well most of the time, I exercise often, I work really hard, I try to get enough sleep, I spend time with my friends and family, I cook, I walk my dog, I spend quality time with my husband and kids and I treat people the way I want to be treated. Those are the things that keep me balanced and healthy.  
We are huge fans of the brand and travel all the way over to Hong Kong to buy it! Could we be seeing a shop in Macau sometime soon?
Thank you so much. We would love to bring Drunk Elephant to Macau–stay tuned!
Also read: Drunk Elephant: Changing How We Perceive Skincare
Also read: Get in My Cart: Beauty Buys This May
---
Follow Drunk Elephant on Instagram @drunkelephant and Facebook for more updates and cool photos!
For more details, visit www.drunkelephant.com and check out their products at Sephora Hong Kong
Sephora Shop 1073-75, L1, ifc mall, +852 3168 4088, www.sephora.hk
Tags
Related Posts