Summer is not far on the horizon, and we can practically smell the summer sun cream, the sea air… the sex on the beach – cocktail of course. Whether you are traveling to an exotic island, going on a family holiday or even a staycation on one of Hong Kong's glorifying hotels, the one accessory you can't leave without is the humble swimwear. If you are looking for something to jazz up your usual swimwear wardrobe, look no further.

Boho Chic by Kiini
Designed by Turkish-born Ipek Irgrit and inspired by her travels around the world, Kiini's swimwear is the perfect choice to inject some vibrancy into your wardrobe this summer. Each piece is hand-crocheted, so you can be assured that absolutely any of the stunning bikinis will be a flattering and a comfortable fit. The one big problem we face with the Kiini line, however, is which one to pick. Lighter skin tones can opt for the more pastel shades, such as the 'Bea' bikini top while darker tones can try going more tribal with the khaki 'Wren' bikini. Whichever color scheme you choose, any Kiini buy will inject some bohemian chic into your holiday routine and make for the most trendy of Instagram pics.
Buy Kiini online www.kiini.com at HKD $1,000 onwards.

The Floral Number by Rhythm
Everyone loves a floral print in summer, and this Aruba bralette top by Rhythm swimwear is one to watch this summer. A stunning marigold color with delicate florals, this is a feminine and yet a punchy piece that will fit perfectly at any beach bar. Find shade under a palm tree for the best photo-op.
Buy Aruba Bralette Top Marigold online at www.rhythmlivin.com for about HKD $300.

The Romantic One by Palm Swim
If you love the romance of summer, and dream of spending your days lazily sipping cocktails and watching sunsets, Palm Swim's new "Spring Light'" collection is the perfect buy this season. With structured detailing and textured silhouettes, these pieces are full of subtlety and demure.
Pre-order the Palm Swim collection at www.palmswimwear.com for HKD $6,000.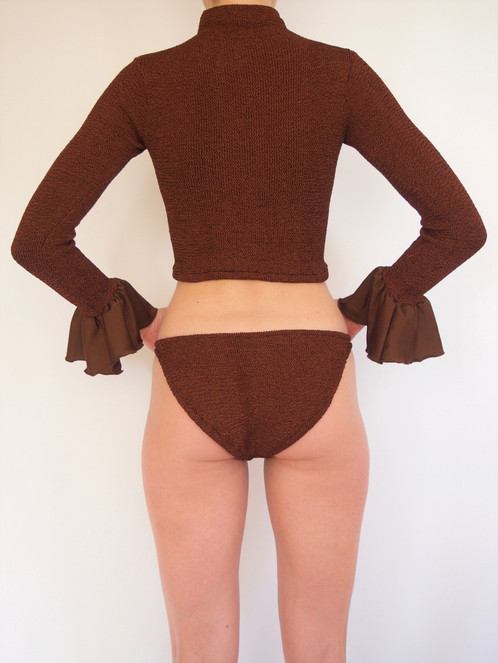 The Conservative Piece by Hunza G
We all have some days in summer where we'd rather not let the sun in, and this bikini top from Hunza G is a stylish solution if you've been doing more sleeping than spinning this winter. Hide a multitude of sins with its long sleeves, but lose none of the chic with the flared hem. Available in a multitude of colors also, this could be the savior of summer if you're feeling self-conscious.
Buy the Bibi Top at www.hunzag.com for approximately HKD $1,500.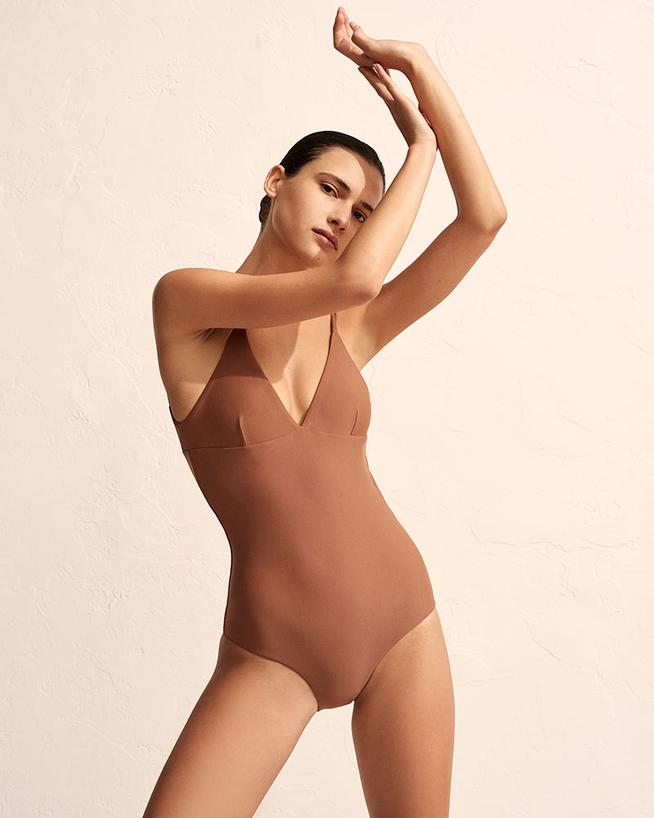 The Plunge by Matteau
If you're looking to gain a lot of poolside attention this summer, head to Matteau for a showstopping plunge. This neckline is the most flattering of them all and is available in the two most classic and sophisticated colors – nude and black. While the neckline is playful, the classic color and style keep the piece from falling into the too tacky or revealing category. Just the right amount of naughty and nice, this is the perfect piece for turning heads this season.
Buy The Plunge online at www.int.matteau-swim.com for approximately HKD $2,354.

Classic Chic by Eres
A tribute to Italian craftsmanship, the Eres Studio line is based on an acramé detail and leather-effect and crafted in Intrecciatto style. Whats even more impressive is that you can completely customize shape, size, and color of the tops and bottoms of your bikinis. Know that triangle cut bikini tops don't suit you but love the shade? No problem. Complete the look with a floppy hat, a book in one hand and a pastel-colored Italian gelato in the other!
Buy at www.eresparis.com for approximately HKD $4,086.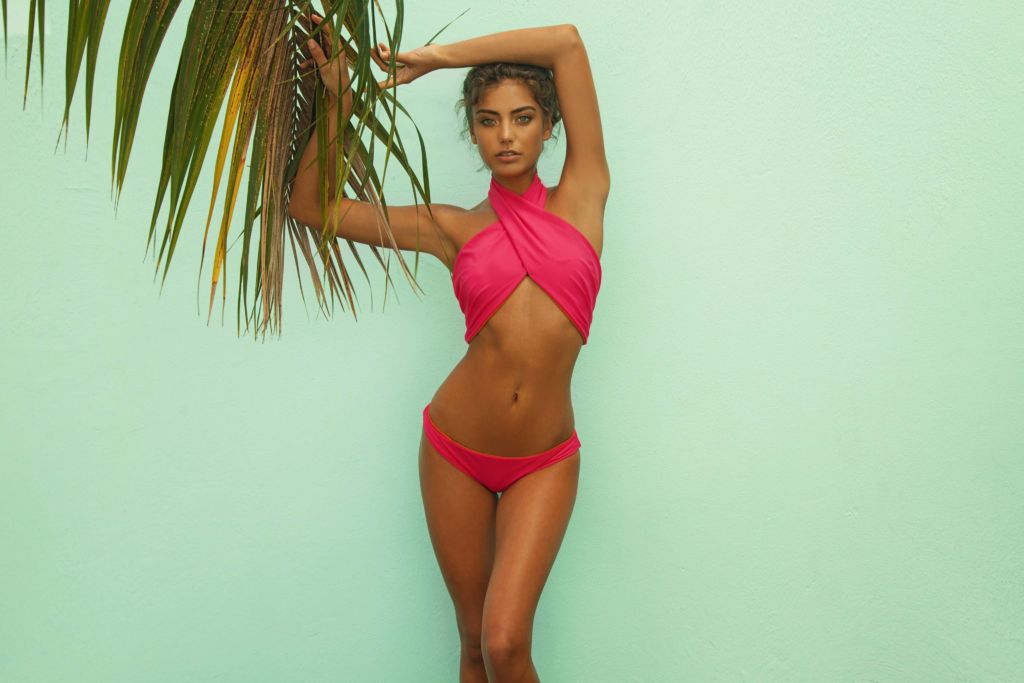 The Glamorous One by Fella
This bikini top from one of Austrailia's most innovative swimwear brands is one of our favorites this season. It is a unique wrap-around shape and is both bohemian and glamorous, the colors are striking and on trend. For darker skin tones, choose the royal-fresia (seen above), mustard yellow or white to really set your tan glowing, and lighter skin tones can opt for a royal blue or forest green to create high contrast and maximum impact. For the ultimate glamorous outfit, match this piece with some huge statement earrings and a pair of wide-leg trousers to any pool party or event.
Buy it at www.international.fellaswim.com for HKD $1,000.

The Leopard Print Number by Sommer
Every woman should have at least one draw dropping one-piece to reveal in summer, and this leopard print number from Sommer is possibly the only one you'd ever need. Sensual and classy, it is the perfect combination of scary and spicy. Surprisingly, it is reversible, so the sexy cut-outs can be placed at the front or back depending on how daring your feeling. Wear it with a black sarong for an astonishing poolside outfit.
Buy at www.sommerswim.eu for approximately HKD $1,130.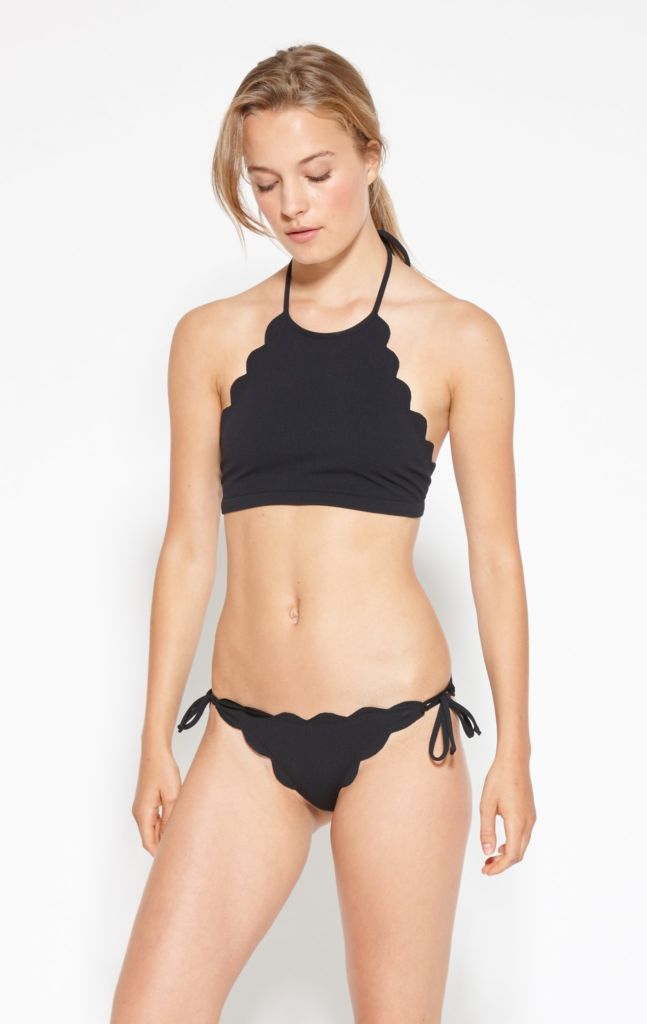 The Cute One by Maryasia
We absolutely love the delicate scallop hems of this season's Maryasia swimwear line. Innocent, neutral colors, Maryasia is always the perfect brand to ease into summer with. The bikini top above pairs the cute hemline with an on-trend cut, that looks stunning for those of us with a petite chest. Take your look from beach to town with a simple pair of denim shorts. Sophisticated and laid back, this bikini is essential for any family holiday.
Buy for about HKD $1,169 at www.marysia.com.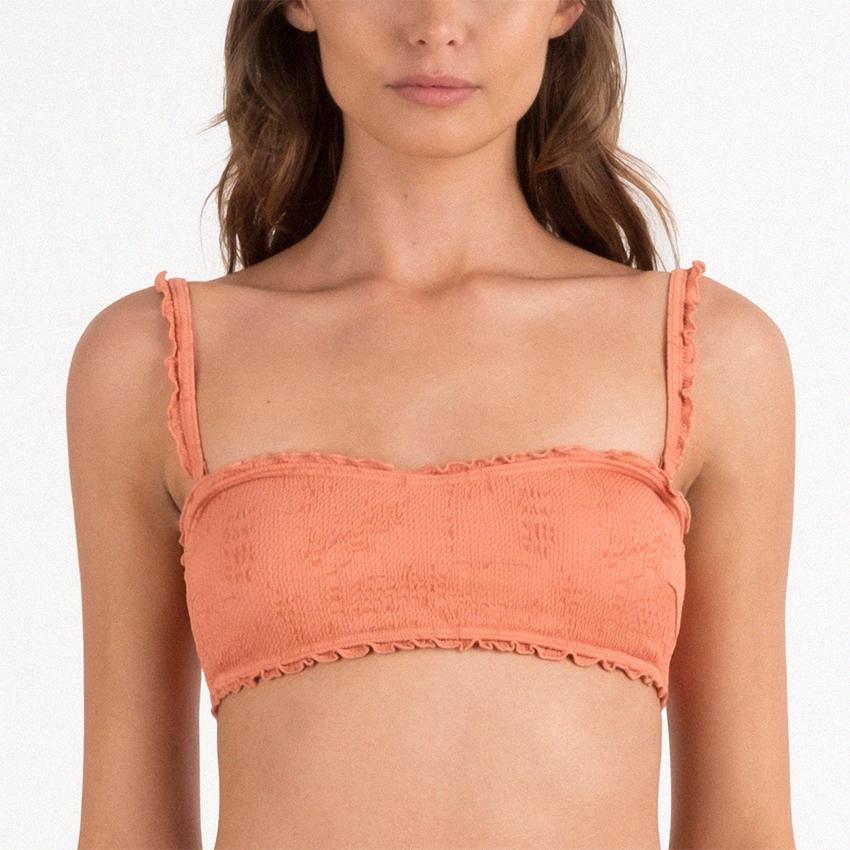 Surfer Chic by Peony
This Austrailian brand is one of our favorites for swimwear, providing quality products that are always ahead of the trend. This limited edition exquisite bikini top is handmade from a textured custom fabric that almost looks too good to get wet. It features ruffle detailing and a soft sweetheart neckline, meaning it is flattering and feminine without being too obvious. For the ultimate laidback, surfer chick look, Peony is the one.
Buy for approximately HKD $528 at www.peonyswimwear.com.
Share
Tags
Related Posts